If there is anything that sets Tidal apart from other streaming services, then it got to be the sound quality. With Tidal, you can hear every note of your music. You may be wondering why it's not the same with other services. The fact is that most music streaming services compress music files for compatibility and fast streaming.
However, most of such music parts are chopped off, resulting in low sound quality. But that's not with Tidal. It offers CD-quality streaming, which is the best way to listen to Tidal. By so, it delivers complete data, with no lossy streams, unlike other services.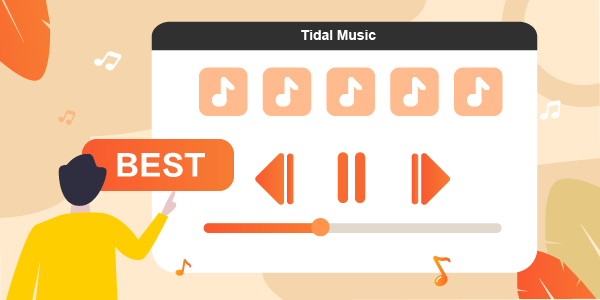 ---
Part 1. Know More about Tidal Audio Quality
It all rests with the Tidal HiFi and Tidal Premium subscriptions. The best way to play Tidal on stereo system like a home stereo is to opt for these two subscriptions. Tidal HiFi is the entry-level of HiFi subscription even though it also offers a free trial. You are assured of your music in lossless high-fidelity audio. HiFi membership supports several sound options.
HiFi which gives lossless quality audio of 1,411kbps, the High option that scales at 320kbps AAC, and the normal option with reduced data usage, though of good quality. This also suits slower connections.
When it comes to Tidal Premium, you get an equivalent of the HiFi High stream option which is at the rate of 320kbps. This is CD-quality.
---
Part 2. Best Way to Listen to Tidal HiFi – Tool You'll Need
You need a Tidal subscription to listen to Tidal HiFi. However, you can still get this privilege by using the unique converter tool. The best way to listen to Tidal Masters is via AudKeep Tidal Music Converter. This reliable Tidal music downloader is designed to offer more control over the playback of the Tidal track on your computer and other devices. It has an innovative audio encoding technology that enables it to work at a high speed of X5 rate to convert your Tidal files.
Consider that your music library will eventually grow big. AudKeep Tidal Music Converter takes that into account, giving you the option to sort out your Tidal files by either album or artist. Besides, you get optimum output quality with this sophisticated tool. It preserves all metadata info and ID3 tags like genre and artists. You can also adjust other parameters like audio codec, channel, and bit rate for a better listening experience. With it, you can convert your Tidal playlist to several output formats like WAV, M4A, FLAC, M4B, etc.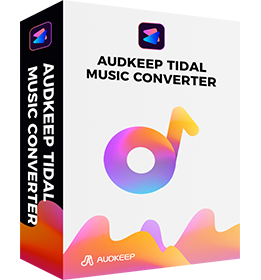 Key Features of AudKeep Tidal Music Converter
Download and play Tidal tracks offline on any device
It keeps lossless quality and delivers Tidal tracks in high audio quality
Convert Tidal to common output formats like FLAC and MP3
It works at a fast rate of X5 for quick turnaround
---
Part 3. How to Save Tidal Music with Lossless Quality
What is the best way to stream Tidal? You must already be looking around for how to get your music with lossless quality. Well, AudKeep Tidal Music Converter is the real deal. It will convert and export your Tidal music in 100% lossless quality as it preserves all the metadata information.
To convert Tidal music, click on the "Download" tab from AudKeep's official website. Then install and launch the program on your computer. AudKeep comes with a built-in Tidal Web Player. Check it in the main interface and hit on the "Log In" button to sign in to your Tidal account.
Step 1 Customize Tidal output audio parameters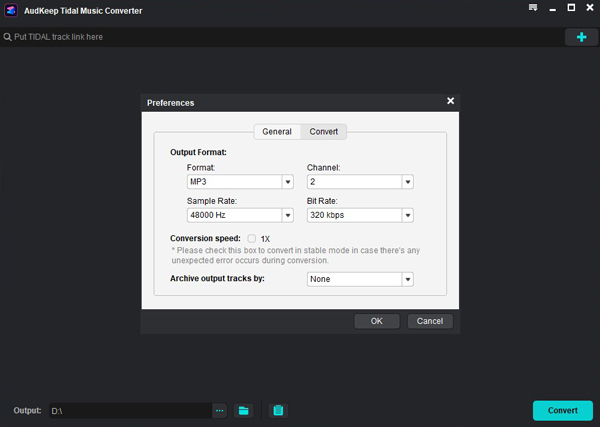 To convert your Tidal playlist, first, click on the "Menu" bar and choose the "Preferences" option. Wait for the Settings window to pop up and then hit on the "Advanced" tab. Next, start to adjust the Tidal music format such as Lossless, MP3, WAV, or any other. Also, go on to customize other parameters like sample rate, audio codec, and channel. Remember to classify your Tidal songs by album or artist.
Step 2 Add Tidal playlists into AudKeep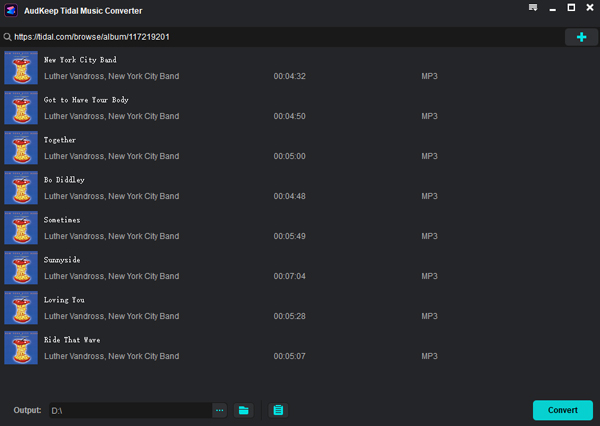 Confirm that your entries are correct and then click the "OK" button for confirmation. Then check in the built-in Tidal Web Player for your favorite Tidal playlists. Then open it and locate the blue "+" icon in the lower section of your screen. Then just click on it to add the Tidal playlists to the AudKeep Tidal Music Converter.
Step 3 Download and convert Tidal playlists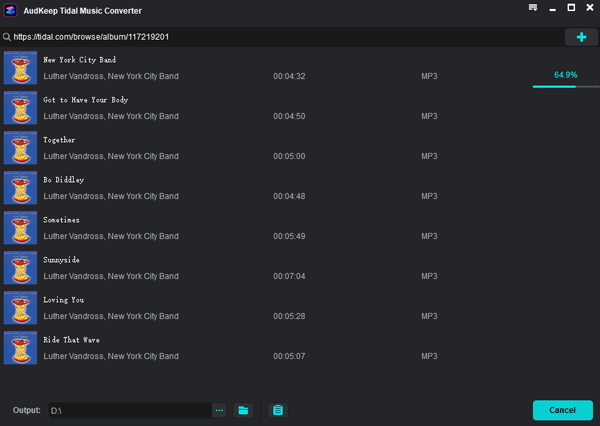 Now, hit on the "Convert" tab to start the conversion process for the lossless output audio quality playlist. AudKeep Tidal Converter will download and convert your Tidal music according to your settings. The Tidal playlist will finally be saved as common audio files in the computer's local storage disk. You can then locate them in the converted Tidal folder for offline listening.
---
Part 4. Conclusion
No music streaming service beats Tidal in Hi-Res and Hi-fidelity sound output. Tidal lets you get the sound notes as it is in the original file. There is no data loss during compression. The only drawback is that you can't listen to Tidal outside the Tidal app.
So, the best way to listen to Tidal offline is to look for a Tidal converter to download and convert your playlist to local audio formats. AudKeep Tidal Music Converter is all you need for an efficient conversion of your playlist. It is quite sophisticated and will offer you Tidal tracks just as the original files.