If you are a member of Tidal, you have access to around 60 million songs. Tidal lets you download music to your mobile device and enjoy them back at any point, even if you are in Airplane Mode. On the flip side, if you do not have Wi-Fi or mobile internet, you cannot stream music on Tidal. That's where we come in to help. Luckily, there are a few ways to enjoy Tidal songs on your phone without the Internet.
To get Tidal music on your phone, you need to download the Tidal app. Tidal allows you to control the music playing on your computer with your phone. Although this sounds amazing, not many people are aware of it yet. And if you're one of them and wish to know how to download music from Tidal to phone, we've got you covered. In this article, you'll discover a way to download Tidal on your phone and how you can control the Tidal music on your PC using the phone. Let's get going!
---
Part 1. How to Download Music from Tidal to Phone
Follow one of these methods to download and listen to Tidal on phone.
How to Download Music from Tidal to Android Phone
Tidal is your best bet if you have an Android phone and want to listen to quality music. Tidal has a wide variety of high-quality music you can get on your Android device.
To understand how to install Tidal on Android phone, follow these steps:
Step 1: Head to the Play Store to find the Tidal app. And then you click on the Download button to download and install it to your Android phone.
Step 2: Open the app and log into your Tidal Premium account. Navigate to the song or album from Tidal you wish to download for offline playing.
Step 3: Once you've found the playlist or song, click the Download option to initiate the Tidal songs downloading procedure on the Android device.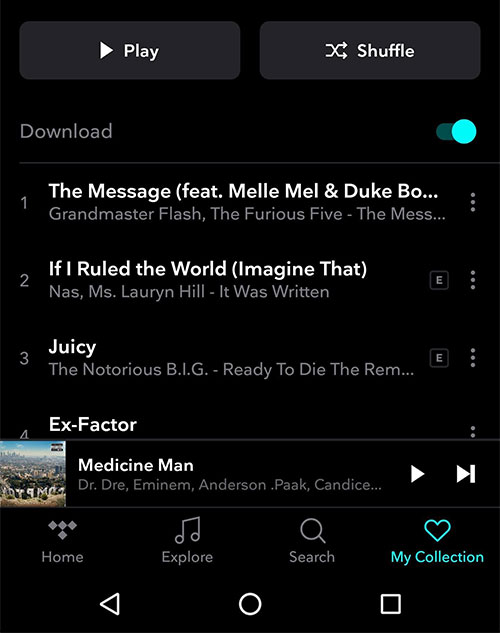 How to Download Tidal Music to iPhone
Being an iPhone user, to get such quality music, you must get the Tidal app on your smartphone. Once you get the app, it's pretty easy to download Tidal music to iPhone with a few clicks.
Follow the procedure below to learn how to download Tidal music to phone with iOS.
Step 1: Download the Tidal app from the App Store and launch it.
Note: If you're a Tidal HiFi subscriber, log your account into Tidal; if not, get a Tidal plan.
Step 2: Now, search the song or playlist you wish to download from Tidal using the Search option.
Step 3: Once you're done, click Download to get Tidal music tracks on your iPhone.
---
Part 2. How to Control Tidal on PC from Phone
Can you control Tidal from phone? Many people have been wondering about this for quite some time. The good news is you can control Tidal music playing on your PC using the phone. You can control Tidal desktop from your phone using the built-in feature, Tidal Connect.
No matter which Tidal plan you're subscribed to, using Tidal Connect is a quick and simple method to connect your Tidal account with various devices. Tidal Connect is available to everyone. When you are using Tidal to listen to music, you can click a button inside the currently playing area. This will cause your music to begin playing on the device you selected using Tidal Connect.
To control Tidal by phone on your PC, follow these steps:
Step 1: Launch the Tidal app on your phone and PC, then choose the song you wish to play on your PC.
Step 2: Once you've found the song, click on it to start playing it. Now, click on the Device Selector in the upper right corner.
Step 3: Now, pick your computer from the devices available to start playing the music on it.
Note: Make sure you use the same Tidal account on your phone and computer device.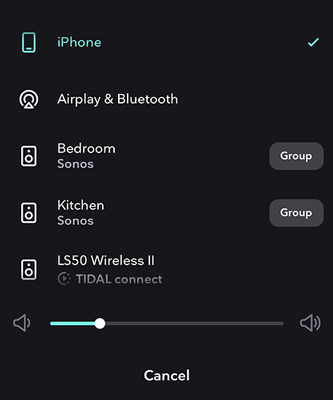 ---
Part 3. How to Transfer Tidal Music to Phone from Computer
Do you wish to get enjoy your favorite Tidal tracks on your phone for free? If yes, you'll discover how in this section. Since you cannot download Tidal music outside the Tidal app, the best way is either to download Tidal songs with a premium on mobile or get Tidal music to your computer using a third-party app and then transfer it to your phone. AudKeep Tidal Music Converter is your best bet if you want such software.
AudKeep Tidal Music Converter has been built to be a specialized and user-friendly Tidal music converter and downloader to download and convert music from the streaming service Tidal. Aside from that, if you want to utilize songs from Tidal on another device like your cellphone, you may convert Tidal to MP3, FLAC, WAV, or M4A. And the converted music files are saved in the folder you choose with all ID3 tags and quality. Both Windows and Mac computers work well with this Tidal music converter.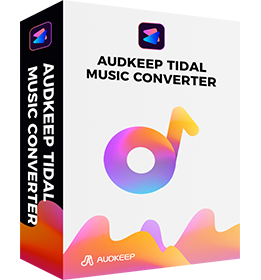 Key Features of AudKeep Tidal Music Converter
Convert all Tidal songs to MP3, FLAC, WAV, and other forms
Enable to play the converted tracks from Tidal on multiple devices for offline listening
Download Tidal songs at 5X speed for Windows with a few clicks
Export Tidal music in lossless audio with all ID3 tags intact
How to Download Music from Tidal to Your Phone using AudKeep Tidal Music Converter
Step 1: Download and install AudKeep Tidal Music Converter on your computer according to your OS and launch it. Then login or register the Tidal app and AudKeep program.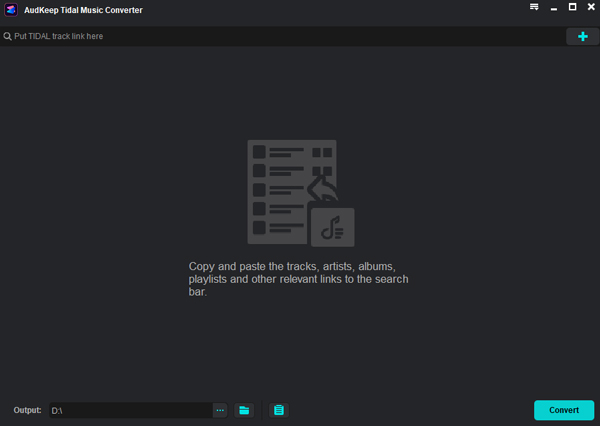 Step 2: Now, click on Preferences from the top menu and go to Output from the Convert window that appears. Now, adjust the output parameters, such as audio format, sample rate, bit rate, and other more. In the end, click OK to save your personalized settings.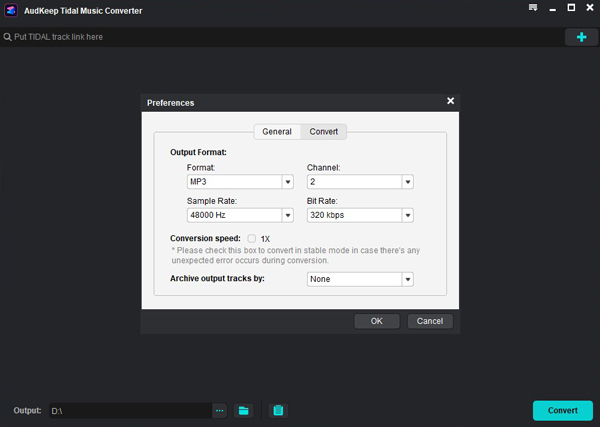 Step 3: Afterward, go to the Tidal app and navigate to the song or playlist you wish to download. After finding it, copy its link. Now, paste the link into AudKeep's URL bar, and click on the + icon to load your playlist or song to it. You can select HiFi or Master quality music for the conversion process.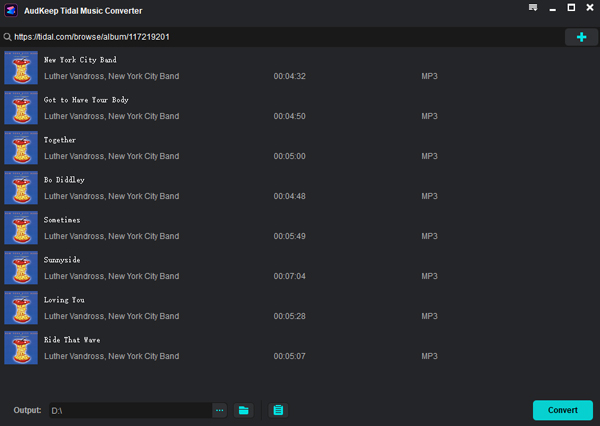 Step 4: Now, click on Convert to download music from Tidal on your computer. This process will take place at a 5X speed rate on Windows and 1X on Mac. After a while, you click on the Converted icon to locate which folder you store the converted music files from Tidal.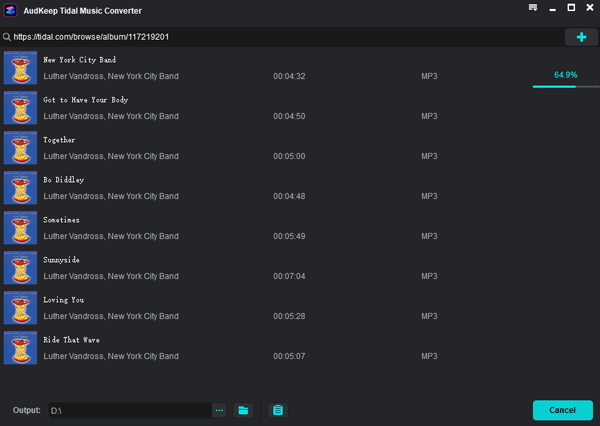 Step 5: Connect your phone to the PC via USB cable once the music is downloaded. Open File Explorer and go to the folder you just extracted the Tidal music. Select the music or the folder, and copy it. After that, go to your phone in File Explorer, and paste the music into the folder of your choice.
---
Part 4. FAQs of Tidal Music on Phone
Q1. What Audio Quality Does Tidal Offer on Phone?
Tidal is the only mobile service that supports 360 Reality Audio and Dolby Atmos.
Lossless audio quality (1411kbps or 16bit / 44.1kHz).
High – The best balance of data use and sound quality (320kbps AAC).
Normal – Data use is reduced for slower connections.
Q2. How to Change Tidal Sound Quality on Phone?
To change the best quality on the phone Tidal, read the following instruction.
Step 1: Open the Tidal app on the mobile device and go to My Collection.
Step 2: Now, go to Settings and scroll down to select Streaming.
Step 3: After that, select the audio quality of the music.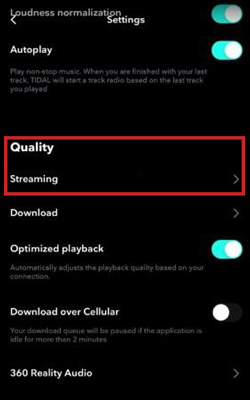 Q3. Which iOS Devices Support Tidal HiFi Plans?
Although Tidal is amongst the best streaming platforms, it does have some streaming restrictions regarding HiFi plans. Only iOS devices having iOS 13 or above can support such plans.
Q4. Which Android Phones Support Tidal HiFi Plans?
Tidal also has some restrictions when playing HiFi plans on Android phones. HiFi plans are only supported on devices running Android 6 or above.
---
Part 5. Wrapping Up
Tidal music is amongst the top-rated music available on the Internet. It's a better choice for you to listen to music of high quality. Since you require offline music when you're on a trip, downloading Tidal music for offline streaming is a good idea. And about how to download music from Tidal to phone, we hope you know the answer after reading this article.
Moreover, if you wish to get Tidal music on your phone, not just inside the Tidal app, we recommend using AudKeep Tidal Music Converter to get Tidal music for free. The tracks you added from your computer to your phone allow you to play offline anywhere anytime without concern about when the Tidal HiFi expired.