"Any way on how to get Tidal for free? I love the music quality it offers, but I can't afford the subscription price."
For getting Tidal at free, there are several ways to help you. If you want to get free Tidal, then you can't miss them. In this post, we collected 5 working methods on how to get Tidal Premium and Tidal HiFi for free. Just follow us and see how to make it.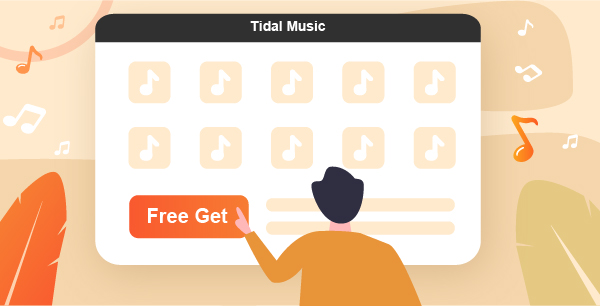 ---
Part 1. Know More about Tidal
Tidal is the subscription-based streaming music service on the market. It offers more than 70 million tracks and 250,000 music videos for users to enjoy. Its higher audio quality, including HiFi and MQA quality, makes it stand out from the crowd. The high-quality sound has attracted many loyal music lovers.
Tidal is compatible with most devices, which makes it easier for users to use. The Tidal app can use on Android and iOS devices. And the app can be downloaded through the Play Store or App Store. In addition, it has a desktop app and a Tidal web player for users to listen to music on Windows and Mac computers.
---
Part 2. Is Tidal Free
Is there a free version of Tidal? For those users who like to watch music videos, this is positive. Tidal has a free membership tier called Tidal Access. It allows users to use Tidal for free. But only limited songs can be accessed in this Tidal free account.
But to access Tidal's entire music library, there are two subscription-based plans for you to choose from. These include Tidal Hi-Fi priced at $19.99 and Tidal Premium for $9.9 a month. Tidal Premium offers 320kbps AAX files. You can listen to CD-quality (16-bit/44.1kHz) and MQA (24-bit/96kHz) in Tidal HiFi account.
Fortunately, before getting a Tidal Premium or HiFi account, there is a Tidal free trial to test its features. In any case, no matter which plans you choose to subscribe to, it will cost you a lot.
---
Part 3. How to Tidal for Free with Tidal Free Trial
Tidal offers a 30-day free trial for users to become temporary members. This is aimed to attract new users to subscribe to Tidal Premium or Hi-Fi plans.
With Tidal free trial, you can experience the music feast before selecting Tidal. And you can access more than 1 million lossless audio tracks. You can find exclusive music and videos. You can also listen to Tidal music and playlists offline.
Eager to become a free Tidal account user? No worry. Just follow the tutorial below and you will make it.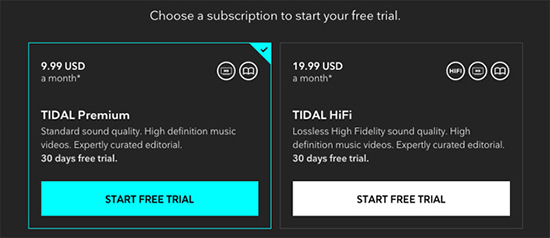 How to Get Tidal for Free – Detailed Guide
Step 1. Launch your web browser and enter the official website of Tidal.
Step 2. Hit on the big "Start Free Trial" button. Then you can register for a Tidal free trial account with your email address. In addition, you can do that via your Facebook or Twitter account.
Step 3. Enter the password and your personal information in the pop-up window. Then click "Continue".
Step 4. Choose your package from "Premium" or "HiFi". In addition to the standard plans, you can also choose a specific type from "Family", "Student" or "Military".
Step 5. Once chose, then fill in your credit card details or PayPal link. After that, you are a Tidal subscriber and you can start to get Tidal for free.
Note:
1. Once the Tidal free trial expired, you can no longer play Tidal music and playlists. To continue, you need to pay a monthly subscription fee. In addition, if you don't want to continue for next month, please cancel your Tidal subscription before expiration.
2. The tutorials to get Tidal for free on iPhone and Android are the same as above. Therefore, we don't show it here. Besides, you can use the Tidal Offline Mode with the Tidal mobile app. While this function is not available on a desktop app.
---
Part 4. How to Use Tidal for Free after Tidal Free Trial
It is easy to get Tidal free trial. But 30 days is too short to enjoy Tidal music. Besides, what if your free Tidal HiFi or Premium account expires? How do you enjoy Tidal music later? Will you continue?
If you want to continue, do you find a way to get Tidal free after the trial? If not, here you can get the solution.
You can use AudKeep Tidal Music Converter. It can download Tidal music and playlists offline via your free Tidal HiFi or Premium account. In addition, it can also convert Tidal music to FLAC, MP3, and more. Then you can save Tidal music forever for using.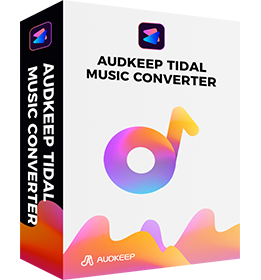 Main Features of AudKeep Tidal Music Converter
Download music from Tidal easily
Convert Tidal songs to MP3, AAC and more
Keep lossless sound quality of Tidal music
Get Tidal for free and keep Tidal music forever
How to Use Free Tidal Account to Get Tidal Free
The guide below will show you how to download Tidal music for free. To begin, you need to download and install AudKeep Tidal Music Converter on Mac/Windows computer. And you need to ensure that the free Tidal account is still valid.
Step 1 Launch AudKeep Tidal Music Converter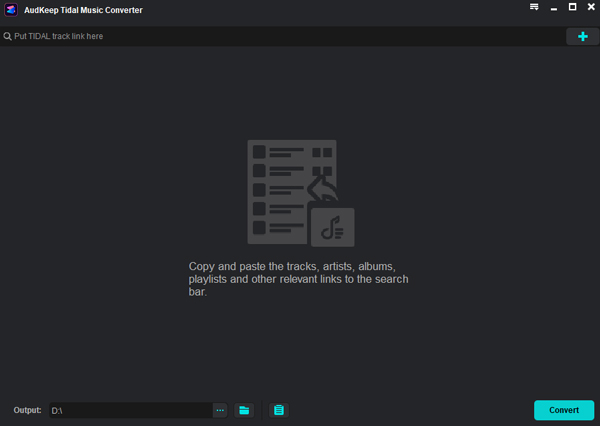 Open the AudKeep Tidal Music Converter on your computer. Then hit 'Log in' to enter your free Tidal account.
Step 2 Alter Tidal music output audio format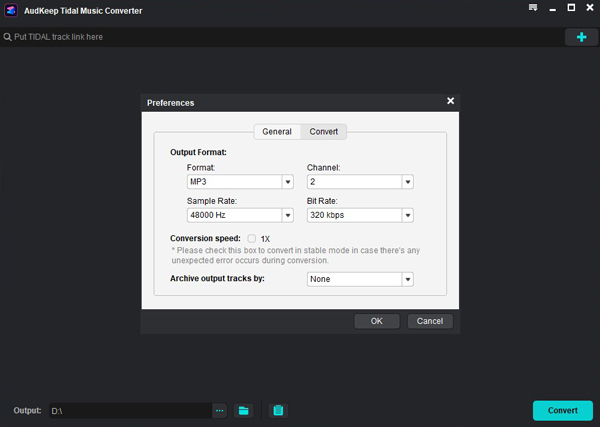 Click on the Menu icon from the upper right corner of AudKeep program. Then choose the 'Preferences' option in the list. After that, you can see a new window, in which you can set the output audio format for Tidal music. Just touch on the 'Advanced' option to go on. Then you can choose the audio format from MP3, AAC, and more for Tidal songs as you like. Besides, you can reset the bit rate, sample rate, and so on for Tidal music. Then hit 'OK' to finish.
Step 3 Choose and load Tidal music to AudKeep program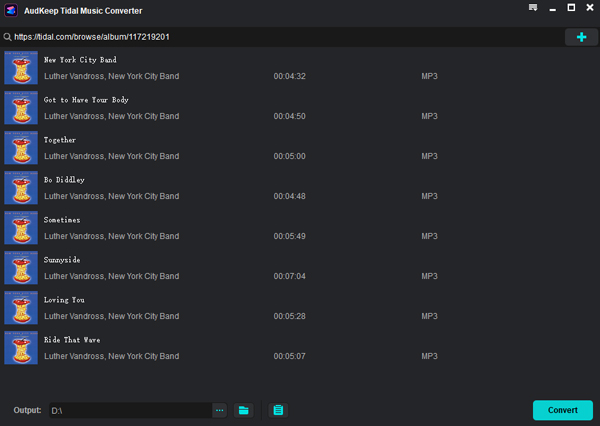 Here you can go back to the main screen of AudKeep program. Then you can find the playlist you want to convert and save forever. When found, hit on it and load the details. At the same time, a blue button will show at the right side. Then you need to press on it. And your Tidal playlist will be added to a new window. Here you can choose the tracks you want to convert as you want. After that, hit the 'Convert' button.
Step 4 Convert and get Tidal for free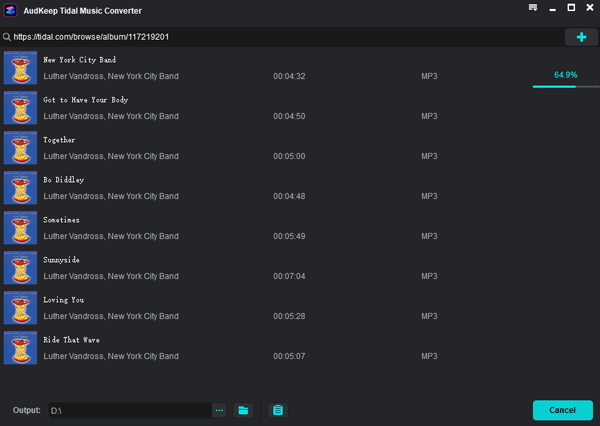 At this time, you can see the conversion process. When done, you can get Tidal music free on your computer. And you can find them on your computer by hitting on the 'history' icon. At last, you can use Tidal music for free on any device you want.
---
Part 5. Get Tidal for Free with Sprint
For Tidal, it will make some free Tidal promotions with other companies. And Sprint Company is on the list. In other words, you can get Tidal for free with Tidal Sprint.
On January 23, 2017, Sprint had announced that they acquired a 33% stake in Tidal for $200 million. Since then, Sprint began to roll out two new pricing plans for its cellular services, namely Unlimited Plus and Premium plans.
By using Sprint, you can get a 6-month free trial of Tidal. So, how to get Tidal for free with Sprint? You can follow the easy guide below.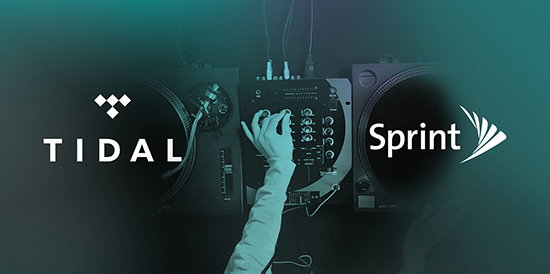 Get Tidal Free with Sprint
Step 1. Contact Sprint and then subscribe to the Sprint Unlimited Plus plan.
Step 2. Go to Tidal official website and cancel your existing paid plan.
Step 3. Go to Tidal app on your device and log out of your account. After that, you will be required to accept through Sprint subscription.
Tips: With the Unlimited Plus plan, you can get Tidal Premium for free. While with the Unlimited Premium Plan, you can get Tidal HiFi for free.
---
Part 6. How to Use Boost Mobile to Get Tidal for Free
The three ways above show you how to get Tidal for free on your computer. What if you use Tidal with a mobile device? How do you get Tidal for free on Android and iOS devices?
No worries. In this part, we will introduce Boost Mobile for you. It is a wireless telecommunications brand. It uses T-Mobile's network to provide wireless services to its American consumers.
Just like Sprint, Boost Mobile is also one of Tidal's partners. When you use Boost Mobile on your device, you can enjoy Tidal HiFi with Boost for free for six months with the best sound quality. With Boost Mobile's offline feature, you can download your Tidal favorites. Then you can play Tidal songs without an Internet connection.
With Boost Mobile and Tidal, you can get Tidal for free for 6 months. If you are MQA and HiFi music addicts, it is a nice try for you.

Steps to Get Tidal HiFi for Free
Step 1. Make sure that the Tidal application on your device is the latest version.
Step 2. Place the Boost SIM card on your phone. For iOS devices, you need to use the Boost network instead of WiFi.
Step 3. Sign up for TIDAL with your My Boost account. Here are the steps: Login > I want to: Manage my plan and add-ons > Select 'NOW' and 'GO'. Then Under 'Other' > select 'TIDAL 6-month trial' > Add to cart > Submit for review.
Tip 1. No need to create a user name and password when using TIDAL on a smartphone.
Tip 2. Cancel your current Tidal subscription if you are an existing user of Tidal. Then, you will be asked to accept via Boost.
Step 4. When Tidal offer is added to your Boost account, you can download this application. Then you can get a Tidal HiFi account for free.
---
Part 7. How to Get Tidal Free through Tidal Access
For users who like to watch Tidal videos for free, you can check this part. Tide Access supports free watching video content without ads and limited songs with Tidal ads. To do that, you just need to use your email address to sign up for a free Tidal account.

There are 4 different video channels. They are dialogue, performance, documentary, and spotlight. By using Tidal Access, you can watch Tidal music videos for free.
But, this free Tidal plan only lets you listen to selected content on the homepage. You can't search for a specific Tidal track. So, to get Tidal for free, you'd better choose the method we mentioned above.
---
Part 8. The Verdict
For users who want to get Tidal for free, you can refer to the top 5 ways above. You can use Sprint or Boost and then get Tidal for 30 days or 6 months for free. Or you can use Tidal Access to watch limited Tidal music videos and songs for free. By the way, don't forget to get Tidal Premium and Tidal HiFi for free.