With a rich music library of over 80 million songs, Tidal offers users HiFi quality music and allows you to explore all genres of music on many devices. However, Tidal still has some obvious limitations, for example, you can't put Tidal Music into SD card, enjoy Tidal music tracks on Google Home, and more. However, if you have converted Tidal to MP3 tracks, anything is possible.
Have you tried searching for "Tidal to MP3" in Google to find a good way to download MP3 from Tidal? If so, the official answer may disappoint you because Tidal doesn't offer a solution for obtaining Tidal MP3 download. In this case, this article will show the best ways to convert Tidal to MP3 for free, online, Windows/Mac for you to choose from.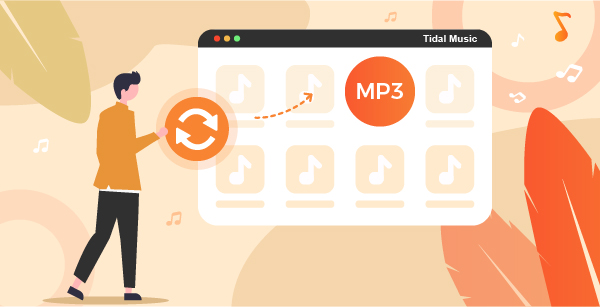 ---
Part 1. How to Convert Tidal to MP3 – Best Tidal to MP3 Converter
Due to digital rights protection, you can only play Tidal Music on devices licensed with Tidal, and converting Tidal to MP3 seems to be the perfect solution to this problem. It's worth mentioning that AudKeep Tidal Music Converter happens to be a tool that can download and convert Tidal to MP3 without any limit.
By using a magic conversion technology, it can also convert Tidal to Lossless, FLAC, M4B, WAV, AAC and M4A. To maintain a high quality listening experience, it will download the original Tidal audio files. In addition, all ID3 tags and other meta information can be 100% preserved during the conversion process.
This best Tidal to MP3 converter can convert Tidal Music at up to 5X faster speed.With it, you can download MP3 from Tidal and play Tidal tracks on any device and music player. Even if you cancel your Tidal subscription, you can continue listening to Tidal songs offline without any problem.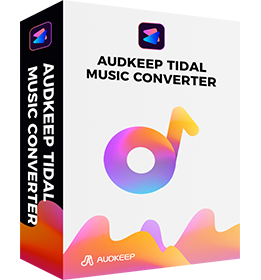 Main Features of AudKeep Tidal Music Converter
Losslessly download Tidal to MP3 audios without the Tidal app
Convert Tidal music to AAC, WAV, etc. for playback on other devices
Keep all the original ID3 tags and 100% lossless audio quality of Tidal songs
Work at 5X speed, edit music quality and audio parameters
How to Get Tidal MP3 Download via Best Tidal to MP3 Converter
AudKeep Tidal Converter to MP3 is available for Mac and Windows operating systems. You can choose the correct free version and install it on your computer. However, its free mode can only convert the first minute of each Tidal song. You'd better buy the full version to convert Tidal to MP3 without any restrictions.
Step 1. Run the AudKeep Tidal Music Converter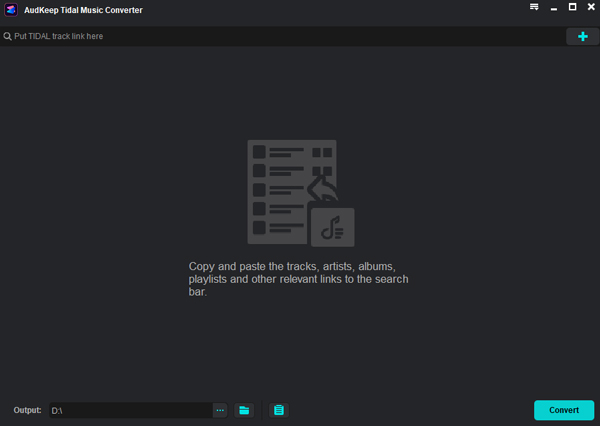 Double click to open the AudKeep Tidal MP3 Converter from your computer desktop. On the main screen, select 'Log in' and enter your email address and password, then you will log in to your Tidal account.
Step 2. Set Output Format for Tidal to MP3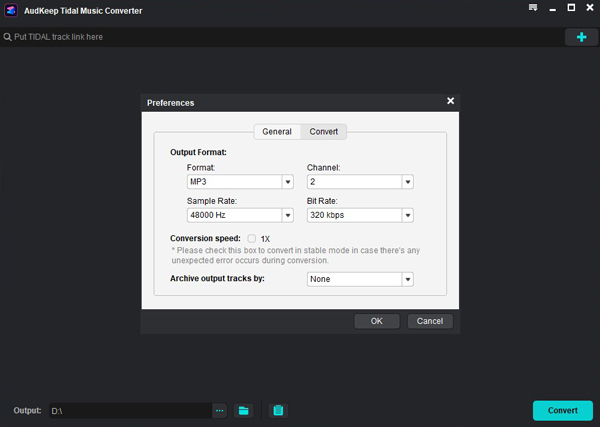 In order to get Tidal MP3 download, you need to define the output format as MP3. Click on the "Menu" icon of AudKeep Tidal Music Converter and then, select the "Preferences" > "Convert" option. You will need to set the Tidal output format to MP3 on the settings window that pops up. Alternatively, you can customize the quality of your Tidal Music by adjusting the audio bit rate, sample rate, etc.
Step 3. Load Tidal Music to AudKeep Tidal Converter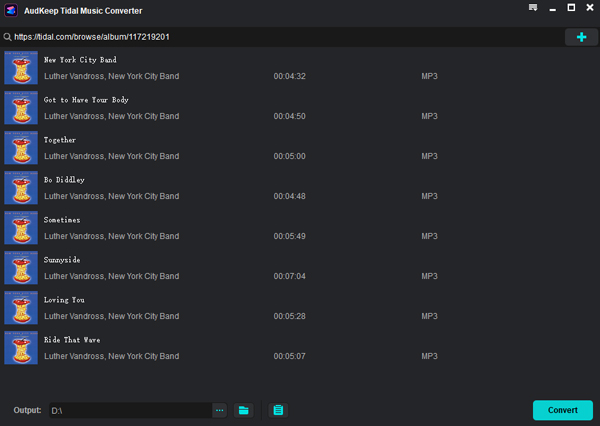 Click "OK" and exit the format window. Then enter your Tidal Music library and find your favourite Tidal songs and playlists. You can drag and drop them into the conversion window of this converter directly. Or copy and paste the track's link into the search box at the top and click the "+" icon.
Step 4. Download Music from Tidal to MP3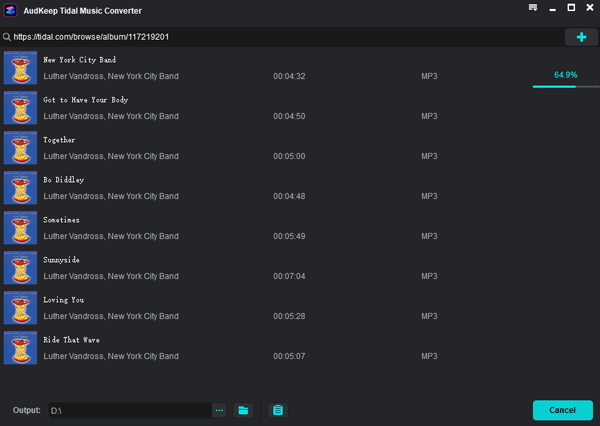 For the last step, please click the "Convert" button in the lower right corner. Soon, AudKeep Tides MP3 Converter will download music from Tidal to MP3 audio files with zero quality loss. After the conversion, please click on the button labeled "Converted" > "Search" icon and you can find the Tidal MP3 download on your computer.
---
Part 2. How to Rip and Convert Tidal to MP3
In fact, apart from the professional Tidal Music Converter mentioned above, audio capture is also an effective tool for getting Tidal MP3. If you search the web for the best audio capture, AudFree Audio Capture must be at the top of the list, which is why we highly recommend it here.
Using advanced and innovative capture technology, it is specifically designed to rip and convert Tidal to MP3, FLAC, WAV and other common formats. As a result, you are able to listen to Tidal MP3 Music offline on any device and player you want.
What's more, with the built-in editor, you have the freedom to manually edit ID3 tags and cut Tidal Music into small audio clips. To your surprise, in addition to capturing Tidal Music, it can also record any playing sound on your computer.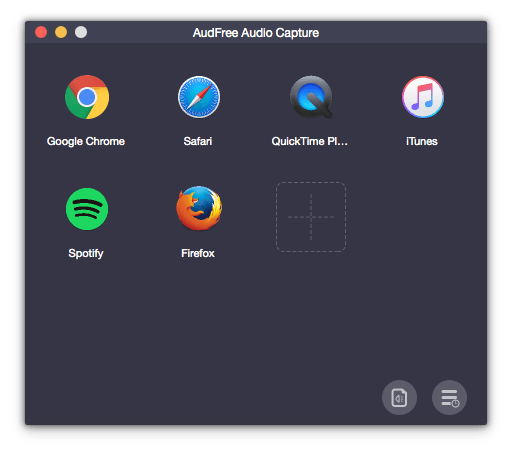 How to Rip and Convert Tidal to MP3 for Windows/Mac
Step 1. Download and install AudFree Audio Capture on your computer, then double click on the software icon to launch it.
Step 2. You can see a number of software or browser icons, just select the Tidal music icon in the list. If not, click on the "+" button to add it to the window.
Step 3. Click on the Format option at the bottom, after which you can select MP3 as the Tidal Music output format. In this window, it is possible to set the channel, codec, bit rate and sample rate and other relevant parameters.
Step 4. Open the Tidal Music software to play the song you want to record and it will automatically start the recording process. If you'd like to end the recording, simply click on the "Stop" icon. Afterwards, you can navigate to your computer's target folder to view the Tidal MP3 files.
---
Part 3.How to Download Music from Tidal to MP3 Online
Actually, some users may prefer to convert Tidal to MP3 online as this method does not require additional software to be installed. So, to meet the needs of users, we tested many online streaming media recorders on the market and finally picked the popular Apowersoft Online Audio Recorder.
As you can see from its name, although this tool uses recording technology, MP3 can also be extracted online. It works well with Tidal music tracks and in turn gets Tidal MP3 download from music tracks. As an all-in-one Tidal to MP3 converter online, it also comes with some amazing editing features, such as support for retaining or customizing ID3 tags. Except for MP3, there are other six output formats for your choice, including WMA, M4A, AAC, FLAC, WAV and OGG.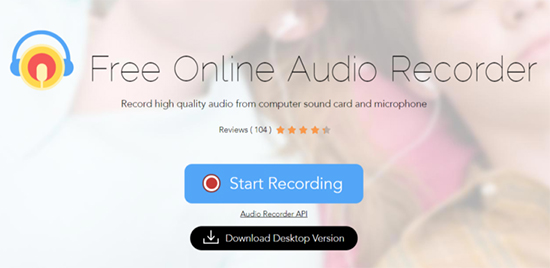 How to Convert Tidal to MP3 Online via Apowersoft
Step 1. Go to Apowersoft official website and press the "Start Recording" button.
Step 2. Find Tidal and select Tidal as the audio source. You can set the output format for Tidal to MP3 under the "Tools" > "Options" button.
Step 3. Browse the trendy Tidal Music, and then play your favorite song. Click the "Record" button to start to convert Tidal to MP3 online.
---
Part 4. How to Convert Tidal to MP3 Free
It would be especially perfect to be able to convert Tidal to MP3 for free, and fortunately we come across a free Tidal to MP3 converter, namely Athame, a widely known Tidal ripper dedicated to downloading music from the Tidal streaming music service.
Moreover, it's a free tool that you can find and install on GitHub. It is not only available for Tidal, but can also be used to get music from Google Play Music. But please note that although this Tidal to MP3 converter is free, you can only use this tool for educational and personal purposes.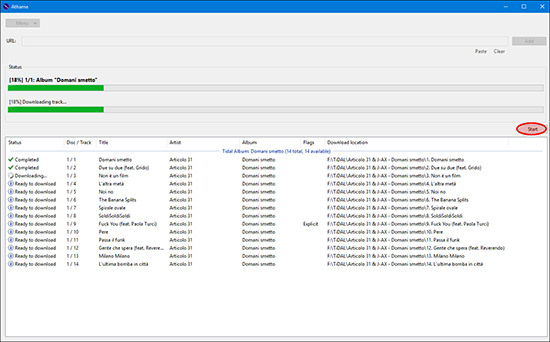 How to Convert Tidal to MP3 Free Using Athame
Step 1. Go ahead to Tidal Web Player or open Tidal desktop program. Find the Tidal song that you want to convert into MP3 file.
Step 2. Hit the Share > Copy Tidal Link button to copy the link to the Tidal song and playlist.
Step 3. Paste the link into Atham's "URL" text box. Then hit "Add" button to load Tidal Music and playlist.
Step 4. Click on the "Start" tab to convert Tidal to MP3 for free as you wish.
---
Part 5. FAQs of Tidal to MP3
Q: What Is Tidal?
A: With the growth of streaming, music streaming platforms like Tidal have become popular. It offers three levels of service, Tidal Free, Tidal HiFi and Tidal HiFi Plus. Tidal HiFi Music is encoded in 44.1 kHz/16 bit FLAC format, which is a boon for users looking for high quality music.
Q: Why Convert Tidal to MP3?
A: Tidal indeed provides users with a great listening experience, however, Tidal Music has some drawbacks, like the fact that users can only play Tidal Music on devices that are compatible with the Tidal app. In other words, even if you subscribe to its service, you don't have full control over the playback of Tidal Music. In this instance, converting Tidal to MP3 is the best solution.
Q: How to Download Music from Tidal to MP3?
A: As you can see above, there are several effective ways to convert Tidal Music to MP3. You can choose a suitable way according to your situation and then follow the steps above.
Q: Which is the best way to convert Tidal to MP3?
A: If you can't decide which of the above methods to choose, then you'd better try the best AudKeep Tidal to MP3 converter because it can download and convert Tidal Music With no special conditions or restrictions. Besides, it's also very easy to use, so even a novice can get started quickly.
---
Part 6. In Conclusion
If you are a Tidal music subscriber, you can enjoy lots of music from Tidal's large music library. For mobile users, you can download Tidal Music for offline playback.
However, as the Tidal app is not working on every device and platform, you need to convert Tidal to MP3 for better Tidal Music entertainment. By doing this, you can play Tidal songs offline anywhere and anytime.
So here, just follow this article to convert Tidal to MP3 for free, online, Windows/Mac. After that, you can play Tidal Music offline on multiple devices without installing the Tidal app. For example, you can play Tidal Music on Google Home,, Apple Watch, etc. as you want.