In the area of high-fidelity music streaming, Tidal is the undisputed leader. Tidal HIFI subscription offers 2 main types of sound quality: High Fidelity sound quality (FLAC, 16 bit / 44.1 kHz) and Master sound quality (FLAC, 24 bit / 96 kHz).
Mobile users can listen to Tidal Music offline on their mobile phones or tablets. But desktop users can't play Tidal songs in offline mode through the Tidal desktop app. To make matters worse, users can't play Tidal FLAC downloads on some portable devices when there is no Tidal integration.
Is there any way to download FLAC from Tidal for free playback? The answer is yes, and fortunately, here are several best Tidal to FLAC downloaders to get Tidal FLAC downloads. Without further ado, read on for a detailed tutorial.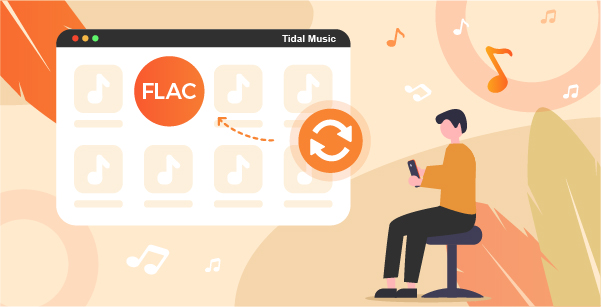 ---
Part 1. How to Download FLAC from Tidal – AudKeep Tidal FLAC Downloader
As you probably know, downloaded Tidal Music content can only be read by the Tidal app, due to the digital rights management protection of Tidal streaming music. Therefore, a third-party tool is urgently needed to bypass all the restrictions.
AudKeep Tidal FLAC Downloader is exactly what you are looking for, as this professional software is dspecially designed for Tidal subscribers. With its help, you can download FLAC from Tidal without using the Tidal application and remove all copyright restrictions on Tidal downloads at the same time.
As an all-round Tidal to FLAC converter, this smart app can not only download Tidal FLAC music, but also do much more. It converts Tidal to MP3, WAV, WMA, M4A and M4B without a bit of quality loss. During the downloading process, this intelligent converter also detects and retains all ID3 tags like title, year, album art, genre, etc.
Using the edge-cutting technology, AudKeep Tidal Converter to FLAC downloads from Tidal FLAC to Windows and Mac computers at 10X speed. With the aid of this tool, you can play Tidal Music on any portable device, smart speaker, media player, game console, etc. without the dedicated Tidal app.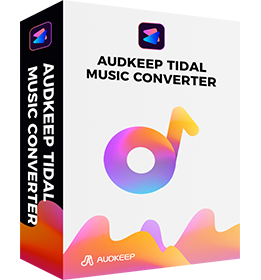 Main Features of AudKeep Tidal Music Converter
Clear Tidal music copyright limits with lossless quality
Download and convert Tidal to FLAC, MP3, WAV, etc.
Show original ID3 tags for saving or customization
Run at 10X speed, support to batch adding songs from Tidal
How to Download FLAC from Tidalfor Windows/Mac
Please download and install AudKeep Tidal Music Converter on your computer. Then follow the tutorial below to download and convert Tidal to FLAC.
Step 1. Log into AudKeep Tidal to FLAC Converter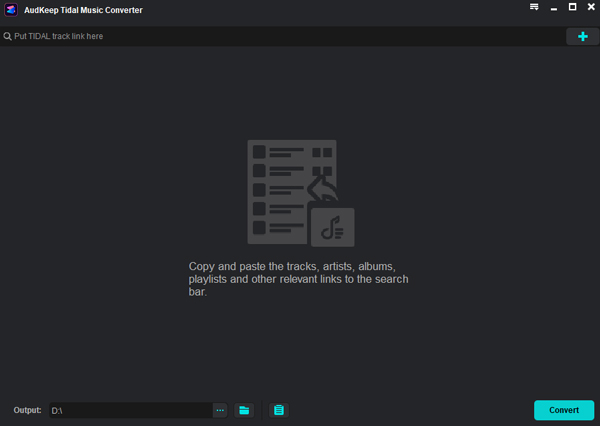 After the installation is complete, launch the AudKeep Tidal FLAC Converter. As it has Tidal integration, the Tidal software will also run at the same time. Please click the "Login" tab to access your Tidal account.
Step 2. Change Tidal Output Format to FLAC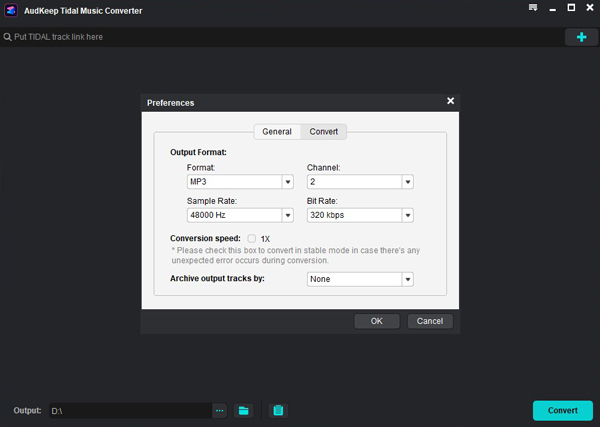 Please head to the "Menu" from the top-right toolbar. Open the "Preferences"> "Convert" tab. In this setting window, please reset FLAC as the output format and edit other audio parameters if needed. For Tidal HiFi songs, it is recommended to reset the output bit depth to 24 bits.
Step 3. Import Tidal Music to AudKeep Tidal FLAC Downloader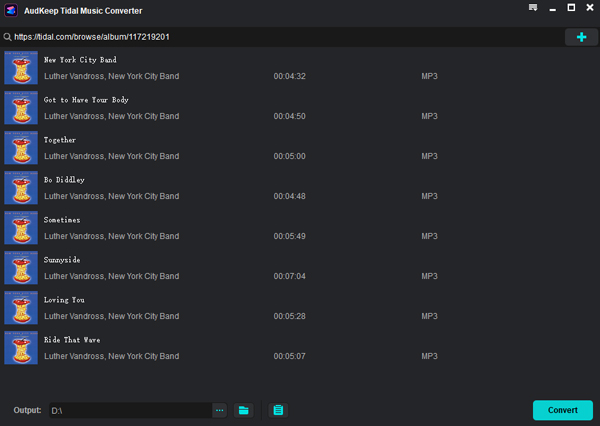 Please open the song, album or playlist you want to download, then drag and drop it into the conversion window of AudKeep Tidal FLAC Downloader directly. Once added, click on the "Convert" tab to start converting Tidal to FLAC.
Step 4. Download FLAC from Tidal Losslessly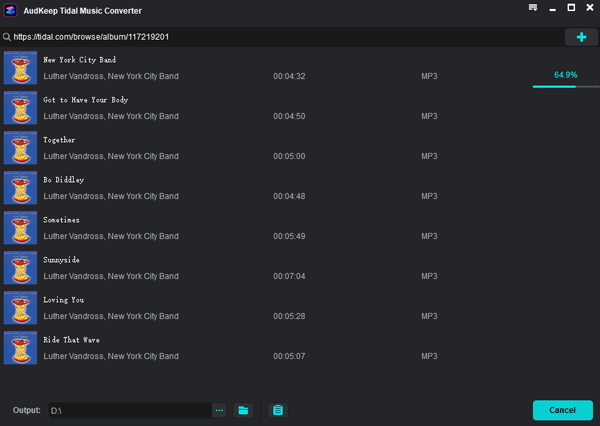 The final step is to wait for the conversion process accomplishes. You can continue adding Tidal songs during the process. When finished, click the "Converted" icon to open the history list and check all the downloaded FLAC Tidal files on the local folder.
---
Part 2. How to Download and Rip Tidal to FLAC – AudFree Audio Capture
If you are eager to rip Tidal to FLAC, then look no further than AudFree Audio Capture. As its name suggests, it's a professional third-party recorder designed to record any sound on your computer, including Tidal streaming music. As such, it is able to rip and download Tidal to FLAC without any restrictions.
As the best Tidal FLAC music recorder, it uses advanced audio recording technology to convert Tidal to FLAC to your Windows and Mac computer. Meanwhile, it preserves the original ID3 tags and metadata of Tidal Music without any quality loss during the recording process. In this case, you can play Tidal FLAC music offline on any preferred device.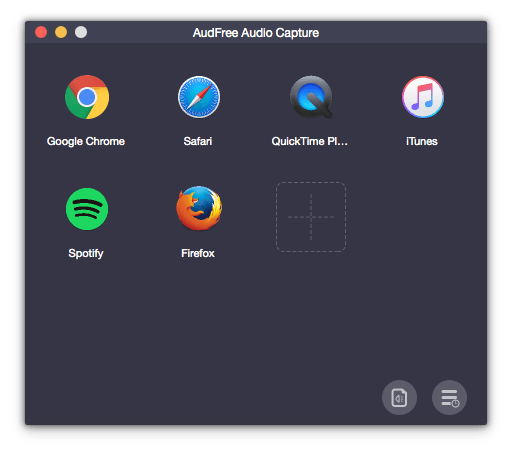 How to Download and Rip Tidal to FLAC
Step 1. Launch AudFree Audio Capture and you will be able to see a list of programs installed on your computer. Just click on the target program, i.e. Tidal Music Software.
Step 2. Please click on the "Format" icon to open the settings window. You can set the FLAC format as your desired Tidal output format. There are also other formats you can choose from, like MP3, WAV, AAC, M4A, etc.
Step 3. Click on the Tidal app and start playing your favourite Tidal Music, playlist or album. It will then bring up the recording window and start recording Tidal songs automatically.
Step 4. You can click on 'Stop' to finish the recording process. Click on the 'Save' button to save the Tidal FLAC files to your computer. Now you are free to transfer them to any device for offline playback.
---
Part 3. How to Convert Tidal to FLAC – Tidal-Media-Downloader
Tidal-Media-Downloader is free software for those who need Tidal downloaders. It's open-source and cross-platform that allows users to download songs, playlists, and videos from Tidal for Windows, Mac, Linux, and Android devices. This Tidal downloader FLAC is able to auto-select output quality after detecting the original metadata info, but users need to count on a Tidal HiFi subscription to export Tidal to FLAC.
Tidal-Media-Downloader is available in 2 versions, including Tidal-GUI (for Windows) and Tidal-dl (for all supported platforms). Here is a simple guide on how to use them on the different platforms to download FLAC from Tidal.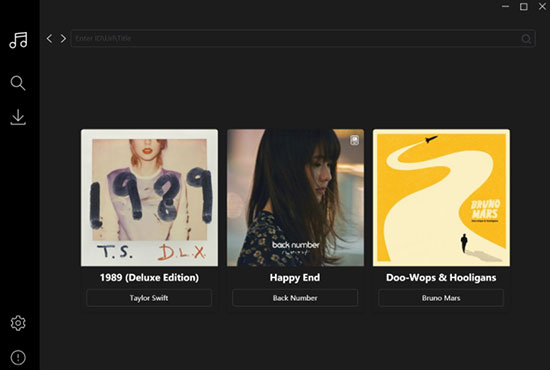 How to Convert Tidal to FLAC via Tidal-GUI
Step 1. Open and log into your account.
Step 2. Copy & paste Tidal Music link to the search column of Tidal-GUI to download Tidal to FLAC for free.
How to Download from FLAC Tidal with Tidal-dl
Step 1. Launch it and type "1" to sign into your account.
Step 2. Enter "2" and press "Enter" to configure output format to FLAC and choose audio quality to HiFi.
Step 3. Copy Tidal track link to Tidal-dl and start to download music to FLAC from Tidal.
---
Part 4. How to Rip FLAC from Tidal – Audacity
If you want a useful tool for ripping FLAC from Tidal for free, you can't go wrong with Audacity. In reality, as a free and open source Tidal audio recording tool, it can be used to capture and download any song played on the Tidal Music app. It is worth mentioning that it is compatible with popular operating systems such as Windows, Mac, GNU and Linux.
In terms of output formats, in addition to FLAC, Audacity can also convert Tidal Music to other audio formats such as MP3, WAV, AAC, etc. So with this comprehensive free Tidal to FLAC downloader, it's able to get your favourite music downloaded from Tidal so that you can enjoy Tidal music anywhere, anytime without any problem.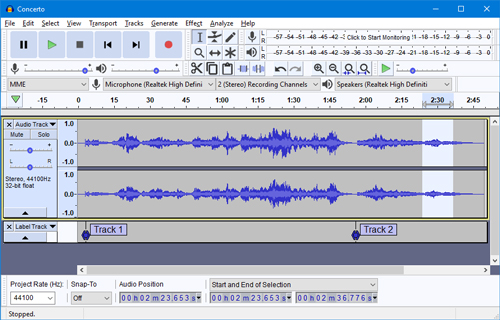 How to Rip FLAC from Tidal using Audacity
Step 1. Download and launch Audacity on your computer, click on the Transfer Options button and then tap to Close Software Play in the Transfer Options.
Step 2. Once you have set the software play switch, play the music you want to record in the Tidal Music software. Touch the Record button, it will switch to recording mode and start recording Tidal Music automatically.
Step 3. Simply press the "Stop" button to end the recording. Finally click on the Save button and the Tidal FLAC music will be saved to a local file on your computer.
---
Part 5. FAQs about Tidal FLAC Download
Q: Does Tidal Offer FLAC?
A: As a matter of fact, Tidal HiFi uses the encoded FLAC format to provide large and uncompressed audio files. In turn, it makes the listening experience more realistic with streaming lossless audio. In this situation, protected Tidal FLAC music is restricted to play on certain devices.
Q: What Is FLAC?
A: FLAC stands for Free Lossless Audio Codec, which is a kind of lossless format. Tidal HiFi comes in 44.1khz / 16-bit FLAC format and Tidal FLAC streams CD-quality lossless tracks. If you want to enjoy high-resolution audio quality, Tidal Master could be another better choice for you. Besides, you'll notice the Master tag if the song is MQA quality.
Q: Why Is Tidal the Best in Music Streaming?
A: To tell you the truth, Tidal HiFi gives listeners standard (320 kbps) and HiFi (1,411 kbps) audio quality. And HiFi Plus provides you Master (9,216 kbps) audio quality and immersive audio. The result is that Tidal becomes a great choice as the public prefers sound quality.
Q: How to Download FLAC from Tidal?
A: If you are a Tidal HiFi subscriber, you can download Tidal to FLAC to your mobile device. However, if you are a free subscriber and want to get Tidal FLAC downloads on your desktop, then you can try the valid options mentioned above. By the way, AudKeep Tidal FLAC Downloader will be your optimal solution.
---
Part 6. In Conclusion
To sum up, whether your Tidal plan is HiFi, HiFi-Plus or Free, you can apply the above Tidal to FLAC tools to download FLAC from Tidal without effort. Don't hesitate to take action and start your fantastic Tidal Music journey.