As one of the largest high-quality streaming music services in the world, Tidal provides users with more than 60 million high-resolution streaming music and videos. To access this streaming content, users need to pay a monthly premium of $9.99 or a monthly HiFi of $19.99.
Like most music platforms on the market, there is a Tidal free trial for new users. But the trial periods are always changing. Sometimes it's 30 days, sometimes it's 3 months, and the longest free trial is up to 6 months in history. So far, new users are able to get 3 months Tidal trial for free at most.
But it is still possible to extend the Tidal free trial to 6 months and even longer. In the following sections, we will like to share this magic method with you to get Tidal 6 months free trial.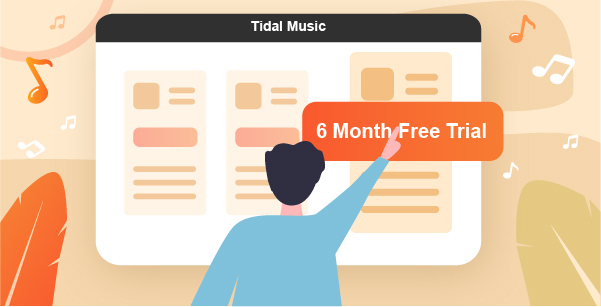 ---
Part 1. Get Tidal Free Trial for 3 Months – Regular Method
It's easy to start a Tidal 3-month trial. Please search for the Tidal trial in Google and open the first search result. Or follow the simple steps below:
Access to the official Tidal website.
Press the obvious "Start Free Trial" on the homepage.
Register for a new account.
Choose the "Premium" or "HiFi" subscription plan. Or further choose a specific type like "standard" or "family", "student" or "military".
Fill in your credit card information or link with your PayPal.
Now you can get the Tidal free trial for 3 months.
---
Part 2. How to Continue Using Tidal Free Trial 6 Months
During the free trial, you can extend the 3-month trial to 6 months. What you need is the powerful AudKeep Tidal Music Converter. This gadget is able to download and convert Tidal music to FLAC, WAV, MP3, M4A, etc. as a local file. The converted Tidal files are offline playable without a Tidal subscription. You can also stream the converted songs to other players or devices. To put it another way, Tidal's trial period can be extended not only for six months but permanently.
Using state-of-the-art technology, this music expert runs 10X faster. bypass the limits of Tidal songs without any quality loss. After conversion, 100% of metadata like the artist, album, album art, genre, etc. will be saved. You are also welcome to edit them if it is needed.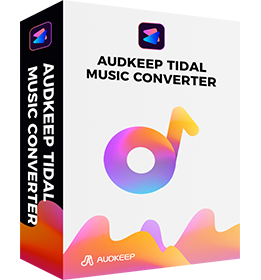 Main Features of AudKeep Tidal Music Converter
Batch import and download Tidal tracks
Convert Tidal to MP3 and other formats
Save 100% Hi-Res quality and metadata
Get Tidal free trial to 6 months and longer
3 Steps to Get Tidal Free Trial Forever
Please choose the correct version and click the download link above to and install it. There is a time limit of AudKeep's free trial so it is better to register a full version.
Step 1 Open and change Tidal output parameters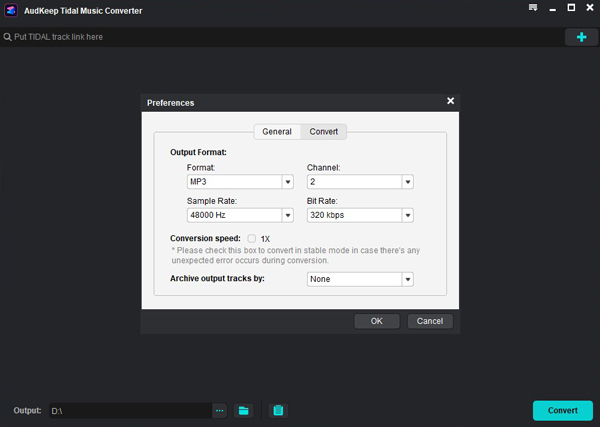 Start the AudKeep Tide music converter and the Tidal application is already built in the interface. You can switch output formats as needed from the menu > "Preferences" > "Advanced" option.
Step 2 Choose and load Tidal music to AudKeep program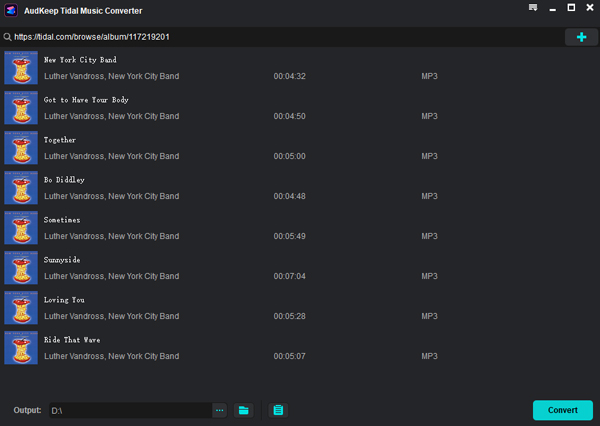 To import Tidal songs, please open the album or playlist that contains the songs. Then an "Add Music" icon will be activated. Click it and select individual songs or all of the tracks. After that, hit "Convert" to start downloading in AudKeep.
Step 3 Convert and get Tidal Music more than a 6-month free trial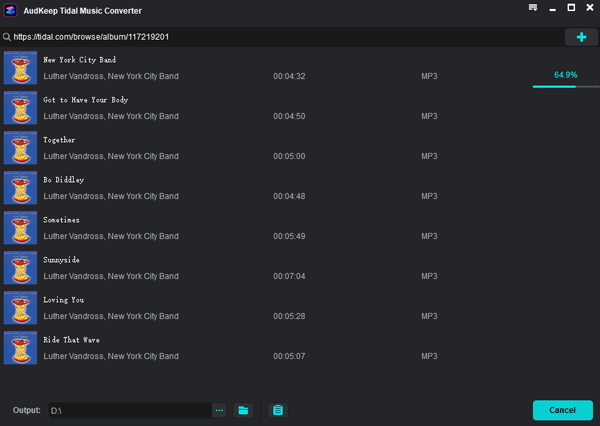 Now the program is downloading the Tidal tracks. You can check the progress bar and continue adding songs if needed. When the conversion is completed, you can locate the target folder on the local computer by opening the "Converted" button on the top.
Now you have extended the Tidal free trial features for over 6 months or even permanently.
---
Part 3. How to Get Tidal Free Trial 6 Months via Sprint
Sprint has cooperated with Tidal for a long time. The Sprint X Tidal plan provides two plans to get the Tidal trial for free, the Unlimited Plus and Unlimited Premium. The differences between these two plans are the music quality. The former one gives Tidal Premium membership and the latter one gives Tidal HiFi membership.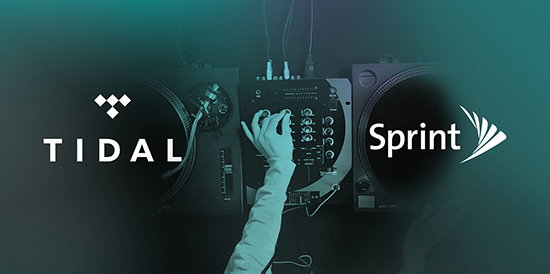 If you have subscribed to Tidal, please visit the official Tidal website and cancel your preordered subscription. When using the Tidal 6-month free trial, you can also use the AudKeep tool to save your liked songs permanently.