When it comes to Deezer and Tidal, there are many similarities. They both allow users to access millions of tracks easily. Comparing Deezer vs Tidal is a little hard task. As for Deezer, it has a large catalog and a wide-ranged CD-quality tier. However, Tidal has excellent sound quality and a high-resolution intuitive interface.
Except for these features, in this post, we will take a deeper look at the differences between Tidal vs Deezer.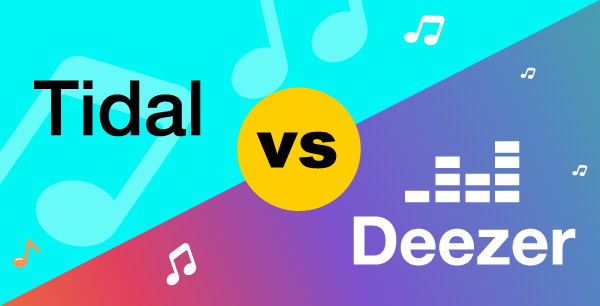 ---
Part 1. Deezer HiFi vs Tidal Sound Quality
Deezer HiFi CD quality has received more attention. The upgrade from the "better" option enables it to provide exclusive results. Besides the "standard" 128kbps and the "better" 320kbps quality, it also provides a better "HiFi" of 1411kbps. Both Deezer HiFi and Tidal HiFi provide uncompressed audio files, which are encoded in the FLAC format.
Speaking of Tidal, it turns out that its sound quality is better than Deezer. Its MQA music allows users to obtain the best streaming quality. If you care about the music quality, then Tidal could be your first choice.
From the list below, you can see the differences between Deezer HiFi and Tidal HiFi, Tidal Premium, and Deezer Premium.
Deezer HiFi: FLAC – 16 bit 1,411 kbps
Tidal HiFi: FLAC – 16 bit, 44.1 kHz; MQA – 24 bit, 96 kHz
Tidal Premium: AAC – 320 kbps
Deezer Premium: MP3 – 320 kbps
---
Part 2. Tidal vs Deezer: Subscription Plan
Deezer offers 4 pricing tiers, including 1 free tier. The monthly cost of Deezer Premium+ is approximately US$9.99. Although the streaming sound quality of these options can only be up to 320kbps, there are no ads while streaming. For Deezer Family, it costs about $15 per month. This selection covers up to 6 users and has devices limitation.
Deezer subscription plans:
Deezer Free: $0.00/month
Deezer HiFi: $14.99/month
Deezer Premium: $9.99/month
Deezer Family: $14.99/month
Tip: You can only listen to Deezer music online with Deezer free plan. If you want to enjoy Deezer music offline, you can use the tool DRmare Audio Capture to download music from Deezer for playing offline.
Compare to Deezer, Tidal offers discounts on its price plans. For students, you can enjoy a 50% discount to get the Tidal Premium Student subscription. But Tidal does not have a free tier, it only offers a 7-day trial. Tidal premium includes the "high quality" of 320kbps. To get lossless Tidal audio quality, users can get the Tidal HiFi plan with a monthly fee of $19.99.
Note: As there is no free plan for Tidal, only with a Tidal subscription that you can listen to Tidal music online.
Tidal subscription plans:
Tidal Premium: $9.99/month
Tidal Premium Family: $14.99/month
Tidal Premium Student: $4.99/month
Tidal Premium Military: $5.99/month
Tidal Premium First Responder: $5.99/month
Tidal HiFi: $19.99/month
Tidal HiFi Family: $29.99/month
Tidal HiFi Student: $9.99/month
Tidal HiFi Military: $11.99/month
Tidal HiFi First Responder: $11.99/month
---
Part 3. Deezer vs Tidal: Music Library and Availability
Speaking of Tidal music and Deezer music, they both offer millions of tracks. It is stated that Tidal has more than 70 million songs, while Deezer has 56 million tracks. In other words, Tidal has a large music library than Deezer. If you can't find the song on Deezer, you can get it on Tidal.
Deezer now is available in 182 countries. This is due to it has a wide range of tracks. While Tidal only can be accessed in 56 countries. But it is stated that Tidal is going to expanding internationally in the future. This will make Tidal create more great content for its users.
---
Part 4. Tidal vs Deezer: Compatibility
Tidal can be used via many applications. In addition, it is has cooperated with Kanye West and Rhianna. And it allows you to interact with those artists through Tidal desktop applications and mobile clients.
In addition, Tidal has expanded to TV applications, Apple CarPlay and iTunes. Other connected high-fidelity products like Bluesound, Sonos, Cyrus player, and Google Chromecast are also partnered with Tidal.
Tip: For people who want to play Tidal music on other devices without the Tidal application, you can use AudKeep Tidal Music Converter. This tool is to convert Tidal music to MP3, FLAC, and more with lossless quality as local files. Then you can transfer the converted Tidal music file to any device and platform for listening offline.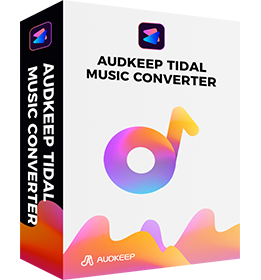 Main Features of AudKeep Tidal Music Converter
Download music from Tidal with ease
Convert Tidal tracks to MP3, FLAC and more
Keep lossless Tidal music quality and full ID3 tags
Get and keep Tidal music forever on your computer
While Deezer does not have a dedicated artist window. However, it can work with many devices, like WiFi speakers and systems.
---
Part 5. Deezer vs Tidal: Music Discovery
Tidal has a "What's New" section, which contains professionally curated playlists, albums, podcasts, and Tidal videos, and so on. Those contents are categorized by genre, mood, event, and more. In addition, it can recommend tracks and playlists for you based on your listening preferences and habits.
For Deezer, it has channels, playlists, shows, and search for its users to explore music. You can type a specific artist, song, etc. in the search bar to find what you want to find from Deezer. You can also go to the channel to get selected content according to your preferences. When it comes to playlists and shows, the former aims to automatically divide the songs you play into suitable playlists, and the latter is used for daily recommendations.
---
Part 6. Tidal vs Deezer: User Interface
Tidal vs Deezer these two streaming music services are highly rated, but they have nothing in common in the aspect of usability.
Deezer has a clean user interface with lyrics function. When you play a song, you can see the lyrics and sing along.
While Tidal has a dark mode of the user interface. You can see there are only several buttons for you to navigate, such as 'Explore', etc. And you can see the recommended tracks and albums.
---
Part 7. Which is Better? Deezer or Tidal?
From the detailed comparison between Deezer vs Tidal, which one is better? For audio quality, Tidal HiFi and Deezer HiFi are great choices for you. If you want to listen to more music, then you can go to Deezer as it has a large music library. In a word, you can choose the one that suits you according to your needs.