Music is a universal language that brings people together. It has always been an integral part of culture and diversity and continues to be so this day. For many, music is leisure, something to engage in during extra hours. Amongst audiophiles, however, music is passion, and quality music goes beyond catchy tunes and witty lyrics. For them. Music quality transcends beyond and into other characteristics like sound quality.
Music is easily accessible through streaming services like Spotify, iTunes, and YT music. These brands use compressed audio formats which make the sound degradation palpable, and they are the most mainstream. However, high-resolution audio streaming services like Tidal and Qobuz exist. While these platforms are in a niche of their own, it has not escaped the attention of audiophiles that they each differ from each other considerably.
Thus starts the Qobuz vs Tidal argument. These differences lay in aspects like subscription prices, hi-fi quality, music catalogue, library, and many others. For someone looking to get the best quality of music, the question stands: Which is better? Qobuz or Tidal.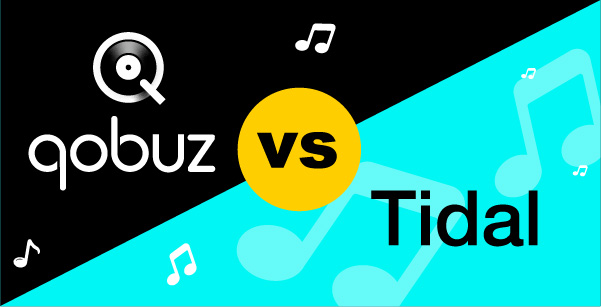 ---
Part 1. Tidal vs Qobuz Introduction
Tidal is a Norwegian product, launched by the company Aspiro and in 2014 that served as a music streaming platform to the public. It is presently owned by Square, an American company. It offers two tiers of service: Premium and HiFi. It also offers a free trial streaming period and it is available in over 61 countries.
Qobuz, on the other hand, is a French product. It is founded in 2007 by a man called Yves Riesel. It also serves as a music streaming platform and it was officially launched in the US in 2019.
They are both revolutionary companies in their own right but there is a need to understand how they fundamentally differ from each other. At the risk of coming across as shrewd skeptics looking to find flaws in awesome products, we are going to go through the Tidal Qobuz comparison in this article.
---
Part 2. Tidal vs Qobuz Paid Membership Plan
Tidal offers 320kbit/s on the Tidal Premium service. The Tidal Hi-Fi paid service offers both CD-quality FLAC-based 16-Bit/44.1 kHz and MQA (which is usually lossy 24-bit/96 kHz). Lossy sound is a digital sound that has information (re; part of the sound that would not be noticed ordinarily) removed from the audio file.
Qobuz on the other hand, offers music in MP3 at 320 kbps AAC for premium and 1411 kbps FLAC/ALAC in Hi-fi and CD quality. Qobuz sound is lossless, meaning it has all the sound retained in it.
---
Part 3. Tidal vs Qobuz Output Formats
Qobuz offers a diverse range of formats, including lossy quality in WMA, AAC, and MP3 formats. It offers uncompressed formats WAV and AIFF. The lossless formats are in FLAC, ALAC, and WMA. Tidal, on the other hand, offers FLAC lossless formats for their HiFi subscription.
More Tips: If you'd like to do Tidal music format conversion, AudKeep Tidal Music Converter can give you a hand. It has the ability to download music from Tidal onto the local computer and convert Tidal music to kinds of common audio files, like MP3, FLAC, Lossless, WAV, AAC, M4A, and M4B without damaging the original quality. With the assistance of this professional tool, you are able to listen to Tidal high-quality music on your favorite devices.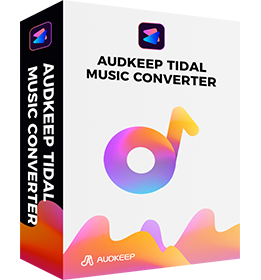 Main Features of AudKeep Tidal Music Converter
Download music from Tidal without using the Tidal app
Convert Tidal to MP3, Lossless, WAV, FLAC and more
Preserve ID3 tags and all metadata informations for downloads
Keep and back up Tidal music forever on your devices
---
Part 4. Tidal vs Qobuz Sound Quality
The Tidal Vs Qobuz sound quality debate is ongoing, but a consensus is yet to be reached amongst audiophiles. Tidal's claim to use FLAC-based formats indicates that it is more or less the same as the normal CD quality.
---
Part 5. Qobuz vs Tidal Compatibility
Tidal is available in over 60 countries while Qobuz is available in only 18 countries. The compatibility of devices for streaming platforms is also very important. One might have a lot of devices and want to use your streaming account on them.
Qobuz is compatible with devices such as iOS, android, windows, Mac OS X (macOS), and on the web.
Tidal on the other hand is compatible with the following devices: iOS, Android, Windows, macOS. Tidal HiFi, however, is only accessible on the web through Chrome. On the whole, it looks like Qobuz is the more compatible with devices. Anyway, Tidal music lovers can use AudKeep Tidal Music Converter to win a round by doing file conversion.
---
Part 6. Qobuz vs Tidal Library and Catalogue
The Qobuz Vs Tidal library is perhaps the most distinct debate for all music lovers. While audio quality and format are a big thing amongst people who have an ear for acoustics, song availability is a very integral part of the streaming experience.
When streaming songs, it might be annoying to have a low-quality version but on the whole, the total absence of a song is even more annoying.
Qobuz has a large library of hi-res music. Tidal clearly has the larger number of albums and tracks but Quboz has the larger number of tracks on CD quality. In Qobuz there are considerable gaps in catalogs. Tidal definitely has the edge in the Qobuz vs Tidal catalog comparison.
Part 7. Qobuz or Tidal Price
Spotify and Apple Music are both relatively cheap streaming platforms. They offer what the price is worth: low-quality music but a large library. As for Tidal vs Qobuz, the ball game is on another field.
For Tidal, the price of the regular plan is basically the same as the price of the Spotify premium. It offers streaming at up to 320kbps. The HiFi plan offers streaming services of higher "resolution". Tidal prices range from $9 to $19 for individual plans. For family plans, it ranges from $14 to $29.
Qobuz prices are on the higher side, though. Individual plans range from $14 to $20. Group plans range from $24 to $41. While Qobuz is clearly more expensive than mainstream platforms like Spotify, it certainly is worth the price that it demands.
Part 8. Final Verdict
Both Tidal and Qobuz have their own pros and cons. The pros and cons of each streaming platform are listed below.
Tidal
PROS
Tidal has a really top tier streaming quality of around 1411kps bit rate with lossless output formats
Tidal gives students a discount as long as they have a valid university email account
One-month free HiFi
They pay their artists more; as much as three times more than Spotify does
CONS
Their songs can take a while to load
They offer no free services
Qobuz
PROS
They have extremely high streaming quality
They offer music in numerous formats
The strong hi-res selection is solid bonus
CONS
It has a lot of gaps in between catalogues
It lacks reach; It is not that available in so many countries
Now, you can make your final decision between Tidal vs Qobuz to start your HiFi music trip.