Apart from getting help from a Tidal downloader, there is no way to download music from Tidal to computers for unrestricted offline listening. But to your disappointment, a free friendly Tidal music downloader, called TiDown was shut down on Tidal shortly after its official launch on GitHub due to an illegal DMCA notice.
So are there alternative solutions that are able to download high-quality Tidal tracks, playlists, and albums? Fortunately, the answer is positive. To avoid unnecessary hassles, we've gathered the full list of the best tidal downloader tools. They are available for Mac and Windows, free and online. Let's check the top 5 best Tidal downloaders out to get Tidal songs out of the way.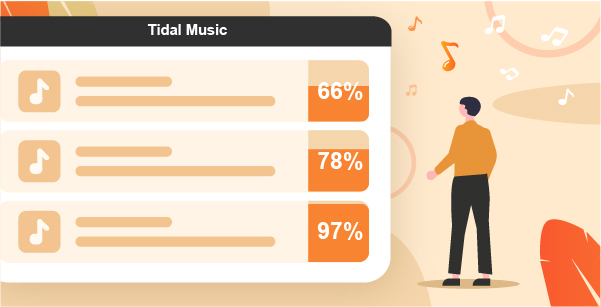 ---
Part 1. AudKeep Tidal Music Converter
When it comes to the best Tidal downloader, AudKeep Tidal Music Converter stands out from the rest of the Tidal HiFi downloaders. It is well designed for Tidal Premium and HiFi subscribers. Using extraordinary encoding technology, it's dedicated to downloading songs from Tidal onto computers without interfering with the original audio quality.
Unlike traditional Tidal music downloaders, this software does not adopt recording technology. It takes advantage of download and conversion techniques. It empowers you to download Tidal music, playlists, albums, and more and save them as local files.
In addition to being a Tidal media downloader, it also serves as a Tidal converter. It has enough for converting Tidal to MP3, Lossless FLAC, M4A, WAV, AAC, and M4B. It is probably the best alternative to TiDown Tidal Downloader. With it, you can listen to Tidal music anytime, anywhere, even if you stop your Tidal subscription.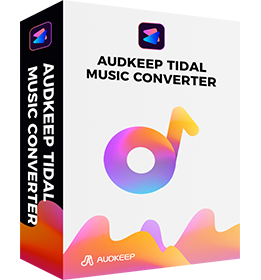 AudKeep Tidal Music Converter
Download Tidal songs, playlists without a loss for offline listening
Convert Tidal music to M4A, M4B, AAC, MP3, etc., at a 5X speed
Flexible adjustment of Tidal music output quality and parameters
Advanced tag identification technology to retain the original ID3 tags
How to Use AudKeep Tidal Music Converter
Step 1 Open AudKeep Software and log in to the Tidal account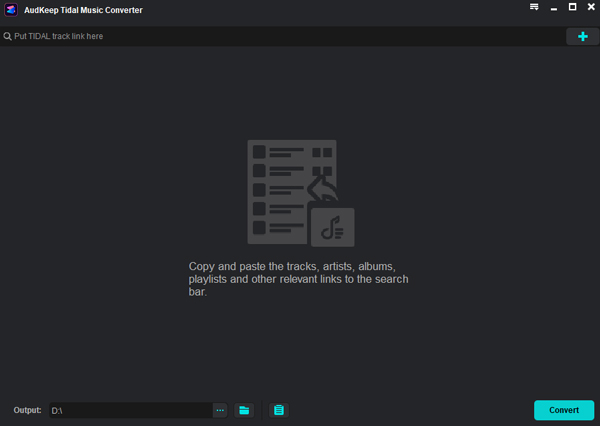 Once downloaded and installed AudKeep Tidal Music Downloader, double-click the icon to fire up it from your computer desktop. On the home screen, click the Log In button to authorize your Tidal account by entering your approved email address and password.
Step 2 Set output format and parameters of Tidal music downloads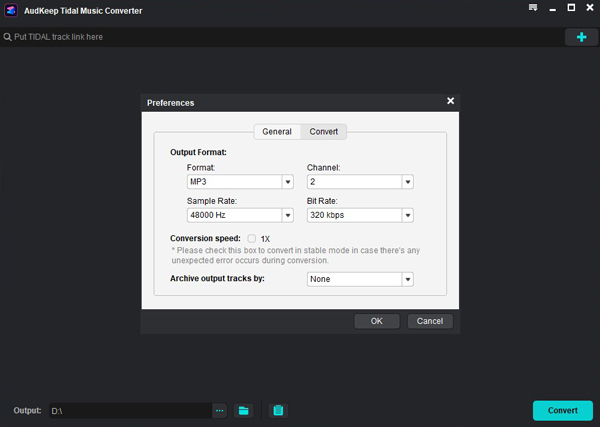 Touch the AudKeep Tidal Music Converter in the top left corner of the Mac computer. Or click the Menu icon in the upper right corner of the Windows version to open the setting window. Go ahead to the Advanced option, you can set the Tidal output format as Lossless, MP3, AAC, M4B, M4A, FLAC, or WAV for download. If necessary, it's great to customize output quality by changing the channel, sample rate, bit rate, and other parameters.
Step 3 Import Tidal playlist, albums to Tidal Downloader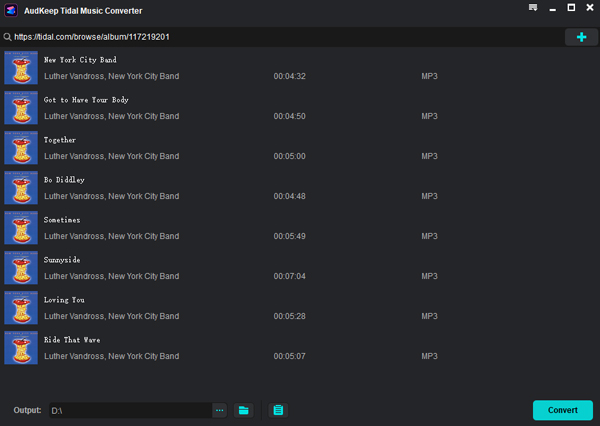 AudKeep Tidal Music Converter now does not support uploading individual Tidal songs. You have to search Tidal playlists or albums to select and add your favorite Tidal music. Once you find a playlist, open it and click the + icon to load Tidal songs. In the next window, all the tracks in the Tidal playlist will show up. You have the flexibility to choose your favorite songs to download.
Step 4 Download music from Tidal to computer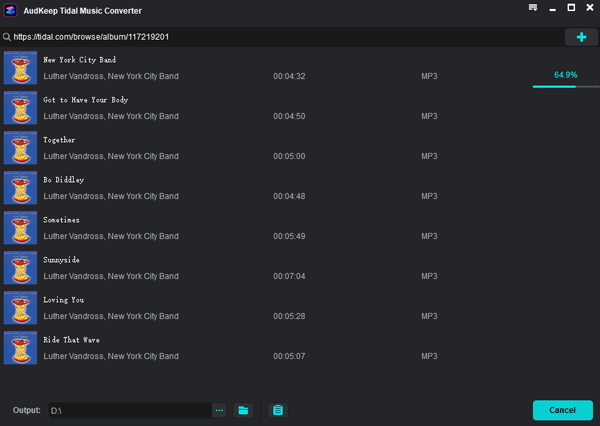 Click the Convert button in the lower right corner to begin the download process. This Tidal downloader for Mac and Windows will immediately download songs to your computer with no loss of quality. You can find them by clicking on the Converted icon with the red number.
---
Part 2. Apowersoft Free Tidal Downloader Online
If your only requirement is to listen to Tidal music offline for free, and you don't care about the output quality, recording technology seems like an optional way. There are a number of free streaming audio recording tools that convert Tidal music to FLAC, WAV, MP3 online for free.
Apowersoft Free Online Audio Recorder is such a free Tidal downloader online. It enables Tidal users to rip Tidal music playing on Mac and Windows computers online as MP3 after installed a small Launcher. It's also able to record any sound from not only system sound but also microphones.
But as a Tidal downloader for free, it can't live up to Tidal HiFi quality in the original files.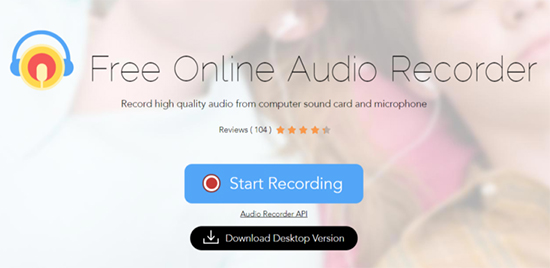 How to Use Apowersoft Free Tidal Downloader Online
Step 1. Go to Apowersoft's official website and hit on the Start Recording button at the center of the main page. It will ask you to install the small launcher;
Step 2. After installation, click the Start Recording button again and then select the audio source as a target source;
Step 3. Open the Tidal Web Player or Tidal desktop app to play Tidal music. Now, you can tap the Start, Pause and Stop tabs to control the Tidal music recording process;
Step 4. To find recorded offline Tidal tracks, you can click the Show in Folders option and navigate to the output directory.
---
Part 3. Athame Tidal Downloader for Free
The other free tool you can meet is Athame Tidal Downloader. It's also a music downloader for steaming music and sharing services. Up to now, it is available to download music from Tidal and Google Play Music URLs. Also, it's worth noticing that Athame Tidal downloader is just created for private and educational use, not for commercial piracy.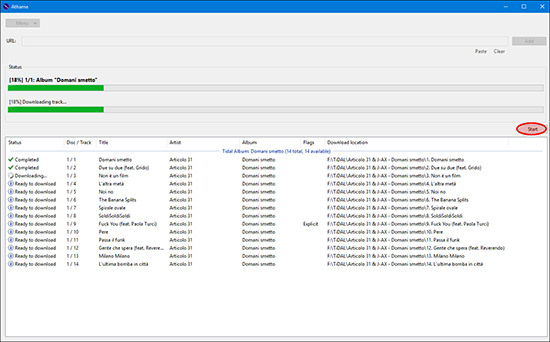 How to Use Athame Free Tidal Downloader
Step 1. Open the Athame app on your computer and then hit on the Menu > Settings options. Please select Tidal and fill in your Tidal account name and password;
Step 2. Find Tidal music that you'd like to download, copy the Tidal URL and paste it into the URL text box of Athame. Press the Add button to add them automatically;
Step 3. All Tidal music will appear in Athame's download queue. Please click the Start tab to start the download process.
Note: You might meet some conversion issues when using Athame as it has not been updated for three years.
---
Part 4. Tidal Media Downloader Pro
Tidal-Media-Downloader is an all-in-one media downloader that allows users to download not only Tidal playlists, albums, but also Tidal videos to local computers. It was developed in two versions, respectively Tidal-dl and Tidal-gui. The former is fully compatible with Windows OS, macOS, Linux OS, and Android. As for the latter, it only supports Windows operating system.
Note: It's bundled with a Tidal HiFi plan to make it workable. In addition, it is for private use only. Distribution or piracy of Tidal music is prohibited.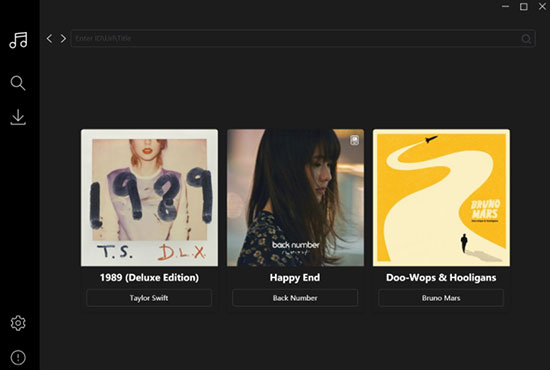 How to Use Tidal-Media-Downloader
Step 1. Download the Tidal-Media-Downloader app on your laptop and complete the installation according to your computer system;
Step 2. Log in to your user name and password and then enter 2 to set the configuration file as required;
Step 3. You can start to enter the URL of Tidal songs, playlists, or albums to download Tidal files offline for free.
Part 5. Tidal Downloader for Android – Tidal App
The best Tidal downloader for Android is, of course, the Tidal for Android app. Although Tidal doesn't provide an option to download Tidal songs on PC and Mac, Tidal has officially added an Offline Mode option on mobile devices. You can find it on all phones and tablets compatible with the Tidal app.
It facilitates you to download Tidal content, including tracks, albums, artists, playlists, and more. And then, you can listen to them without an Internet connection. However, you should be aware that downloaded Tidal music is cache files and is only used for offline playback on a valid Tidal subscription.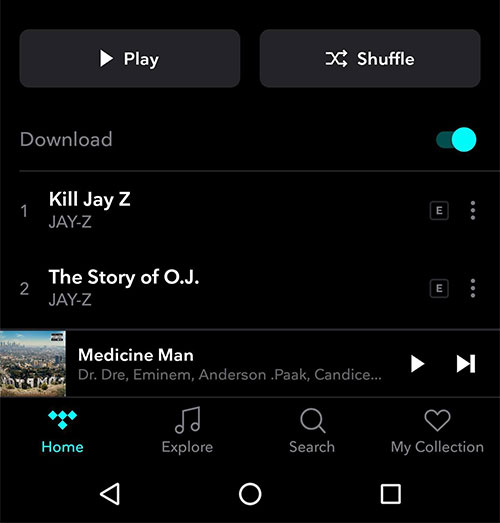 Use Tidal App to Download Tidal Music on Android
Step 1. Launch the Tidal app on your Android device and log in to your Tidal HiFi or Premium account.
Step 2. Click the My Collection option from the bottom menu bar and choose the PlayList section.
Step 3. Open any playlist you create and switch the Download on, all tracks in the playlist will queue up for download.
Step 4. After download, go to the Downloaded option in My Collection to listen to Tidal music offline.
---
Quick Comparison – Best Tidal Downloader
Here, let's take a quick look at the notable features of those tools below:


AudKeep Tidal Music Converter
Apowersoft
Athame
Tidal-Media-Downloader
Tidal App
Price
$14.95
Free
Free
Free with Tidal HiFi
Tidal Premium/ HiFi
Compatible OS
Mac, Windows
Online
Mac, Windows
Windows/Mac/Linux, Android
Android, iOS
Support Input Format
Tidal playlists/albums
Any sound
Tidal, Google Play Music
Tidal songs, videos
All Tidal content
Supported Output Format
Lossless, MP3, WAV, FLAC, etc.
MP3, WMA, AAC, FLAC, M4A, and OGG
FLAC
M4A, FLAC
Cache Files
Conversion Speed
5X speed
Real-time
Real-time
Real-time
Rely on the network
Customize Output Quality
Yes
No
No
No
No
There are the top 4 most professional Tidal downloader tools and an official way to download music from Tidal on Android devices. They use different technologies to achieve the same goal. By the way, if you choose a Tidal downloader, you can also transfer downloaded Tidal files to your iPhone and Android devices for offline playback and no longer subscribe to Tidal.