Tidal has been riding high among the popular streaming services. It offers you unlimited access to a mass of catalogs of music over the Internet, encompassed with high-fidelity sound quality. You get the ultimate music experience with a library of 80 million songs and over 300,000 videos on Tidal.
This global music streaming platform has created a deeper connection for fans and artists. Tidal also lets you access its music in 3 ways: Tidal Web Player, Tidal desktop app, and Tidal mobile app. However, the first two options are the most commonly used. Dive through this article to get more insights and how to download your music from the web player.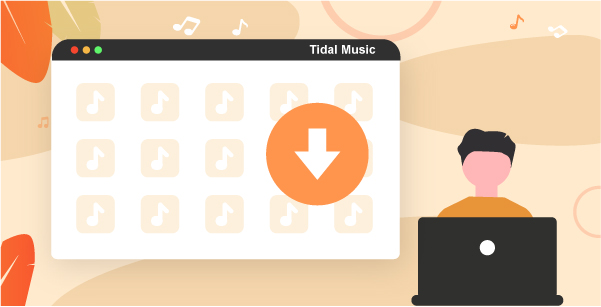 ---
Part 1. Tidal Web Player vs Tidal Desktop App
Both of these Tidal options have a lot in common such as how to discover your music, the social features, and how to connect with artists. But let's drive our focus on their differences.
What Is Tidal Web Player
Tidal Music Web Player is one of the platforms through which you can use to access Tidal music services. It could be through Mac, iOS, Windows, or Android operating system. The web player supports listening to HiFi music at no loss. Tidal Online Player relies on peer-to-peer technology to stream music.
Tidal Web Player vs Tidal Desktop App
Despite many similarities, the Tidal Music Web Player and Tidal desktop app also differ in various ways.
1. Audio Quality
The Tidal Music Web Player supports lossless listening of HiFi music. However, there is a higher quality, Tidal MQA (24 bit/96000Hz) which is the Master sound quality. The MQA is only available from the Tidal desktop app. So, it produces better sound quality than the Tidal Online Player that only gives you Tidal HiFi which is 16 bit/ 44100 Hz at maximum.
Verdict: Tidal desktop app offers the best audio quality.
2. Convenience
Remember that you can access your music from different operating systems on Tidal Web Player. These include Windows, Android, iOS, and Mac OS. More so, you won't need to install the app but just a constant internet connection. But you'll need to install the app to use on Tidal desktop.
Verdict: Tidal Online Music Player is more convenient to use for listening to your music on any device and without installation.
3. Compatibility
The Tidal Web Player is available for use on any browser and is more convenient to log into a Tidal account to access your music.
Verdict: Tidal Online Player is more compatible than the Tidal desktop app.
---
Part 2. How to Login Tidal Web Player
Tidal Web Player login lets you access your music directly from the website without any app installation.
Step 1. First, visit the https://my.tidal.com/login link and locate the "Login" tab.
Step 2. Click on the "Login" tab and you'll be redirected to enter your email or username. You can also log in with your Facebook, Apple, or Twitter account.
Step 3. Next, click on the "Continue" button.
Step 4. Then tap on the "My collection" section at the bottom of the screen.
Step 5. Select the album or playlist that you wish to listen to.
Step 6. Click on the "Play" button to listen to your playlist or album.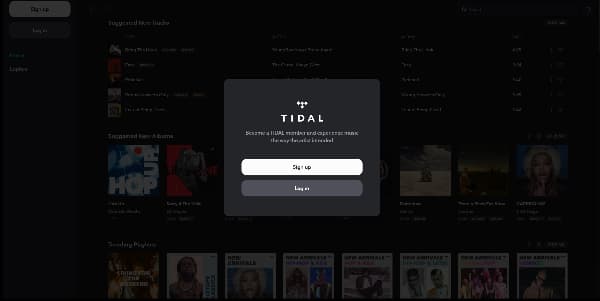 ---
Part 3. How to Download Music from Tidal Web Player
Let's now focus on how to download music from the Tidal Web Player using the most reliable tool, AudKeep Tidal Music Converter. You can use either Premium or HiFi plan to get high-quality Tidal music from Tidal Online Music Player and play it on any device.
Your Tidal music will then be saved as local MP3, Lossless, AAC, WAV, M4B, among other output formats. Likewise, you can customize the output quality and preserve lossless quality with this tool. All lossless metadata information and ID3 tags will be preserved in your Tidal music downloads. And when it comes to adjusting important output audio parameters, you do not worry at all. Easily customize the sample rate, audio codec, bit rate, and many other parameters.
The speed is also notable, giving you a 5X rate while converting Tidal high-quality music. Remember, you ought to keep your files well organized for easy location. Manage the output music library by album or artist for faster location.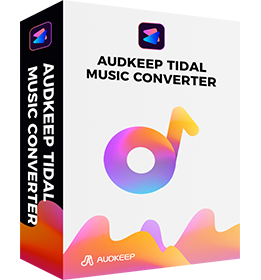 Key Features of AudKeep Tidal Music Converter
Keeps all the metadata info and ID3 tags from Tidal tracks
Download Tidal high-quality and HiFi music from Tidal Web Player
Manage output music library by artist or album as you like
Convert Tidal to WAV, Lossless, FLAC, and other common formats
How to Use AudKeep to Download Tidal Music from Built-in Tidal Music Web Player
AudKeep Tidal Music Converter promotes Tidal Web Player high-quality output. Get it either free or full version. Just download and install the AudKeep app on your computer. Then hit the "Log In" button to log in with your Tidal account. Next, go on to register AudKeep Tidal Music Converter by opening the "Register" option to open the registration window. Here, you need to log in with your registration name and code to activate it.
Step 1 Customize output format for Tidal playlist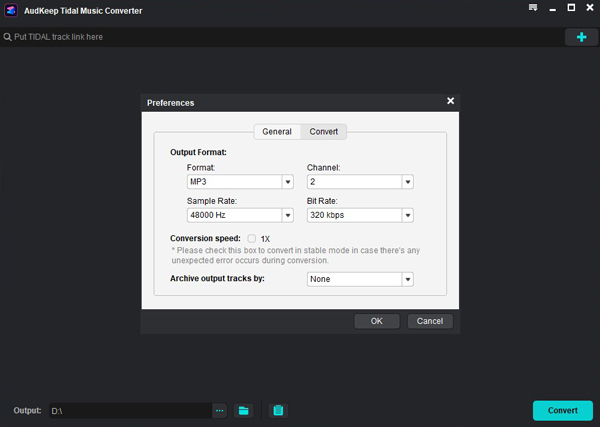 Click on the "Menu" bar and go to the "Preferences" option. Wait for the "Settings window" to pop up, then click on the "Advanced" option and begin to adjust the output format. You can also customize the audio parameters like sample rate, audio codec, bit rate, etc. You also have the option to classify the Tidal album by clicking on the "Archive output tracks by" button. Remember to click the "OK" tab to effect the changes.
Step 2 Import Tidal playlists from Tidal Web Player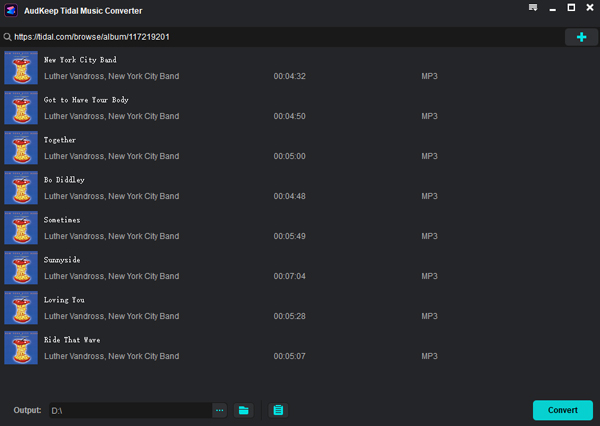 Now search for the Tidal playlist or music that you want to convert in the built-in Tidal Web Player login. Then open it and click on the blue "+" icon that's located in the lower right corner of the screen. Your Tidal playlist will then be added to the AudKeep Tidal Music Converter.
Step 3 Download Tidal tracks from Tidal Online Player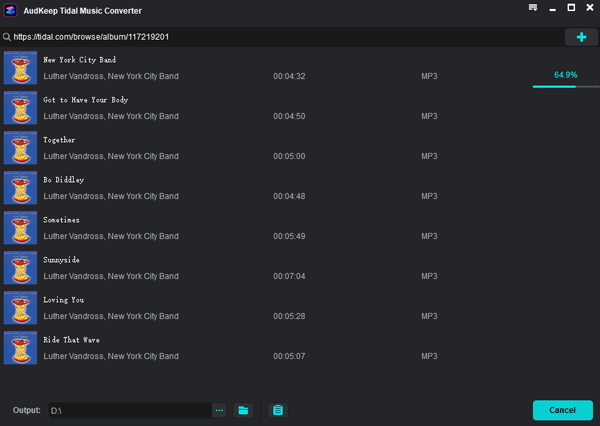 Tap on the "Convert" button for the app to begin downloading and converting the Tidal playlist. After conversion, you can access the converted Tidal tracks by going to the "Converted" tab attached with a red number to listen to Tidal music offline. You can also preview your playlist before playing it. Then click on the "Open" file location tab to access your target folder to play them offline.
---
Part 4. In Conclusion
The best tool, AudKeep Tidal Music Converter, lets you easily download your music from the Tidal Online Player in a few steps. Just follow the steps and get your playlist offline to stream on any device.