Tidal music streaming service is popularly known for its lossless CD-quality and high-fidelity audio. It offers you access to a wide catalog range of music. You can stream jazz, hip-hop, country rock, electronic bliss, and many more. Being owned by a top musician, J-Zay, Tidal's major backbone is the majority of great artists like Beyonce and Ariana, among others.
What excellent features of Tidal can make your experience better? In this article, we'll introduce you to Tidal's HiFi and Master quality, its subscription plans, music library, etc. You can get a whole understanding of every aspect of Tidal. Let's look further at Tidal review to unleash its strengths in the music industry.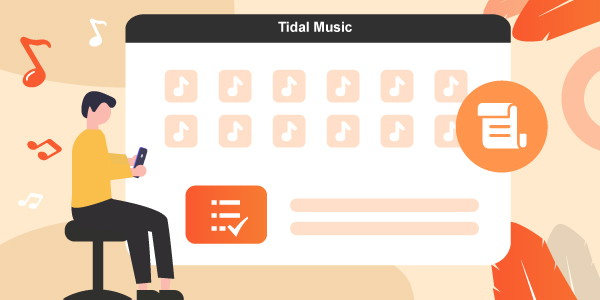 ---
Part 1. Tidal Review: Audio Quality
Speaking of Tidal HiFi and Master quality review, Tidal prides itself on audio quality. There is no doubt in the sound output whether HiFi, Normal, or MQA. The Tidal HiFi brings to your ears a sound quality of close to 1,411 Kbps rate without experiencing any data loss. The HiFi members let you access four quality settings as Master Quality Authenticated (MQA), High, HiFi, and Normal settings. The differences in audio quality between Tidal Premium vs HiFi are down below.
| | | |
| --- | --- | --- |
| | Tidal HiFi | Tidal HiFi Plus |
| Master | × | up to 9216 Kbps or 24 bit/192 kHz |
| HiFi | 1411kbps or 16bit/44.1kHz | 1411kbps or 16bit/44.1kHz |
| High | 320kbps | 320kbps |
| Normal | 160 Kbps | 160 Kbps |
---
Part 2. Tidal Review: Plan and Price
When it comes to Tidal app review on prices, you got to cough some good amount. Tidal doesn't offer a free version and is only available in a paid subscription. There is the Tidal HiFi subscription that charges a $19.99 monthly fee. Tidal Premium goes for $9.99 per month.
Students and those in the military field are a bit lucky as they get special packages. Students will get a 50% discount on subscriptions, and while Military 40%. When it comes to a Family plan, you will spend $14.99 monthly rate for Tidal Premium and $29.99 for a Tidal HiFi monthly subscription. Check out the comparison between Tidal HiFi and Premium plan.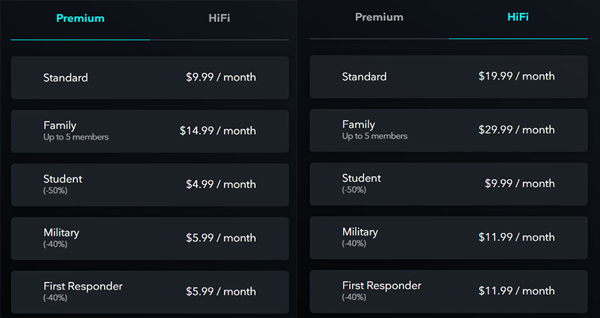 Download Tidal Tracks for Offline Playback without Tidal Subscription
Tidal music streaming service may prove costly if you don't fall among special groups like students and military personnel. You can, therefore, source an easier way to download Tidal tracks for offline playback without a Tidal subscription. AudKeep Tidal Music Converter lets you download and play your Tidal music offline with no plan. It losslessly converts your audio into music formats like Lossless, WAV, FLAC, MP3, etc.
There is no compromise in the quality of Tidal music audio that you'll download. You get your Tidal playlist in its original tracks as it will retain the metadata and ID3 tags to let you manage downloaded Tidal songs easily. It also works at a super-fast speed of X5 rate in the batch conversion of your Tidal music files.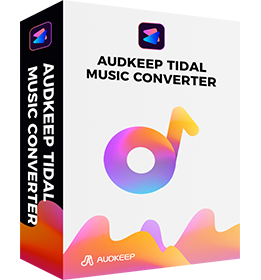 Features of AudKeep Tidal Music Converter
Preserves the metadata information and ID3 tags of Tidal music
Converts Tidal music files in batch at 5X speed rate
Facilitates offline playback of the converted Tidal music
Supports conversion to various formats like AAC, FLAC, Lossless, etc.
How to Use AudKeep to Download Tidal Songs on the Computer
The best app, AudKeep Tidal Music Converter will help you to eliminate all odds and avail your music files for offline playback. This app supports both Windows and Mac OS computers.
Go to the official website of AudKeep, download and install it, launch it on your computer and you will access the built-in Tidal Web Player. Then click on the "Log In" button to log in with your Tidal account. Remember to register AudKeep as well and unleash all the potential. To do so, click on the "Register" tab and enter your registration name and code to activate the app.
Step 1 Set output parameters of Tidal music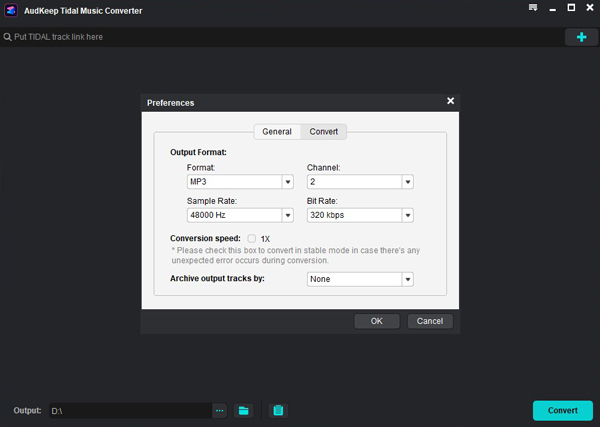 Easily customize the output settings by clicking on the "Menu" tab > "Preferences" > "Advanced" option. Then continue to set the output format herein the drop-down list to convert Tidal to FLAC, MP3, WAV, AAC, etc. And select the other parameters like channel, bit rate, sample rate, etc to enhance Tidal music. Next, hit on the "OK" button to confirm your entries.
Step 2 Add Tidal playlists to AudKeep for conversion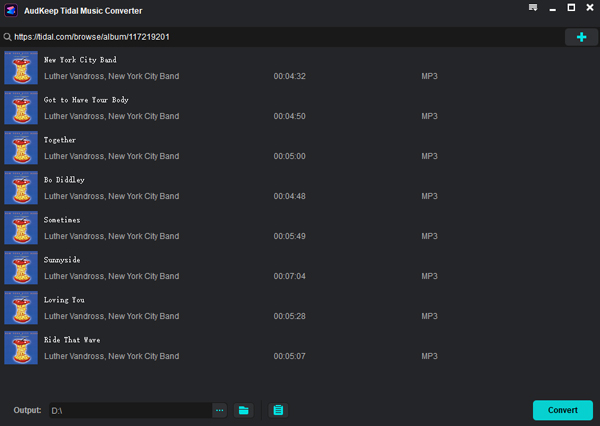 In the in-built Tidal web player, choose the Tidal playlists you wish to convert. Click on the selected playlist and you will notice a blue "+" icon shown on the right side of the screen. Click on the icon to let the Tidal playlist be loaded into the converter's window.
Step 3 Convert and download Tidal playlists offline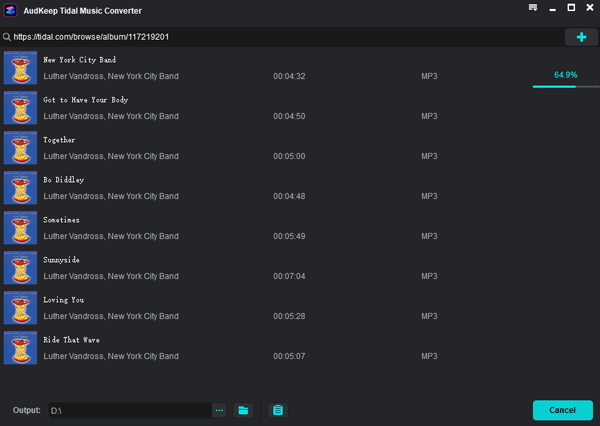 Now click on the "Convert" tab to confirm the conversion process to get Tidal music for free. Once completed, locate the converted Tidal playlist in the "Converted" folder of your computer. You can now freely access the Tidal audio tracks and play them offline without any Tidal subscription.
---
Part 3. Tidal Review: Music Library
Concerning Tidal music review on the library, Tidal comprises a library of about 70 million tracks. It also contains thousands of CDs and other quality content from where you can occasionally discover new hits in the market. You also get to enjoy over 250,000 HD music videos and other live streams.
---
Part 4. Tidal Review: Video Content
Several features are available on Tidal. You can discover several kinds of music and video that are hidden just within. Use the "Tidal Rising" feature that promotes upcoming artists. You'll be amazed at the quality of video and music that these rising stars bring to the table. There is also the "What's New" section that brings you videos, playlists, albums, among other content.
---
Part 5. Tidal Review: Device Compatibility
Tidal is compatible with various operating systems and platforms. You can use it in Apple CarPlay and TV apps. Other HiFi products and speakers like Bluesound, Sonos, and players are also compatible with Tidal. Likewise, easily get Tidal on any OS platform like Android, Mac, iOS, Apple, and Windows. More so, you can engage AudKeep Tidal Music Converter to help you download your Tidal playlists and albums to the common audio formats that enable you to stream Tidal on any device for offline listening anywhere.
---
Part 6. Conclusion
This Tidal review has everything explored to you, and I believe you have a basic understanding of Tidal's features. If you want to download Tidal music for free, AudKeep Tidal Music Converter is at your hand to help. However, how does Tidal HiFi compare with AudKeep Tidal Music Converter? This Tidal music review has helped shed some light on the unique aspects. Let's compare Tidal HiFi subscription's key features and AudKeep's key features.
| | | |
| --- | --- | --- |
| | AudKeep Tidal Music Converter | Tidal HiFi |
| Free Membership | Yes | No |
| Price | $14.95/month | $19.99/month |
| Keep Lossless Quality | Yes | Yes |
| Organize Music Library | Yes | No |
| Convert to Common Formats | Yes | No |
| Offline Listening | Yes | Yes |