You are reading this content because you have concluded that Tidal is your platform for listening to music. But! Which plan is the best – Tidal HiFi or Tidal HiFi Plus?
Unlike other streaming platforms, Tidal garnered a significant audience within a short period. It is because it offers HiFi content targeting audiophiles. In addition, unlike other music streaming websites, Tidal offers two packages for the audience – HiFi and HiFi Plus. Deciding between the two could be troublesome for anyone who likes to listen to unlimited music of high fidelity quality.
One of the packages is affordable but holds essential features. The other plan is expensive but has crucial bonuses suitable for audiophiles. Since Tidal focuses on quality, it is evident that one would choose the HiFi Plus package. But is the jump worth it? We will discuss all the crucial factors in today's Tidal HiFi vs HiFi Plus package battle.
---
Part 1. Tidal HiFi vs HiFi Plus: Price
The price category of HiFi vs HiFi Plus Tidal is significantly different because the latter offers higher quality than the HiFi plan. The primary reason for the price of the Plus plan is that Tidal pays a huge amount as royalties to maintain the high quality of the audio.
Before opting for a plan, you can choose the 30-day trial to consider which plan is suitable. After the trial, you must select either HiFi or HiFi Plus to continue listening to the content from Tidal. The HiFi plan costs $9.99 monthly, the same as other streaming platforms such as Spotify and Apple Music. For the HiFi Plus plan, you will pay $19.99 a month. However, you can obtain a discount for both plans if you are a student, active military personnel, or first responder in the United States.
| | | |
| --- | --- | --- |
| | Tidal HiFi | Tidal HiFi Plus |
| Free Trial | 30 days | 30 days |
| Standard | $9.99/month | $19.99/month |
| Student | $4.99/month | $9.99/month |
| Military | $5.99/month | $11.99/month |
| First Responders | $5.99/month | $11.99/month |
| Family | $14.99/month | $29.99/month |
---
Part 2. Tidal HiFi vs HiFi Plus: Audio Quality
Tidal HiFi Plus vs HiFi packages in the audio quality segment differs significantly. Although the HiFi Plus is expensive, its features make it worth it. But, of course, the most crucial element is audio quality.
The HiFi has content at CD quality – 1411kbps, while the HiFi Plus elevates this to a whooping 9216kbps, which falls under the Master Quality Audio or MQA. Under this, listeners will have access to the original audio recording. In other words, it is the highest resolution possible and an unedited version of an audio track. Apart from this feature, you will also have access to songs recorded using Dolby Atmos and Sony's 360 Reality Audio.
See more: Tidal Premium vs HiFi vs Master
---
Part 3. Tidal HiFi vs HiFi Plus: Music Discovery
Tidal HiFi vs Tidal HiFi Plus stands no chance against other streaming platforms offering better music discovery features. For instance, Spotify uses AI and is the best in the industry. Based on your listening experience, Spotify's AI begins to learn slowly and generates a playlist of the content that matches your taste.
Tidal, though offers two different packages, has a regular music discovery feature. It is not sophisticated, but it does help you find new content. The What's New section helps you here, where you can look into the new content available, such as playlists, albums, artists, podcasts, and videos. You can further use the Rising feature to identify contemporary and upcoming artists.
---
Part 4. Tidal HiFi vs HiFi Plus: Device Support
Now, Tidal HiFi vs Plus plans are expensive and require audio device hardware that supports the HiFi resolution so that you do not miss out on the quality. You may install the Tidal app or use Tidal Connect to play music online on devices compatible with Tidal, such as Sonos, Roku, Tesla, and more.
However, if you prefer to listen to songs from Tidal offline, that will be a bit intricate. You cannot listen to the downloaded content on any other device due to the digital protection, which is common across all music streaming platforms. Tidal is no exception. The tracks you download on the phone/computer can only be streamed on one device even if you're with Tidal HiFi or HiFi Plus.
So how to download HiFi/Master content from Tidal on multiple devices offline without redownloading the songs again and again? You can consider using AudKeep Tidal Music Converter.
AudKeep Tidal Music Converter is a music converter application. This app is designed to support all audio formats, be it mono or stereo, and has editing capabilities to enhance the sound quality. Users are allowed to convert Tidal HiFi and Master audio playlist into MP3, AAC, FLAC, WAV, and more, which is the best part. The conversion helps people to listen to their favorite songs on any device they want.
AudKeep Tidal Music Converter also offers users a flexible and easy-to-use interface that makes using the application effortlessly. The support for lossless conversion and customization options, along with conversion speed at 5X, makes it an incredible application.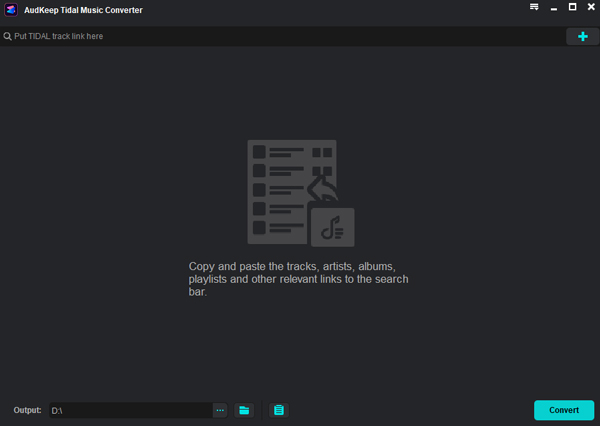 ---
Part 5. Tidal HiFi vs HiFi Plus: Usability
Tidal HiFi vs Tidal HiFi Plus is an elaboration of the different factors. Of the various segments, usability is one among them. Both the subscription plans from Tidal are available on multiple platforms: desktop app, web client, Android, and iOS app. Moreover, as Tidal supports Chromecast and Apple AirPlay, you can listen to your favorite content anywhere in the home.
The design and usability of Tidal are the same for both plans. Tidal reduced the tabs available for the desktop version to match it with the smartphone app. You will notice the customized content appears below the highlighted material. You can further personalize the experience by using "My Daily Discovery", "My New Arrivals", and "My Mix".
---
Part 6. Tidal HiFi vs HiFi Plus: Additional Features
Tidal Plus vs HiFi gives you good insights into different departments. Speaking about additional features, both the plans provide access to videos available on the platform (roughly 350,000). And if you want to see lyrics on Tidal, the HiFi and HiFi Plus also get this feature while listening.
If you pay more attention to supporting your artists, your streaming can contribute to your favorite artists with the HiFi Plus plan.
---
Part 7. Pros and Cons of Tidal HiFi and HiFi Plus
Tidal HiFi
Pros:
Standard audio quality at 1411kbps
Lossless FLAC
Credit functionality
Quick artist discovery
Cons:
Tidal HiFi Plus
Pros:
Master Quality Authenticated, Dolby Atmos, and Sony's 360 Audio tracks
Direct to artist payment
Fan-centered royalties
Cons:
---
Part 8. Conclusion
This article offers an intriguing insight into the differences between Tidal HiFi vs HiFi Plus Tidal plans. Tidal grows its library faster and provides a higher audio quality than others. The key to having the Tidal HiFi and HiFi Plus is that you can enjoy high-quality music. If you find it a dilemma to choose one of the plans, we've listed the similarities and discrepancies in their prices, audio quality, music library, and more to help you get the subscription according to your demand.
And if you want to play Tidal songs for offline playback on any device, things become much more difficult even after becoming a Tidal member. But, with AudKeep Tidal Music Converter, it is possible to listen to Lossless audio locally offline. The software downloads Tidal HiFi to a non-restricted format so that you can play music anywhere you like. Test it today and submerge yourself in high-quality audio.