With Internet availability, people are opting for music streaming services to listen to music. These subscription platforms provide millions of songs, and you can listen to them wherever you are and on any device.
Tidal music streaming is a service that offers HiFi and MQA (Master Quality Authenticated) sound quality. They also provide exclusive content, such as curated playlists and artist interviews. Tidal was founded by Jay Z in 2015 to bring the best in music to people. Tidal high fidelity music streaming is for those who love music and want to listen to Hi-Fi content, emphasizing "quality".
If you are beginning your journey and searching for a review of Tidal, then this post is for you. We have you covered with the details of Tidal music streaming quality, plans, devices, etc. Additionally, we have an additional part at the end that will teach you how you can use Tidal unlimited and listen to your favorite Tidal playlists on any device and anywhere.
---
Part 1. What's Tidal Music Streaming
Tidal music streaming service allows you to choose from three plans to enjoy high-quality and high-fidelity sound. The content quality received is based on your selected plan in Tidal. Therefore, understanding the available plans in detail will help you choose the one that best fits your requirements. And for the question of how much is Tidal music streaming, the introduction about Tidal music streaming price will soon follow.

Tidal Free
Suppose you are a big fan of Tidal and like to listen to all your favorite songs or see the collection available on Tidal. In that case, the Free plan is a way to start the journey. Tidal streaming music launched the Free plan, an ad-supported variant with limited interruptions. Users opting for this Tidal plan will have access to all the content, including playlists. However, the quality of the Tidal music stands at 160kbps.
Tidal HiFi
Tidal High-Fidelity music streaming is the next plan you can choose when upgrading from the Free plan. It is the base package offered by Tidal and will have complete access to the platform. In addition, the sound quality stands at 1411kbps (CD quality), the same as most of the music streaming services available in the market.
The current collection of Tidal is 80 million songs and is growing with time. Additionally, you can browse 350,000 videos through this plan. What makes it unique is that you have access to behind-the-scenes of a song/video making, documentaries about an artist, and exclusive videos found only on Tidal.
Tidal service also offers downloads of the songs. Therefore, you can save or create a playlist of Tidal songs you like to listen to offline and download. In addition, Tidal also allows you to share your listening habits and favorite artist for further recommendation.
Tidal offers a 30-day free trial period of the HiFi plan, after which you must pay $9.99 monthly as an individual to continue listening to Tidal. The price is the same as Spotify and other streaming services.
Tidal HiFi Plus
Tidal's HiFi Plus plan is unlike other streaming platforms. The HiFi Plus comes with a fair price and adds interesting features. You will get everything but with enhanced audio quality.
The Tidal HiFi Plus plan is unique because Tidal shares 10% of the subscription fees to the artists you listen to frequently.
Tidal music streaming quality in the HiFi Plus plan reaches 9216kbps. As part of this plan, Tidal offers audio quality at the level of an original song recording. It is the highest bit rate a song can get or, in simple words, the unedited version of a song.
Apart from the Master's Audio feature, you will also receive Sony's 360 Reality Audio and Dolby Atmos. These options help elevate the sound stage of an audio track. For example, when you listen to songs using speakers or headphones that support this Tidal feature, you will feel that the audio is playing from all directions.
The Hi-Fi Plus plan will cost you $19.99 a month. Of course, it is expensive, but you have the highest audio quality and other features. You can refer to this post: Tidal HiFi vs Tidal Plus to get more information about the prices.
| | | | |
| --- | --- | --- | --- |
| Audio | Tidal Free | Tidal Hi-Fi | Tidal Hi-Fi Plus |
| Standard | Yes | Yes | Yes |
| HiFi (1411Kbps) | No | Yes | Yes |
| MQA (Up to 9216Kbps) | No | No | Yes |
| Dolby Atmos | No | No | Yes |
| Sony 360 Reality Audio | No | No | Yes |
---
Part 2. Which Devices Support Streaming Tidal Music
After knowing about the music streaming Tidal plans, here come the devices that can play Tidal music as a matter of course. We list some categories that you can check whether Tidal supports your devices.
Smart Audio Devices:
Astell&Kern
Denon
Harman Kardon
Matrix Audio
Onkyo
Yamaha
Automotive Entertainment Platforms:
CarPlay
Android Auto
Lincoln
Mercedes-Benz
Volkswagen
Computer Devices:
Computers running on Windows
Computers running on Mac
Mobile Devices:
Android 6 and above
iOS 13 and above
Smart TV and Streamers:
Amazon Fire TV
Android TV
Apple TV
Chromecast
Samsung TV
Vizio
Virtual Assistant:
Wearables:
---
Part 3. How to Stream Tidal Music Anywhere Without Limit
Tidal music streaming service offers exceptional quality. If you are an audiophile, you will select the Hi-Fi Plus plan, for it comes with the highest audio quality and additional features. However, you cannot download or own a Tidal song even at this price tag because of the song protection. All you can do is download and listen to Tidal tracks offline on its app. If you wish to play Tidal on any device with placing restrictions, then get AudKeep Tidal Music Converter.
The Tidal streaming music converter is impeccable, reliable, and a robust tool that gives you complete Tidal music control. It converts playlists from Tidal at 5X speed conversion and maintains the Tidal songs as they were in your playlist. Whether you have the Hi-Fi or Hi-Fi Plus plan, you can download and convert Tidal to FLAC, MP3, and other formats compatible with most devices. Furthermore, as you will be saving them locally, you can transfer them to any device and listen anywhere!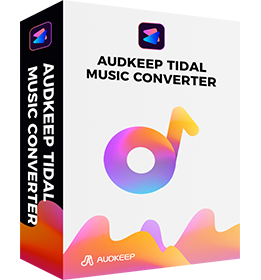 Features of AudKeep Tidal Music Converter
Download music from Tidal with quick and lossless conversion
Convert Tidal to MP3, FLAC, WAV, M4A and other formats
Enable users to play Tidal on multiple devices offline
Retain ID3 tags of Tidal playlists for music library organization
How to Use AudKeep Tidal Music Converter to Download Tidal Music Streaming
You can follow the explanation below of how to convert and play Tidal music on any device at HiFi quality. But, first, ensure that you have installed AudKeep Tidal Music Converter software on your own PC.
Step 1: Open AudKeep Tidal Music Converter and click "Preferences" from the top menu. Here, from the Convert window, select the bit rate, sample rate, output format, and the option to archive songs by artist or album, etc. Remember to save by clicking the OK button before closing it.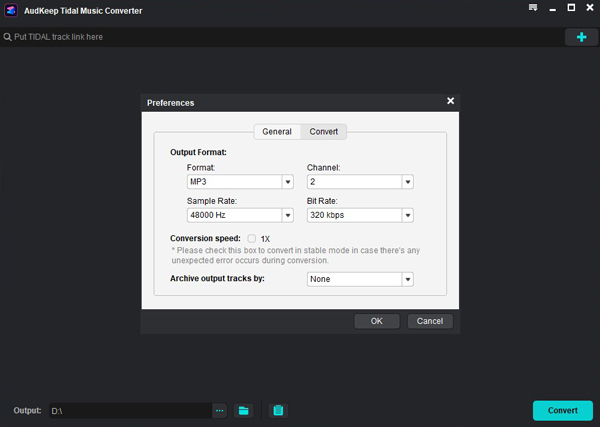 Step 2: Enter the Tidal app, log into your Tidal account and search for the songs you want to download. Copy the song link from Tidal and paste it into the search bar of AudKeep software. Continue adding songs by clicking the "+" icon. Repeat the step to get your Tidal playlist uploaded.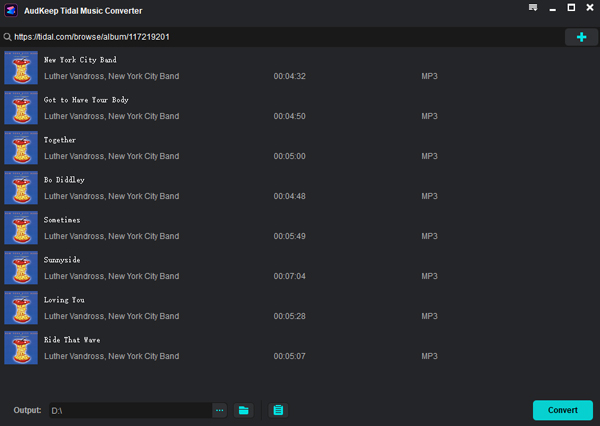 Step 3: Start the Tidal conversion by pressing the "Convert" button. AudKeep Tidal Music Converter will retain the ID3 tags and arranges the content as per the selection made in Step 1 (artist or album). The Tidal items that are converted will be saved in your selected folder on the computer.
You can choose and transfer the Tidal files to a different device and listen anywhere or get Tidal music stream using a compatible streaming device.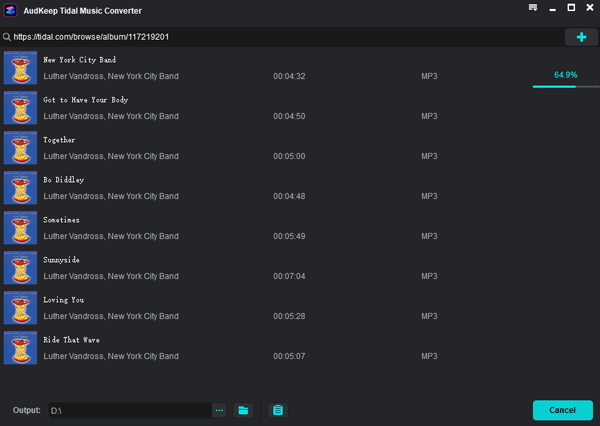 ---
Part 4. Conclusion
Tidal streaming music is the right choice for you to enjoy high-fidelity audio. However, with its limitations, it will be challenging to play them elsewhere. A better way for you to stream Tidal as you want is by choosing AudKeep Tidal Music Converter. You can download and convert Tidal Hi-Fi content into FLAC or other audio files in original quality. Try it today and enjoy the quality audio of Tidal you never experienced before!