Many people love to listen to music when driving because it's relaxing and enjoyable. Driving would be less boring when the sound of your favorite music jingles up and down in your earrings. As a result, Tesla provides its customers with an amazing opportunity to enjoy music streaming while they drive.
Surprisingly, Tesla has released a comprehensive software update that features a Tidal in-car app, you can now access millions of high-quality Tidal songs in your car when you sign in with your Tidal account.
Tidal is nothing short of extraordinary because it allows you to enjoy high-fidelity music streaming, which means you can make your long drive more exciting and enjoyable than before. Unlike Spotify which does not provide lossless quality music, Tidal is well recognized for delivering lossless sound quality.
In today's post, you will read about the Tidal Tesla integration, how to use Tidal on Tesla, and more. Now, read it and learn more.
---
Part 1. How to Play Tidal on Tesla Offline via USB for Free
Aside from the Tidal Tesla application, you can also listen to music on Tesla freely using a USB flash drive. But to be able to use this feature, you will need the support of the AudKeep Tidal Music Converter.
AudKeep is a unique Tidal music converter and downloader that enables you to download Tidal music in formats like MP3, AAC, WAV, FLAC, M4A, or M4B with just a few clicks and without losing its original audio quality. Don't doubt it. It is the best converter to use.
This converter has a simple and clear user interface that lets you convert Tidal music in seconds. It is very simple to use.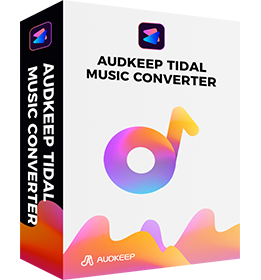 Key Features of AudKeep Tidal Music Converter
Download music from Tidal offline without a premium
Support Tidal to the audio formats compatible with Tesla
Allow customizing the Tidal parameters to keep music quality
Automatically download Tidal songs at a 5X faster rate
How to Convert and Download Tidal Music Offline for Tesla
These steps will guide you on how to convert and download Tidal music to Tesla-supported files using the AudKeep Tidal Music Converter.
Step 1 Install the AudKeep Tidal Music Converter and log in with your account details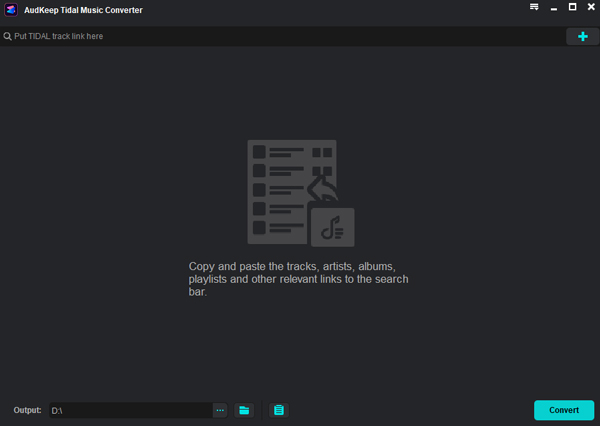 Download and install the AudKeep Tidal Music Converter, and launch the app to access the tool's interface. After that, select the Log in button to access your Tidal account. If you don't have an account, you can create one by clicking on the Sign up button.
Step 2 Set your music output profile for Tidal Tesla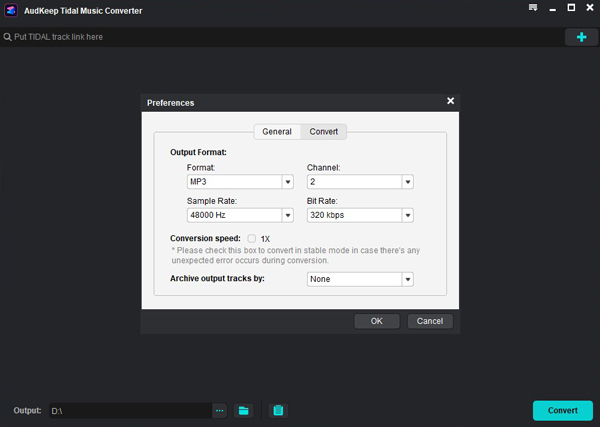 After clicking the Menu button, select the Preferences option, and click on the Advanced option for the Tesla car to change the Tidal music output profile. Afterward, you can convert Tidal music to WAV, FLAC, MP3, and other formats. Press OK to save the settings.
Step 3 Search for the Tidal music you would like to play on Tesla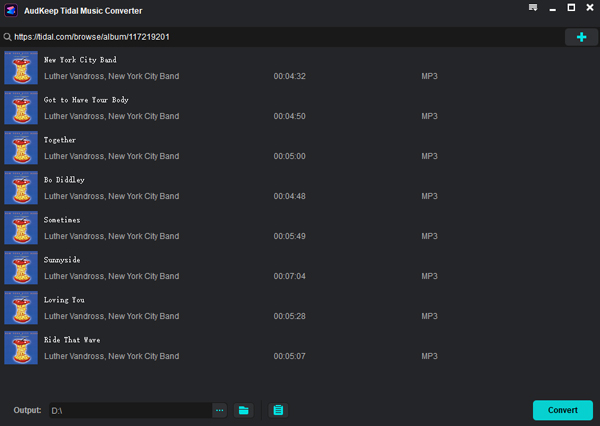 After setting up your output profile, you will need to search for Tidal songs you would like to download. From the search, open the song and click on + to add the Tidal music to the AudKeep conversion list.
Step 4 Download and convert Tidal music for Tesla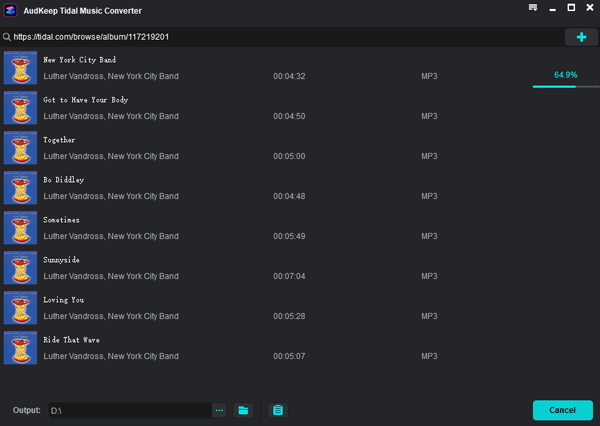 After adding your favorite music to the conversion list, click on Convert to download the Tidal music you want. After that, click on the Output Path to access the downloaded Tidal music on your computer. You can still add more Tidal music to download during the conversion by returning to the AudKeep main interface.
How to Play Tidal on Tesla using a USB Flash Drive
Now, as you convert the Tidal music for Tesla as local files, then you can go head to move the converted Tidal songs to USB drive for playing on Tesla. Here, we will show you how to do that.
Step 1: Insert the USB drive into your computer. Click on removable storage to open the USB drive.
Step 2: Search and open the folder that contains the converted Tidal music. Copy your favorite songs and paste them on the USB flash drive.
Step 3: Insert the drive into the Tesla media player. Select the media player and USB, and select the folders you paste the music into.
Step 4: After that, you can play any Tidal music on Tesla media player as you want.
---
Part 2. How to Use Tidal in Tesla Offline with Tidal HiFi or HiFi Plus
In this part, we will show you how to play Tidal on Tesla via the Tidal HiFi or HiFi Plus plan. Please check out the tutorial below and see how to do that.
How to Install Tesla Tidal App
Tesla Tidal app is purposely created to be used for Tidal on Tesla. With this professional app, you can connect Tidal to Tesla by downloading and installing the app. After the installation, launch the Tesla Tidal app and scroll down to the login area. Log in with your Tidal account to access Tesla's Web Player interface.
How to Download and Play Tidal Music on Tesla
It is easy to play Tidal songs on Tesla. After you have logged in with your Tidal account details, click on the search tab to search for your favorite music. From the result of the search, you can select the music for playing or download the music by clicking the download icon.
As mentioned earlier, the new comprehensive developed software of Tesla that supports the Tidal in-car app has been a massive development in the Tesla industry. Though there was Spotify before the Tidal feature, it is not as amazing as the Tesla Tidal app.
Tesla cars usually have a good sound system, making high-quality streaming music a great difference for discerning users.

---
Part 3. More about Tidal and Tesla
For those wishing for an alternative to Spotify, the good news is that Tidal is now supported on Tesla cars. What is Tidal on Tesla? The combination of connectivity and entertainment enhances the Tesla driving experience. Through Tidal's integration and a HiFi Plus or HiFi membership, Tesla customers across the world can now enjoy unrivaled access to high-quality music right in their vehicles.
Tidal's integration is a huge step forward for audiophiles. While both platforms have roughly the same number of artists, Tidal has higher sound quality. Even with the premium membership, Spotify's music max out at around 320kbps, which is the MP3-quality sound. On the other hand, Tidal's premium plans, HiFi and Master, provide lossless audio quality at 1,411kbps and 9,216kbps, respectively, translating to high-resolution CD quality.
Besides Tidal's inclusion, this new Tidal update includes some nifty qualities like:
Cold weather improvement – You can enable the front to defrost to maintain your climatic settings when clearing ice and snow by clicking the fan icon and selecting keep climate. When using the Tesla app's climatic control, automatic battery pre-conditioning will be enhanced to use less energy.
Active road noise reduction – You can now minimize low frequencies of road noise when driving on a rough surface. The technology measures cabin noise with seat microphones and then creates anti-noise through the speakers to create quiet zones around the people. To accomplish this, click on audio settings, options, and reduction, respectively.
Rear display improvements – With this feature, you can lock access to the back screen by clicking on controls, then display, and then lock the rear display.
The addition of British English as an official language – With this feature, you can select British English as your official language. To update the settings, click on controls, then display, and click on your desired option in the drop-down menu.
Traffic-aware cruise control chime – This feature is being used only in China. When you enable traffic-aware cruise control, you will receive an audio alert when there is a vehicle at your front in the lane you are on so you can know what to do at that instant before the vehicle moves closer.
---
Part 4. Conclusion
Now, in this post, you had learned about Tidal Tesla, and how to play Tidal on Tesla in two ways. With the AudKeep Tidal Music Converter, you can easily get and listen to Tidal music on Tesla. Besides that, this tool can help convert Tidal songs into multiple audio formats with lossless quality so that you can enjoy a better listening experience on any device.