Do you want to be the greatest DJ having access to an unlimited supply of tracks and music to please the energetic crowd on the dance floor?
Denon DJ is a leading manufacturer of DJ products that provide DJ hardware for music lovers. Recently, the Denon DJ and Prime Series partnered up with Tidal the world-leading digital music streaming service. Using the Wi-Fi technology or wired connection you can easily transform the 60 million songs on your Denon DJ unit and set new energy among your listeners.
Achieving a Tidal Denon Prime 4 connection is only available for Tidal HiFi subscribers. And as for free subscribers, they need to find an alternate way. And today we will help you explore the different ways that you can use to transfer Tidal on Denon DJ.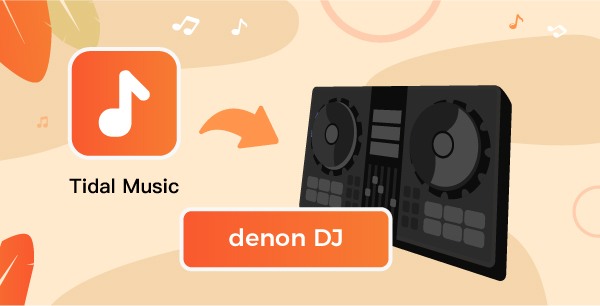 ---
Part 1. How to Get Denon DJ with Tidal Offline: Tool Required
The Denon DJ Tidal integration allows DJs to get Tidal playlists on their units with a few simple clicks. But things might get complicated for users having limited access to the Tidal platform. But with the right tool, you can easily convert Tidal files into locally saved files and become the best DJ!
AudKeep Tidal Music Converter is a high-tech music converter. It is innovatively designed to convert Tidal songs into a format supported by a wide range of devices, including Denon DJ. The converter has a smart, intuitive user interface. It is fairly easy to use whereas the transferring process can be completed within minutes rather than hours. It supports all basic output formats and ensures that the quality of the output audio remains unchanged.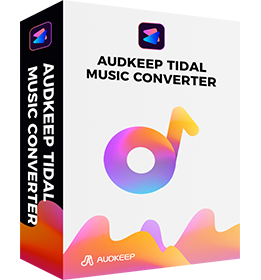 AudKeep Tidal Music Converter for Denon DJ
Convert Tidal music into FLAC, WAV, and other popular formats
Convert a list of Tidal songs at 5X faster speed
Support lossless conversion and retain the original HiFi quality
Customize the bit rate, codec and other output settings as you like
---
Part 2. Download and Stream Tidal to Denon DJ
To enjoy a Denon DJ tidal connection you can use AudKeep Music Converter. Install the software on your computer and set up your registered account to start downloading music from Tidal. Once you have log-in to your account simply follow the given steps to get Tidal music for offline listening.
Step 1 Personalize Tidal output settings for Denon DJ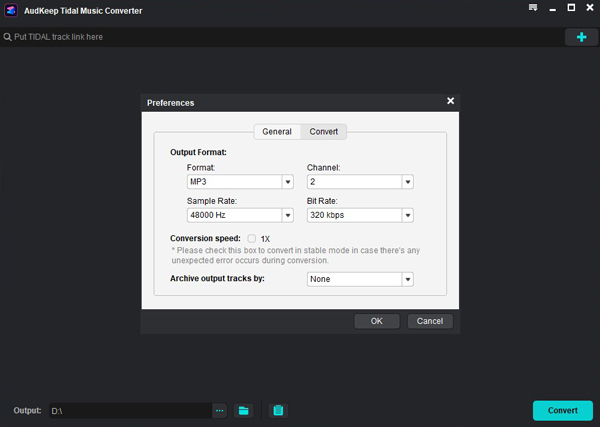 Go to the top menu bar and select on "Preferences" option. This will open a new window on your desktop. Click on the "Advanced" setting and customize the output format of your audio. You can choose from a wide range of output formats including MP3, FLAC, Lossless, WAV, M4A, and M4B. Other parameters that you can adjust include bit rate, sample rate, audio codec and save songs either by album or artist.
Step 2 Add Tidal music to the converter for Denon DJ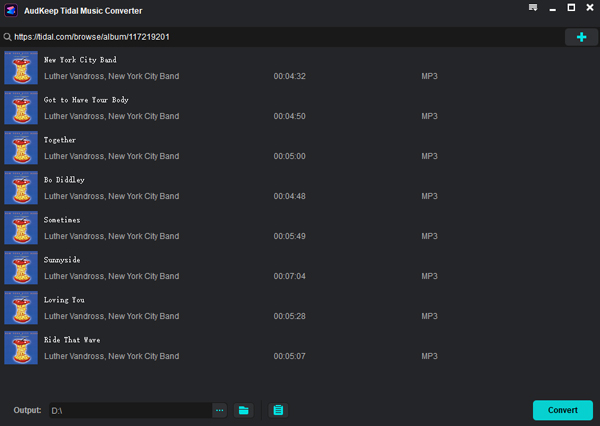 After finalizing the output setting click on "OK" to save it. Then, move on to add your favorite Tidal songs to AudKeep Converter. Go to the "+" icon at the bottom left corner of the converter and start selecting your music files and playlist to the built-in Tidal Web Player.
Step 3 Start the conversion process for Denon DJ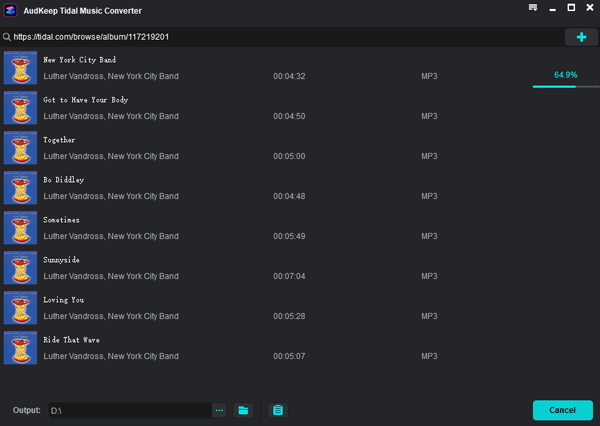 Next, you just have to press the "Convert" option. The converter will start converting and downloading audio files to your computer as locally saved audio music files. The converter will convert music files at a faster speed without destroying the quality of the music files.
---
Part 3. Transfer Tidal Music to Denon DJ
Now you have Tidal music on your computer that you can enjoy offline anytime at your convenience. To get Tidal for Denon DJ all you got to do is follow the given steps.
Step 1. Connect a USB to your computer.
Step 2. Transfer locally saved Tidal music files to the USB.
Step 3. Connect USB to your Denon DJ unit.
Step 4. Play Tidal Denon DJ music as much as you like.
Extra Tip: How to Connect Tidal to Denon DJ Online
If you have the upgraded version of Denon DJ and a Premium Tidal account, you can easily get a Denon Tidal to connect using the steps below.
Step 1. Link Denon DJ to a Wi-Fi network giving you access to the Internet.
Step 2. Then, open the library collection on Denon DJ.
Step 3. On the Library window, go to the media device icon at the top.
Step 4. Now, link Denon DJ to the Tidal music streaming platform.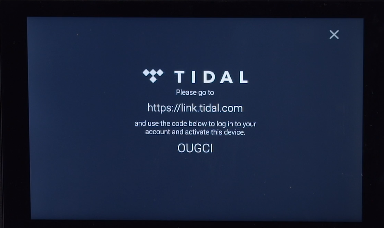 Step 5. Once the two systems are connected, you can easily play Tidal music on Denon DJ.
---
Part 4. Conclusion
Tidal is an amazing source of getting the latest, trendy, and high-quality music and tracks sung by your favorite artists whereas the upbeat Denon DJ system ensures you get to enjoy the best music while you party with your friends. Being a nice DJ, you surely want your listeners to get a taste of both services. AudKeep Tidal Music Converter will make sure that all the tracks are playable offline after conversion, then make you available to play them on Denon DJ unit even without the Internet connection.