"Does Tidal have a student discount?" This query often comes from teens and youths who love music. Yes, the Tidal music streaming provider offers a whopping discount on subscription plans for students attending high school and college.
But, student discount on streaming services is not a new concept. You get it on Apple TV, Amazon Prime, Hulu, Spotify, etc. What's unique about the Tidal student discount?
There are several aspects attracting students to Tidal rather than other providers. In the first instance, you get access to unlimited music and videos after creating a verified student account with the provider. Furthermore, the Hi-Fi music streaming and sound quality take you a light year ahead of others.
In this blog post, we have provided a detailed guide on a Tidal discount for students. Read the entire post to know how to get student discount on Tidal and listen to offline music even after canceling your subscription.
Don't skip the FAQs. Get answers to the queries you may have about the Tidal music student discount. Just delve in to find out all about the student discount offer on Tidal.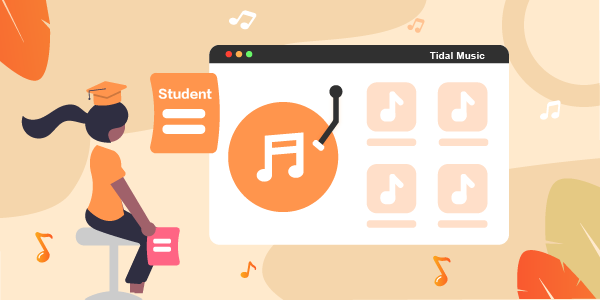 ---
Part 1. Who Qualifies for a Tidal Student Discount?
There are 4 types of introductory discount offer on Tidal. If you have not registered for a Tidal free trial before, you may create a new account to get a student discount on the Tidal music streaming site.
A student must meet specific eligibility criteria to get this discount membership plan:
You must be at least 16 years old to qualify for getting the Tidal music student discount.
The applicant must be enrolled in an affiliated high school or Title IV college, or university in the USA.
The new subscriber must produce valid documents to claim the discount during the registration process. Tidal uses SheerID to verify the documents.
---
Part 2. What Is the Tidal Student Discount Price
Tidal pricing is subject to change. We have provided an overview based on the current pricing structure.
It should give you an idea of how much is Tidal student discount. At present, Tidal has two discount plans for students:
HiFi – Students need to pay only $4.99 per month for this plan. It means you get a 50% discount on a HiFi account.
HiFi Plus – The discount price for HiFi Plus is $9.99 per month.
All new account openers get a free trial offer for 30 days. After that, you will have to pay the subscription fee to download Tidal HiFi music every month, depending on the chosen plan.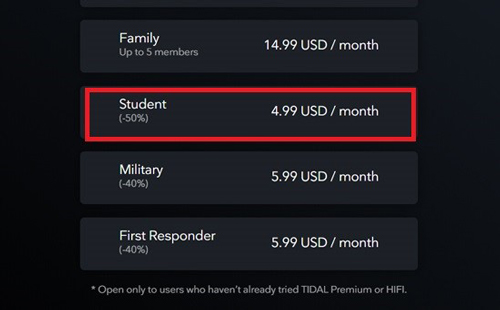 ---
Part 3. How to Get Student Discount on Tidal
If you meet all the requirements to create an account with the Tidal student discount, proceed ahead following the steps below:
Step 1. Visit the official Tidal website and click the Login tab on the top right corner of the page.
Step 2. Start registering your account on the sign-up page (you may use an email id, Apple/Twitter/Facebook account).
Step 3. Choose Student from the account type options- Family/ Student/ Military/First Responder.
Step 4. On the student's page, check the subscription terms and tap the Continue button.
Step 5. Enter the personal information (the details should match the info in your documents).
Step 6. Upload the required documents* to verify and validate your student account.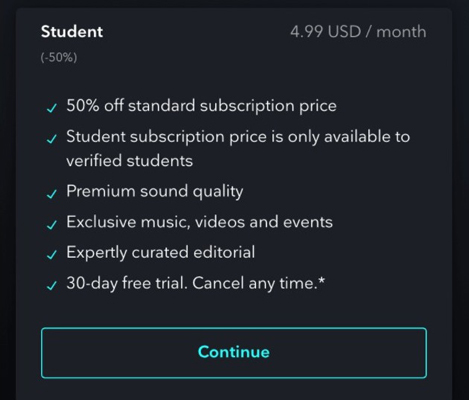 *Tidal uses SheerID to verify the uploaded documents.
---
Part 4. How to Verify as Student to Get Tidal Student Discount
To get the Tidal college student discount offer, you must provide relevant documents to prove you are a student. Tidal uses SheerID to verify all submitted documents.
When you create a new account and apply for the student discount, the system will prompt you to fill up a verification form. You must enter the details and upload documents to support your student identity.
On the verification form for students, you must do the following:
Step 1. Choose the name of your university from the dropdown list.
Step 2. Enter your full name as it appears on the documents.
Step 3. Fill up your birth date.
Step 4. Click Continue to go to step 2 of the verification form.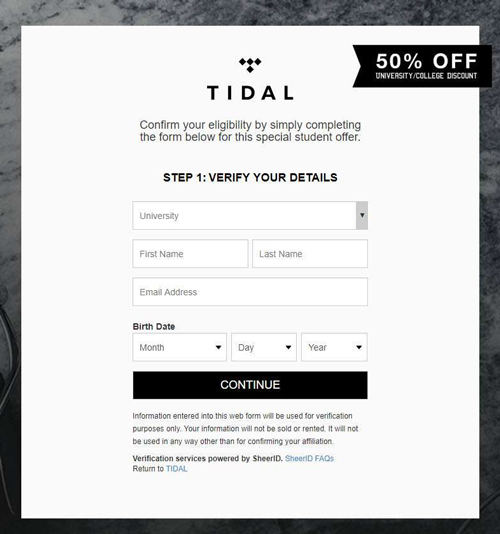 When you proceed to the next page of the verification form, upload the necessary documents to prove you are a student and claim the discount. Upload the document showing the following details:
Your full name
Name of the institution/university attended
A date not older than 4 months
The documents you may submit to verify the above details include:
ID card
Class Schedule
Transcript
You may upload multiple documents for verification. After uploading the statements, click Next to complete the procedure.
If you have done everything successfully, a message will appear on the next window stating that you will receive an email notification once your verification is confirmed.
Note: All subscribers on discount offers must submit documents for re-verification every 12 months.
---
Part 5. How to Download and Listen to Tidal Music Offline After Canceling Subscriptions
Tidal offers offline listening support. But this won't be possible after you cancel the subscriptions. However, it is easy to keep enjoying the favorite tracks even after revoking the premium account.
Here is a simple stepwise guide for downloading and listening to Tidal playlists offline using AudKeep Tidal Music Converter. You can play all downloaded Tidal songs even after you stop paying monthly subscriptions.
AudKeep has a seamless user interface allowing you to download the Tidal playlist in a few simple steps. Below are the detailed steps for you.
Step 1. Download and install AudKeep Tidal Music Converter on the computer.
Step 2. Open the program on your system to visit the Tidal webpage.
Step 3. Login to your Tidal account.
Step 4. Adjust the audio profile to get the desired Tidal music output.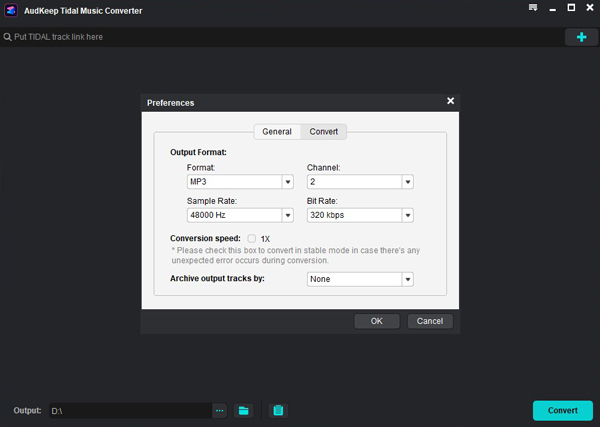 Step 5. Start converting Tidal songs.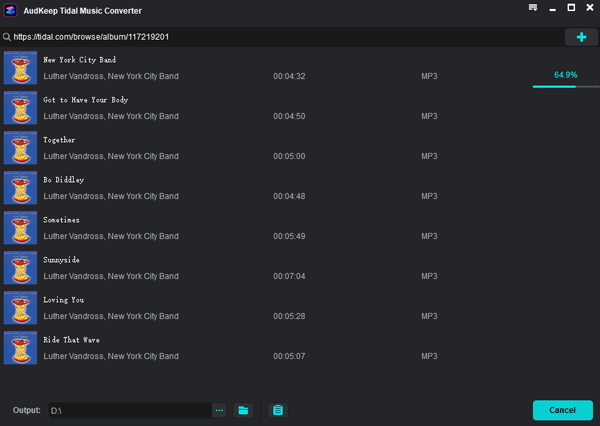 You can also visit the AudKeep Tidal Music Converter guide page to get step-by-step instructions to download this software and Tidal tracks for offline listening.
---
Part 6. The Bottom Line
Tidal student discount is a remarkable opportunity to help save money on a music streaming account. Get your account and download unlimited favorite Tidal songs for your family at a pocket-friendly subscription plan.
Hope this guide has given you all the instructions on how to get student discount on Tidal. If you live in the US and attending an affiliated college/university, you can sign up for this offer.
Become a Tidal Hi-Fi/Hi-Fi Plus subscriber today to enjoy the best music. Create your playlist and enjoy your favorite tracks offline anytime, anywhere.
Don't forget to download Tidal playlists on your computer before canceling the subscription (if you want). AudKeep Tidal Music Converter is great to help you do the Tidal music conversion within a few minutes.