With high-fidelity Dolby Atmos, Tidal has been at the leading edge of the music industry. And the recently introduced 360 Reality Audio on Tidal has once again impressed the users with an immersive musical experience. Tidal 360 Reality Audio makes use of Sony's object-based spatial audio technology to give music a 3D impact and make it sound even more lifelike. This Sony technology and the 360 Reality Audio can level up your music experience.
How to use 360 Reality Audio Tidal? Is there a way to use it without the premium membership? For your convenience, this post will discuss the most effective methods to utilize 360 Reality Audio on Tidal, both with and without a premium subscription. We will explain everything necessary for you to understand in this tutorial.
---
Part 1. How to Enable 360 Reality Audio on Tidal
What is 360 Reality Audio Tidal? Sony's effort to reproduce the immersive and exhilarating experience of surround sound with just a single speaker or a set of headphones is called 360 Reality Audio. You can experience 360 Reality Audio using any headphones you choose with your smartphone and a Tidal HiFi Plus membership.
While 360 Reality Audio is compatible with any pair of headphones, only owners of compatible Sony headphones can use the Sony Headphones Connect app to create a uniquely tailored listening experience. If you have a membership to Tidal HiFi Plus, then the "360 Reality Audio" option will be available to you inside the Tidal app.
Ensure that your headphones are in working order and that you have a Tidal HiFi Plus account before you try out Sony's 360 Reality Audio on Tidal.
Step 1: Launch the Tidal app on your device, and either register for a new Tidal HiFi Plus account or login into an existing one.
Step 2: Go to the "Discovery" area, then scroll down until you find the option to pick 360 Reality Audio.
Step 3: You can now look for a list of playable albums in Sony's newly developed format. Use your headphones for an easy and convenient listening experience with Tidal's 360 Reality Audio.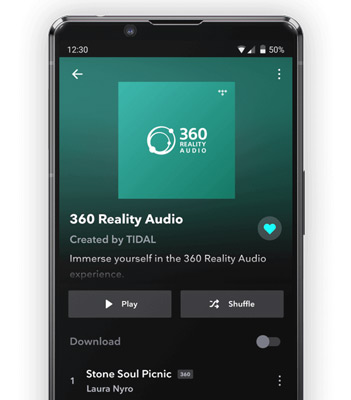 ---
Part 2. How to Use 360 Reality Audio on Tidal Without Subscription
With the Tidal mobile app, you can take your whole music library with you everywhere you go. While the Offline Mode is not yet accessible to Tidal users on the Tidal desktop or Tidal web player. How to use 360 Reality Audio on Tidal desktop offline? You can easily use Tidal conversion to access 360 Reality Audio on Tidal without premium. To do that, you'll need third-party software to save your Tidal playlists to your computer for offline listening.
The best program for converting and downloading music from Tidal is AudKeep Tidal Music Converter. It's compatible with both Mac and Windows OS. The AudKeep Tidal downloader allows you to store your favorite tunes from Tidal on your computer five times faster than the original. Not just that, importing Tidal music to AudKeep Tidal downloader is easier than ever. The Tidal app can still be used to import music to the converter even if a Tidal membership is not in place.
It downloads Tidal in various audio formats like WAV, AAC, FLAC, and MP3. While converting, the ID3 tags, which provide the song's original title, artist, and album, are also kept. If you're concerned about audio quality, don't be, because you can listen to your Tidal collection offline on any device without losing anything.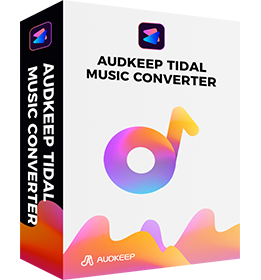 Key Features of AudKeep Tidal Music Converter
Freely export 360 Reality Audio Tidal songs to your computer
Convert Tidal 360 Reality Audio to common formats
Rapidly download Tidal music without a subscription and save it locally
Make sure that Tidal songs' ID3 tags and sound quality aren't compromised
Here is a complete tutorial on how to download and get music on Tidal without a subscription.
Step 1 Download and sign in AudKeep Tidal Music Converter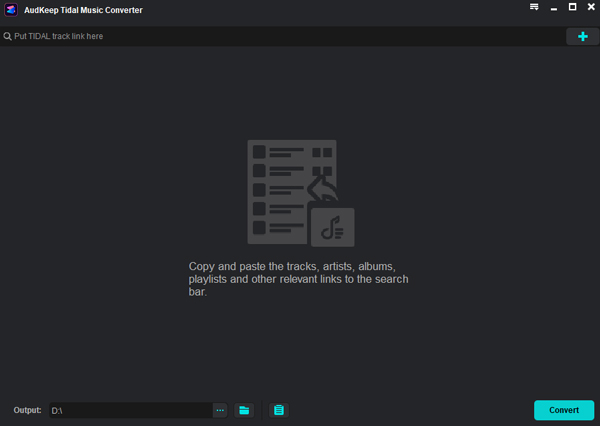 Download AudKeep Tidal Music Converter and run it on your Windows or Mac computer. From the main screen of the Tidal app, choose "Log in". And then select "Register" from the AudKeep tool to activate the converter.
Step 2 Customize Tidal output audio preferences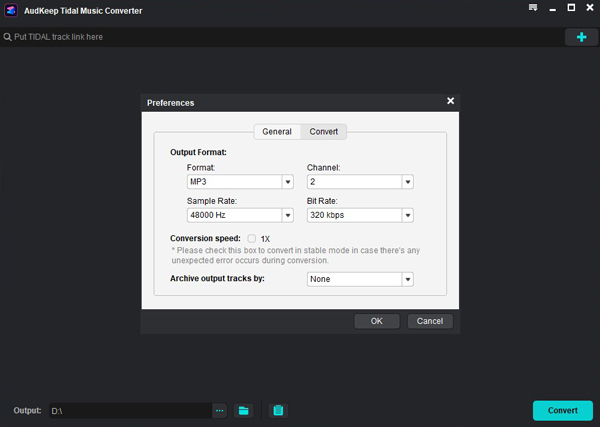 Click the "Preferences" button on AudKeep's main menu to make any necessary adjustments to your settings. To adjust the output parameters for the Tidal 360 Reality Audio you want to download, click the "Convert" button. You can choose to convert Tidal music format to a variety of formats, such as M4A, MP3, WAV, or FLAC, and also modify the channel, bit rate, or other settings. Click the "OK" button after making the required changes.
Step 3 Add 360 Reality Audio Tidal to AudKeep software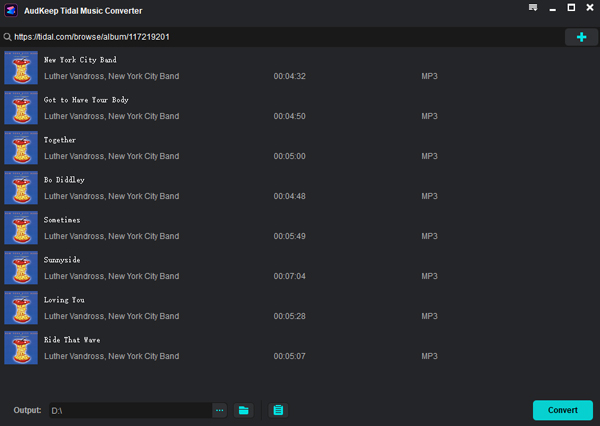 Open your Tidal app from the desktop, you can discover new music and get the music's URL, copy it, and then put it in the search bar at the top of the AudKeep Tidal Music Converter. Click the Plus symbol to load in the Tidal songs.
Step 4 Convert and use Tidal 360 Reality Audio for free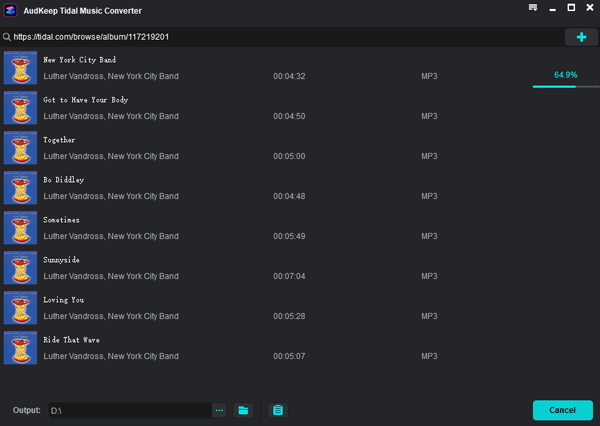 Pressing the "Convert" button in the toolbar below will immediately begin downloading. The time it takes for the Tidal playlist to be converted and ready to play might range from a few minutes to an hour depending on how many songs are in your playlist. Find the converted Sony 360 Reality Audio Tidal by clicking the Converted icon at the converter's base. Tidal music is now free offline listening on any platform, speaker, or device.
---
Part 3. FAQs About Tidal 360 Reality Audio
Q1: What Is 360 Reality Audio?
Sony's spatial audio technology is used in 360 Reality Audio to provide a fully encompassing experience by mapping sound from any direction and distance from the listener's ears. Years of acoustic and physiological research into how we hear and place sounds have culminated in this unique listening feature. Listening to a concert streamed in 360 Reality Audio is like being in person.
Q2: Does Tidal Support 360 Reality Audio?
Subscribers to the Tidal HiFi Plus tier can access 360-degree audio under the app's Explore tab. Incorporate a Tidal HiFi Plus membership, a smartphone, and any set of headphones to experience 360-degree surround sound.
Q3. Is Tidal 360 Reality Audio Free?
Tidal 360 Reality Audio is free to a limited extent. However, still, you should purchase the Tidal HiFi Plus membership to attain proper music entertainment.
Q4. Is Tidal 360 Reality Audio the Same as Dolby Atmos?
With the early introduction of spatial audio alternatives, Dolby Atmos and 360 Tidal have shown effective solutions, with a wide selection of songs and a high-quality spatial audio experience. While 360 Tidal's higher sample rate files are costly, they outperform Dolby Atmos's lower sample rate tracks in terms of dynamic range.
---
Part 4. Final Thoughts
It should not be surprising that music fans love the Tidal 360 Reality Audio. The technology has taken the music experience to a new level with its 3D feature.
Follow the method included in this article to listen to 360 Reality Audio on Tidal with or without a premium subscription. The way to play Tidal 360 Reality Audio offline anywhere by AudKeep Tidal Musi Converter is optimal for those who want to stream Tidal with no limit. Make sure to download AudKeep Tidal Music Converter before you get Tidal songs for offline playback anywhere anytime.