Master Quality Authenticated (MQA) is a hi-res audio quality providing service under the Tidal platform. Its audio quality is the highest compared to the quality produced in studios. MQA is also known as Tidal Masters since Tidal has cooperation with MQA to create Tidal Masters. Tidal Masters can provide a streaming service with more than 96 kHz / 24 bit. If you are a music lover, you should listen to and enjoy high-quality songs with Tidal Masters.
Many users inquired on the Internet about how to listen to Tidal Masters on the Tidal app and offline. To provide answers to their queries, we bring this article. It will introduce the Tidal Masters and the process for listening to Masters within its app. Moreover, we will recommend using AudKeep Tidal Music Converter to download and convert Tidal Masters for offline use. Go through the article and enjoy Tidal Masters offline forever.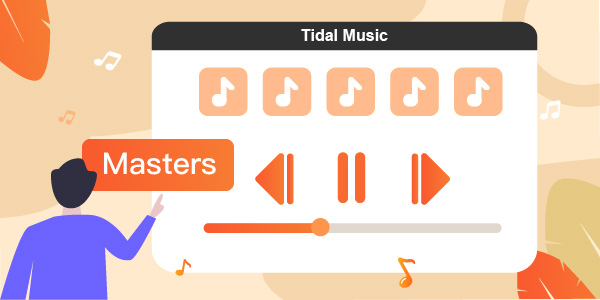 ---
Part 1. What Are Tidal Masters?
Music streaming platforms are now providing sound quality with hi-res audio formats like ALAC, FLAC, and WAV. For music lovers, hi-res audio formats are a great perk for listening to high audio quality music. Like other streaming services, Tidal also offers hi-res audio quality with its latest version, "Tidal Masters".
Tidal Master, also called the Tidal MQA, is a service that provides you with Master Quality Authenticated (MQA) audio. MQA plays a vital role in delivering audio recordings from the artist to listeners without interruption or restrictions. The program runs through a set of technologies and a sound package that offer music with original quality.
Other hi-res audio formats provide their processing at the end of music production. But MQA is not like other audio formats; it is a part of the studio setup of music production. When an artist completes his recordings, he can preview the MQA recording and prove his original intentions for the music. Once a tune of Tidal Masters is approved, streaming services such as Tidal receive it.
---
Part 2. How to Listen to Tidal Masters within Tidal App
Tidal provides its Master quality audio to its HiFi Plus subscribers only. Users with a HiFi Plus plan can listen to millions of music tracks, radio stations, and mixes with Master quality audio format. Users can enjoy Tidal Master Quality streaming in multiple ways, including the Tidal app and Tidal Web Player.
Using the Tidal app for listening to Tidal Masters (Master Quality Audio) is an easy and good choice. You can install the Tidal application on both computers and mobile devices. Ensure to choose 'Master' quality in the Tidal app's settings. Listening to and enjoying Tidal Masters within Tidal App is simple. Follow the given steps and listen to Tidal Masters:
Step 1. Open the Tidal app and find the Master tracks or albums on the "Home" page.
Step 2. Click on the "Explore" tab and type "Tidal Masters".
Step 3. Scroll down, click on the "Master" icon, and then choose "Master Quality Authenticated" tracks or albums. All the features of the Masters-only option will appear.
Step 4. Choose your favorite Tidal Masters audio tracks and enjoy high-quality Tidal music.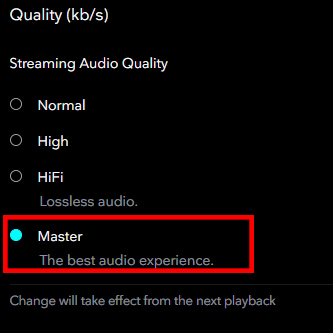 ---
Part 3. How to Download Tidal Masters for Offline Use
Tidal Hi-Fi Plus users can enjoy Tidal Masters without the Internet via the mobile application of Tidal. But users can only use this offline feature on mobile devices, not desktop devices. If anyone wants to find the best way to listen to Tidal Masters offline, he needs to download a third-party tool.
We recommend using AudKeep Tidal Music Converter to download tunes with Tidal Masters. It is the best way to stream Tidal Masters and is designed specifically for Tidal. The converter downloads Tidal music to multiple audio formats such as WAV, AAC, FLAC, and MP3. It keeps ID3 tags of songs such as artists, titles, and Tidal music in 100% similar quality.
With AudKeep Tidal Music Converter, users can download Masters audio files on their computers as local files. Once you have downloaded your favorite Tidal Masters songs on your computer, you can listen to them without the internet and any subscription.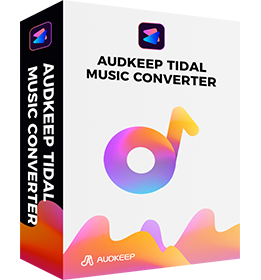 Key Features of AudKeep Tidal Music Converter
Download Tidal Master tracks, albums, and playlists to listen to offline
Convert Tidal to WAV, MP3, FLAC, and other audio formats
Keep ID3 tags and convert songs from Tidal Masters 5X faster and losslessly
Remove ads and keep Tidal Masters on your computer for good
Follow the given step-by-step guide to download Tidal Masters via AudKeep Tidal Music Converter, and ensure a stable internet connection to get a speedy converting process.
Step 1 Install and launch AudKeep Tidal Music Converter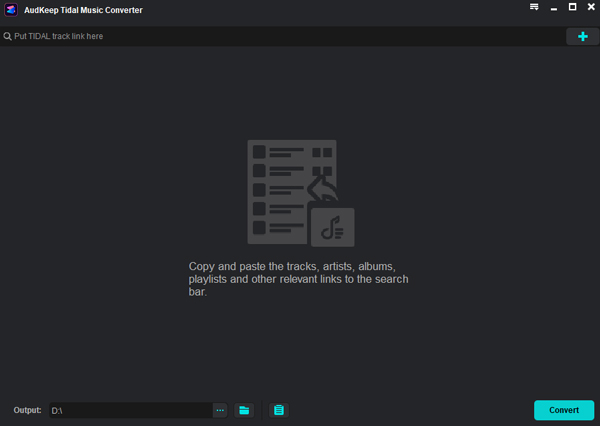 AudKeep Tidal Music Converter is easily obtainable from Mac and Windows computers. Select the right version and click Download from its website or the above buttons to install it. Next, open and launch the software, and the Tidal app will automatically open for once. Don't close the window. Tap the 'Login' button to sign into your Tidal account. Go to the AudKeep app, click on the menu icon, and tap on "Register" that will need your log-in details, including your registration name and code.
Step 2 Set output preferences for Tidal Masters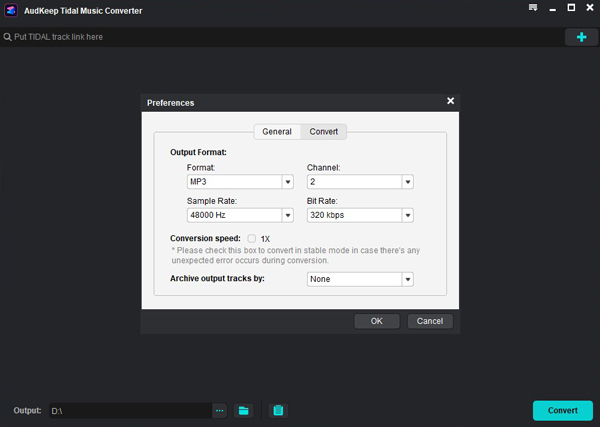 Find the menu icon on the top bar, tap on the "Preferences" option, and click "Convert". Set output parameters for the Master music from Tidal you want to download. You can select output formats including FLAC, MP3, M4A, and other formats. You can customize other parameters such as bit rate, channel, and sample rate, etc as well. After making all the changes for Tidal Masters, press the "OK" button.
Step 3 Add Tidal Master tracks/albums/playlists to AudKeep software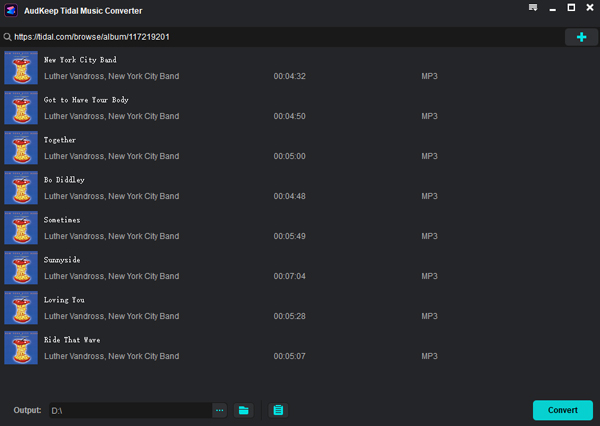 On the Explore page in the Tidal app, search and find your favorite Tidal Masters. When you decide which Tidal song to download, click the three dots next to the song and copy and paste its share link into the search bar of AudKeep software. Finally, click on the '+' tab to confirm the upload of Tidal Masters.
Step 4 Download Tidal Masters to listen offline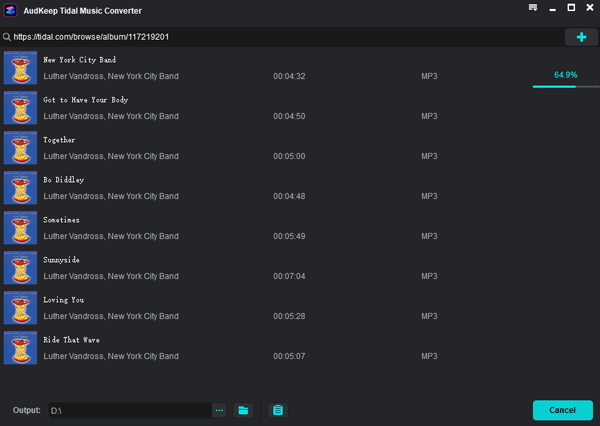 Once the tracks are added, click on the "Convert" button located at the bottom right corner. It will launch the converting process to download Tidal Master songs from Tidal offline. The AudKeep software will convert all the files from Tidal with a 5X fast speed. After downloading, all the Tidal Master tracks will shift to the local folder of your computer. You can locate the downloaded music files from the list icon at the bottom. Or you can find the songs from the drive on your computer.
You have now successfully got Tidal Masters downloaded via AudKeep Tidal Music Converter. Now you can not only listen to high-quality music from Tidal on your mobile phone offline but also on your desktop. Most importantly, you're able to transfer the Tidal Masters tracks from your computer to other devices or media players to play Tidal Masters music anytime.
---
Part 4. Bonus Time: Tidal Master vs Tidal HiFi
In case you'd like to fathom more details about different audio quality from Tidal, we prepare this section. We will compare Tidal Masters vs Tidal Hi-Fi so you can get a rough perspective on which is better. If you want to know more information about Tidal Masters and HiFi, go to the article: Tidal Premium vs Tidal HiFi vs Tidal Master.
Tidal Masters presents the music source and is a part of the studio setup. In contrast, Tidal Hi-Fi provides lossless audio quality which is not compressed.
Tidal Masters provide 96 kHz/24 bit or more for music streaming, while the Tidal Hi-Fi provides streaming at only 1411 kbps or 44.1 kHz/16 bit.
Tidal Masters has small-size files that users can easily download, whereas Tidal HiFi audio allows large files that take time to download.
Tidal offers different premium plans at different prices. Tidal Masters require you to be a member of Tidal Hi-Fi Plus. While the HiFi lossless audio quality only needs a Tidal HiFi plan.
Tidal Masters consume 7.5 MBs/per minute of Data while streaming, while Tidal Hi-Fi consumes 5.5 MBs/per minute.
---
Part 5. Final Words
With this article, you came to know what Tidal Masters are, and also you learned how to listen to Tidal Masters music in the Tidal app. Besides that, we provided you with the best way to listen to Tidal offline desktop by using the AudKeep Tidal Music Converter. The AudKeep Tidal downloader can convert Master files from Tidal to your computer. The conversion even will not get any compression on audio quality, which makes it easy to get Tidal Masters to play offline on any device. Now, take action and try to download music from Tidal Masters offline.