There is something unique about paring music and exercise as the two go together quite well. In the event of a workout, music brings you lots of benefits, letting you work harder than in silence. Your pain will be distracted, will promote metabolic efficiency, and even let you work out faster with an elevated mood. How then do you get a Tidal workout playlist to keep you on the right track during those heavy morning workouts? Dive to the next section for some best Tidal playlists.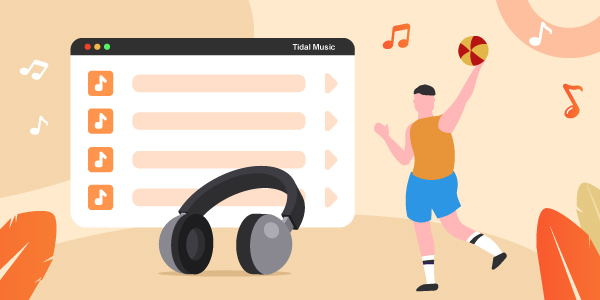 ---
Part 1. 10 Best Tidal Workout Playlist 2022
We've narrowed it to the best workout playlist on Tidal.
1. Gymshark Hip Hop
This gym workout playlist on Tidal is what you need in the early morning to put you on track for those gyming sessions. It includes classic hip hops from Polo G's Rapstar, Tion Wayne, and Russ's Body Remix.
2. Yoga Acoustics
Yoga is for a calm workout, especially after a long day's work. This playlist will give you meditative beats and a mix of mindful beats that pair well with your yoga routine. It includes tracks like "Destined to Pretend" by Beta Radio, "Golden Embers" by Mandolin among others.
3. Beast Mode
This hi-res playlist will get you going and help you unleash your inner hulk. It comprises tracks that will push you harder beyond your limits. Get hyped-up beats from Dua Lipa's "Levitating", Lil Nas X, MEDUZA's "Tell It To My Heart", and more.
4. Gold School
This epic playlist will push you to the edge, especially on outdoor activities like cycling and jogging. Hit the shuffle for best results with Gold School. Play along well with JAY-Z's "Izzo", "Get Me Home" from Foxy Brown, Redman's "Pick It Up", among others.
5. Run This Town
This is the bomb of long-race tracks. Having been designed for about 165 BPM workouts, this best Tidal workout playlist will elevate your run tricks for the better. It comprises hits like "Press The Start Button" and "Good Life" among other classy hits.
6. EDM Workout
Extreme workout needs a propelling playlist like EDM workout. This will give you some extra push to get going on your highs and lows. Get "Reload-Radio Edit", "Summer" by Calvin, and Rob Swire's "Ghosts 'n' Stuff".
7. The Montreux Years
Get this best Tidal playlist by Nina Simone from her five Montreux Jazz Festival converts. This collection is superb, with excellent audio quality. Be it yoga, jogging, or extreme workout, Nina knows how to pull you through.
8. Stepping Out
Get a mix of both the bold and soft hits. Just press the shuffle button for the best combination when you decide to hit the road for your workout. The sharp noises and exciting percussive boards from the Stepping Out playlist are all you need for a perfect workout output.
9. Clout Culture
This energetic playlist is about youth, featuring the next generation of rap stars. It's about a new era for Tidal, pumping attention to what the youth likes. Experience new emotions with each new track from Clout Culture and elevate your exercising experience like never before.
10. Epic Workout
We can't wind up the best Tidal workout playlist without Epic Workout. This top playlist gives you an open door to fully exercise your inner power. Get your adrenaline pumping with hits like "Dancing on Glass" by St. Lucia and "Sail Into the Sun" by Gentlemen Hall, among other hits.
---
Part 2. How to Download Tidal Workout Playlist to MP3
The best tool, AudKeep Tidal Music Converter, can help you to download the Tidal workout playlist to MP3 format. It's after conversion of your Tidal hits that you can play them offline on any device or media player. It works at a high speed of X5 rate managing to convert multiple files in batches.
AudKeep is available for both Premium and HiFi plans. It supports common output formats like FLAC, Lossless, M4B, MP3, etc. Your Tidal music will preserve all lossless metadata information and ID3 tags like genre, composer, and many more. Likewise, this tool helps you to customize the output parameters of Tidal tracks, including bitrate, sample rate, channel, among others.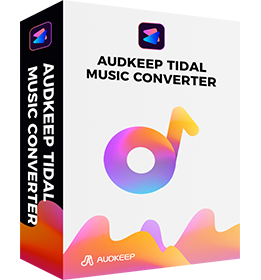 Key Features of AudKeep Tidal Music Converter
Preserve 100% metadata info and ID3 tags
Download Tidal high-quality and HiFi music
Offer fast speed of 5X rate during the conversion
Support common formats such as MP3, M4B, WAV, etc.
Steps Guide to Download Tidal Workout Playlists to MP3 Files
Use either free or full version to download the Tidal workout playlist to MP3. Download Windows or Mac OS version of AudKeep. Then install it on your computer and launch it. Next, click on the "Log In" button to log in and continue to register AudKeep Tidal Music Converter. Choose the "Register" tab that will then open the registration window then log in with the name and code to activate it.
Step 1 Customize output format for your music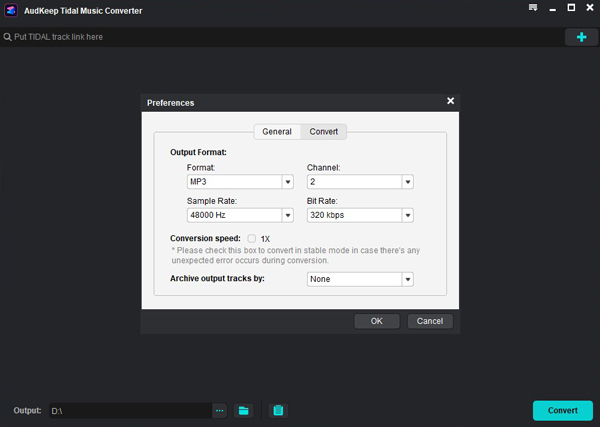 Go to the "Menu" > "Preferences" > "Advanced" option. Then begin to adjust the output format to convert Tidal to FLAC, MP3, WAV, etc. Likewise, you can customize the audio parameters such as bit rate, sample rate, among others. Note that you can classify your Tidal music by artist or album. Just click on the "Archive output tracks by" button option.
Step 2 Add Tidal music to AudKeep app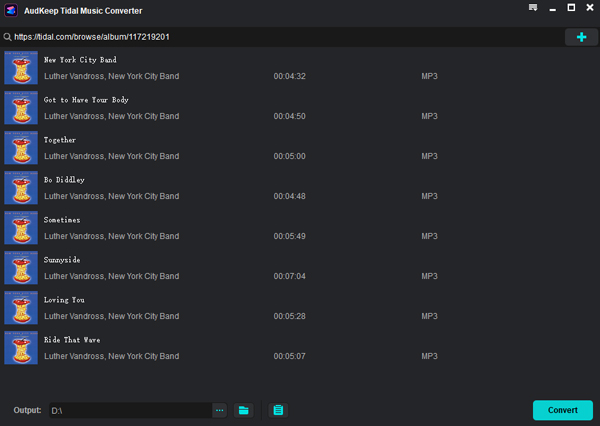 It's now time to start adding your Tidal music for conversion. Just select the Tidal music, open it and click on the blue "+" icon that is located at the right-bottom of the screen.
Step 3 Download and convert Tidal workout playlist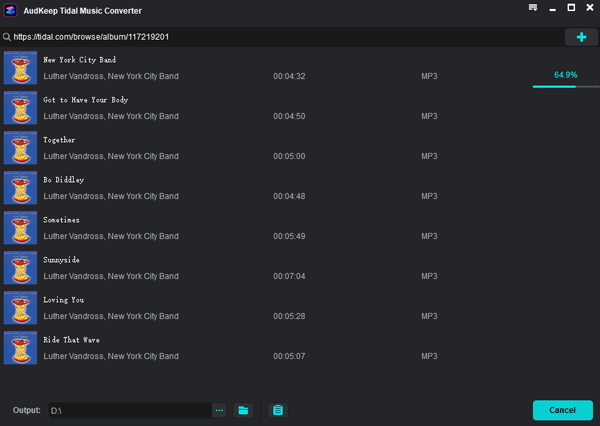 Finally, you can now get your Tidal music in a common format. Click on the "Convert" tab for the tool to accomplish the conversion process. Then locate the converted Tidal music from the "Converted" button marked with a red number. You can then transfer them to any MP3 player or device to use offline during the workout.
---
Part 3. Conclusion
Workouts don't have to be boring and lonely anymore. Music has its rightful place to bring you peace of mind and motivate you to greater limits. We have covered from the gym workout playlist on Tidal to EDM and Yoga hits. And for offline playback, get it going with the best Tidal downloader, AudKeep Tidal Music Converter. This sophisticated tool will directly convert your playlist to plain formats like MP3 for offline playback.