Tidal, being the most popular music streaming service for audiophiles, brings to your ears lossless CD-quality and high-fidelity audio files that are irresistible. In fact, its sound quality is up to four times better than other music streaming services of its peers. For this, music fans are on the lookout for the best Tidal audiophile playlists to keep the fire burning. But since Tidal offers a wide array of playlists, it isn't easy to pinpoint which genre or selection to stick to. We bring you among the 10 best Tidal playlists in this article. Discover the best selection for that next party.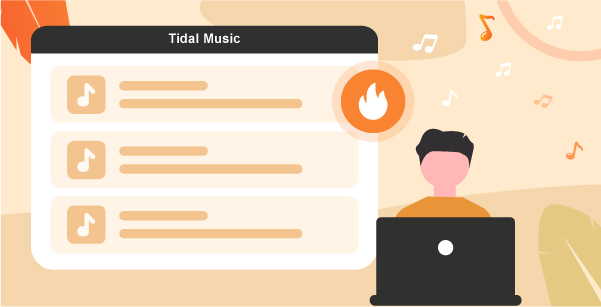 ---
Part 1. 10 Best Tidal Audiophile Playlists 2021
Audiophile recordings on Tidal are well organized and easily accessible. And hitting on peculiar playlists is a good starting point to enjoy its over 70 million tracks. Check out the best playlists 2021 from Tidal.
1) Rising Hip Hop
Discover some great hits from highlights of Tidal like Roaring 20s and many more. Tidal updates this selection every week, ensuring you don't miss big from some great incomers. Hip-hop is an all-time gig and will fit every mood.
2) Instrumentals For Concentration
Are you struggling to focus on a piece of study work? This is the way to go. Listen to this audiophile Tidal playlist to keep you in an introspective mood. It's a hub of modern-day piano pieces with a touch of class.
3) A Space-Themed Electronic Music Playlist
Are you feeling low? This electronic selection will boost your mood in that bad time. It features various artists from different genres and is a sure bet for the best music hits.
4) Summer Jazz Playlist
The summer season equates to a buzz of activities. Find some classics from the 60s and 70s in this playlist for outdoor activities as you enjoy your season with buddies. It consists of some big names like Wes Montgomery and Stan Getz.
5) Country Rock
Country music never runs out of season. Looking back at those old schools just keeps your soul rejuvenated each time their sounds land into your ears. Keep it locked all season with this best audiophile playlist on Tidal.
6) The Montreux Years by Nina Simone
Get the best of Nina from this newly released collection of her recordings encompassing five legendary Montreux Jazz Festival concerts. Her story will inspire you to bits!
7) Grammy Best Engineered Awards
Why not check out some top award-winning albums? This playlist is a true definition of the best-sounding albums on Tidal. It's a collection of the top albums that have won Grammy awards and you wouldn't want to miss a hint.
8) Electronic Bliss
When it comes to finding remixed tracks, the Electronic Bliss playlist tops the list. It encompasses some top-notch electric instruments from artists like Selena Gomez and Avicii among others. Listen to it to get into the mood for any high-end activity.
9) Indie Rock
Here comes another audiophile playlist Tidal that has been trending from the 70s. It will shower your screen with new artists from various regions of the world. Experience the different collections from one generation to another with Indie Rock.
10) Workout Songs
Keep healthy on the track as you enjoy hits from this great playlist. It is the best starting point to keep up the pace and rejuvenate your energy for the tough race ahead. It harbors that positive mindset that will take you to great heights in no time.
---
Part 2. How to Download Tidal Audiophile Playlists
Get Tidal audiophile playlist 2021 the smart way with AudKeep Tidal Music Converter. This tool will give you all-around control over the playback of Tidal playlists on your device. It has a default music converter to losslessly convert Tidal to FLAC, M4A, WAV, Lossless, MP3, etc, that are readily available for playback offline.
Besides, you can download your Tidal playlists as original audio tracks including lossless Hi-Fi quality as it retains all the metadata info and ID3 tags. Nonetheless, it won't compromise on the speed. AudKeep works at up to a 5X speed rate, managing batch conversion of your playlists.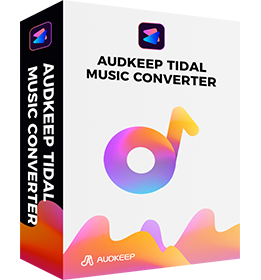 Key Features of AudKeep Tidal Music Downloader
Faster speed of X5 rate that aids batch conversion
Retains original ID3 tags and lossless sound quality
Customize output settings like sample rate and bit rate
Converts Tidal playlist to FLAC, AAC, MP3, etc.
A Step-by-step Guide to Download Tidal Audiophile Playlists on the Computer
Eliminate all odds and get unrestricted Tidal audiophile playlists on your computer for offline playback. AudKeep Tidal Music Converter supports both macOS and Windows computers. To use it, download and install it on your computer. Then launch it on your computer and touch on the "Log In" button to log in with your Tidal account.
Step 1 Set output parameters for Tidal audiophile playlist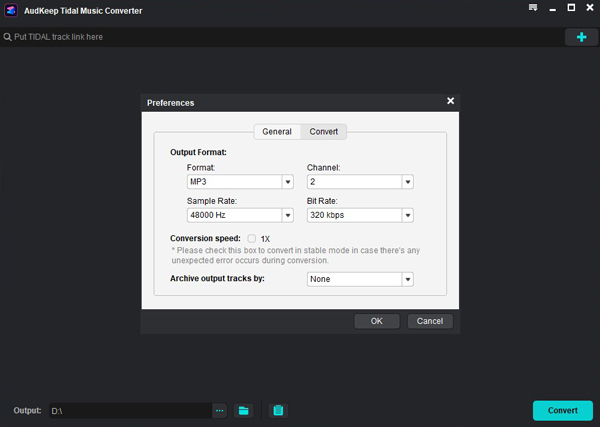 You can customize the output settings and parameters as you wish. Just click on the "Menu" icon and go to the "Preferences" tab. Next, click the "Advanced" option to begin customizing the settings. These include audio codec, channel, bit rate, and sample rate, etc. When set, click on the "OK" button to effect the changes.
Step 2 Add Tidal playlist to AudKeep app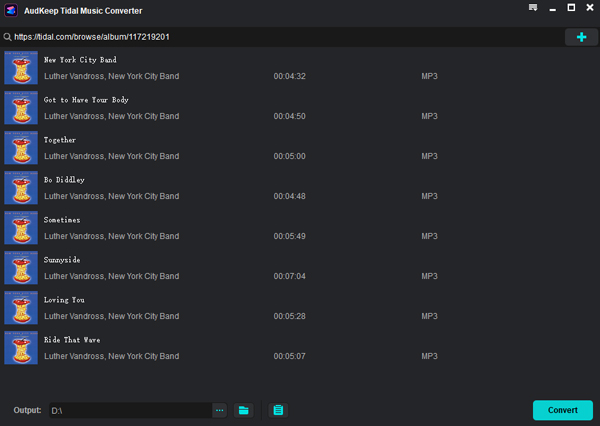 Find the Tidal playlist you want to add to your computer and select it. A blue button will show on the right-hand side of the screen. Click on it to let your Tidal playlist be loaded into AudKeep window.
Step 3 Download and convert Tidal music for playback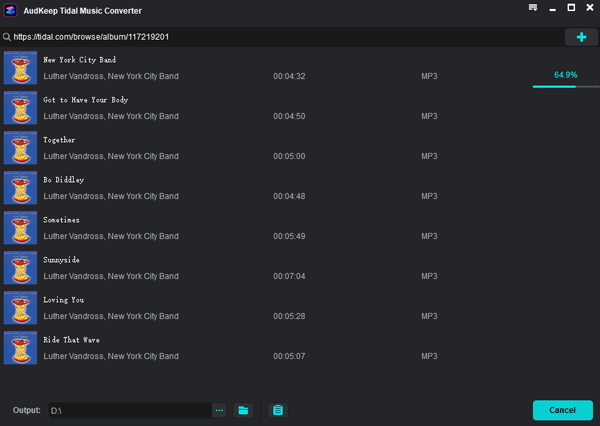 Confirm your entries and then click on the "Convert" button to finalize the process. Later, locate the converted Tidal files in the "Converted" folder of your computer's local disk. You can then stream Tidal audiophile playlists offline without any restrictions on your computer.
---
Part 3. Conclusion
You can't go wrong with Tidal but get the best from its Hi-Fi and high-fidelity audio files. And given its wide magnitude of quality hits, getting down to the best may be a thorn-in-the flesh. But the aforementioned audiophile playlist Tidal just made it easy to hit the right button. Furthermore, AudKeep, the best convert tool makes it possible to stream your playlist without limitation anytime.