Master-quality Hi-res playback is no longer limited to the recording studio or even home Hi-Fi. Tidal offers thousands of Hi-res albums available to stream through its Android and iOS apps, compatible HiFi components, and software platforms like Roon, thanks to its cooperation with MQA, which began a few years ago. That means Tidal HiFi users will be able to enjoy music in its full grandeur no matter where they are.
The number of Hi-res albums available on Tidal is constantly growing, but we've chosen the 20 best HiFi songs on Tidal to get you started and show you what Tidal Masters can do.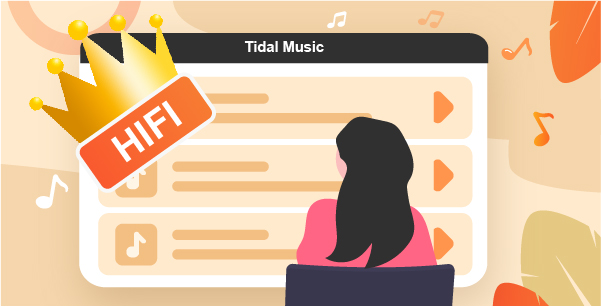 ---
1.Orphée- Jóhann Jóhannsson
Jóhann is a composer who, virtually alone, can demonstrate the importance of listening to master-quality recordings. Orphée was the Icelandic musician's final solo album before his untimely death last year; achingly melancholy at times, the album's marriage of orchestral movements and light-handed electronica is always exquisite.
There are solo piano and sad string cues in the work, as well as the magnificent vocal group Theatre of Voices singing lines from Ovid in Renaissance style at the finale.
2. Cello Song by Nick Drake
Nick Drake was a unique musician who went nearly unrecognized throughout his brief life, producing numerous albums of terrifying, gloomy beauty. However, his vision was far darker than Donovan's, with terrible elements of melancholy, broken romance, mortality, and sorrow lurking beneath, or even well above, the surface.
These enigmatic songs of contemplation and emotional 'otherness' were powered by the one thing that had attracted Boyd to Drake: his unusual open-tuned picking approach "Cello Song," sung in semi-whispered tones that gave no sense of ersatz rurality.
3. The Montreux Years by Nina Simoneb
This is a must-have for Nina Simone fans. The Montreux Years is a newly released, collection of recordings from Nina's five legendary Montreux Jazz Festival performances, from her first appearance in the summer of 1968 to her last appearance that was 22 years later, and of course, including her legendary 1976 appearance, widely regarded as the festival's best ever.
Simone is engrossing, fascinating, and occasionally provocative, keeping the audience engaged while challenging them. It's a wonderfully edited anthology with exceptional audio quality.
4. Hania Rani: Esja
Hania Rani's debut album, Esja, is a fascinating, ageless, and compelling record that will have you forgetting about your problems in no time. The fluid and expressive piano works of Hania Rani are constantly in motion and flow. 'Esja' is the Finish word for best friend, and it is that warm hue that pervades the entire album.
Hania refuses to shy away, from the opening rolling swells of 'Eden' to the exquisite composure of 'Hawaii Oslo.' Her fingers are constantly banging something, and the steady stream of notes is like a symphonic river of feeling. A must-have for audiophiles!
5. Entertainment! By Gang of Four
Gang Of Four's debut album, released in 1979, is the complete antithesis of Jóhannsson's frequently ethereal arrangements, and it pretty much defines the term "angular" as a musical descriptor. Many have picked up on its oddly funky rhythmic jitter, pungent, pointillistic guitar stoccados, and spoken/shouted vocals. The album stood apart lyrically from many others of the time, and it still stands out now.
6. Emma Hot Chocolate
The British soul band Hot Chocolate released "Emma" in 1974. The song, written by Errol Brown (vocals) and Tony Wilson (music), deals with suicide, early death, and lost childhood. Brown's lyrics pay tribute to his mother, who died lately. After producer Mickie Most requested more "depth and darkness," they enhanced the rawness. You'll be thrilled by the catchy bass line and appealing guitar riff.
7. The Road by Nick Cave and Warren Ellis
While we lament the fact that Nick Cave and Warren Ellis' triumphant Carnage album from 2021 was not released as a Tidal Master, we can take solace in the knowledge that one of their prior collaborations, the music to John Hillcoat's The Road, did. Ellis' wistful violins and Cave's low piano create an atmosphere that's compelling yet, despite the film's overarching theme, never dismal, in this 2009 post-apocalyptic thriller.
8. Power, Corruption and Lies by New Order
Power, Corruption, and Lies is widely regarded as the album that established New Order as a band distinct from Joy Division. Its use of synthesizers is significantly more extensive than on Movement, but it is nonetheless skillfully integrated with guitars and acoustic percussion creating a sound that is texturally deep while remaining delightfully airy.
9. Losing Sleep by Dylan Fraser
"Losing Sleep," Dylan Fraser's latest single, is a compelling pop anthem about how a yearning for uncomplicated times can keep you awake at night. The dynamic song takes you on a journey through these lingering feelings, with outstanding production that wonderfully showcases Fraser's singing and creative abilities. The song starts with percussive guitar and synth tones, which are complemented with scattered drums that carefully propel the music along. The orchestration swells with ambient piano as Fraser begins to sing, creating the ideal foundation for his robust, conversational delivery. His voice has a surprising amount of force.
10. Quadrophenia by The Who
Pete Townshend's second rock opera, "Quadrophenia," was released 40 years ago in October 1973 and was a tribute to an earlier generation in British youth culture. Townshend composed the entire piece. "Quadrophenia" features 90 minutes of the Who at their best, with performances that are full of life, depth, and personality. What makes it wonderful isn't the production or the sound effects, but the songs' bones: the lyrics and music, as well as Townshend's, John Entwistle's, Roger Daltrey's, and Keith Moon's individual guitar, bass, vocal, and drum performances.
11. Speaking In Tongues (Deluxe Version) by Talking Heads
The fact that Tidal Masters has a lot of Talking Heads albums is unquestionably one of the tier's strong suits in our opinion. With its distinctive grooves and amusing instrumentation, Speaking In Tongues makes the most of the higher resolution, not to mention two of the band's finest moments in Burning Down The House and This Must Be The Place (. The Deluxe Edition includes a fantastic alternate take of the former, as well as an unfinished outtake of Two Note Swivel.
12. To Pimp A Butterfly by Kendrick Lamar
This is a hip-hop album with a diverse range of inspirations. Despite its frequently aggressive delivery, the backdrop to Kendrick Lamar's magnum opus is ever-shifting and riddled with intricacies; this is an album deserving of the deeper listening that the master files facilitate.
13. Lust for Life by Iggy Pop
You won't be lost for David Bowie's work on Tidal Masters, but much of his best time was spent in the mixing booth, including this, his second Iggy Pop producing credit. Lust For Life keeps The Stooges' garage rock style while taking a road that is definitely his own, with songs like the title track and The Passenger helping it become Iggy's most commercially successful album to date.
14. Sparrow by Big Theif
The chorus-free "Sparrow" slows and lulls into cooler tones as it retells the biblically-tinged story of Paradise lost from Lenker's point of view. Its laid-back patterned rhythm gives you time to think about the lyrics. Lenker sings about an eagle's scream, snakes, apples, and strong fluids like blood, juice, and poison on the lengthy "Sparrow." Her allegorical lyrics are pushed to the forefront by tack piano, patient percussion, and soft guitar strums.
15. It Won't Be Like This All the Time- The Twilight Sad
The Twilight Sad have never been afraid to make a racket, and despite the addition of 80s-inspired synth lines, IT WON/T BE LIKE THIS ALL THE TIME still discloses the kind of noise and deep reverb that a compressed rendition can't quite match. James Graham's exuberant singing and near-gothic melodies remain beautiful, but the added understanding here is essential.
16. Pink Moon by Nick Drake
If the goal of improved sound is to bring the artist closer to the listener, few suites are more intimate than Nick Drake's Pink Moon. As much as you can hear Drake's fingers sliding between the strings and living in the body of his guitar, the closeness that exists here is supposed to help develop an even tenderer bond between the listener and the song.
17. Kaya by Bob Marley
When Kaya was first released, some criticized it for being too laid-back, with songs about love and marijuana rather than political statements, but few could dispute with its ten sun-drenched melodies or the fact that they could only have been written by talent as singular as Bob Marley's. This 40th Anniversary Edition lets us hear every detail captured at Island Studios in all of its splendor.
18. Tutu by Miles Davis
To another towering genius of the twentieth century, whose work was panned by reviewers? Tutu by Miles Davis is admittedly not a completely cohesive listen, but it is no less fascinating as a result. The album's synthesizers and drum machines, which serve as a bed for Davis's far-reaching trumpet lines, are unmistakably 1980s, yet they capture a creative mind that refused to be confined by genre.
19. Daddy's Home by St. Vincent
Daddy's Home is a stomping follow-up to the band's highly acclaimed 2017 album MASSEDUCTION – a private affair full of rhythm, groove, and character that deserves attention with all its punch intact. Clearly influenced by the release of frontman Annie Clark's father from prison, Daddy's Home is a gushing love letter to '70s rock'.
20. Walk Out To Winter by Aztec Camera
"Walk out to Winter," from the groundbreaking 1983 debut album High Land Hard Rain was released as a solo and reached number ten on the UK indie chart, while the album reached number thirty on the UK album chart.
The early 1980s were a tumultuous moment for everyone, as the Cold War escalated in levels not seen since the early 1960s, bringing the threat of nuclear war into sharp focus. This song is like a call of action, the melody and texture of this song have Latin-flavored funkiness, full of groovy guitar music and rhythmic youthfulness that work against the melancholy lyrical matter.
---
Part 2. How to Save Tidal HiFi Songs to Computer
Another prominent music streaming app is Tidal. It's regarded as one of the greatest, with a huge music collection and an emphasis on high-fi and Hi-res sound quality. You might be wondering how many songs does tidal HiFi have? Tidal gives consumers access to over 70 million lossless CD-quality songs and 25,000 high-resolution tracks. With a Tidal Premium subscription, you can download tunes at 320kbps. Users of Tidal HiFi Music can get even better sound quality, up to 1411kbps.
However, the download permission is only available on the Tidal mobile apps and not on the Tidal desktop client. In this example, we'll show you how to download songs from Tidal to your computer today.
Audkeep Tidal HiFi Music Downloader
The method of enjoying lossless CD-quality Tidal music on PC and Mac is to download Tidal music for offline listening. What should you do to download Tidal songs onto a desktop computer if there isn't a Download button on the PC?
The best option is to seek the assistance of a third-party Tidal music downloader. AudKeep Software's main product, the AudKeep Tidal HiFi Music Downloader, was developed and built by AudKeep Software. It was deliberately developed to allow Tidal subscribers to download music from Tidal to computers without having to use the Tidal desktop client.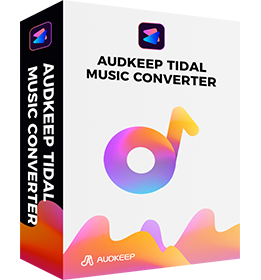 Why Choose AudKeep Tidal Music Downloader
Convert Tidal HiFi songs to MP3, FLAC, AAC, WAV, etc.
Preserve 100% original audio quality while downloading them offline
Provide a unique way to play Tidal HiFi playlists anywhere
Download music from Tidal HiFi without using a Tidal app
How to Download Tidal Music to a Computer
AudKeep Tidal Music Downloader is compatible with both Windows and Mac computers. It also offers a free trial for consumers to thoroughly explore its different capabilities. On your PC, you may now download and install the correct version of the AudKeep Tidal Music Downloader. Let's look at how to download Tidal music to your computer now.
Step 1 Specify the Tidal output format for computer download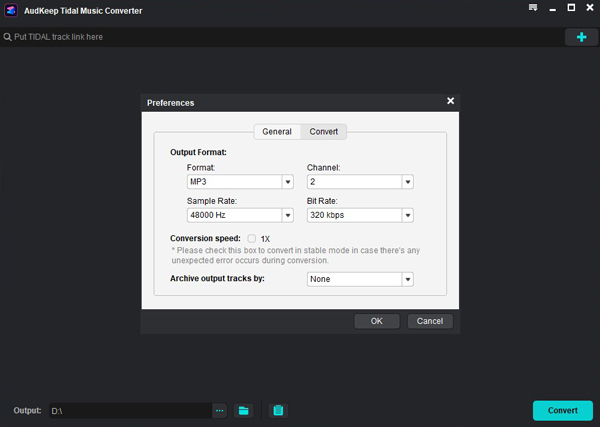 On your PC or Mac, launch the AudKeep Tidal Music Downloader. A built-in Tidal Web Player appears on the tool's main screen. To open the settings window, go to Menu > Preferences > Advanced in the upper right corner. You can select other audio characteristics as well as the output format for Tidal music downloads.
It can change the bit rate, sampling rate, audio channel, conversion speed, and other parameters as needed. If you're downloading FLAC from Tidal, it's highly advised that you choose a bit depth of 16 or 24 bits.
Step 2 Add Tidal HiFi music to download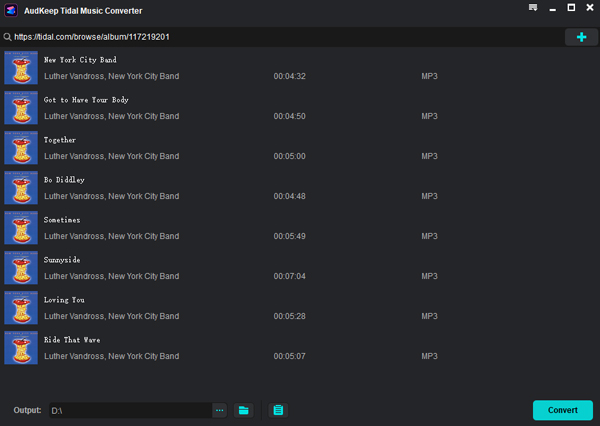 AudKeep Software has given an easy and clever technique for downloading Tidal music to a PC. You can find Tidal playlists and albums that you want to download in the built-in Tidal Web Player.
The grey Plus button will turn blue after you tap the item. This indicates that the music on Tidal is ready to be added. To add them to the conversion window, click the Add button and choose which Tidal tracks you want to download to your PC.
Step 3 Download Tidal songs at 5X speed to your PC or Mac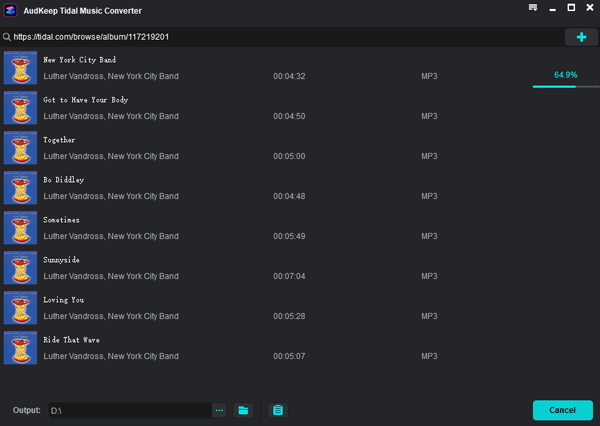 After you've saved all of your preferences, go to the conversion window and click the Convert button to start the high-speed download. This innovative application will quickly download Tidal tunes to your PC or Mac. After Next, open the Converted list to locate the Tidal HiFi music downloads in your computer's destination folder.
---
Part 3. Bottom Line
Tidal caters to music fans who want to be able to listen to their favorite songs at any time and from any location. We've compiled a list of the top HiFi tunes you shouldn't miss, ranging from jazz to soothing music. Not only is the playlist extensive, but using AudKeep Tidal Music Downloader to download them from Tidal makes the whole experience enjoyable and hassle-free.