You must be wondering, "does Tidal have podcasts"? The answer to this question is 'Yes'. Tidal is not just concerned with artists' rights but also with the users. In addition to the Hi-Fi music offerings, it has grabbed users' attention with its mind-blowing podcasts.
Tidal offers a wide selection of podcast series that focuses on storytelling, from priceless moments of artist discovery to behind-the-scenes looks into the creative process and music culture, having the same goal to enhance our users' experience. You can only listen to the podcasts on the player and the device, which is compatible with the Tidal application.
So, you need a downloader to save the podcasts in other formats and devices. If you have already invested your time in searching but are still unable to make a final decision about Tidal music converter tools, we have got a solution for you. Here, we will introduce you to the amazing Tidal music converter and show how you can use it to download Tidal podcasts.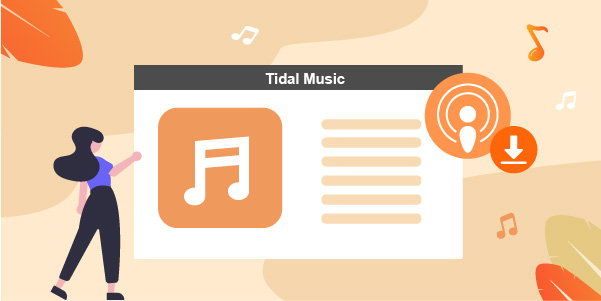 ---
Part 1. Top 10 Best Podcasts on Tidal
Podcasts are a great way to keep your mind occupied while on your way to work or running. Tidal is among the best streaming platform to enjoy high-quality music and podcasts. If you are looking for some podcast recommendations, we have listed some of the best podcasts on Tidal.
1. James O'Brien's Mystery Hour
If you are always wondering to solve your questions, then this podcast is for you. Sometimes it is simple, sometimes intelligent, but always entertaining. James O'Brien enlists the LBS listeners to solve the questions you have always wondered about the answer. This podcast is full of laughs, interesting conversations, and something new to learn. We can say, probably, it is among the best podcasts on Tidal that you could ever download.
2. The Tidal League Podcast
If you want to know what's happening in the world around us, you must listen to this podcast on Tidal hosted by Kurt and Trish. In this podcast, they share their perspective on the latest topics, including sports, entertainment, and politics. The in-depth conversation provides the fans a chance to know their favorite players and listen to what matters to them.
3. Talk of the Thames
Talk of the Thames is podcast series devoted to London's iconic river. Hosted by Chloe Russell, this podcast is aimed at a general audience and features insightful and relaxed interviews with the people working around the Thames Estuary. If you are interested to know about Thames's History, environmental issues, riverside development, and wildlife, these podcasts are for you.
4. The Tidal Year
Are you looking for a podcast that brings together storytelling and nature? If yes, The Tidal Year series is for you. It is hosted by Freya Bromley, a wild swimmer, and writer. She has the curiosity to know the human stories behind why we swim. This series is all about the joy of swimming. Each week, she gets joined by a new guest who shares their perspective about what water means to them.
5. The Diva's Den with Tavia
The Diva's Den with Tavia is podcast series in which she comes forward to share her perspective on Love, Life, and the pursuit of happiness. In this podcast, she invites guests to discuss entrepreneurship, Generational Wealth, Sisterhood, purpose, relationships, parenting, music, spirituality, and many other topics. You must download this podcast as it is a great source of learning and entertainment.
6. The Static Radio Podcast
The Static Radio Podcast series is about the humorous and strange happenings in the lives of two U.S. Midwesterners. With this podcast, you get to know their unique experiences of life and much more.
7. Bring The House
If you really like NFL talks and want to dabble in the football bets, this podcast is for you. From best bets to the breaking news of the week, anything related to NFL is discussed on this show. The three friends cover the biggest controversies across the league and share all the updates related to football.
8. The Winning Podcast
The Winning Podcast is a collaborative project by Luijy and friends. In this podcast, they share their perspectives, experiences, and shenanigans to weekly update their audience.
9. Tipping the Scales
Listen to this podcast, "Tipping the scales", hosted by Shea Dawson and Tyneeha Rivers offline. In this podcast, they discuss their experiences, perspectives, and the lessons they have learned. Suppose a show to celebrate the journey of women and culture across all aspects of life. If you are a girl and want some motivation, you must listen to this podcast.
10. The Project Chatter Podcast
This podcast is a weekly conversational podcast interviewing various project experts across the world and discussing the latest trends in project management. Whether you want to know how to pursue your career or enhance your project management skills, or just want to listen to a South African rant and Aussie about project technology, this podcast is for you. In this podcast, specialists, project professionals, and experts from different sectors talk about the best and proven practices and their thoughts about the industry.
---
Part 2. How to Download Tidal Podcasts
Nothing feels better than getting your favorite podcast offline to listen to it anywhere and anytime. However, if you want to listen to podcasts on Tidal offline, the downloading of Tidal podcasts is only for the user with Tidal subscription.
If you are looking for a tool to download Tidal podcasts for free, you can use AudKeep Tidal Music Converter. It is a reliable converter and downloader tool for users to download and listen to the best podcast on Tidal without any subscription.
Moreover, this tool not only allows you to convert the podcast on Tidal to WAV, FLAC, MP3, AAC, and other formats to play on any devices you want to put it on but also convert all the Tidal podcast files without quality loss, which allows you to enjoy the Tidal podcast the same as the original one. The conversion takes little time as AudKeep runs at a 5X fast speed.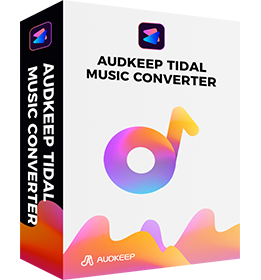 Key Features of AudKeep Tidal Music Converter
Get podcast on Tidal without premium offline
Customize the output settings for Tidal podcasts, like bitrate, etc.
Retains the ID3 tags of all Tidal podcasts for management
Convert podcasts from Tidal to FLAC, WAV, Lossless, and more
How to Get Podcast on Tidal Using AudKeep Tidal Music Converter
To download the top 10 best Tidal podcasts, first, you need to download the AudKeep Tidal Music Converter app and install it on your laptop or PC. It's available on Windows and Mac OS. Then you can follow the step-by-step guide below to download Tidal podcasts on your computer.
Step 1 Import Tidal podcast to AudKeep Tidal Music Converter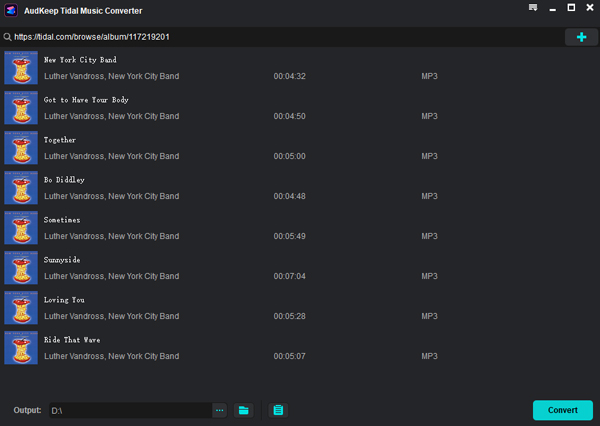 Launch the AudKeep Tidal Music Converter on your computer, and then go to the in-built Tidal Web Player to find the podcast on Tidal you want to download offline. Open the podcast, and the little grey '+' icon at the lower right corner will turn to blue. You need to tap on it to upload the Tidal podcast to AudKeep Tidal Music Converter.
Step 2 Personalize the output parameters for Tidal podcasts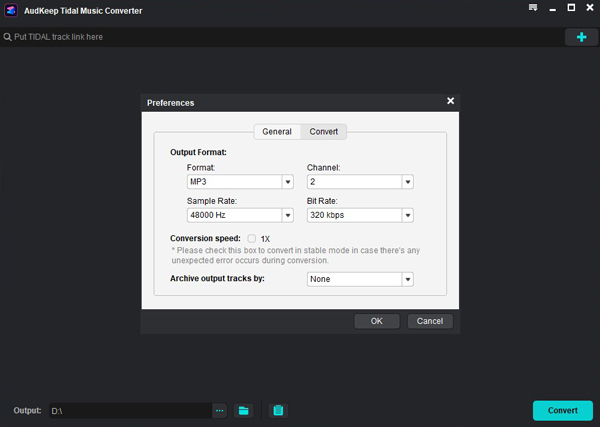 Under the Menu button, you should go to the 'Preferences' option. After a new window pops up, choose the 'Advanced' to start adjusting the output formats for Tidal podcasts. Next, customize the other settings like sample rate, channel, and bit rate to enhance the downloading of podcasts from Tidal.
Step 3 Begin to download Tidal podcasts on the computer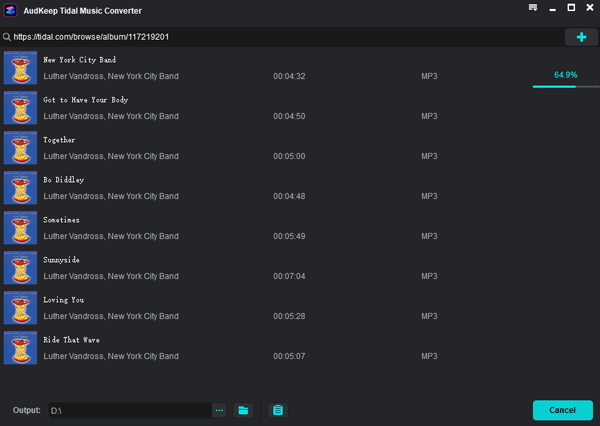 After saving the output settings, it's time to convert the Tidal podcast you like. Press on the 'Convert' button and the conversion of Tidal podcasts will take place at 5X speed.
After conversion, the Tidal podcast files will be saved to the device of your choice, and enjoy listening to podcasts offline. You can also transfer it to other platforms or devices for playback.
---
Part 3. Conclusion
We have introduced an easy solution to download Tidal podcasts and enjoy them offline. You can use AudKeep Tidal Music Converter to download Tidal without premium. Plus, you can convert any Tidal audio to common audio formats without losing any quality to enjoy podcasts on other devices anywhere and anytime.
If you still have any queries regarding the Tidal podcast, feel free to share your thoughts in the comment section.