What sets Tidal apart from other popular music streaming services is its highest quality sound and the deeper connection that it fosters between artists and fans. Well, besides the 70 million hits, original documentaries, podcasts, and music videos, Tidal also excels in enough music playlists to keep you exploring new catches. But how do you choose the best Tidal playlists from the over 500 playlists collection?
This article brings you the best 15 hot playlists that will perk up your ears. Tidal offers you up to 60 days free trial of Tidal HiFi. Nonetheless, you can employ the best tool to download Tidal playlists without a Premium or HiFi plan as we'll discuss further.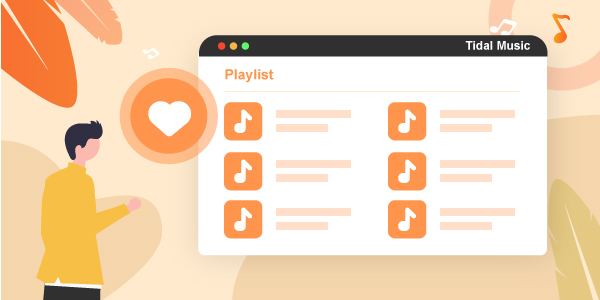 ---
Part 1. 15 Best Tidal Playlists
Whether you are looking up to a workout, study, or audiophile playlist, then this list has it all. Check them out!
1. Jay-Z Year End Picks 2021
This year-end hot picks Jay-Z Tidal playlist is surely the bomb. Get explicit tracks like Rod Wave's "Heart On Ice", "Perfect Ten" by Nipsey Hussle, and other collections comprising of Hip-Hop and R&B from the year.
2. Summer Jazz Playlist
Tidal brings you a dose of classics from the 70s with hot tracks from Wes Montgomery and Dizzy Gillespies among others. Also, discover some upcoming artists, ready to keep you glued as usual. This is a perfect selection needed for free relaxing after a hard day's work.
3. Tidal Audiophile Playlist
Do you doub the strength of your audio equipment? Then get down to this Tidal audiophile playlist for surety. It comprises about 60 tracks including cool staff like Summer Romance by Incubus and "I kissed a girl" by Attack. That's not all, you can also get your adrenaline escalating with tracks like "Danger! High Voltage" from Electric Six, and much more.
4. An Attempt In Trying Times
This is another best playlist on Tidal which combines both Hip Hop and Trap. Elevate your mood for an engaging session with this playlist. It keeps you on toes with hot tracks by Kanye West and Stormy, among others.
5. Trance Beach Party
Are you planning on holding a beach party? Then don't miss immersive night electronic beats. Keep it cool with some "Relaxing Love" and "Soul Boost Chill" by Ibiza Dance Party. Don't be limited next time you want to explore the effects of the beach. This playlist is just enough.
6. Party Good Vibes 2022
The festivities period is just coming to an end but the partying got to continue. Party Good Vibes is a thrilling collection with some in-house hits that will push you to the floor for those classy moves. Enjoy dance hits both from back 2014 to date.
7. Workout Playlist
This is what gives you the best playlist ever. You can get on track with all the needed energy and still finish the race with enthusiasm. You'll get high-paced hits for motivation throughout the workout. This playlist harbors an adequate number of hits, playing up to 2 hours non-stop.
8. Hip-Hop Classics
This is where to get the best hip-hop playlist on Tidal assorted by hip-hop journalists every week. Explicit collections like "Rodeo" by Stan Sono, "MiddleChild" by J.Cole, and "Bandana" featuring Assassin are just a few of what awaits you on this best Classics.
9. Chillhop Lullabies
They are indeed still the best of hits way back from 2021 and just crossed over to 2022. You also find Lo-Fi Beat like "Smooth Chill Hip Hop", "Chill Study Beats", and "City Lights" among many others. Calm your brain as you chill after a hefty day's activities with this wonderful collection.
10. Gym Beats
Here is another best Tidal playlist that made it in the year 2021. Gym beats carry a quality collection to keep you on your toes during those gym sessions. Start your day with Ibiza Dance Party hits like "This Is How Far We'll Go", "Crazy Déjà vu", "Scars of The Heathens" and many others.
11. Parisian Night Clubbing
Are you a party dude? If yes, then this Party Deep House Mix just got you covered. Get some hot collections from Drink Bar Chillout Music and Ibiza Dance Party. Trucks like Surf Girl and Santos Party House are not easy to come by. So, make use of every partying time as you listen to these hits and many more.
12. Extreme Music Workout
This playlist is for those who want to burn exuberant calories. You won't even know when you complete that turf uphill session.
13. Top Dance Running Playlist
This is a darling playlist for most athletes. It harbors tracks like "How Deep Is Your Love" and "Play Hard". It also suits morning jogging and evening runs.
14. 4 Hours Focus: Instrumentals for Concentration
These best Tidal playlists 2021 are for total concentration on your studies or some focused work. It's the perfect choice to keep off boredom while maintaining a conducive environment.
15. Late Night Electronic Vibes
This is the best Tidal collection for late sleepers. Keep it cool with some "Late Night Chill" and "Neon Lights" from Best of Hits and Evening Chill Out Academy.
---
Part 2. Tips: Download the Best Tidal Playlists for Free Listening
There's no better way to get the best Tidal playlists than listening offline. The best tool is AudKeep Tidal Music Converter, which is a reliable music downloader and converter tool for Tidal subscribers. This app offers you full utilization of Premium and HiFi plans. You can then download Tidal playlists from the built-in Tidal Web Player and save them as local files in Lossless, MP3, WAV, FLAC, and other formats.
And when it comes to preserving lossless quality, AudKeep does that with utmost ability. It lets you download the Tidal playlist of quality while preserving metadata and ID3 tags. AudKeep also lets you adjust audio parameters like sample rate, audio codec, channel, etc. The speed is also perfect. This app works at 5X speed to convert Tidal playlists in high-quality.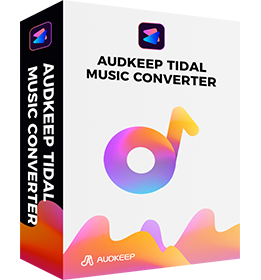 Key Features of AudKeep Tidal Music Converter
Convert Tidal playlists to MP3 and other output formats
Work at 5X conversion speed for Tidal playlists & albums
Keep lossless HiFi quality with ID3 tags preserved
Organize local music library and sort them by album or artist
A Step-by-step Guide to Use AudKeep to Convert and Download Tidal Playlists
AudKeep Tidal Music Converter is a powerful tool when it comes to downloading and converting Tidal playlists. To use it to download the best tidal playlists 2021, first download the app and install it on your PC.
Then download it and you'll find the built-in Tidal Web Player in the main interface. Click on the "Log In" button to sign in to your Tidal account. You then need to register the app to gain the full utility. Just go to the "Menu" bar and select the "Register" option. Then log in with your registration name and code to activate the app.
Step 1 Customize output settings for Tidal playlists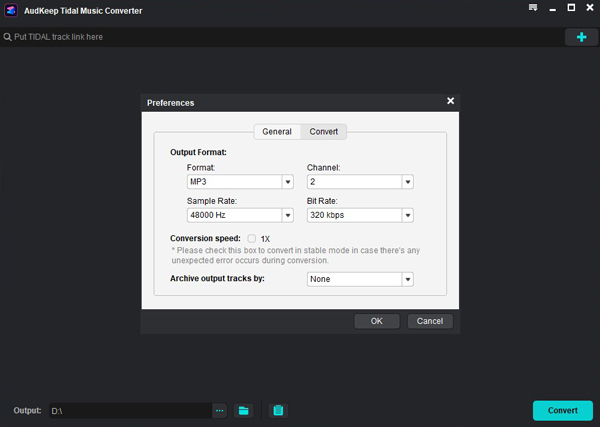 Once the app is registered, start to customize the parameters by clicking the "Preferences" button. Then once the "Setting" window pops up, click on the "Advanced" option and continue to adjust the output format like MP3, FLAC, and Lossless. You can also customize output parameters like sample rate and audio codec.
Step 2 Add Tidal playlists to AudKeep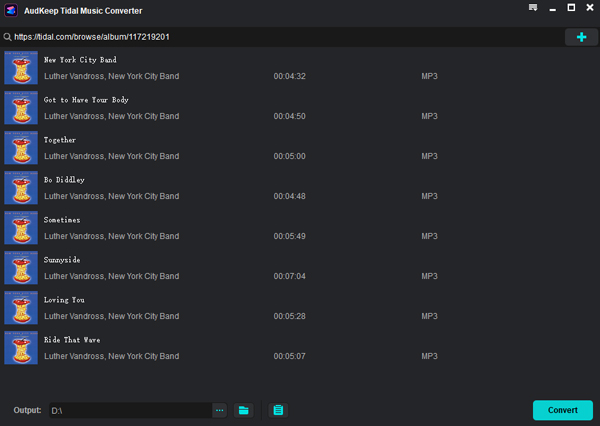 Hit on the "OK" tab to confirm the output configuration. Then check the built-in Tidal Web Player and search for the Tidal playlists you wish to convert. Then just open it and check for the blue "+" icon. Next, click on it to add the Tidal playlists to the AudKeep Converter. You can as well add more songs to the conversion list.
Step 3 Convert the best Tidal playlists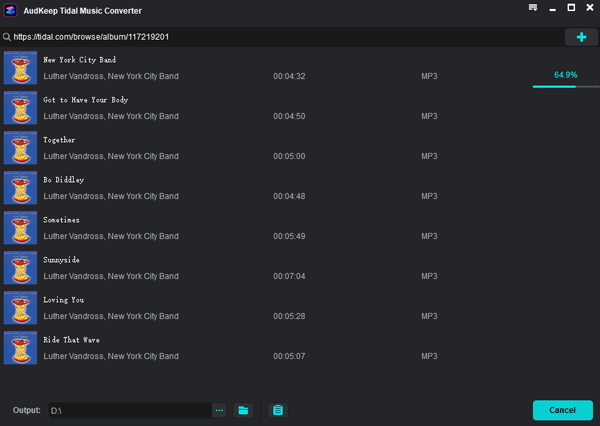 Finally, click on the "Convert" tab and let AudKeep start downloading the playlist from Tidal onto your computer. The files will be saved as common audio files that you can download and listen to Tidal offline on your desktop.
---
Part 3. Conclusion
You got the collection of the best Tidal playlists 2021 in this article. However, this does not limit you from checking on some new entries from the "Discover Weekly" on Tidal that recommend songs from artists that you like. More so, you can convert your playlist to common output formats with AudKeep Tidal Music Converter and get your tracks offline, anytime.