Tidal is among the well-known music streaming platform that offers a large music library with around 80 million songs. You need to subscribe to enjoy the ad-free music on Tidal. If you are searching for some best modern Christmas songs, then you are at the right place. There are a lot of collections of Christmas songs available on Tidal.
Selecting the perfect one is a little tiring in the current scenarios amidst your busy schedule. To help you out, we have listed the best 20 popular modern Christmas songs on Tidal that save your valuable time in finding the right beats for your celebration.
Without any further discussion, Let's begin the journey about the amazing Christmas tracks to amplify your joy during the Christmas celebration.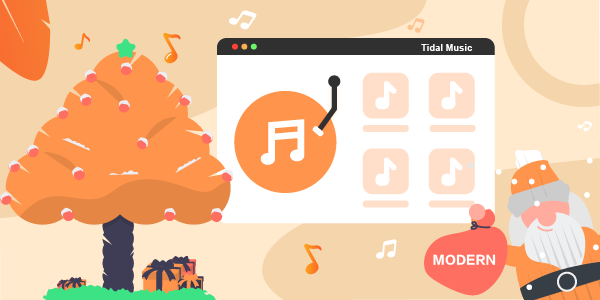 ---
Part 1. Top 20 Best Modern Christmas Songs on Tidal
Here are the top 20 modern Christian Christmas songs to add to your playlist and make your occasion memorable.
1. All I Want for Christmas Is You by Mariah Carey
This Christmas song was released twenty-five years ago. But people still love to play this song on Christmas evening due to its unique composition.
2. Underneath the Tree by Kelly Clarkson
This Christmas hit by Kelly Clarkson is a song that conveys gratitude for the best present one can find, i.e., companionship.
3. Glow by Brett Eldredge
This title track by Country star Brett Eldredge is his first-holiday album that makes you feel nostalgic for your childhood Christmas. Plus, it is among the popular modern Christmas songs.
4. Santa Claus Is Comin' to Town by Bruce Springsteen
Although this track by Bruce Springsteen is a few decades old, it still feels fresh and new every time when we listen to it during Christmas.
5. Baby, It's Cold Outside by John Legend
John Legend's reimagined version of this Christmas classic had mixed up various conversations when it was launched. You love it or hate it, you must admit to the fact that John's voice never disappoints.
6. Hallelujah by Pentatonix
Christmas and Pentatonix go together just like cookies and Santa. Their moving rendition of Hallelujah is a must listen all year round but especially during Christmas.
7. Candy Cane Lane by Sia
The album cover of this song is so festive, and it's kinda impossible not to sing along with Sia's upbeat Christmas Jingle.
8. Santa Tell Me by Ariana Grande
This is one of the modern Christmas love songs by Ariana Grande is about her being fed up with Santa as he does not necessarily pull through all the time. In this track, she asks St. Nick not to have her fall in love with the guy if he won't be in her life the next Christmas.
9. Jingle Bells by Gwen Stefani
By the time December 25 rolls around, you might be pissed off with Jingle Bells. However, this cover by Gwen Stefani is so original and upbeat that it will insist you get up and dance around no matter how many times you have sworn off this song.
10. Let It Snow! Let It Snow! Let It Snow! By Dean Martin
This amazing song by Dean Martin is played on Christmas every year on the radio stations due to its winter theme. Plus, it is covered by many artists on Christmas-themed albums.
11. Christmas (Baby Please Come Home) By Smooth Jazz All-Stars
Not to be confused with Please Come Home for Christmas, this song by Smooth Jazz All-Stars is one of the Christmas hits and sets a standard for celebration.
12. Christmas Light by Coldplay
Coldplay took on the Christmas genre with this amazing song about a breakup during the holiday season. This song is a melancholy love song that manages to channel the Christmas magic.
13. Silent Night by Destiny's Child (feat. Beyoncé)
There's no better gift this Christmas than the sound of Beyoncé singing this amazing song. This song insists everyone get involved and sing this song along with her.
14. Christmases When You Were Mine by Taylor Swift
This song by Taylor Swift is all about what it feels like to experience your Christmas holiday without someone you love.
15. One More Sleep by Leona Lewis
This modern Christmas love song by Leona Lewis is a must-listen. It is all about counting down the days until you see your partner for the holidays.
16. Winter Things by Ariana Grande
This sweet song by Ariana Grande is about doing some special winter things to enjoy the holiday season. The lyrics of this song inspire you to get out and celebrate Christmas no matter where you are.
17. 8 Days of Christmas by Destiny's Child
This season add this song to your Christmas playlist for a throwback hit that still feels modern.
18. Glittery by Kacey Musgraves
This amazing song by Kacey is all about having someone in your life during Christmas who make you feel glittery, just like a Christmas tree.
19. Just Like Christmas by Low
Indie Rockers Low somehow managed to create this cool and genuine Christmas song that becomes a lo-fi, wistful, and modern Christmas anthem in no time.
20. What Christmas Means to Me by Stevie Wonder
This track by Stevie Wonder is all about his feelings for Christmas and what it means to him. You can listen to it anyway, as with that irresistible Motown swing and a harmonica solo thrown present in this song is a cracker.
---
Part 2. How to Download Modern Christmas Tidal Songs for Offline Listening
How wonderful you get lots of Christmas songs can listen to on Christmas Day. Wouldn't it be better to play all these songs offline all day long? However, there are a few limitations to downloading songs from Tidal, because you won't be able to do it without the Tidal Premium and you only stream music on the Tidal app.
How can you get the Christmas Tidal music offline for use? AudKeep Tidal Music Converter is at your need. It can download Tidal music for free and use it on any device you want to play on offline without compressing the audio quality. It supports you to convert a batch of songs simultaneously at 5X speed.
You can do the customization of Tidal music yourself to change the Tidal output formats to the desired one like MP3, AAC, WAV, and adjust other parameters to enjoy better listening.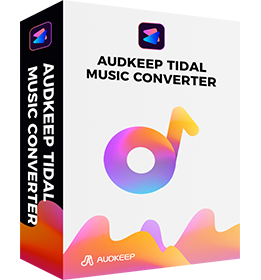 Why Choose AudKeep Tidal Music Downloader
Convert Tidal Christmas songs to FLAC, MP3, WAV, etc.
Retains all ID3 tags for the best modern Christmas songs
Do the conversion of music from Tidal at a 5X faster speed
Listen to the music files offline without the premium
Download Best Modern Christmas Songs by AudKeep Tidal Music Converter
Step 1 Download and install AudKeep Tidal Music Converter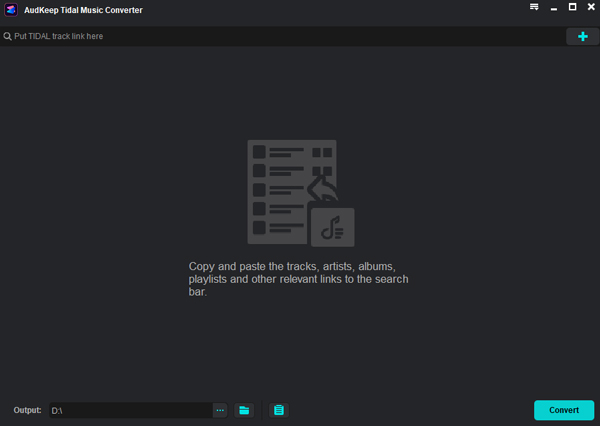 The first step is to download and install the AudKeep Music Converter. Depending on your PC's operating system, you can choose to install the Windows or Mac version. Then login or register your Tidal account and for AudKeep's.
Step 2 Customize the Tidal output audio parameters to download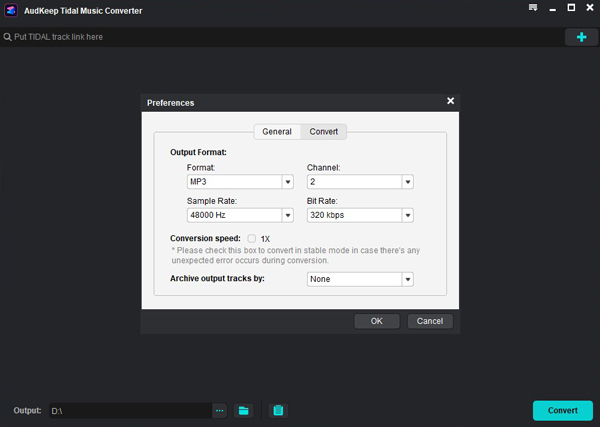 Navigate to the top menu bar and click on the Preference button. A setting window pops up, and you can click on the Advanced option to modify the format of Tidal to FLAC, WAV, AAC, or any other as per the requirement.
You can also modify the other audio parameters, such as sample rate, audio codec, bit rate, and categorize Tidal songs by pressing the Archive Output tracks button.
Step 3 Add modern Christmas songs to AudKeep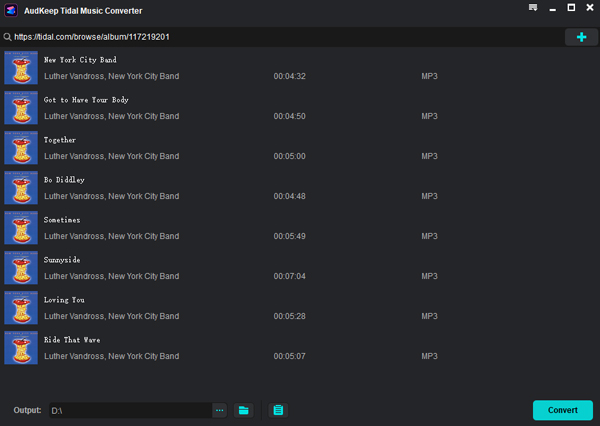 Once the music file configuration is properly set, press OK to confirm and save it. Then find out the desired modern Christmas songs on the web player of Tidal. Now click on the + icon located in the lower right corner. Click on it and add a Christmas song/playlist to AudKeep Tidal Music Converter.
Step 4 Download modern Christmas love songs from Tidal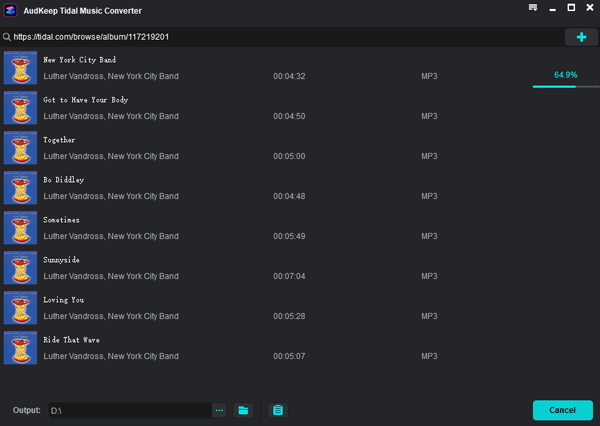 Simply click on the Convert tab at the conversion window. The Christmas playlist will be downloaded from Tidal into your computer quickly. The downloaded files of Christmas songs will be saved as common audio files without compromising the original quality.
Step 5 Move and play Tidal Christmas songs offline
Once you are done downloading, you can find where does Tidal store offline of the Christmas playlist by pressing the Converted button. Now you are ready to play Christmas songs offline on any device and at any place.
---
Part 3. Conclusion
As time goes by, there are new Christmas songs released and classic Christmas songs played on Christmas Day. And this article has got the top modern Christmas songs list for you to add some joy to this holiday. If you want to download a Christmas playlist offline to your device, this guide will surely help you. As a high-end AudKeep Tidal Music Converter, it helps to easily access the converted Christmas music files on Tidal and listen to them offline at any time.