The hunt for the latest Bieber songs and albums never seems to stop among Beliebers, and that's what Bieber's fandom is called. Justin Bieber's tracks are reigning on the charts on all popular music streaming platforms – Spotify, YouTube, Apple Music, and several others. However, Tidal exceeds all others, offering a series of exquisite features – 9216kbps master quality audio, 90M+ songs, 450K videos, and lots more. Undoubtedly, the premium memberships are pricey but boast fab ads-free streaming.
If you are fascinated with Bieber's songs, albums, and videos, it is there for you to enjoy all of them at Tidal. Most of the recent tracks of the pop sensation can are available with master-quality audio for HiFi Plus Tidal subscribers. The Bieber mania never seems to fade away so is the urge to enjoy his tracks over and again. Now you can download Justin Bieber songs from Tidal for offline listening with your Tidal plan.
If you want to play his music on any device, here is a comprehensive guide on how to get Justin Bieber songs download MP3, and we will take you to have an overview of Justin Bieber's all-time popular hits. See!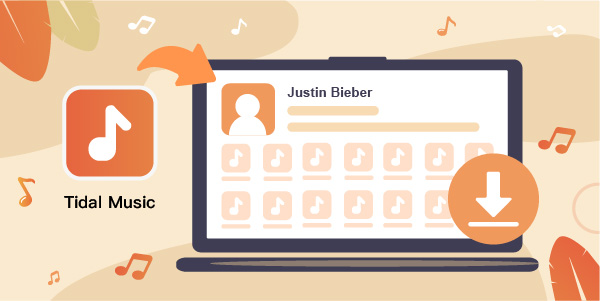 ---
Part 1. Everything We Know about Justin Bieber Songs
Bieber's songs and albums need no introduction to the Beliebers. In case you are a newbie in the fan club, here is a short tour of JB's glorious music career. You can get music on Tidal while reading.
After recording his debut single 'One Time', there was no looking back for Bieber. The song was part of his EP 'My World' (2009). 'One Less Lonely Girl' is one of the most popular tracks on the album. The following year, JB released his next album 'My World 2.0' which topped the charts in Canada, Ireland, Australia, and New Zealand. His heartwarming performance in 'Baby' is still popular among teenagers. He also released his debut remix album 'My Worlds Acoustic' in 2010.
His third album 'Believe' was released in 2012, featuring 5 songs.
Boyfriend
As Long as You Love Me
Beauty and a Beat
Right Here
All Around the World
Considering the popularity and overwhelming audience response during the Believe World Tour, JB released his third remix album – 'Believe Acoustic' in 2013. It features the live versions of the tracks from Believe. The same Bieber also released his next album 'Journals' which was a compilation of 10 pop and R&B tracks.
Fans are yet to get over the 'Purpose' 2015 frenzy. 'Love Yourself' and 'Sorry' from the album are still among the most popular JB tracks on major music streaming platforms. The album is also popular among fans who believe that the songs 'Sorry', the title song 'Purpose', and 'What do You Mean' were penned by the pop star for his ex – Selena Gomez.
JB's fifth studio album 'Changes' has 16 popular tracks that were released in 2020. The album was nominated for the Best Pop Vocal Album and 'Yummy' was nominated for the Best Pop Solo Performance at the 63rd Grammy Awards.
Post-release of his sixth studio album 'Justice', Bieber became the eighth best-selling artist in the world in 2021 (as reported by the International Federation of Phonographic Industry). 'Ghost' is reigning the paparazzi rumors as the speculations are soaring high that JB has written the song for Selena.
---
Part 2. Justin Bieber Songs Download as MP3 – How to Get
Tidal is the best platform to play and download Justin Bieber new songs. The music streaming portal is the one-stop destination to get matchless high-fidelity music quality. Moreover, finding your favorite JB track or video on Tidal is a breeze. Just head to the search bar to type in the title of the album/song.
Unfortunately, the free trial offers limited access to audio and video content on Tidal. With a membership plan, you can listen to songs offline too, but you will lose all playlists if you cancel your subscription. Using Audkeep Tidal Music Converter software, you can get Justin Bieber lonely girl MP3 download or convert other latest unlimited audio files from Tidal on your computer.
AudKeep Tidal Music Converter is a robust tool allowing users to download songs from Tidal for offline listening, and enjoy lossless audio in various formats whenever on any device. Most importantly, it runs the Tidal playlist conversion at 5 times faster. This software is available in different configurations for Windows and Mac OS devices.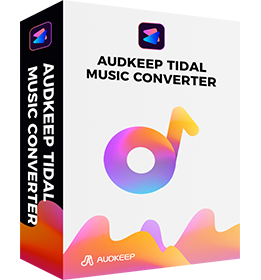 Key Features of AudKeep Tidal Music Converter
Download and convert unlimited Justin Bieber music from Tidal
Converts music in all standard formats – AAC, MP3, M4A, etc.
Customizable output parameters like bit rate, conversion speed
Sort and manage downloaded audio files with ID3 tags
Steps to Download Justin Bieber Songs to MP3 from Tidal
Before learning how to download Justin Bieber songs on your computer using AudKeep Tidal Music Converter, you must install the software on your system. To download full songs, purchase the AudKeep license and register your account. The free trial version allows you to download only 1 minute of the entire track. Users may try the free version to test the audio output quality before buying the license. After purchasing the license, follow these steps to download music by Justin Bieber from Tidal.
Step 1 Log in to your Tidal account on AudKeep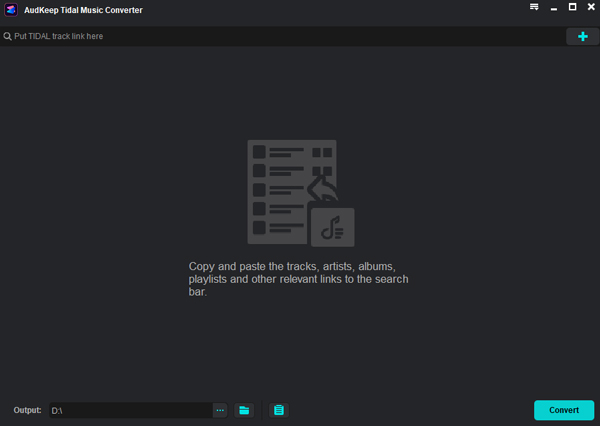 When you open the AudKeep window, it takes you to the Tidal homepage. Click the login tab and enter your Tidal account details to get ready for the song downloading.
Step 2 Set the Tidal audio output parameters for Justin Bieber songs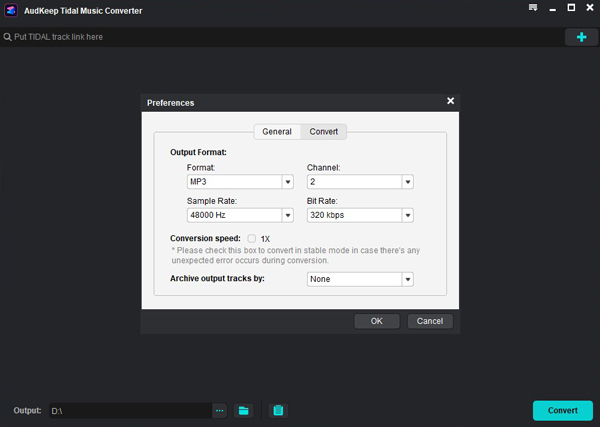 Click on the menu icon at the top of the page, and select Preferences. On the pop-up window that appears, go to Advanced settings. You now can set the desired options for the Tidal output profile (Format, Channel, Sample Rate, and Bit Rate). The default format is MP3, you can just select other audio formats or remain the settings to convert Tidal to MP3.
Next, enter the Output Path to store the downloaded audio files. In the dropdown list for 'Archive Artists/Albums by', you can manage the song you downloaded by Justin Bieber's name and album.
Step 3 Add Justin Bieber songs from Tidal to Audkeep for download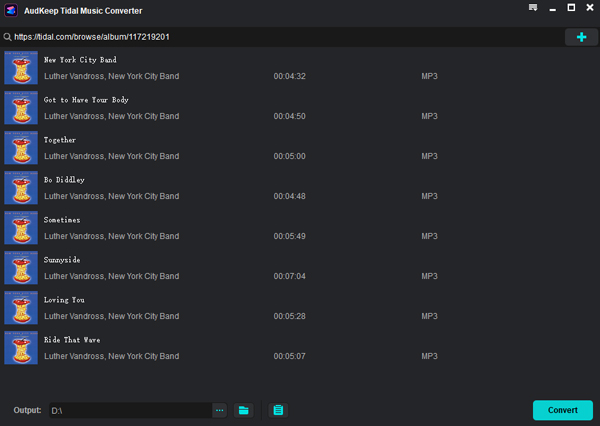 To add songs from Tidal, go to the search bar and enter Justin Bieber to visit the artist's page. Click the round blue icon with the (+) sign on the right corner at the bottom of the page.
You can then select and add Bieber's songs from Tidal to the AudKeep program. Note that before importing the music, you need to create a playlist on Tidal to enable Justin Bieber songs list MP3 download.
Step 4 Download selected songs on your PC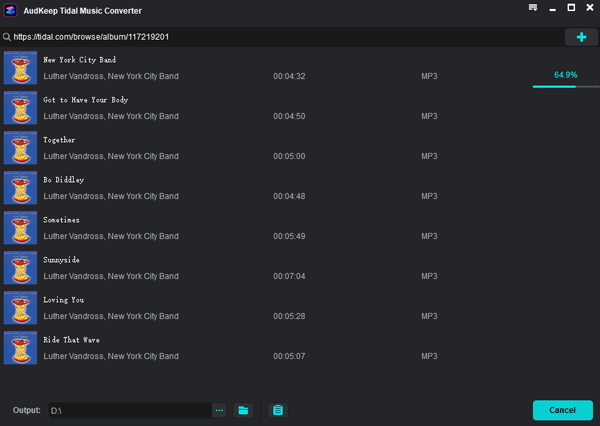 After selecting the audio tracks, click the Convert tab to get Justin Bieber songs download from Tidal. Now you have all downloaded tracks on your computer after the downloading came to the end. You can listen to Tidal offline anytime with your loved music.
---
Part 3. The Bottom Line
I hope you enjoyed reading this article. Whether you love the 'Let me love you' feat or are crazy about 'Love Yourself' of Justin, everything is on Tidal. If you have a premium account, you can enjoy the entire collection as and when you wish. But if you are checking on the data, download the tracks for offline listening.
Now that you know how to get Justin Bieber songs download MP3 with AudKeep Tidal Music Converter, just get cracking. You are only a few clicks away from creating Bieber playlists for offline listening.