Christmas miracles take place every once in a while, and some outstanding Christmas songs are created. Some explicit examples include "Sock it to Me Santa", "Oi to the world" (our favorite), "Mary, did you know" and many more. If you're a rock 'n' roll music fan and looking for a rocking song for your Christmas party, you are in the right place.
In this article, you will find the 10 greatest and most iconic Christmas rock songs that have ever been written. And as an added bonus, we will introduce a powerful tool that can help you download rock Christmas songs on Tidal for listening in offline mode. But before that, let's take a look at the best Christmas rock songs!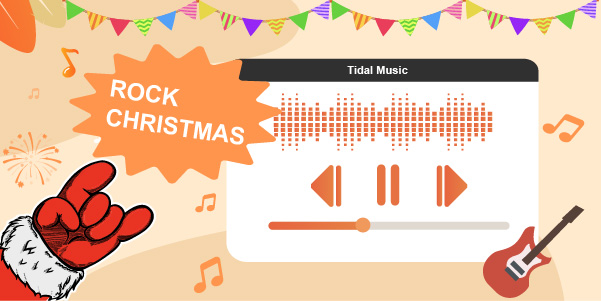 ---
Part 1. Top 10 Christmas Rock Songs
1. Sock it to Me Santa
In 1966, Bob Seger & The Last Heard came up with an original version of an enthusiastic rock song named "Sock It to Me Santa". The tune is reminiscent of James Brown and is appropriate for playing on any playlist throughout the holiday season or any other time.
In this timeless rock song, Seger dons a red cloak, grows a mustache, and carries a new gift bag to portray a more contemporary picture of Santa Claus.
2. The Little Drummer Boy
David Bowie and Bing Crosby worked together on a Christmas song that nobody saw coming. The song turned out to be one of Crosby's last recordings, and it was the result of an unexpected festive collaboration.
Interestingly, the album wasn't released until 1982 – five years after it was initially shown during a holiday program – when it surged to fame. The peculiar video material from the broadcast further added to Bowie's aura of mystery.
3. Finally, It's Christmas
Mike Love, most famous for his work with The Beach Boys, contributed his distinctive style to a Christmas song released in 2018 that included the sibling band Hanson.
The song "Finally It's Christmas", which was released by Hanson in 2017 as part of their album of the same name, offers cultural and spiritual reflections on the holiday. The combination of pop-rock instruments and bells creates a joyful and nostalgic sound.
4. Santa Claus Is Comin' To Town
This live recording from 1975 made by Bruce Springsteen and released as a B-side in 1985 has become an essential part of the canon of Christmas music in the United States.
Bruce Springsteen gives this well-known Christmas carol a new twist in his cover, which has the musician's signature rasp and stadium sound sensibilities.
5. I Wish It Could Be Christmas Every Day
Roy Wood, a member of the band Wizzard, came up with this track, one of the fantastic rock n roll Christmas songs "I Wish It Could Be Christmas Every Day" (1973).
This song about how Christmas makes everyone immediately happy is taken to a whole new level with the addition of sleigh bells, trumpets, cash register noises, and a children's chorus, all of which elevate this party song to a whole new level.
6. Oi to The World
Oi to the World, one of the punk rock Christmas songs was first published in 1996 by The Vandals, and then in 1997, No Doubt produced a fantastic rendition of the song.
The rendition performed by No Doubt was included on the compilation album for the Special Olympics titled A Very Special Christmas 3. The song has an upbeat, ska-pop sound, and its lyrics discuss how God would like everyone to get along on Christmas.
7. Fairytale of New York
Fairytale of New York is an original Christmas song that is supposed to be less cheesy than all of the others done by a variety of musicians up to that point.
Through the story of a couple who had fallen on hard times during Christmas time, the song evolved into a parable that Christmas is not the most wonderful time of the year for everyone.
This Christmas rock song starts slow and then rises to a mid-tempo rhythm. It uses a narrative style, and Kirsty MacColl's gorgeous vocals help to make the song seem eerie.
8. Mary, Did You Know
Lionheart, a band that was part of the new wave of British heavy metal (NWOBHM) published their rendition of the traditional Christmas song "Mary Did You Know" in 2018, which included a new performer named Lee Small. Over a powerful foundation of guitar and drums, heavenly singers sing praises to Jesus as the song plays.
9. Christmas Eve/Sarajevo 12/24
Rock operas set over the holiday season and elaborate light displays are par for the course for Trans-Siberian Orchestra. They published their first album, titled Christmas Eve and Other Stories, in 1996.
The narrative of a cellist in Sarajevo playing a Christmas song for one another is told via music that ranges in volume from mild to loud at various points.
10. Thank God It's Christmas
Roger Taylor, the drummer for Queen and an occasional singer, was the one who came up with the song "Thank God It's Christmas", which became a holiday success for the band in 1984.
The song's lyrics discuss how Christmas may offer happiness despite the struggles that have been experienced throughout the year. It's a rock ballad, so it's certain to make you feel all the feelings, and it's perfect for the holiday season.
---
Part 2. How to Download and Listen to Rock Christmas Songs from Tidal Offline
With the above Christmas rock songs playlist we recommended, you can search and listen to the songs on the Tidal music service that provides you with high-quality music.
And to download more classic rock Christmas songs from Tidal, you need a third-party tool to help you. AudKeep Tidal Music Converter is a well-known Tidal music converter that converts restricted Tidal music into the standard audio formats. After which, you can play and enjoy top rock Christmas songs offline anywhere, anytime.
AudKeep's superior encoding allows batch conversion at 5X speed with no quality loss. Moreover, with its ID3 tag recognition technologies, it preserves all the original information for Tidal tracks (such as title, artist, album, etc.). You may sort your Christmas songs collection of rock genres by artists or albums to make it simpler to find what you're looking for. Alternatively, you may store the output files in the sequence of the original playlist.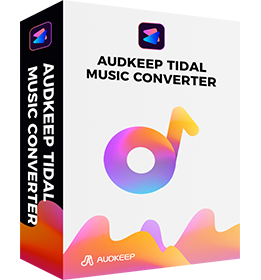 Why Choose AudKeep Tidal Music Downloader
Download rock Christmas songs from Tidal for offline playback
The Tidal downloading is up to five times quicker
Keep the original ID3 tags intact when you export your Tidal songs
Tidal-compatible formats include lossless, MP3, FLAC, and WAV
Here's a quick tutorial on how to download and listen to rock and roll Christmas songs using AudKeep Tidal Music Converter
Step 1 Modification of Tidal Christmas rock songs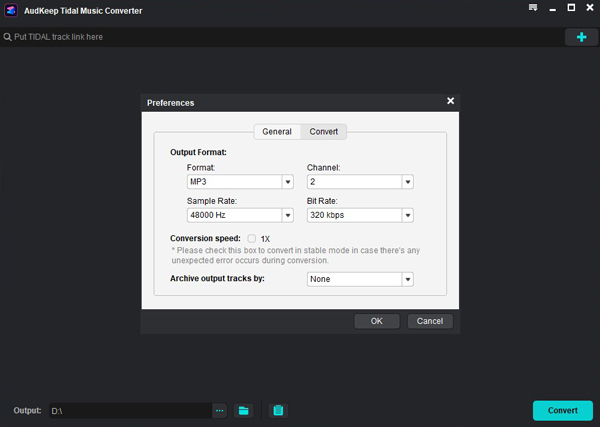 Download and install AudKeep Music Converter on your PC. Then, launch the tool, click on the menu icon, and select Preferences. In the Advanced section, adjust the audio output format and other properties, such as sample rate and channel. You may convert Christmas songs from Tidal to AAC, FLAC, WAV, and other formats to keep them high quality
Step 2 Upload of best rock Christmas songs from Tidal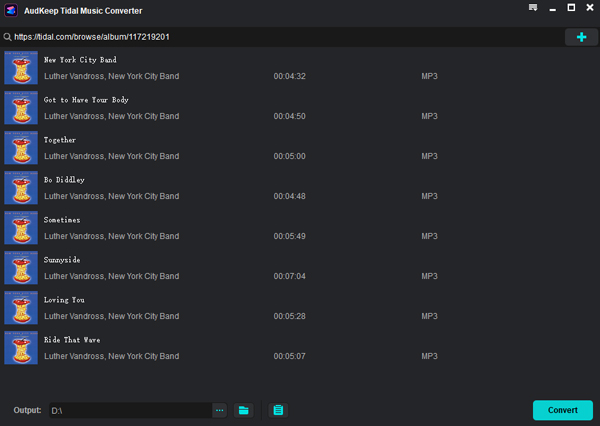 Now search and discover your favorite Christmas rock tunes on the Tidal Web Player. Create a playlist for those Christmas songs and click on the playlist. At the bottom right side, tap the + button to add the selected Christmas songs.
Step 3 Conversion of the Christmas rock songs playlist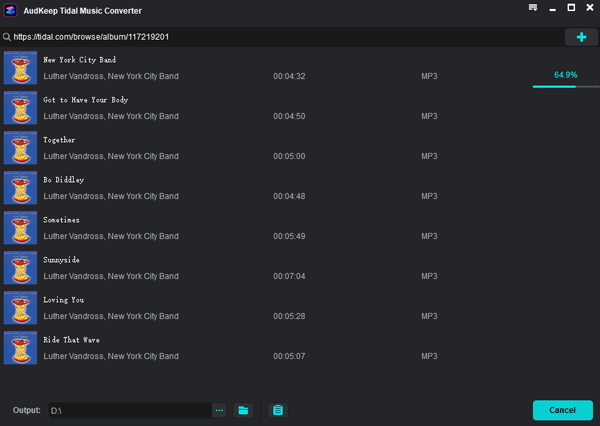 It's time to start the conversion process once all the Christmas rock and roll songs are loaded into the AudKeep software. To convert the song, click on the Convert button in the bottom right-hand corner. The downloading will take place at 5X speed to download Tidal playlist on the computer for offline playback.
---
Part 3. Conclusion
That is all for the best rock Christmas songs! If you're a Christmas song and rock music lover, some of the soundtracks mentioned above will win your heart. To get these Christmas rock and roll songs downloaded for the party, don't forget to use AudKeep Tidal Music Converter to convert the song of your choice and enjoy them without an internet connection.