The world is a complex home with escalating technological advancement. Controlling several gadgets wasn't easy. Thankfully, that shouldn't be a challenge in this era, a virtual-world generation. IFTTT made things simple; managing your devices at once is more colorful, and simplicity is what you need. For music lovers, you can use IFTTT to connect Tidal for listening!
Researchers at Stanford University said, "Listening to music seems to be able to change the brain functioning same as medication." If you're stressed, listening to music is the cure to your problem. But it might be a challenge to get a piece of quality music on Tidal or appropriate software to meet your needs to get IFTTT Tidal to work. Luckily, today this guide will explore IFTTT, what it is, how to download Tidal music, and finally, a procedure on how to connect and play songs on Tidal using IFTTT. Let's dive in!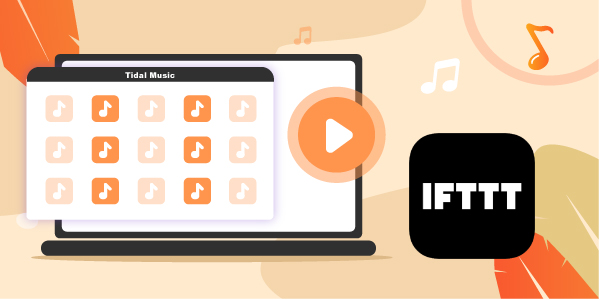 ---
Part 1. What Is IFTTT
IFTTT or If This Then That is software on an online platform that delivers everything as a service. IFTTT's objective is to interconnect devices, apps, services available from different developers to trigger more or one automation involving those gadgets. The primary function is to link other devices to perform tailored tasks involving their use.
For instance, connecting devices allows accessible commanding so-called Applets. There are over 90 million Applets; however, users can create personalized applets using IFTTT available on their computers, IOS, and Android devices. Thus linking Tidal and IFTTT is a possibility for you.
---
Part 2. How to Connect IFTTT Tidal by AudKeep Tidal Music Converter
As we all know, the music downloads and playing have been limited by Tidal, so you wouldn't be able to play Tidal songs using IFTTT. But with the help of AudKeep Tidal Music Converter, playing Tidal with IFTTT will be the easier thing for you.
Frankly, the AudKeep Tidal Music Converter offers a 100% solution to your problem. This software comes with outstanding features which are adorable.
First, lossless sound quality, truly the best experience is to receive what you ordered. Like this software, it keeps the original music quality for a more incredible experience. And it downloads Tidal music 5X faster hence saving your time. Another critical feature is retaining original ID3 tags including detail significant to your listener.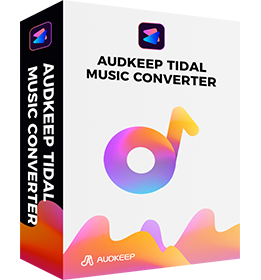 Key Features of AudKeep Tidal Music Converter
It's able to customize the output parameters and formats
It can sort your Tidal music library easily with ID3 tags
Available on Mac OS and Windows for use
Download Tidal music to a audio format compatible with IFTTT
---
Part 3. How to Play Song on Tidal using IFTTT
To play your favorite songs in the format you need is the ultimate goal of this software. But first, access your browser, search for AuKeep Tidal Music Converter, download and install it. Launch the AudKeep on your PC, then you will be required to create an account for easy login. After filling in your details, click register, a window will pop up, and you should put your registration name and code into it. Finally, follow these steps to convert your Tidal music playlist for IFTTT.
Step 1 Customize the Tidal output settings for IFTTT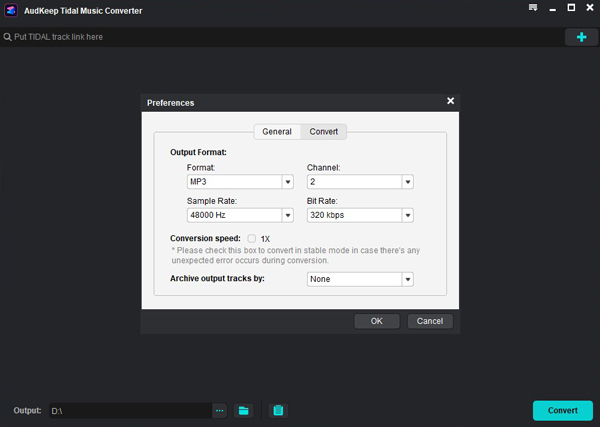 To customize the output format and parameters for Tidal and IFTTT, click on the Preferences > Advanced button. You can then set the output format to download Tidal music to MP3, WAV, AAC, etc. And continue to select the options which suit your needs, such as bite rate, sample rate, and conversion speed, and click okay to proceed.
Step 2 Add a Tidal playlist to AudKeep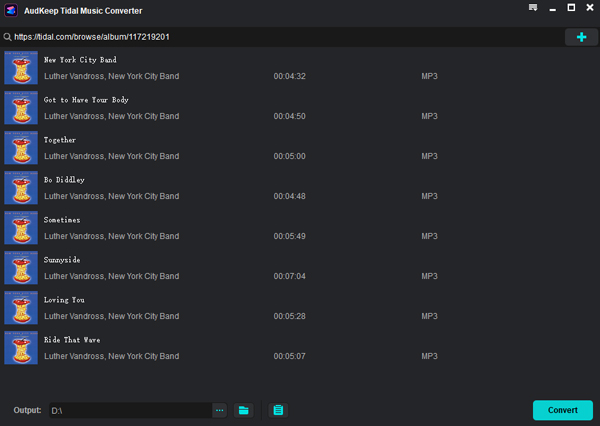 Next, choose the Tidal playlist you wish to convert from the Tidal web player and play with IFTTT. After that, open the playlist you selected and click on a blue icon (plus sign) to add the selected playlist to the AudKeep converter.
Step 3 Download and convert Tidal playlist for IFTTT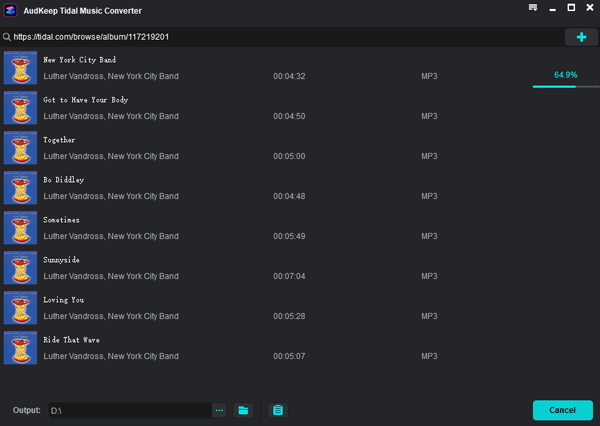 Click on the "Convert" icon to start to download and convert the Tidal songs. Automatically, AudKeep will download and save your Tidal playlist to PC for offline playback. Once finished, you can tap the "Converted" to check the downloaded Tidal music files. Those files will be available in your local storage where you set the output path.
Step 4 Download and convert Tidal playlist for IFTTT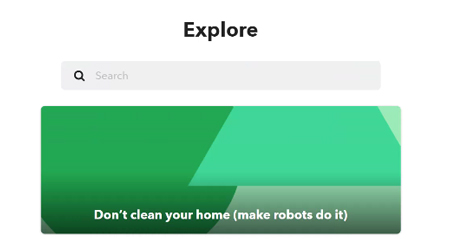 We are at the last step of IFTTT Tidal connect. Locate the downloaded Tidal music files on your computer, and then you can transfer the local Tidal songs to Onedrive, Dropbox or Google Drive to play on Tidal using IFTTT. After that, go to the link 'https://ifttt.com/explore' to search for the applets and then connect them to listen to Tidal music offline with IFTTT.
---
Part 4. Wrap Up
You can play your favorite Tidal playlists or songs using IFTTT and experience this fantastic technology unlike ever before. Style your lifestyle to be more meaningful through Tidal music using IFTTT. Follow the steps you have mastered above to connect and play IFTTT Tidal using AudKeep Tidal Music Converter.