Using visualizers (included in media players) one can assess a song's frequency, and the graphic animates accordingly. A music visualizer can transform a piece of music into a work of art. Watching the abstract lines and other visual effects move to the music is a sight to behold.
Audiophiles are always looking for a good Tidal visualizer since Tidal is one of the most popular streaming music services. Some of the most popular visualizer tools on the Internet are available for both Mac and PC platforms. However, not all of them are entirely compatible with Tidal.
Don't worry. We've compiled a list of the best 7 Tidal music visualizers, including free web tools and paid-for third-party applications for Mac and Windows. To use one of them as your Tidal visualizer, read ahead.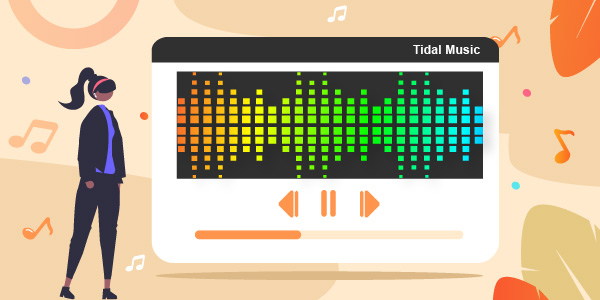 ---
Part 1. What Is Music Visualization?
It is possible to create animated visuals that match the beat, pace, volume, and frequency spectrum of audio music using a "music visualizer". A good music visualizer should produce and output the graphics in real-time for the visuals to appear in rhythm with the music.
Music visualization's origins can be traced back to the late '60s and early '70s. In contrast to today's technology, most music visualization tools from that era were deficient in two key areas.
It should be noted that visual and auditory components did not have a perfect visual match. The absence of real-timeliness was another problem.
---
Part 2. Does Tidal Have a Visualizer?
A music visualizer used to be available inside the Tidal app; users who wanted to use it would input "tidal:app: visualizer" into the search box. However, this visualizer tool is no longer available on Tidal. But that doesn't mean you have no way to get visualization for Tidal. Users of Tidal can access third-party music visualizers.
---
Part 3. How to Download Tidal Music for Adding to Music Visualizer
An audio converter and downloader tool that is known for its dependability and excellence is AudKeep Tidal Music Converter. It has been purposely developed to provide a higher level of control over playing music tracks from Tidal on a personal computer. You can use this all-in-one solution to download Tidal songs, playlists, or albums from the Tidal app, regardless of whether you are subscribed to the Premium or HiFi plan.
Additionally, the excellent quality of all music files hosted on Tidal will be preserved when they are saved locally as MP3, FLAC, and other formats. And the metadata information will be kept under the conversion at 5X speed. With the Tidal music saved on your PC, you can use any one of the Tidal audio visualizers to stream Tidal.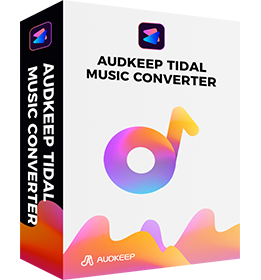 Key Features of AudKeep Tidal Music Converter
Download songs from Tidal for offline playback without a subscription
Convert your Tidal files to various formats, including MP3, FLAC, WAV, and more
Tidal tracks will be exported with all ID3 tags intact and 100% lossless quality
Enjoy 5X the download speed of Tidal music on Windows, while 1X on Mac
Here's how you can download Tidal playlist using AudKeep Tidal Music Converter for the music visualizer to recognize them.
Step 1. Before getting Tidal playlists downloaded, install the AudKeep Tidal Music Converter on your computer. Just click on the Download button above to nail it. And then launch and register for the AudKeep app, since the free trial of it only can convert the first minute of every song. And if you don't possess one Tidal account, create one.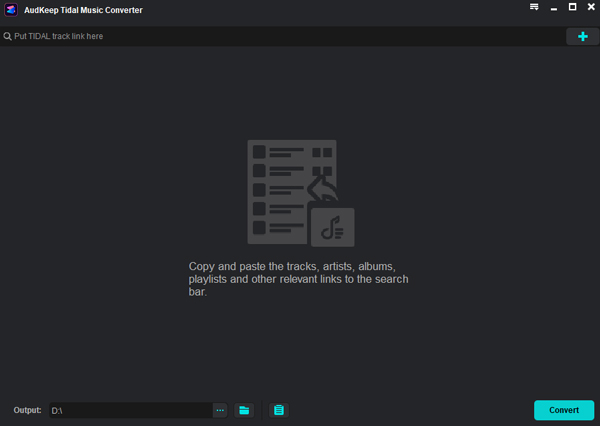 Step 2. Locate the symbol that looks like a menu and click on it. The output audio settings of Tidal can then be adjusted by going to the "Preferences" menu and selecting the "Convert" option. The setting window allows you to customize the output format, bitrate, sample rate, channel, etc. Remember to save the changes by clicking the "OK" button.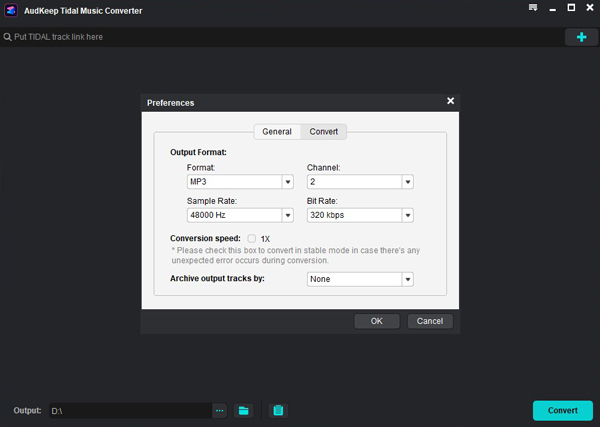 Step 3. To add songs from Tidal, search the playlist that you want to download on the Tidal app. After deciding which playlist to convert, copy & paste the link to the search bar inside the AudKeep software. All the songs on the playlist will then appear in the AudKeep interface when it has been loaded.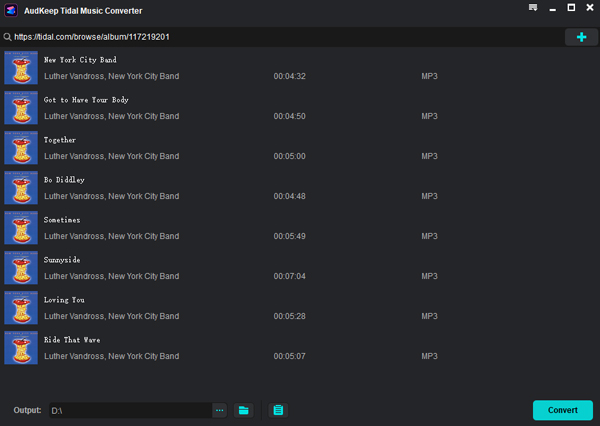 Step 4. You're now at the last step that needs you to tap on the "Convert" option to set the Tidal conversion to get underway. The downloading process will store those Tidal tracks on the output folder you set on the computer. After songs on the list are all downloaded, you may find the downloaded songs from the "Converted" icon with the red hint.
You then are able to use those music files of Tidal on the music visualizer Tidal.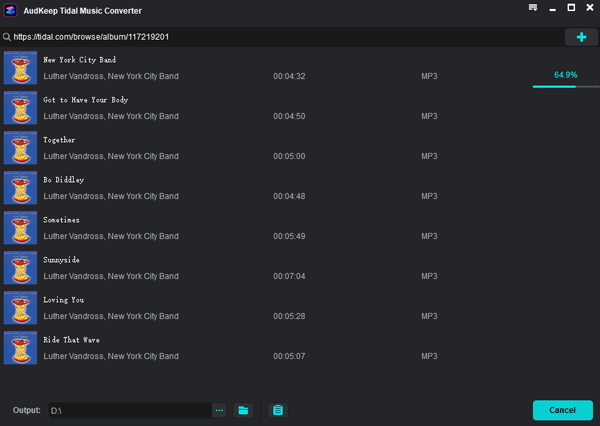 ---
Part 4. Top 3 Recommended Tidal Music Visualizer Online
Here we will explore some of recommended Tidal music visualizers available online.
1. Motionbox
In terms of ease of use, Motionbox is the best Tidal visualizer. It has an intuitive user interface that anybody can pick up and use immediately. You can obtain assistance from their support staff or an excellent getting started guide if you encounter problems.
While they don't have the widest selection of features or layouts, 99 percent of consumers will be satisfied with their offerings. It's possible to request additional templates and features by email if you feel that you're missing anything.
Any of the other businesses offer nothing like it! You can access it from anywhere as long as you have an internet connection since it is online-based. They have a Freemium model, meaning anybody can sign up and start making films.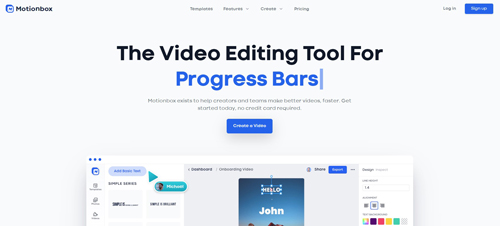 2. Media.io
Adding visuals to music is a great way to make it more interesting. Media.io Web-based Music Visualizer is just what you're looking for. Any audio file can have waveforms added, including M4A, M4R, MP3, OGG, AAC, AU, and a slew of others.
This software allows you to create an eye-catching waveform and a cover picture once you've loaded music. Not only that, but Media.io lets users edit and remove sounds. Subtitles, captions, and even text can be added to your videos.
Before exporting to 1080P MP4, you can choose the aspect ratio if you're alright with the music being visualized.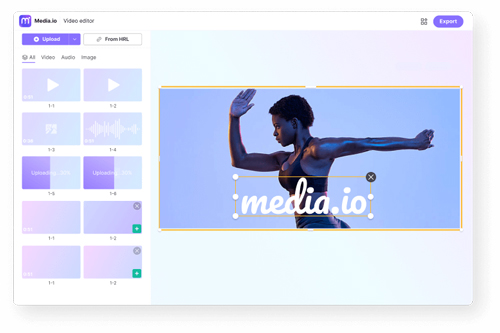 3. Videobolt Music Visualizer
To help users add visuals to their music, Videobolt Music Visualizer offers a range of themes. However, if you want to make changes to the pre-selected templates, you'll have to subscribe to Videobolt Music Visualizer.
This software's music visualization technique is fast and simple. The "Edit" button appears once you've selected your chosen template. After that, you'll be able to upload files from your computer or via SoundCloud and begin modifying your audio files.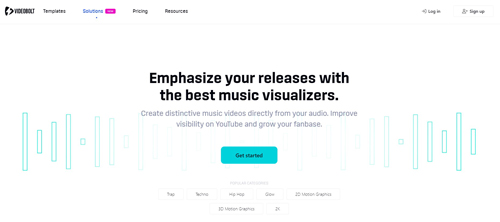 ---
Part 5. Top 4 Recommended Tidal Visualizer for Mac/PC
In this section, we have reviewed a few Tidal visualizers for Mac and PC users.
1. VZX Player
As a music player, VZX Player (formerly known as "VSXu") "listens" to the music you play and visualizes it, independent of the music player. YouTube, Tidal, Tidal, and many more are all supported.
It comes with visual effects that are controlled by the rhythm of the music in the VZX music visualizer. Each picture can be adjusted to match the music's tempo and intensity. While utilizing Tidal online or offline, the VZX visualizer can identify the song being played and get the best visualization for Tidal.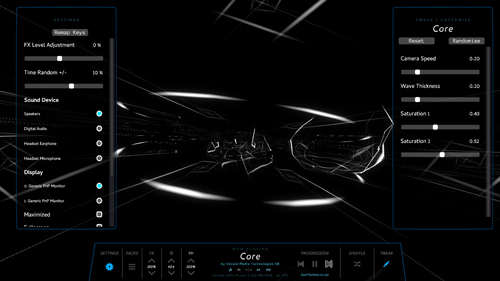 2. After Effects
Adobe After Effects can do it all for digital visual effects, motion graphics, and compositing. As a result, it should come as no surprise that After Effects can also be used to visualize music.
However, you will need at least a rudimentary understanding of the program. Create a new composition, add a sound file to it, and specify its length before you can use the Audio Spectrum effect.
Make sure you take your time and learn how to utilize the fundamental features of Adobe After Effects if these tasks seem difficult!
Advanced video editors can experiment with numerous types of music visualization and find new methods of enhancing the dynamic quality of their films by adjusting the parameters of the Audio Spectrum effect.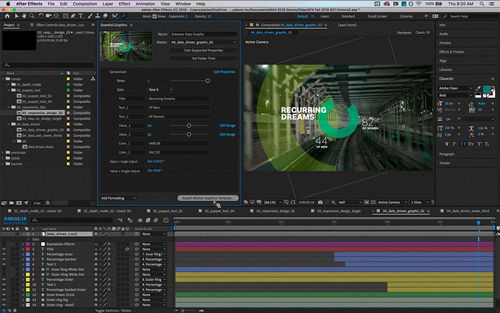 3. VSDC Video Editor
VDSC Video Editor Free has many video editing tools, including the ability to visualize music like Tidal. Aside from the production of music videos, you can use this video editing program to stabilize films shot with a variety of action cameras, improve their colors, generate 3D charts, or export videos in high definition to your social network accounts straight from the software.
You can utilize the editor's audio visualizer, which has more than 500 presets, to turn your current song into a visually arresting video. Additionally, the VDSC Video Editor has an Audio Abstraction tool, which uses the music you've chosen to make colorful abstract forms in addition to the Spectrum feature.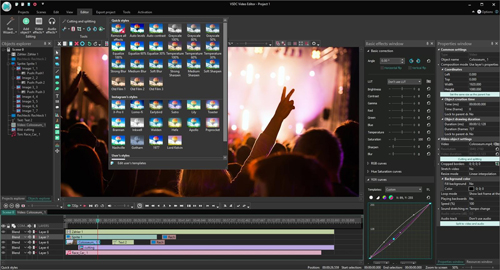 4. SongRender
SongRender makes it easy to make movies that illustrate your selected or written music. But its ability to adjust waveforms sets it apart from the other tools on the list.
This Tidal audio visualizer's waveform style and shape adjustments allow you to create unique music visualizations. Also included are progress bar animations, pictures, and fonts that you can use to create unique artwork.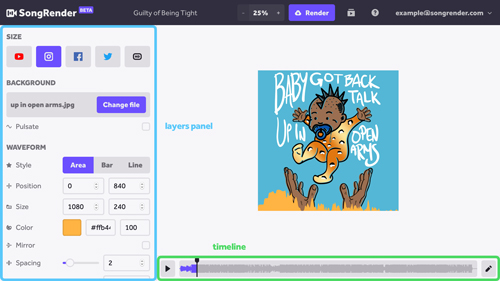 ---
Part 6. Wrapping Up
Whatever your level of musical expertise, nothing compares to the joy of witnessing your songs come to life in the context of stunning, real-time animation. Now that you have found the best 7 Tidal music visualizers, enjoy visualization like never before. Try each tool to decide which one suits your needs.
Nonetheless, AudKeep Tidal Music Converter is our first choice. Using this best Tidal downloader, you can convert and download your favorite Tidal tracks for adding to any music visualizer or even any device you like.