Digital Audio Player comes in a variety of specifications, some needing you to feed in music for listening while others come with support streaming services like Tidal that are just a click away from streaming. Nonetheless, you get different rates and features depending on the brand. However, one aspect stands paramount – the ability to deliver good sound quality. If you are torn between which is the best DAP for Tidal, we are here to clear the air.
In a recap, to find out the best DAP with Tidal offline, you need to consider the connectivity ability, its support for streaming services, power output rate, and battery life, among other issues. We will list out some players for your reference and introduce the best way to download your Tidal tracks for offline streaming via your picked DAP.
---
Part 1. How to Download Tidal Music for Offline Use on DAP
Tidal is best known for hi-res sound quality, a capability that glues most audiophiles. However, you can't stream your music outside the Tidal app or on specific devices due to the digital protection. In some situations, like some DAPs don't support the Tidal app, or you own a free Tidal account, it's even frustrating coming to play Tidal offline.
For this, you need to convert and download your music from Tidal offline. And the reliable choice is AudKeep Tidal Music Converter. You have the option to convert Tidal songs to MP3, FLAC, AAC, and other audio formats compatible with the DAP. Owing to the format's conversion, it supports the downloaded Tidal offline playback on any device and audio player.
The AudKeep app preserves all the metadata and ID3 tags while running the downloading process, enabling 100% Tidal output. The speed is perfect and you can manage batch conversion at a 5X rate for your selected Tidal playlists. More so, the app is pretty intelligent and quickly gives you the option to sort out and manage the output of your Tidal files by artist or album.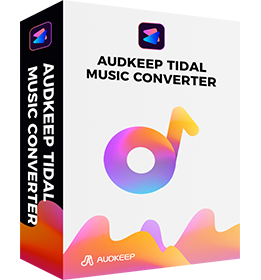 Key Features of AudKeep Tidal Music Converter
Export Tidal playlist in intact ID3 tags and sound quality
Download and play music on best DAP for Tidal offline
Convert Tidal playlists to formats that supported by DAP
Supports a quick Tidal conversion speed of up to X5 rate
A Step-by-step Guide to Downloading and Playing Tidal Music on DAP Offline
AudKeep Tidal Music Converter supports Windows and Mac operating system devices. Go to the website or find the above Download buttons, and then choose one matching version. Download and install the AudKeep software on your computer. Upon launching AudKeep, you will notice that the Tidal app also opens immediately. Click on the "Log In" tab to sign in with your Tidal account details. Next, you need to register the AudKeep app.
Step 1 Customize Tidal parameters for DAP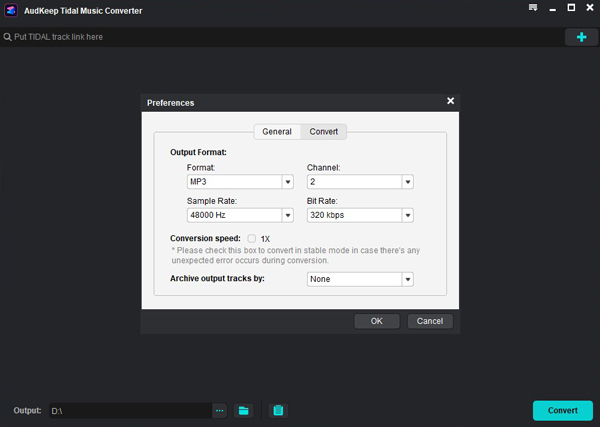 Set your Tidal track parameters preferences at the "Menu" tab. Click on the "Preferences" > "Convert" tab and begin to adjust the output format to the one that can be played on the best DAP for Tidal. Likewise, you can customize the parameters like sample rate, bit rate, and channel. Then click on the "OK" tab to confirm your entries and get the Tidal app ready for conversion.
Step 2 Import Tidal playlist to the AudKeep app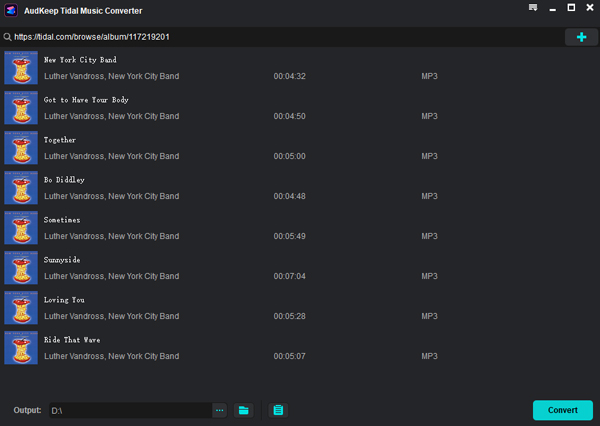 Peruse the Tidal playlist that you wish to convert and once found, open it and click on the "More" icon to copy the share link to the Tidal playlist. Next, paste the copied link to AudKeep's search bar and click the "+" button to add your playlist from Tidal to the AudKeep converter.
Step 3 Download and convert the Tidal playlist for DAP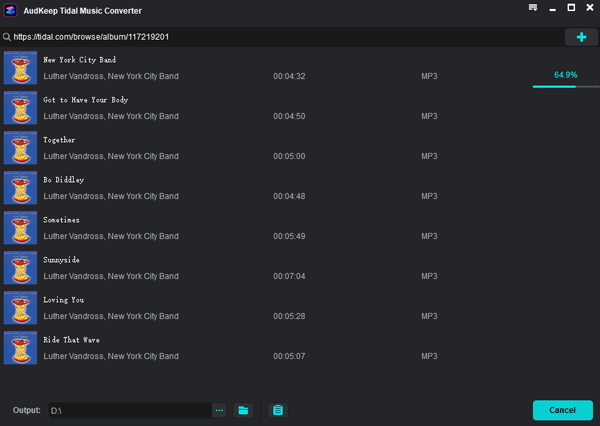 Finally, tap on the "Convert" tab to let the conversion process begin. AudKeep Tidal Music Converter will then download the Tidal playlists and save them on your computer's local disk as common audio files while maintaining the ID3 tags for 100% originality. After that, you are able to put the converted Tidal music files on the best DAP you've chosen and play offline.
---
Part 2. Top Best DAP for Tidal Offline
Well, it was successful to attain your Tidal playlist in common output formats. The playlist is now unrestricted and you can play Tidal songs on DAP offline. But how do you know which best Tidal DAP to choose from? Let's do a quick summary and comparison of these six best DAPs.
Top 1. Sony Walkman NW-ZX507
This DAP, Sony Walkman, for Tidal comfortably fits in your palm, making it easy to reach all the buttons and icons. It features an Android OS with full support for streaming applications. The internal storage is big enough, giving you a whooping 64GB. Besides, you get a native DSD and MQA playback. It supports numerous file formats like WAV, MP3, ALAC, AIFF, DSD, and MQA, among others.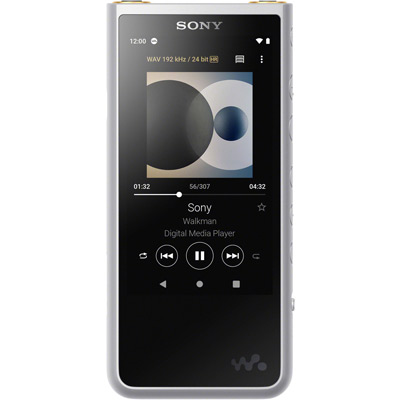 Top 2. Astell&Kern SA700
This best DAP for Tidal offline costs $1,299 and expands to 128 GB built-in storage capacity but the Micro-SD card can expand to over 1TB. It uses an Android-based OS that features a quad-core processor with a 4.1-inch touch display. Furthermore, it comes with a powerful back-lit LED located behind the volume wheel. These glow in red, blue, purple, and green for a spending view.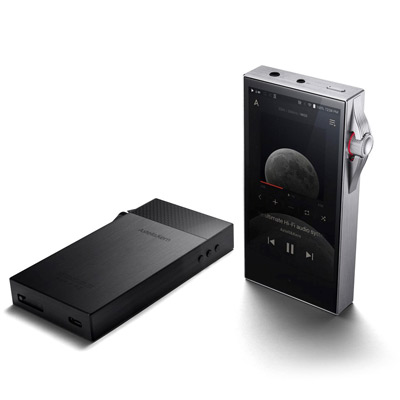 Top 3. FiiO M11 Plus
FiiO M11 supports output formats like AIFF, WAV, WMA, APE, Lossless, DXD, ALAC, and OGG, among many others. It has a stunning design and excellent sound quality. The modified Android operating system is familiar to any level user. Even though the Bluetooth is low at 4.2 and the USB charging cable at 2.0 length, you still get optimum sound quality with this DAP.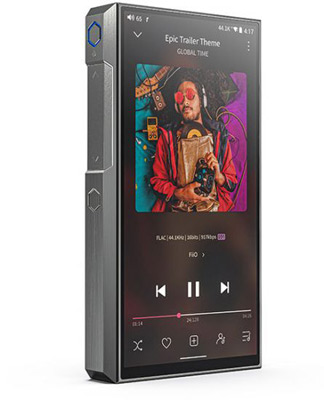 Top 4. iBasso DX240
Here comes another best DAP with Tidal with excellent sound quality. The battery life is good enough, going up to 11 hours. Besides, get a full 16x MQA decoding feature with this DAP. The storage capacity is 64GB with room for expansion on a Micro SD card.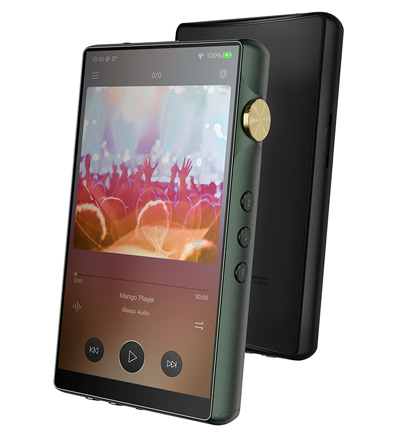 Top 5. Hidizs AP80
Hidizs supports FLAC, WMA, ALAC, DSD, DFF, and DSF, among other file types. The storage capacity is sufficient, extending up to 1TB. It can't disappoint with the battery life. The screen is also wide enough, extending to 2.45 inches with a compact superb design.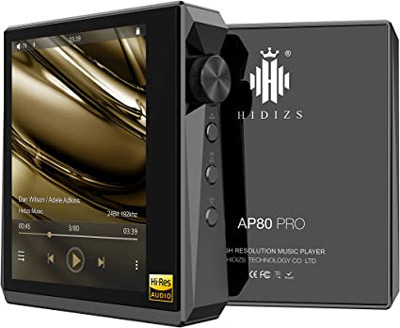 Top 6. HiBy R6 Pro
Even though the sound of HiBy isn't a high-end sample, this player will connect directly to your smartphone. It runs Bluetooth at a 5.0 rate. The design is easy to grip and presents a fabulous color saturation display. You get up to 2GB internal storage capacity. More so, the battery life is good and can manage up to 10 hours.
---
Part 3. Best DAP for Tidal Offline: Comparison Table
Storage Capacity
Maximum Sampling
Connectivity
Operating System
Price
Sony Walkman
NW-ZX507
64 GB internal storage
32 bit/384 kHz
Bluetooth and Wi-Fi
Android OS
$828
Astell & Kern SA700
128GB to 1TB
32 bit/384 kHz
Bluetooth and WiFi
Android OS
$1,299
FiiO M11 Plus
2GB
32 bit/384kHz
Bluetooth
Android OS
$400
iBasso DX240
64 to 512 GB
32 bit/348 kHz
Bluetooth
/
$949.99
Hidizs AP80
Expands to 1TB
32 bit/348kHz
Bluetooth
/
$199
HiBy R6 Pro
2 GB to 2 TB
32 bit/384kHz
Bluetooth and WiFi
/
$99
---
Part 4. Conclusion
What qualities do you look for when sourcing a Digital Audio Player? The aforementioned DAPs for Tidal present valuable traits that helps in playing your tracks or other audio for longer hours. Also, they possess distinct storage capabilities and costs.
To play songs on the best DAP for Tidal offline, AudKeep Tidal Music Converter is the one tool you can trust. It will download the Tidal tracks to the format that is playable on the DAP. So, once you convert your Tidal playlist with the AudKeep app, grab any of these DAPs leaning on your liked features for offline streaming.