Djay Pro is one of its kind when it comes to mixing music. And with the integration of Tidal and SoundCloud streaming services, now users can access Tidal's Hi-Res music catalog on Windows OS devices. You will enjoy Djay Pro Tidal with a Tidal subscription. It encompasses several features including the Match A/V. This works by suggesting songs that mix in well with the currently playing music from DJ's end.
Besides, you can pick your favorite Tidal playlist and let Djay automatically mix it for you in real-time with the Automix A/V. Furthermore, you can explore other Tidal genre collections, rising, and top tracks to discover new tracks in the market. In the next sections, we'll discuss how to connect Tidal to Djay Pro for use online and offline. Let's find out more!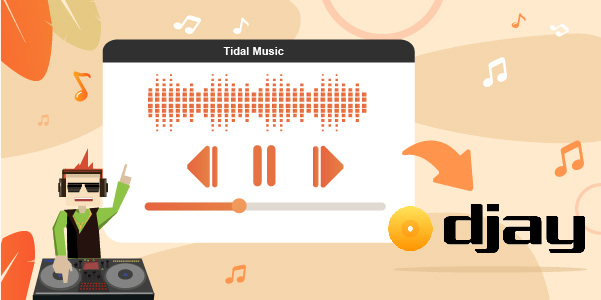 ---
Part 1. Does Tidal Work with Djay Pro?
Djay Pro and Tidal are integrated with each other, so you can enjoy music to Djay Pro if you are subscribed to the Tidal Hi-Fi and Premium. But once such a subscription expires, you'll be left out of the hook. To continue to use the Tidal music you want, you then will need a third-party app to help you stream your music to Djay Pro for mixing. Check it out next.
---
Part 2. How to Get Djay Pro Tidal to Work – Tool Needed
Remember you can't stream the Djay app Tidal once your subscription expires. But AudKeep Tidal Music Converter breaks all the odds, letting you listen to Tidal on any device and program like Djay Pro. With it, you can download Tidal HiFi and high-quality music on your computer. It works by converting Tidal to common output formats like WAV, AAC, and M4A, among others.
AudKeep Tidal Music Converter will download your Tidal playlist as original audio tracks. It will retain all lossless metadata information and ID3 tags for quality output. You can as well adjust output parameters like audio codec, sample rate, and bit rate. The conversion rate is also superb. AudKeep works at 5X speed, managing a batch at a go.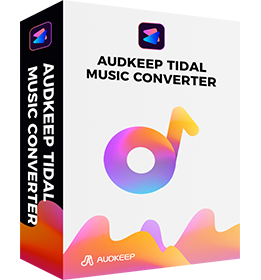 Key Features of AudKeep Tidal Music Converter
Download Tidal audio tracks at a 5X rate conversion speed
Customize Tidal parameters to keep the lossless quality and ID3 tags
Support to convert music from Tidal to WAV, MP3, FLAV, etc.
Play Tidal songs on any device or players like Djay Pro
---
Part 3. How to Convert Tidal Music for Use on Djay Pro
To play Djay Tidal offline, there are 3 simple steps that you should stick to using the AudKeep Tidal Music Converter. And please notice that the AudKeep program needs to be installed before you start.
Once you've downloaded and installed the AudKeep app on your computer, next, launch the app and check in the main interface for the Tidal Web Player where you should click the "Log In" tab to sign in to your Tidal account. Besides, ensure to register AudKeep Tidal Music Converter. Just hit on the "Register" tab to open the registration window. Then log in with your registration name and code to activate the app and convert Tidal to Djay Pro without limits.
Step 1 Reset Tidal output formats for Djay Pro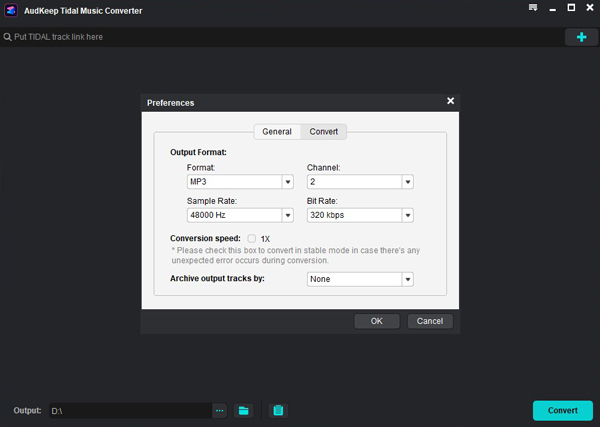 Go to "Menu" > "Preferences" and click on the "Advanced" option. In this new window, begin to adjust the Tidal music output format to FLAC, Lossless, MP3, AAC, and other formats compatible with Djay Pro. Likewise, you can proceed to customize the music parameters to improve your music quality, and the sample rate, bit rate, channel, etc. are under your choices.
Step 2 Add Tidal playlists to AudKeep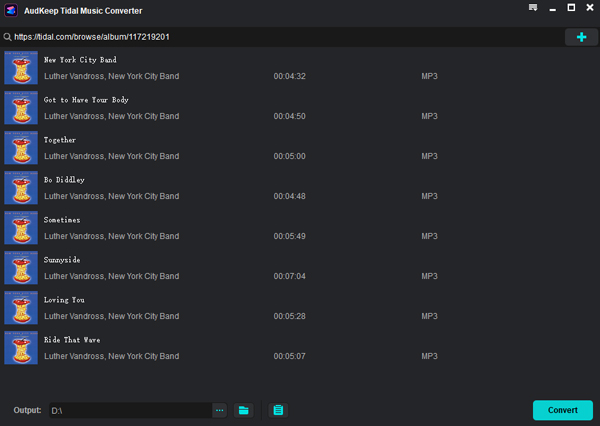 Click "OK" to save the output configuration once you confirm it is correctly set. Then head to search for the Tidal songs in the built-in Tidal Web Player that you wish to download and convert. Next, tap on your favorite songs, and the blue "+" icon in the lower right corner will turn grey to blue. Click on it to add the Tidal songs or playlists to the AudKeep app.
Step 3 Download Tidal music offline for Djay Pro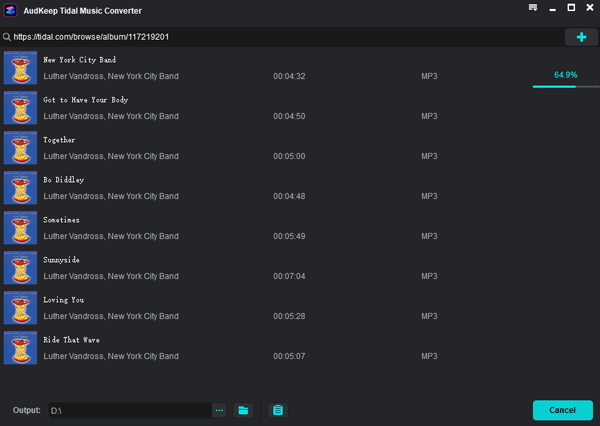 Click the "Convert" tab to commence the Tidal downloading process in the bottom right corner. AudKeep Tidal Music Converter will download Tidal HiFi music you select to the parameters you've set in the former step. After the conversion is done, tap the "Converted" button to locate all your music files. After saving them on your computer, you can use Djay Tidal as long as you want and won't encounter the Djay Pro Tidal not working issue.
---
Part 4. How to Use Tidal with Djay Pro Offline
Now that your Tidal playlist is finally converted, you can use it on the Djay Pro program. Let's head forwards and learn how to use Tidal with Djay Pro for mixing.
Step 1. Open the Djay app on your computer.
Step 2. Go to the "Music Library" browser and click on the "Files" tab. Then, check the "+" button in the upper left corner to add your Tidal tracks.
Step 3. Next, choose the "Converted" catalog and click the "Done" option.
Step 4. You just moved the converted Tidal audio files to Djay Pro. Finally, you can start mixing and auto-mixing your Tidal hits.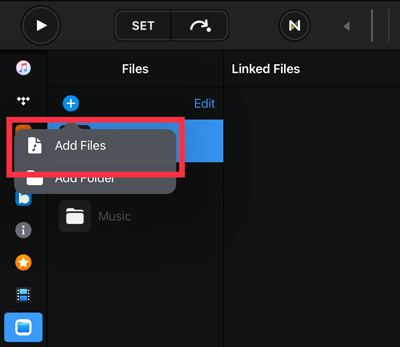 ---
Part 5. FAQs about Tidal and Djay Pro
Many users wish to get in-depth information about Djay Tidal. Here are some answered questions that will enlighten you.
Q1: What Streaming Apps Work with Djay?
Tidal and SoundCloud are the two streaming apps that work with Djay.
Q2: Can I Use Djay Pro Offline?
No. It is not possible to use Djay Pro offline as you require an active internet connection to stream music from Djay Pro.
Q3: Is It Possible to Use Djay Tidal Offline?
Yes! You can use Djay Pro offline after downloading and converting your playlists from Tidal to common output formats like MP3, FLAC, and WAV, among others.
Q4: Which Versions of the Djay App Has the Tidal Service?
It's the Djay Pro version that gives access to the Tidal music streaming service. It enables you to stream and mix your music in real-time.
---
Part 6. Final Words
Are you a newbie or a professional DJ master on Djay? Well, whatever the case, Djay Pro has what it takes to put you in the mood of real Djing. You'll easily manage your favorite tracks by instantly adding your favorite sons to the Tidal favorites as you mix them in Djay app. And if you wish to mix your Djay Pro Tidal favs offline, then AudKeep Tidal Music Converter has simple steps on how to connect Tidal to Djay Pro as an added advantage. It will give you the original content for offline mixing and entertainment.