Have you tried searching Google for "How to use Tidal with Virtual DJ" to see if you can integrate music directly from Tidal? Or are you a DJ and using Virtual DJ and looking for a Virtual DJ Tidal integration? If that's the case, the answer may mislead you. Tidal does not offer any method for integrating Tidal Virtual DJ on its platform.
Tidal is a music streaming service that offers a pleasant listening experience to its consumers. It has two pricing plans: Tidal Premium (High Quality) and Tidal HiFi (lossless CD quality). On Tidal, you may listen to over 60 million songs regardless of the membership you have.
However, there are certain drawbacks to Tidal music. Tidal music may only be played on devices that are compatible with the Tidal app. In other words, even if you pay for Tidal's service, you don't have complete control over how the music is played.
To resolve this issue, once and for all, this article will help you easily convert Tidal music to Virtual DJ supported files so you can use Tidal with Virtual DJ.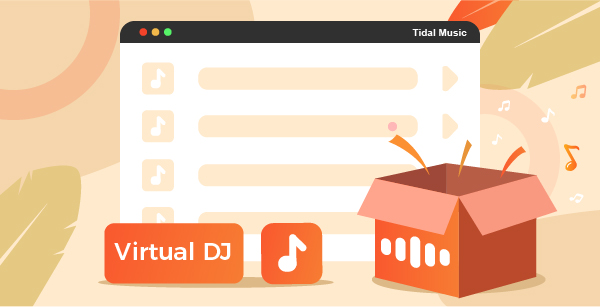 ---
Part 1. Best Solution to Make Tidal and Virtual DJ Work Together
With the limitations described above, to integrate and make Tidal and VIrtual DJ work together, the ideal solution will be AudKeep Tidal Music Converter.
Why AudKeep Tidal Music Converter?
For Tidal members, AudKeep Tidal Music Converter is a reliable and perfect music downloader and converter. It's intended to provide you with more control over the playback of Tidal audio songs on your PC or Mac.
Whether you have a Premium or HiFi plan, you can use this all-in-one solution to download Tidal songs, playlists, or albums via the built-in Tidal Web Player. It can convert Tidal to MP3, Lossless, FLAC, WAV, AAC, M4A, and M4B without compromising the quality of the original music. It also allows users to quickly download Tidal's HiFi and high-quality music files to their local computer, allowing them to transfer and enjoy music from anywhere.
Besides, AudKeep Tidal Music Converter for Windows converts high-quality Tidal music at up to 5X conversion speed thanks to cutting-edge audio encoding technology. Over time, the music libraries are expected to expand. As a result, this excellent Tidal audio converter allows you to arrange your Tidal output files by album or artist. Music tracks can be managed more easily and quickly.
All Tidal audio files will be stored locally. With them, you may effortlessly add Tidal to Virtual DJ and discover an entirely new listening experience.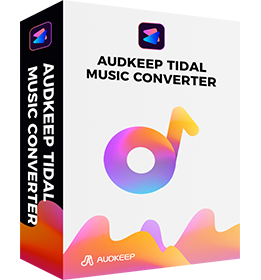 AudKeep Tidal Music Converter for Virtual DJ
Keep lossless HiFi sound quality from Tidal Music
Customize output settings and organize output library
5X faster conversion speed for Tidal playlists
Download Tidal playlists for local storage forever
---
Part 2. How to Convert Tidal Music to Virtual DJ-supported Files
AudKeep Tidal to MP3 Converter works on both Mac and Windows computers. You can download and install the appropriate free version on your PC. However, it can only convert the first minute of each Tidal music in its free version. You should get the complete version if you want to convert Tidal to MP3 without any restrictions.
You have learned why AudKeep Tidal Music Converter is the best solution out there to convert Tidal Music. It's time you start using this amazing music converter. The following method will explain how you can convert Tidal Music to Virtual DJ-Supported music files.
Step 1 Set output format for Tidal to your required format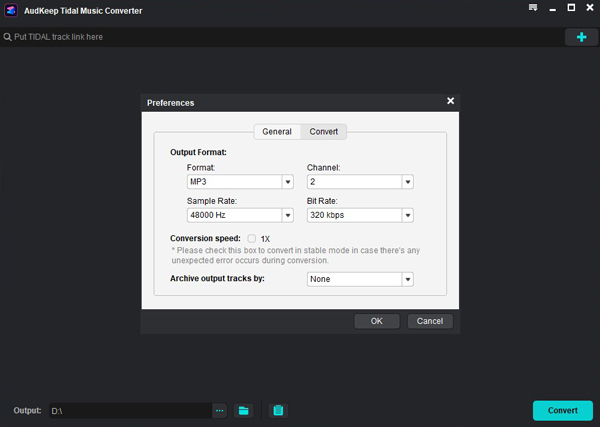 Launch the AudKeep Tidal music converter. You can change output formats as required from the menu > "Preferences" > "Advanced" option.
Step 2 Load Tidal playlists to AudKeep and convert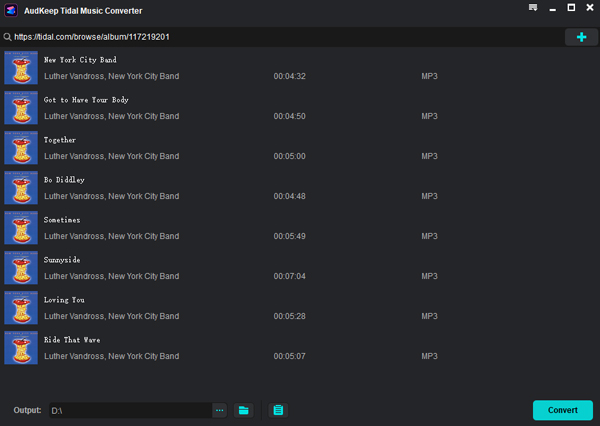 Open your favorite album or playlist from Tidal. Then click the activated "Add Music" icon. Pick out individual tracks or choose all of them. Then click "Convert" to start the downloading process.
Step 3 Download Tidal songs and locate them for Virtual DJ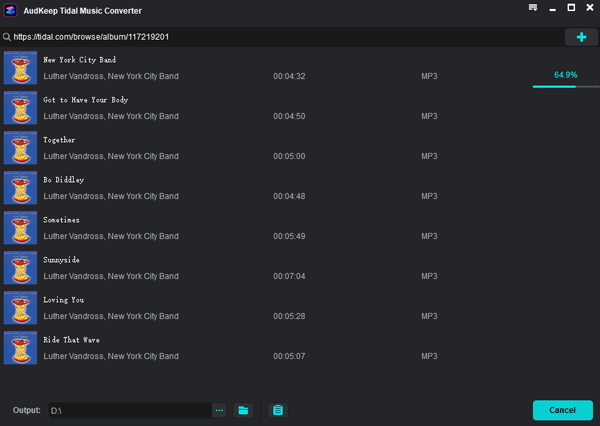 During the downloading process, you can see the progress bar and keep adding songs to the waiting list. When all is done, you can locate the output folder on the local device by clicking the "Converted" button > "Lookup" icon that is next to the track.
---
Part 3. How to Use Tidal with Virtual DJ
Virtual DJ is the number one great and popular DJ application out there, with the most downloads for a DJ application, the most powerful yet easy-to-use DJ application. With the unique music downloaded from Tide, you can DJ non-stop.
The steps below will guide you on how you can import the Tidal downloaded music to Virtual DJ.
Step 1: Install the Virtual DJ application on your computer. If you haven't done so already, you can install it first from the official website.
Step 2: Click on the 'Local Music' option at the bottom left of the Virtual DJ program and find the converted Tidal music files.
Step 3: You can also drag & drop the converted Tidal files to Virtual DJ.
Step 4: At last, you can play and mix music on Virtual DJ streaming Tidal.
---
Part 4. Conclusion
If you are a Tidal music subscriber, you get access to Tidal's extensive music library with tidal's unique music playlists. Additionally, Tidal songs may be downloaded for offline playing for mobile users.
However, the Tidal app isn't compatible with Virtual DJ. You'll need to convert Tidal to the required format to integrate your Tidal music with Virtual DJ.
Simply after reading this post, you have learned how to use Tidal with Virtual DJ effortlessly. After that, you can integrate Tidal music on several devices.