Tidal's competitive advantage in the online music streaming industry has always been the company's ability to set itself out from the competition. It has revolutionized the art of DJing in its manner, thanks to the latest update to the platform's DJ tools. Integrations with Serato, Pioneer, Numark DJ, Denon, and Virtual DJ have been available via Tidal for some time.
The service now also integrates with DJUCED for editing. Because of this, DJs can choose tunes straight from their Tidal libraries and stream high-fidelity versions of those tracks directly to a wide variety of DJ software. However, it's tricky for a newbie to establish a connection with Tidal Numark DJ. But if you're one of those newbies finding a way to connect Tidal to Numark DJ, don't worry. In this article, you'll discover the finest way to connect Tidal to your Numark DJ and play quality music. Let's get going!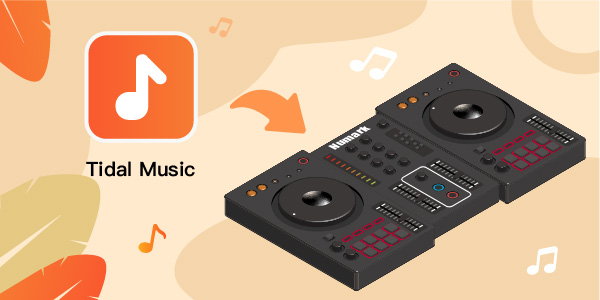 ---
Part 1. What Is Tidal and Numark DJ
Before we move to the details, you must get a hold of what Tidal and Numark DJ are.
Tidal
Tidal is a music streaming network founded in Norway and now stores more than 80 million songs. In addition to songs, this compilation includes recordings of stand-up comedy sets by both established and upcoming comedians. Tidal can be used in a browser window, or you can download the mobile app for free and use it on the move.
Tidal's mission since its inception has been to improve the music business by guaranteeing those creators get full and direct compensation for their work and rectifying any injustices within the industry. In exchange, you get higher quality music than a CD and, ideally, a nice feeling in your stomach about the decision to pay for HD songs.
Tidal gives its members an unusual amount of visibility into how they directly support the artists they listen to. It guarantees to provide 10% of a user's monthly HiFi Plus membership fee to the artist whose music is streamed the most.
Numark DJ
Numark DJ is a small, portable audio interface created specifically for DJs, mobile music mixers, and other computer-based artists. Numark is the first company to embrace and develop new technologies that progress the mixing expertise for DJs at every level. To motivate DJs with innovative products that flawlessly incorporate retro feel with cutting-edge performances.
Numark is responsible for introducing hundreds of industry firsts throughout its 40-year history. These innovations include the first DJ mixer with an integrated sampler, the DM1775, the first specialist dual CD player, and CD5020; the first hard-drive predicated DJ system, etc.
Numark has been producing products that are consistently ahead of the pack for more than 40 years by combining an awareness of the requirements that DJs must meet with cutting-edge technology. Numark has quite literally reinvented its way to the top of the DJ industry by developing performance tools for every level of the DJ community, from amateurs to experts.
---
Part 2. How to Use Tidal with Numark DJ with Tidal Premium
Wondering how to use Tidal on Numark DJ? You'll get the answers here. Numark DJ comes with a built-in software named Serato DJ. You can easily mix your favorite tunes using Serato DJ, which is included with the Numark DJ. Serato DJ software gives you a stable, user-friendly, and forward-thinking foundation. When using Serato DJ, you don't have to touch your computer keyboard or mouse, making mixing and performing easy without leaving your Numark DJ controller.
However, if you want to utilize Tidal with Serato DJ Pro, you must have an active membership to Tidal (either the Premium or HiFi levels are supported – the former lets you listen to AAC while the latter lets you listen to FLAC & AAC).
To play Tidal on Numark DJ, follow these steps:
Step 1: Launch Serato DJ Pro on your computer and head to the Setup.
Step 2: Now, select Library + Display from the above bar. In the Music Streaming section, enable the Show Streaming Service option.
Step 3: Now, check the Tidal option, and click on Sign up/Login to Tidal to integrate your Tidal Premium account with the Numark DJ.
Step 4: Once you're logged in, head back to the homepage of Serato DJ Pro. Now, in the left menu, expand the Tidal option and then Playlists to access the Tidal music. Click on any of the songs to start playing on Numark DJ.

---
Part 3. How to Connect Tidal Numark DJ Offline without Tidal Premium
Since not everyone has Tidal Premium on integrating with Numark DJ, people must wish to know how to connect to Tidal Numark DJ offline and play quality music without the plan. And if you're looking for such an alternative option, you need to get a third-party professional tool to convert Tidal. In this scenario, AudKeep Tidal Music Converter is your best and the most reliable option.
AudKeep Tidal Music Converter, an exceptional and spectacular music converter and exporter for Tidal Premium and Tidal HiFi subscribers, can extract songs and playlists from Tidal on a computer without a membership. It can convert Tidal to MP3, WAV, FLAC, AAC, and other formats. The Tidal song quality won't get any damage. You may listen to Tidal tracks offline on smartphones and PCs by using this Tidal downloader. Not only on the mobile and computer, but you can also use this Tidal music converter to get Tidal music for free and connect them to play on Numark DJ.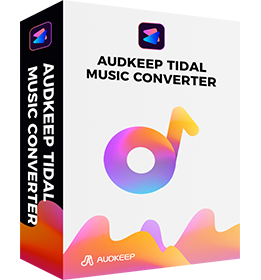 Key Features of AudKeep Tidal Music Converter
Tidal music can be downloaded to a computer for offline listening
Export Tidal music in lossless fidelity with all ID3 tags intact
Transform all Tidal songs to compatible formats for Numark DJ
Get Tidal songs at 5X speed for Windows, and 1X rate for Mac
How to Download and Play Tidal on Numark DJ with AudKeep Tidal Music Converter
Follow the steps to download songs offline without Tidal Premium and then connect Tidal to Numark DJ for use.
Step 1 Reset the Tidal preferences for Numark DJ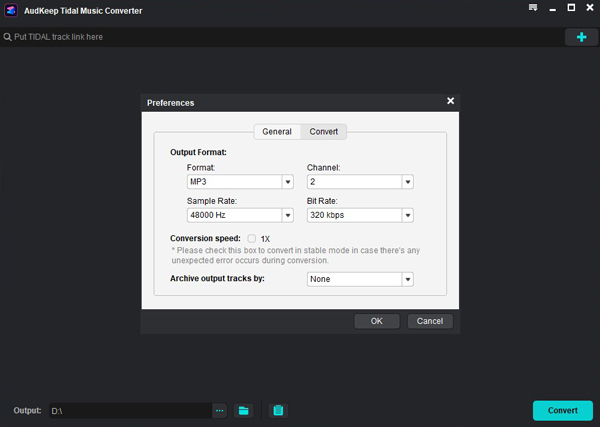 On your PC, launch AudKeep Tidal Music Converter after downloading and installing it. Head to Preferences from the menu, and click on Convert to adjust Tidal output parameters including output formats, bit rate, sample rate, channel, and more. The audio formats should be chosen as one supported by Numark DJ, like MP3, and WAV. Once you're done, click on OK.
Step 2 Upload music from Tidal to AudKeep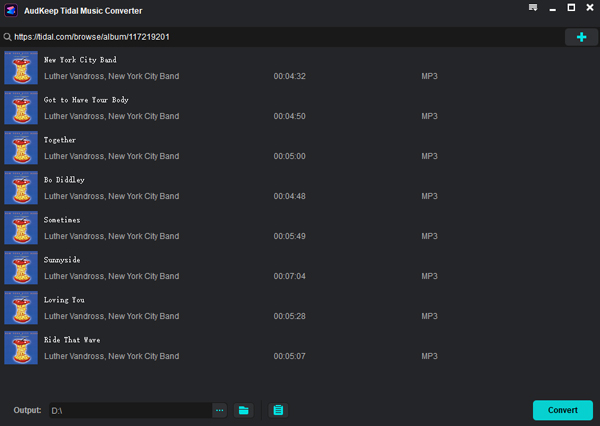 Now, go to the Tidal application and copy the link to one playlist or song you wish to download. After that, paste it into AudKeep's URL bar and click on the + icon to put them into the conversion interface.
Step 3 Export the select Tidal songs for Numark DJ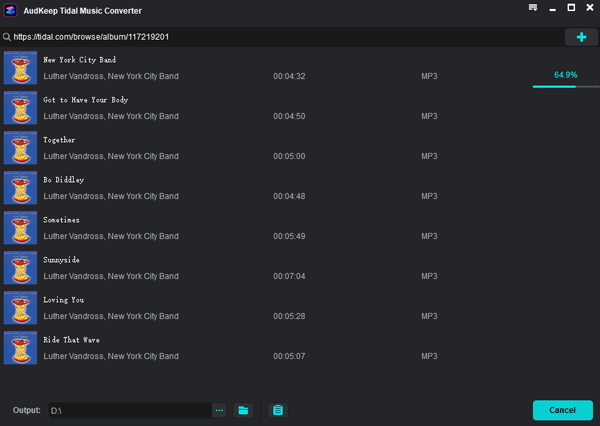 Now, click on Convert to start to download and get Tidal for free offline. The downloaded Tidal music files will be stored in the output folder you've set. To pinpoint the folder, press on the Converted icon next to the folder icon at the bottom. Then just click on the highlighted music to direct where it is at.
Step 4 Add and play Tidal on Numark DJ

Launch the Serato DJ Pro application on your PC, and click on the File option. It will show various locations of your PC. Go to the folder where you downloaded the Tidal songs, and drag all the music files to the All… folder of Serato DJ Pro. Now, you can play Tidal music easily on Numark DJ.
---
Part 4. Final Thoughts
Since devices like Numark DJ require high-quality music to keep the users moving, people prefer the Tidal streaming platform to others. However, most of them aren't aware of how to stream Tidal music on Numark DJ. But we hope that you know how to connect Tidal on Numark DJ after reading this article. Moreover, if you wish to play Tidal Numark DJ offline without the Tidal subscription plan, we recommend using AudKeep Tidal Music Converter for its high-quality music conversion.