Tidal is an incredibly popular music streaming platform with a plethora of songs. Tidal has now partnered with multiple brands so that Tidal users can start listening to their favorite songs on multiple devices. That said, one brand that Tidal has recently partnered with is LG TV. This means you can now listen to your Tidal playlist anytime you want, right through the television set. You can get Tidal on LG TV if your LG TV has the app ready to be downloaded.
If you have recently purchased your LG TV and want to get Tidal for your LG TV, you have come to the right place because this article will help you learn how to get Tidal on LG smart TV. Keep reading to find the complete detail.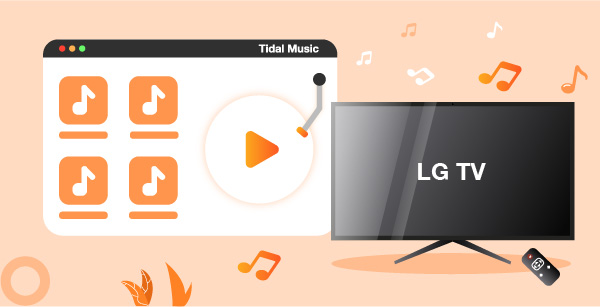 ---
Part 1. How to Get Tidal on LG TV via the Tidal webOS App
As we said, the Tidal LG TV app is available in the latest models. This means that you can download and install the app on your TV and start playing the Tidal songs you enjoy listening to the most. LG TV models that were launched between 2018 to 2021 have the Tidal app in the store.
Moreover, please have an active Tidal plan to start enjoying Tidal content as Tidal is a subscription-based service. You will not have to pay anything to LG TV. To download and start using the Tidal webOS app, there are a few steps that you need to follow:

Step 1: Launch the LG TV and visit the Content Store. Once you are there, you need to look for the Tidal application. To install the Tidal app, you need to click on that.
Step 2: After the installation process is completed, launch the application on the television. Now, visit link.TIDAL.com to link your Tidal account.
Step 3: Login using your Tidal credentials. You will see a code on your LG smart TV; enter it as shown. After the Tidal application is linked, you can start listening to Tidal content without any issue.
---
Part 2. How to Get Tidal on LG Smart TV via USB Port
By now, you have learned how to start using the LG Tidal app. However, do note that to use the Tidal app on your LG Smart TV, you will need an active account, and your TV must be compatible with the Tidal app. If not, you can't do that. In this case, please download the Tidal songs, transfer them to a USB drive, and play them on the LG TV via the USB port. No need to require a Tidal app and Tidal account anymore.
To be able to do that, you will need music converter software that will allow you to convert your favorite Tidal songs. Here we can meet AudKeep Tidal Music Converter. This robust music converter is easy to use and can help you convert any Tidal song.
Readers must note that you can't play Tidal songs other than the app and the device where you have the Tidal application. However, AudKeep Tidal Music Converter can fix all of these issues. Once the songs are converted and downloaded, you can quickly transfer them to a USB device and start listening to them on your LG Smart TV and any other device you want.
It will let you convert Tidal songs into different audio formats, such as MP3, WAV, AAC, FLAC, etc. Moreover, the Tidal songs will be converted at 5X speed, which means you will not have to wait long for the songs to get converted.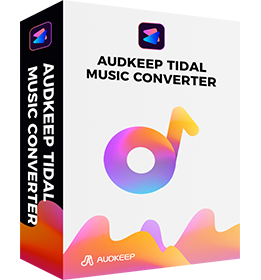 AudKeep Tidal Music Converter
The music converter tool will convert every Tidal song at 5X speed.
Tidal music can be played on LG TV, Hisense TV and any other device you want.
Convert Tidal music to LG TV-supported formats, like MP3, WAV, FLAC, etc.
Retain all ID3 tags and original music quality to get better listening experience
How to Play Tidal Music on LG Smart TV
Step 1 Download and Launch AudKeep Tidal Music Converter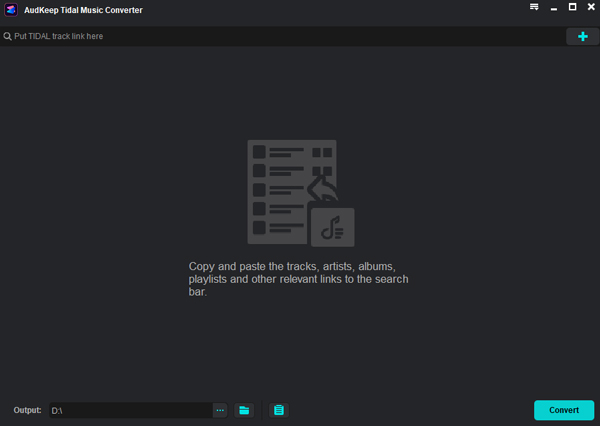 The first thing that you need to do is download AudKeep Tidal Music Converter by visiting the official website. Once it is downloaded, you will have to install it. Finally, launch the converter on your computer. You will be asked to sign up for your Tidal account and AudKeep account. Use the login credentials and sign in.
Step 2 Customize Tidal Audio Parameters for LG Smart TV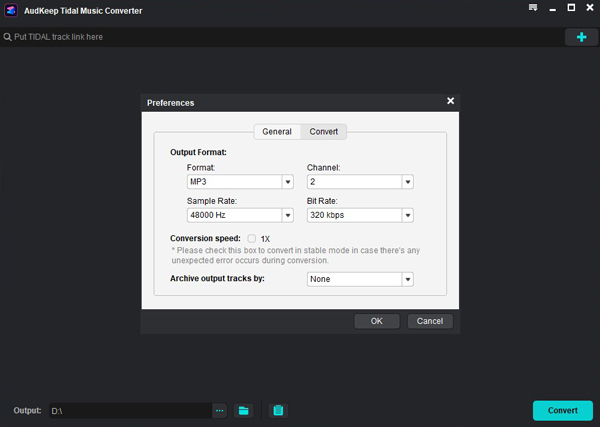 Now, go to the Preference option and choose an audio format. The tool will show you the available audio format. Pick one that your LG TV supports. After that, you need to customize other audio parameters, such as bit rate, audio codec, and sample rate to get a better listening experience on LG smart TV.
Step 3 Add Tidal Songs to Play on LG Smart TV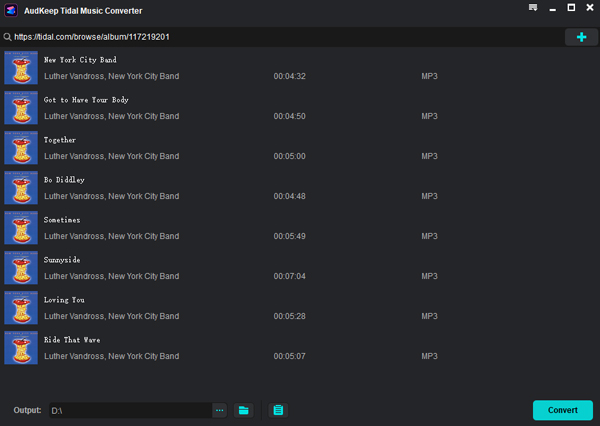 AudKeep Tidal Music Converter has an in-built Tidal application. Launch it and browse through the Tidal songs. Then, pick the song that you want to play on LG Smart TV and click on the + icon. It will automatically load all Tidal songs for conversion.
Step 4 Convert and Download Tidal Songs to LG TV-supported Files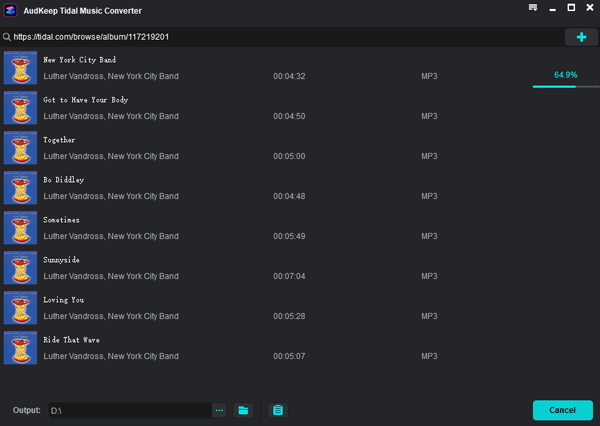 For the last step, you need to click on the Convert option. Once done, you can go to the Converted tab to find the converted Tidal music downloads. The songs will be saved in the local folder that you have earlier chosen.
Step 4 Convert and Download Tidal Songs to LG TV-supported Files
Take a USB drive and transfer the recently converted and downloaded Tidal songs to it. Now, insert the USB drive into the LG TV and start playing Tidal songs on LG TV via the USB port.
---
Part 3. In Conclusion
Tidal app for LG TVallows you to play Tidal songs directly. Just ensure that the LG Smart TV lets you download the Tidal app. If the Tidal app is not compatible, you can get AudKeep Tidal Music Converter for your Windows and Mac computer. This one of the best music converters can download Tidal songs efficiently. And by following the steps that we have shared you can play the songs on your LG TV without Premium.