The options available for users to listen to music online are tremendous. The streaming service providers offer various services to the listeners by offering free-trial periods, premium services, and Hi-Fi services. However, all these services have one thing in common – no option to download the songs.
Any device with an Internet connection helps individuals listen to their favorite music anytime and anywhere. There are many platforms from which listeners can choose to listen to their favorite music. However, finding the appropriate streaming service is often a tedious task.
Today, we are presenting you with the solution to choose between Tidal and Rhapsody. The comparison of Tidal vs Rhapsody will give you all the details necessary to select the best platform as per your listening requirements. Continue to study all the details to make an informed decision.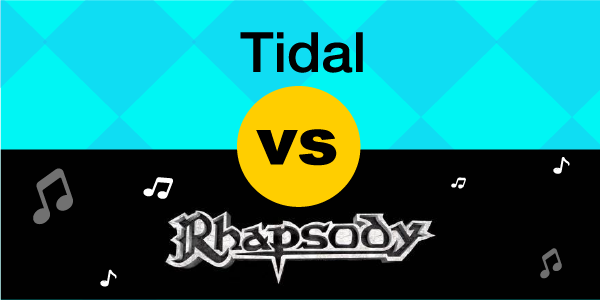 ---
Part 1. Tidal vs Rhapsody: Music Library
Rhapsody vs Tidal provides greater insight into the features that require attention. The first one on the list is the music library of the platforms. A good collection helps any platform to attract listeners.
Tidal has over 70 million songs and over seven million songs in Hi-Fi quality that requires a premium subscription. However, it is the content collection that makes it unique – old and new.
On the contrary, Rhapsody has over 40 million songs with a good collection of songs. Moreover, one can find both new and old songs at the search of a click.
---
Part 2. Rhapsody vs Tidal: Sound Quality
Sound quality is of utmost importance while streaming music over the Internet. However, each device is unique, and the quality they deliver changes. Therefore, an online platform should alter the quality based on the device the listener is listening to for a better listening experience.
Rhapsody vs Tidal sound quality makes quite the difference for an individual to choose the best online music streaming service. Tidal offers over seven million songs in Hi-Fi or high-fidelity quality suitable for audiophiles and those who opted for the "Premium" service. The sound quality does well depending on the data at 320kbps in AAC format. Likewise, Hi-Fi membership provides access to FLAC files at 1411kbps / 44.1 kHz at 16-bit.
Coming to Rhapsody, the following are the quality options that it provides to the listeners: 256kbps for MP3 for purchased tracks, 192kbps in MP3 for streaming on home audio devices, 128 kbps in AAC for streaming through PC using the Rhapsody software, 64kbps in AAC and 192kbps in AAC for streaming or downloading on Android devices, and 64kbps for iOS devices.
---
Part 3. Tidal vs Rhapsody: Price Plans
Tidal vs Rhapsody quality varies according to the plan selected by a user. Tidal ensured that it covered every individual, right from a student to an elder to an audiophile, with its plans. The Tidal Premium vs Tidal HiFi costs $14.99 and $29.99 respectively. Tidal also offers a plan for students at reduced prices. It costs $4.99 for Premium and $9.99 for Hi-Fi when a student registers with Tidal with their college/university email. There is also a 50% reduction in the plan pricing for military personnel and first responders.
Rhapsody offers a 15 – 30 day trial period for first-time users. After the period ends, selecting one of the two plans is essential to continue listening to music. Rhapsody offers unRadio at $4.99 per month with ad-free and unlimited skip features on any device. In addition, you can opt for the Premier for $9.99, which allows you to opt for add-ons.
---
Part 4. Tidal vs Rhapsody: User Interface
Rhapsody vs Tidal allows a depth of technical specifications that one needs to make a commanding decision while choosing between the two online services. What makes a difference with any online music platform is its user interface.
Rhapsody made significant changes to its user interface, including its appearance when viewed on a tablet or a smartphone. Rhapsody introduced the "Replay" feature, called Beta, which appears only for songs that the listener has continuously played. Based on the listening experience, the button appears accordingly for different songs. The other additions are swipe to skip, a refurbished home screen, full-screen album art, and a menu that a listener can access from anywhere within the application.
Tidal is ahead when we speak about the user interface. It is simple to access any song, genre, artist, album, and language from the home screen. The curated playlist it creates based on the listening experience is an excellent move. Additionally, the master-quality audio mode will bring smiles to audiophiles' faces. The web and device applications share a black theme design with a stationary sidebar containing all the important sections.
---
Part 5. Rhapsody vs Tidal: Availability and Compatibility
Rhapsody vs Tidal has an interesting comparison in all the crucial segments. The comparison covered here will give better choices to listeners. It will help them pick the right plan that keeps them entertained by listening to their favorite music anytime and anywhere. The following is the table that shows the availability and compatibility of Tidal and Rhapsody:
| | | |
| --- | --- | --- |
| | Tidal | Rhapsody |
| Microsoft Windows | Yes | Yes |
| Mac | Yes | No |
| Android | Yes | Yes |
| iOS | Yes | Yes |
| Apple TV | Yes | Yes |
| Roku | Yes | Yes |
| CarPlay | Yes | Yes |
| Amazon Fire TV | Yes | Yes |
How to Download Tidal Music and Play on Any Device – Recommended Tool
Both Tidal and Rhapsody require subscriptions to listen to music on high-speed Internet. However, even if you have a subscription, you cannot extract or own them because the songs have protection. Additionally, both the music streaming providers store the music in their application's cache. Therefore, even without the Internet, you need music applications to listen to music.
Rhapsody vs Tidal comparison provided better insight into both applications. However, with the limitations and pricing for their plans, they may not be the appropriate choice for everyone. For those who want to listen to Tidal music offline, the music downloads on Tidal will not be available when the subscription plan expired.
A better way to listen to music from Tidal anytime and anywhere, is by using AudKeep Tidal Music Converter. The converter is an excellent tool to download and convert Tidal music and play them on any device without the need for the Internet and the application.
AudKeep Tidal Music Converter downloads and converts Tidal content without losing high quality in MP3, FLAC, AAC, WAV, M4A, etc. Additionally, the converter allows customization of the Tidal parameters. Therefore, one can modify the bitrate and sample rate along with the audio codec. It enables you to convert at 5x speed without hampering the original audio quality and retains the ID3 tags for easy archiving of the songs.
How to Use AudKeep Tidal Music Converter to Download Tidal as Common Audio Files
Before continuing with the steps described below, ensure that you have installed the AudKeep Tidal Music Converter and registered the product. Although the converter is available as a free trial, it converts only the starting one minute of each song added to the software.
Step 1 Change the parameters of Tidal music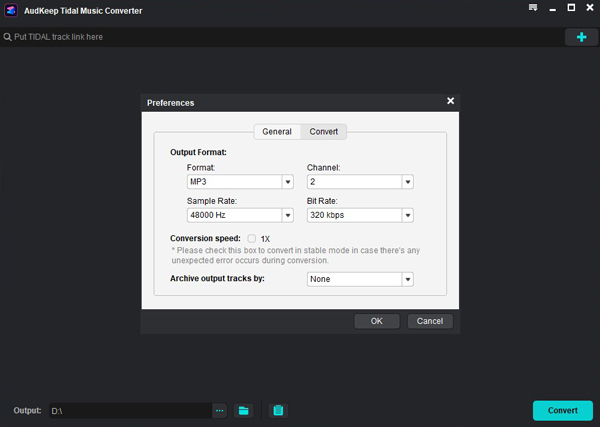 After launching the software, click the menu bar to select the "Preferences" feature. The AudKeep Tidal Music Converter will open a window where you can choose the "Advanced" tab. Under this tab, you can set formats of Tidal to FLAC, MP3, AAC, etc., and make changes to the audio codec, sample rate, and bit rate. Alternatively, you can archive the converted songs either by artist or album.
Step 2 Add Tidal audio tracks to AudKeep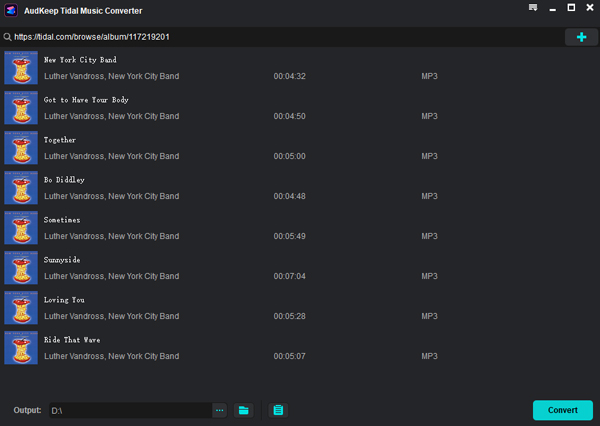 The search bar on the software's home screen helps you search for audio tracks from Tidal without installing the Tidal application. Once you find an album or playlist, highlight it to see a "+" sign. You can add that playlist or album to AudKeep by clicking the "+" symbol.
Step 3 Download and convert Tidal audio tracks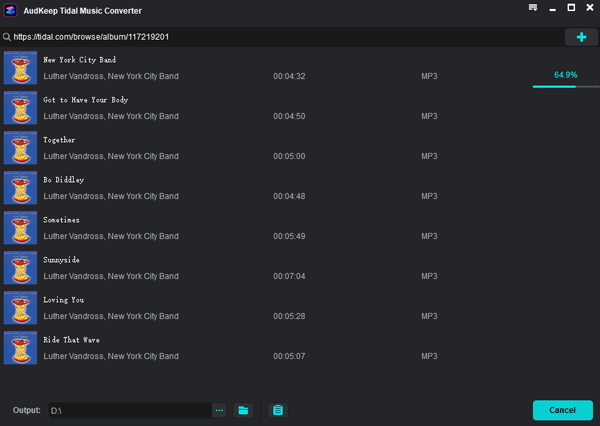 Clicking the "Convert" tab starts the conversion process. First, AudKeep Tidal Music Converter will download the list and convert it into the parameters you set in Step 1. The converter keeps the original quality of the audio, ID3 tags, and performs the conversion at 5x speeds for quick turnaround. Then you can just find your Tidal files on the "Converted" icon.
---
Part 6. Conclusion
About Tidal vs Rhapsody, both of them have their pros and cons. And this comparison about Rhapsody vs Tidal is designed to give you insight on how to choose between different music streaming services.
Rhapsody has a more affordable price in the subscription plans. While Tidal did a good job on the music quality that provides a more excellent listening music experience and a more bountiful music library.
To make a better choice between Rhapsody and Tidal, take a look at the comparison table below that has listed the important aspects you should know before.
Rhapsody
Tidal
Number of Songs
> 40 million
> 70 million
HD Audio Quality
Good: 64 kbps
Better: 192 kbps
Best: 320 kbps
HiFi for up to 1411kbps;
Master from 2304 – 9216kbps
Android App
Yes
Yes
iOS App
Yes
Yes
Desktop App (Windows and Mac)
Only Windows
Yes
Web Client
Yes
Yes
Alexa Compatible
Yes
Yes
Google Assistant Compatible
Yes
Yes
Music Videos
No
Yes
Lyrics
No
Yes
Individual Plan
$9.99/month
$9.99/month for Premium;
$19.99/month for HiFi
Student Plan
No
$4.99/month for Premium;
$9.99/month for HiFi
Military Plan
No
$5.99/month for Premium;
$11.99/month for HiFi
First Responder Plan
No
$5.99/month for Premium;
$11.99/month for HiFi
Family Plan
$14.99/month
$14.99/month for Premium;
$29.99/month for HiFi