Tidal, an amazing subscription-based podcast, music and video streaming service, is created in 2014 by Norwegian public company Aspiro, and blends lossless audio with high-definition music videos. Simultaneously, over 90 million songs are available to stream on iTunes, which was released earlier. There are a lot of people that love both music streaming services. As a result, you may have difficulty deciding which one is best for you between Tidal vs iTunes. But do not fear!
This article is a comparison of iTunes vs Tidal. Below we have compared the music library, sound quality, prices and subscriptions, and compatibility of these two music streaming services to assist you in making a choice. So, let's get going!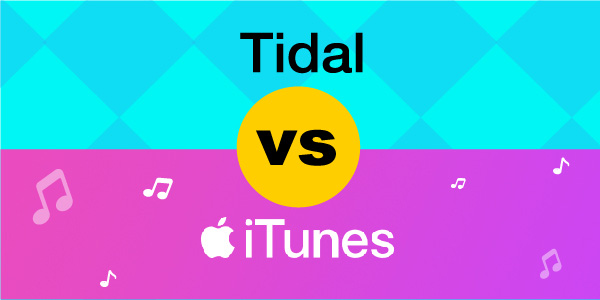 ---
Part 1. Tidal vs iTunes: Music Library
Tidal and iTunes both provide access to a variety of musical selections. Both services have more than 60 million songs in their catalogs, with significant overlap.
There are still certain unique privileges that are only available for a short time, but for the most part, all services provide the same music.
With a Tidal HiFi membership, you may listen to any of these 60 million tracks in Hi-Fi quality, and you also have access to over 200,000 songs in Masters Quality with this subscription tier.
---
Part 2. iTunes vs Tidal Sound Quality
The biggest noticeable distinction between these two music streaming services is the quality of the audio. Since Tidal is committed to offering high-end music quality, it is clear that it has emerged victorious in the competition for audio quality.
Tidal offers two separate subscription tiers, Premium and HiFi, each with a distinct audio quality. Tidal Premium customers could listen to music at bit rates of up to 320 kbps, a quality valued by the vast majority of consumers.
Tidal offers its HiFi members the opportunity to experience music in CD-quality 1411 kbps FLAC, with MQA (Master Quality Assured) encoding, by subscribing to the company's Tidal HiFi plan. This plan enables users to listen to music in a Tidal music format of MQA-encoded FLAC.
The performance of Tidal HiFi is significantly improved when the appropriate music is played using high-quality, hi-resolution audio headphones or when the music is streamed to a higher-quality music system. The music has a livelier, more polished, and authentic tone.
On the flipside, iTunes's music is delivered via an AAC codec capped at 256 kbps, yet the service's audio quality is comparable to that of Tidal Premium's 320 kbps offering.
---
Part 3. Tidal vs iTunes: Prices and Subscriptions
Tidal offers two types of subscriptions to its users: the $9.99/month Premium plan and the $19.99/month HiFi plan. Tidal, like iTunes, offers family subscriptions for $14.99 per month for the Family Premium plan and $29.99 per month for the HiFi plan for those who want to listen with their whole Family. (See more on Tidal Premium vs HiFi)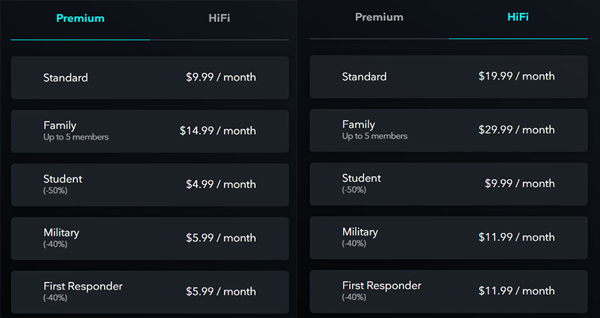 Alternatively, iTunes only offers one subscription for subscribers, which costs $9.99 per month for individuals, $14.99 per month for Family subscribers with up to six Premium accounts, and $4.99 per month for students (College students only).
Your iCould must be shared with your Family to use the Family subscription. If you're an Apple user, you may be able to save money by purchasing the Apple One bundle with other Apple subscriptions.
Compared to iTunes, Tidal offers a 50 percent discount to students and a 40 percent discount to members of the military and first responders of the United States.
---
Part 4. iTunes vs Tidal: Compatibility
The Tidal music app and online player are available to all subscribers. More than 65 different types of audio systems support Tidal, as do:
smart TVs & streamers (Apple TV, Fire TV, Chromecast, etc.)
cars (Mercedes-Benz, Lincoln and Volkswagen support Apple CarPlay and Android Auto)
mobile devices (iOS and Android)
Amazon Alexa, the Samsung Gear
desktop & laptop computers & laptops (Windows and Mac OS)
Subscribers to iTunes may only use the app or iTunes to access the service. iTunes is accessible on iOS (iPadOS) devices, Android OS, and macOS Catalina or later. For Windows users, iTunes must be installed to listen to iTunes.
---
Part 5. Tidal vs iTunes: Offline Playback
Both these platforms enable users to download music for offline listening to listen to music without an internet connection. Tidal allows its subscribed members to download an unlimited number of songs to five offline devices. While you are permitted to download up to 100,000 songs to an unlimited number of devices, provided each device is logged into the same Apple ID. And the songs purchased from iTunes can be played offline as you like.
However, for Tidal users, if you don't have a premium account on Tidal, we have an even better solution for the best offline music playback. The songs you download from Tidal can be streamed on any device for free and with no limit.
AudKeep Tidal Music Converter is remarkable software that can download music from Tidal and manage the music it contains. It features everything necessary for downloading and transcoding music from Tidal, including playlists and albums so that they can be played offline anywhere. This Tidal downloader is compatible with both Mac and Windows operating systems, and it offers users a choice between six different output formats, including MP3, FLAC, WAV, and many more.
It has a conversion mechanism that is quick and simple to use. You can convert your Tidal tracks at a speed up to 5X and transfer Tidal music downloads onto the audio format supported by your preferred device. Your music on Tidal will also keep its clean and organized appearance, thanks to the careful preservation of ID3 tags.
How to Download and Play Tidal Playlists Offline
Step 1 Personalize Tidal audio settings for use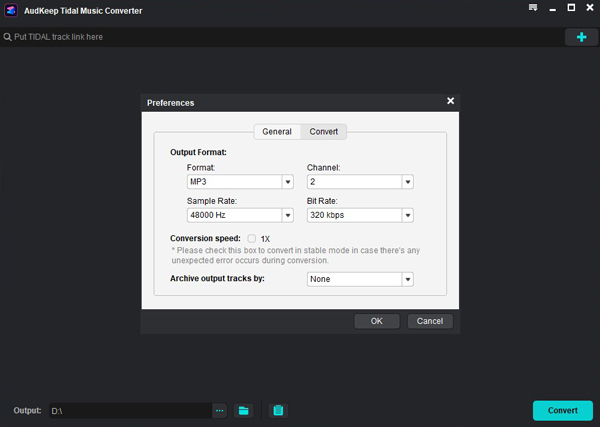 Launch the AudKeep Tidal Music Converter application, depending on whether you use Windows or a Mac. Navigate to the Preferences tab on the menu bar and click on the Convert button. From where you can choose your desired output audio format of Tidal to FLAC, WAV, AAC, MP3, etc. You can also customize other audio parameters such as bit rate, codec, sample rate, and more.
Step 2 Choose and add Tidal songs to AudKeep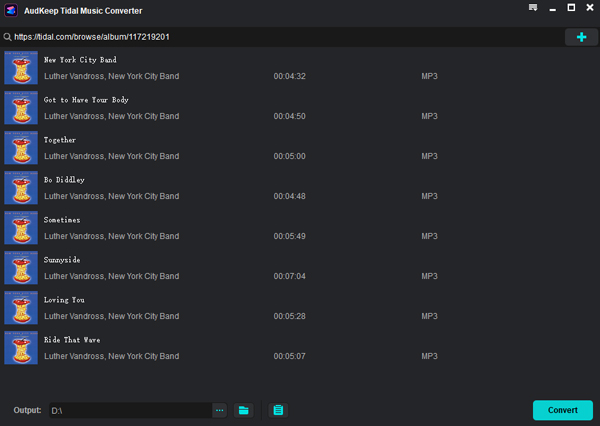 Once all the settings are done, save them by tapping OK. Open the Tidal software on your PC to add tracks to AudKeep. Now tap on the Search bar and search for your Tidal HiFi or Master playlists and albums. Click on the more option to copy the link to the playlist and paste it to the AudKeep Tidal downloader. Choose the + option on the right of the search bar to confirm the uploading.
Step 3 Get Tidal albums and playlists downloaded for offline playback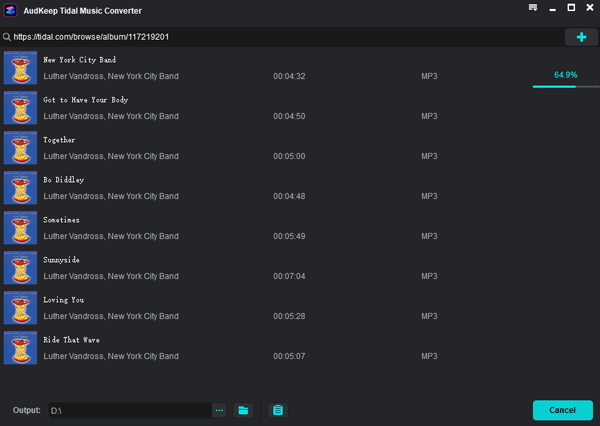 At last, hit the Convert button, and the AudKeep software will start the Tidal conversion. Songs will take a few minutes to download but won't take long because the converter is downloading songs at 5X speed. When the conversion process completes, head to the Converted tab at the bottom of the app, and then locate and play Tidal music offline.
---
Part 6. Conclusion
So, Tidal or iTunes? Tidal, with its master-quality audio, is a popular choice among audiophiles. On the other hand, iTunes provides a far larger selection of music, as well as features like voice control and custom playlists. If you're considering the Tidal vs iTunes quality, Tidal is a more preferable option for you. And for the music library, iTunes is better. You can choose one of them after weighing up the pros and cons of them.
Moreover, if you want to listen to the Tidal HiFi music offline on your players or other devices, it's suggested to have the amazing AudKeep Tidal Music Converter. With it, you can now enjoy high-fidelity Tidal songs anytime anywhere.