HiFi audio is a term that comes from the abbreviation of high-fidelity, which in turn comes from the word "Hi", meaning high, and "Fi", meaning fidelity. The term implies listening to music or audio at a higher quality than standard. Generally, HiFi audio is recorded or produced at a standard with better sound quality than normal levels of fidelity.
There are two main types of music streaming services: lossless and HiFi. While they both offer high-quality audio, the difference lies in their storage formats. Lossless is a higher-quality sound that is compressed to a smaller size. And when considering high-quality music, Apple Music Lossless and Tidal HiFi may come up to your mind. Tidal HiFi is lossless and offers CD-quality sound, while Apple Music Lossless is compressed but offers CD-quality sound as well.
How can you choose between Apple Music Lossless vs Tidal? Which is better in audio quality and other factors? Expect sound quality, is there any difference between them? In this article, we will study and make a comparison of these two music streaming services, involving their sound quality, music discovery, prices, etc.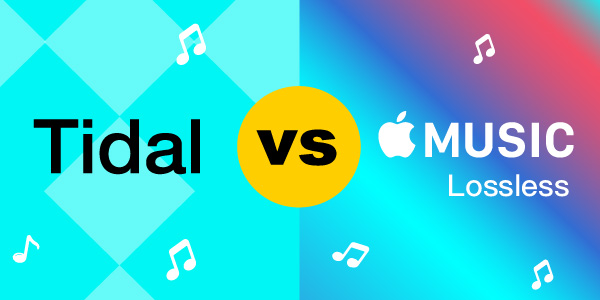 ---
Part 1. Apple Music Lossless vs Tidal HiFi: Music Discovery
In the battle of Tidal vs Apple Music Lossless, it is hard to look for a winner. For instance, the music discovery on both platforms is comparable. When you sign up with Apple Music, you must select a few artists, making it easy for the application to provide content based on your listening experience. You can search a song by year, genre, or artist or choose to play a playlist of your liking.
Tidal fails in this segment because it does not have the system to populate content based on your listening experience. However, it slowly displays content based on what you are adding to your collection. Tidal has over 57 million songs in the database. You can build a massive music collection when you sign up with a subscription. Additional to the audio, Tidal has over 200,000 high-quality music videos.
---
Part 2. Apple Music Lossless vs Tidal HiFi: Sound Quality
Tidal HiFi vs Apple Music Lossless has immense comparisons in the sound quality segment. From June 2021, Apple began supporting both Lossless Audio and Spatial Audio at no additional cost to its subscribers. The standard quality starts at CD quality, which is 16-bit at 44.1 kHz and goes to 24-bit at 48 kHz. The Lossless tier streams music at 192 kHz in 24-bit and requires an external digital-to-analog converter.
Tidal subscribers can choose between high-quality and standard streaming based on the requirements. Additionally, Tidal partnered with MQA to give master-quality studio recording, which it says is an audio experience that an artist intends. The HiFi tier streams at 16-bit 44.1 kHz, while the MQA is at 24-bit 96 kHz.
---
Part 3. Tidal HiFi vs Apple Music Lossless: Price
The pricing for the Apple Music and Tidal HiFi versions is different. Apple Music charges $9.99 for the individual monthly plan after the 3-month trial period. The student plan costs $4.99 and requires educational institution credentials.
Tidal offers a 30-day free trial, after which it charges a $9.99 monthly subscription fee for the premium service and $19.99 for HiFi. The family plan costs $14.99 for premium service and $29.99 for the HiFi plan. However, the cost comes to $5.99 for the Tidal Premium plan and $11.99 for HiFi for active military personnel.
More details: What is Tidal Premium vs HiFi vs Master
So, both music services offer different plans. And for the prices of Tidal Lossless vs Apple Music, you must consider your budget first and then the sound quality you require if you are considering subscribing to either service.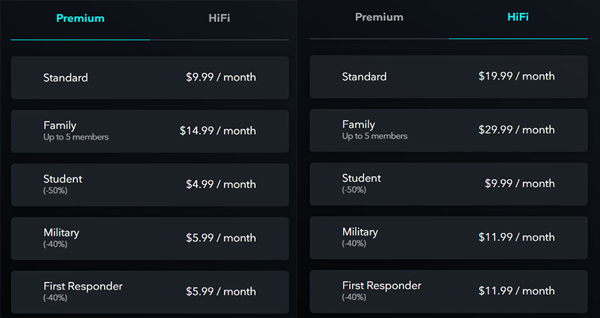 ---
Part 4. Apple Music Lossless vs Tidal HiFi: Discovery Features
Discovery features are a way for streaming services to compete and provide better value to their users. For example, Apple Music Lossless vs Tidal HiFi discovery features helps subscribers listen to new music from around the world.
Apple Music places the content of non-personalized in separate tabs. The Browse tab allows the users to search for Apple-made TV and films, new artists, playlists, and albums. The radio tab contains a curated list of the songs based on the listening habits along with Beats 1 radio station. The station is available 24/7 and is crucial to the platform's Discovery feature.
The Discovery feature of Tidal is the home screen. You will notice all the new arrivals, trending songs, videos, and top carousel. You can also check the albums and their popularity and features, podcasts, music shows, and concerts. The Home also features Tidal Rising, which helps you find lesser-known artists from around the globe.
---
Part 5. Tidal HiFi vs Apple Music Lossless: Compatible Devices
Compatible devices to play lossless music are fewer. In this comparison segment, Apple Lossless Music vs Tidal is on the same boat. You need a subscription and a device that promotes HiFi and Lossless audio to enjoy the quality of the content from both platforms. But you can only listen to HiFi and Lossless music online through the Internet. The downloaded music from Tidal and Apple Music needs to be played on the device it stored the files.
Suppose you are part of the group that wants to enjoy HiFi audio offline on any other device with no limit. In that case, AudKeep Tidal Music Converter comes to the rescue.
AudKeep Tidal Music Converter is an application through which you can download Tidal HiFi music to your computer and then transfer it to any device. With AudKeep, you can download all the HiFi or Master songs, playlists, and albums into MP3, FLAC, WAV, AAC, and other formats without hampering the original quality. Using the audio output format it provides, therefore, you can play the converted content on any portable device.
AudKeep Tidal Music Converter uses advanced technology that helps it to convert Tidal content added to it at 5X speeds without losing the quality of the original audio files. Therefore, you can use this option for batch conversion, where you can add multiple songs. And if you're using the Mac computer, the conversion speed is 1X speed which is more stable.
It further allows arranging the converted Tidal audio files by album or artist. It is helpful because you will be growing the music library, which makes it difficult to search for a file. With this feature, you will ease searching for a track, and management becomes simple.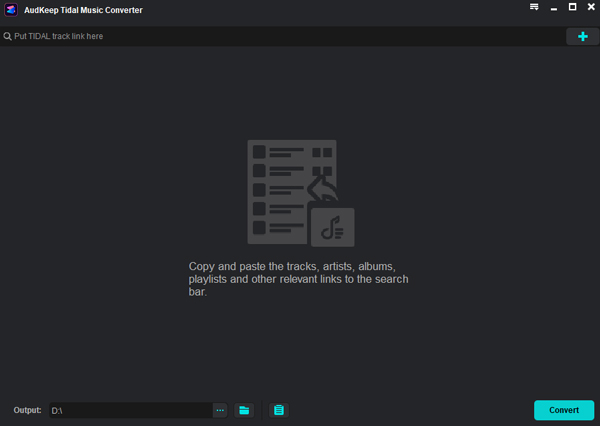 ---
Part 6. Apple Music Lossless vs Tidal HiFi: Which Is the Best
Apple Lossless Music
Tidal HiFi
Standard Quality
256kbps
160kbps
HiFi Quality
Lossless (24-bit/48kHz);
Hi-Res Lossless (24-bit/192kHz)
1411kbps or 16-Bit/44.1 kHz;
9216 kbps or 24-Bit/192 kHz
Free Trial
3 months
30 days
Individual Plan
$9.99/month
$9.99/month (Premium) / $19.99/month (HiFi)
Student Plan
$4.99/month
$4.99/month (Premium) / $9.99/month (HiFi)
Military Plan
N/A
$5.99/month (Premium) / $11.99/month (HiFi)
First Responder Plan
N/A
$5.99/month (Premium) / $11.99/month (HiFi)
Family Plan
$14.99/month
$14.99/month (Premium) / $29.99/month (HiFi)
Annual Plan
$99.99/year
N/A
Android App
Yes
Yes
iOS App
Yes
Yes
Desktop App
Yes
Yes
Web Client
Yes
Yes
Podcast Support
No
Yes
Device Limit
1 (6 under Family plan)
Offline for 5 devices
---
Part 7. Conclusion
Apple Music Lossless vs Tidal comparison provided a no real winner. Each of the streaming platforms is different and caters to diverse audiences. For instance, Apple Music is for everybody, while Tidal is for audiophiles. You should keep your own demands clear and choose one service you prefer with the aid of this comparison.
If you choose the Tidal app to enjoy the music and want to play Tidal music offline, AudKeep Tidal Music Converter comes into play when you want HiFi content. You can download the HiFi songs or Master music you like, convert them into the audio format without losing the original quality and then listen to them on the device anytime. Try it today to see how it performs and meets your needs!