Incredible sound quality, massive library, and affordable plans are the prime factors listeners look for when choosing a music streaming service provider. Music lovers deserve nothing short of the best online music experience. When you browse for the best music streaming services, there are so many options to leave you in confusion. Some leading players include Spotify, Tidal, Pandora, Amazon Music, Apple Music, etc.
With subscription plans, you can get access to several premium features. At this point, you need to do some research to avoid wasting the hard-earned money. Pandora and Tidal are two prime platforms offering a high-quality music streaming experience. But there are some differences.
Before you pick and pay for a monthly plan, it is vital to learn everything about both providers. We have used both platforms for a long time. Read this article on Tidal vs Pandora comparison to determine the ins and outs of both music streaming services.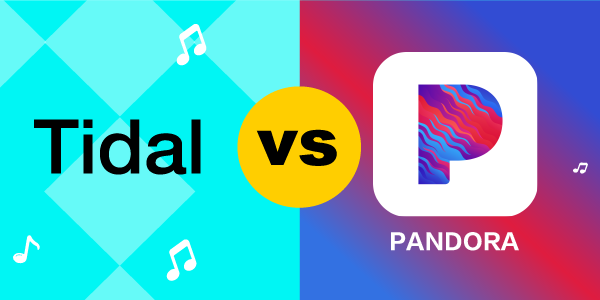 ---
Part 1. Tidal vs Pandora: Music Library
There is a huge difference in library volume on Pandora and Tidal.
According to the official website, Tidal features over 80 million tracks and 3,500,000 video content. While Pandora is available in the US, New Zealand, and Australia. It is still moving ahead with a collection of around 40 million songs (as per Wikipedia records).
The choice of platform in terms of library size depends on the artists and genres of music you like to listen to.
---
Part 2. Pandora vs Tidal: Music Discovery
Filtering tracks from a vast database can be tricky unless there is a user-friendly dashboard. Pandora does a splendid job of suggesting songs, artists, and albums. Their AI system follows a cutting-edge recommendation algorithm based on the users' search history.
Tidal is lagging behind in music discovery. It implements fewer indicators to come up with track recommendations. The suggestions are mainly based on trending stuff, most played songs, etc.
---
Part 3. Tidal vs Pandora Sound Quality
Subscribers on Tidal are at an advantage in terms of sound quality. Users on the Premium Pandora packs can browse music at 192kbps AAC. On the Tidal HiFi plan, you can enjoy Tidal music format up to 1411kbps FLAC. This makes a huge difference when you are playing tracks on mobile devices.
After comparing the Tidal vs Pandora sound quality, it is clear that you can enjoy the best audio experience on Tidal HiFi and HiFi Plus plans.
---
Part 4. Pandora vs Tidal: Prices and Subscriptions
Pandora has a free plan running on the official website with some limited features and standard audio quality.
The paid plans start at $4.99/month on Pandora, but the sound quality is 192kbps AAC. Pandora Premium plan ($9.99/month) offers a music download feature for offline listening. There is a family plan on Pandora, costing $14.99/month for up to 6 users.
Tidal has two paid plans: Tidal Premium vs HiFi. The Tidal HiFi starts at $9.99/month and HiFi Plus at $19.99/month. While on the free plan, you don't need to sign up with a credit card.
Monthly Price
Tidal
Pandora
Free Trial
30 days
30 days
Standard Plan
$9.99 for HiFi;
$19.99 for HiFi Plus
$4.99 for Plus;
$9.99 for premium
Family Plan
$14.99for HiFi;
$29.99 for HiFi Plus
$14.99
Student Plan
$4.99 for HiFi;
$9.99 for HiFi Plus
$4.99
Military Plan
$5.99 for HiFi;
$11.99 for HiFi Plus
$7.99
Community Heroes
$5.99 for HiFi;
$11.99 for HiFi Plus
None
So, when comparing pricing caps on Tidal vs Pandora Premium, Tidal is undoubtedly a more expensive music streaming provider than Pandora. But for users who are high-quality music lovers, it is worth every cent for the unbeatable sound quality, library size, user interface, and artist payout policies, to name a few.
---
Part 5. Tidal vs Pandora: Compatible Platforms
Since Pandora Premium vs Tidal pricing plans clearly show that Tidal users have to spend a few dollars more to get top-quality music streaming features. Before you subscribe, it is also vital to see if it is available for your preferred device, OS, region, etc. Choosing Tidal seems convenient for non-US users. The services are available in 50+ countries worldwide. Pandora targets the US market alongside availability in Australia and New Zealand.
Both providers have mentioned a list of compatible platforms offering excellent streaming experiences on iOS and Android devices. Pandora is also available on Windows phones, Apple TV, Amazon Echo, and major web browsers. Tidal HiFi features only on Chrome. Apple customers can also access Tidal on Mac OS devices.
Download Tidal Music on Any Device via AudKeep Tidal Music Converter
So it seems that Tidal and Pandora each have their own characteristics. But for music lovers, perhaps the Tidal music service with high-quality music and a large music library is the best choice. However, the high-quality music of Tidal and the offline downloads feature is only available to its subscribers. If you need to download Tidal music for free and save it permanently on your computer, AudKeep Tidal Music Converter will help you convert it and stream music on any device you like.
The AudKeep program will convert all the songs from the Tidal music platform to audio formats compatible with the device you want to play on. What's more, it downloads the songs with its original music quality at 5X speed. It won't do any damage to the music while converting. And the most important point is that it will preserve all the metadata and ID3 tags for the Tidal music files so that you can well manage all the files.
Dive to learn how to use AudKeep Tidal Music Converter to download songs from Tidal in a few easy steps.
AudKeep Tidal Music Converter is available for Windows and Mac systems. Choose the preferred OS configuration download button to proceed. When you download this music converter software on your computer, it comes with a free version and some elementary features. You can use the free version for a trial to check the sound quality and user interface. It converts only 1 minute of the soundtrack. To download the full track, you must subscribe to a premium plan.
Step 1 Open and register AudKeep Tidal Music Converter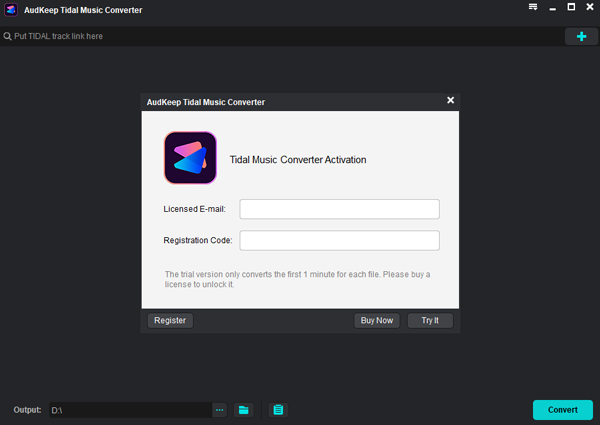 When you install and open the AudKeep Tidal Music Converter tool on your computer, it opens the Tidal Web Player homepage. Enter your Tidal log-in details to open your account on AudKeep.
There is a hidden menu on the upper right corner of the built-in Tidal homepage. Click the menu bar and choose 'Register' from the available options. You must subscribe to a paid plan to register the AudKeep account.
On the registration window, enter the email address (it must be the same as used when purchasing your AudKeep license). Enter the AudKeep registration code. After purchasing the license, you should receive the registration code at the licensed email address. It takes an hour to receive the code.
If you do not receive the registration code within an hour, contact AudKeep Support Center.
Step 2 Customize audio output parameters for Tidal songs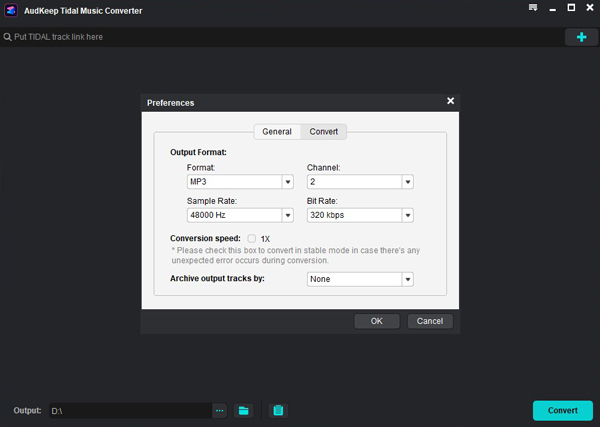 To download tracks from Tidal to your computer, go to the menu bar on the top. From the available options on the menu, select 'Preferences', and on the pop-up window, choose 'Advanced' where you can set the 'Output Profile' parameters: format, channel, sample rate, and bit rate. Moreover, mention the 'Output Path' where you want to download the files. Choose the Artist/Album name from the 'Archive Output Tracks by' dropdown list, when all is done, click 'OK' to save the output audio preferences.
Step 3 Import playlists from Tidal to AudKeep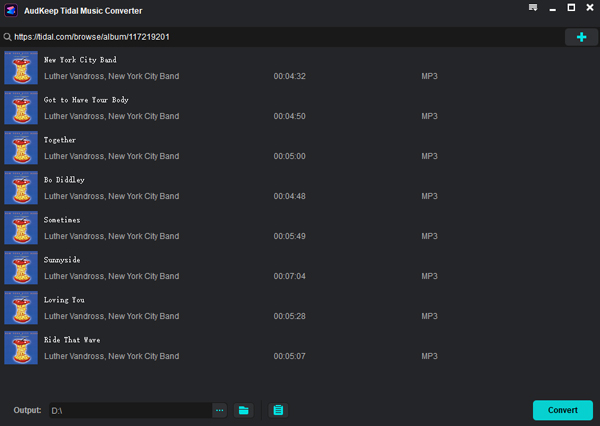 Go to the Tidal web page, and you then select the Tidal playlist or song you'd like to download offline. Then, notice that there is a '+' icon at the bottom right corner, click on the blue (+) icon and the playlist from Tidal will be uploaded to the AudKeep interface.
Step 4 Download Tidal tracks on your computer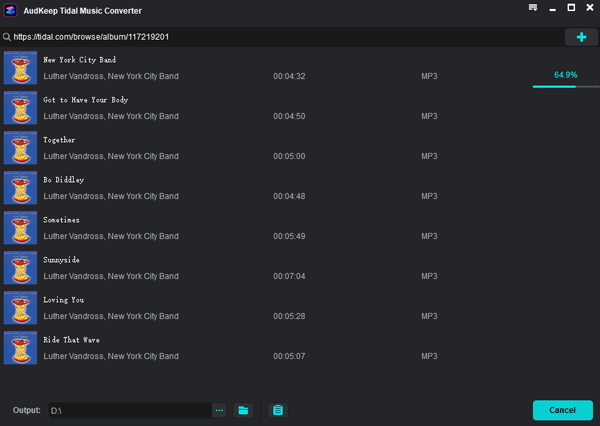 Click on the 'Convert' tab in the conversion window to download music from Tidal on your computer. It will start the conversion at a 5X faster speed. Once the downloading is complete, you will find the converted songs at the History button. And you'll find all of them are saved as the preferences you set before.
---
Part 6. Final Thoughts
Still, stuck on Pandora vs Tidal? Pandora is primarily made for users based in the US who mostly listen to tracks from American artists and albums. There is a massive collection on Pandora to keep you hooked for long. But if you love to explore various genres of music and occasionally watch music videos online, go for Tidal. We listed out a comparison table about them for you to select one that suits you best.
Pandora
Tidal
Content Volume
40M songs
80M tracks+350K videos
Sound Quality
64kbps AAC,
128kbps AAC,
192kbps AAC
160kbps AAC,
320kbps AAC (premium),
1411kbps FLAC/ALAC (Hi-Fi), 9216kbps Dolby Atmos, Sony 360 Reality Audio (Hi-Fi Plus)
Compatible Platforms
iOS, Android, Windows Phone, and Web
iOS, Mac OS, Android, Windows, and Web (Only Google Chrome- HiFi)
Offline Download
Available
Available