Tidal, the greatest streaming platform on the market that delivers lossless audio quality, may be recognizable only to those with exceptionally high music sound quality needs. Tidal has approximately 70 million ad-free songs in standard and high-fidelity sound quality. If you pay for Tidal Premium, you'll be able to stream songs in normal sound quality, similar to what you'd receive from iTunes or Apple Music. Most consumers, however, are more likely to acquire Tidal HiFi to enjoy lossless CD quality, including the High-Res Master quality.
Unfortunately, regardless of which membership plan you pick, Tidal music can only be played on the Tidal app. Tidal does not allow you to transfer its material to other streaming platforms like iTunes. Although you may download Tidal songs, you will only receive a cache file. As a result, nothing happens when you try to add the Tidal songs you downloaded to your iTunes library. The key to dealing with it is discovering how to get genuine Tidal audio files. Keep reading, and I will walk you through how to download music from Tidal to iTunes.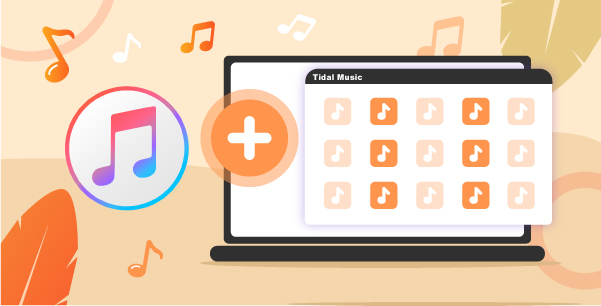 ---
Part 1. Convert Tidal Music to iTunes/Apple Music: Key Tool
To transfer music from Tidal to iTunes, we recommend using AudKeep Tidal Music Converter to convert Tidal music to M4A and other popular formats that are compatible with iTunes. It is the latest professional tool for downloading and converting Tidal songs. It also supports lossless sound quality and ID3 tags, in addition to download and format conversion functions.
If you use Tidal HiFi, you can even exploit this amazing software to download 100% Hi-Res music onto the computer. All music files can then be shared to other music streaming services or devices after they have been converted. Now let us start the journey into the world of using AudKeep Tidal Music Converter to convert Tidal music to iTunes.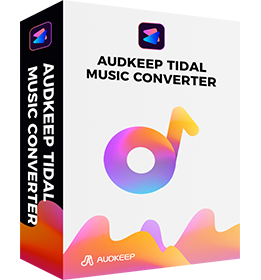 AudKeep Tidal Music Converter for iTunes
Help rip Tidal music to ensure easy offline listening
Converts in batch at 5X faster than other conversion apps
Maintains lossless sound quality and original Tidal music ID3 label
Easy conversion of Tidal music to MP3, FLAC, and M4B
---
Part 2. How to Download Music from Tidal
The following is a step-by-step guide on how to rip music from Tidal. AudKeep Tidal Music Converter is compatible with both Mac and Windows platforms. Please ensure you have the right free trial version installed on your computer.
Step 1 Launch the AudKeep Tidal Music Converter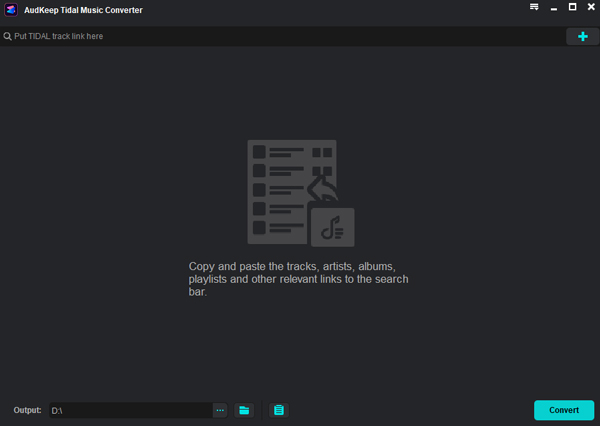 Install the AudKeep Tidal Music Converter on your computer. Then tap the 'Login' option to sign in using your Tidal account. If you don't already have a Tidal account, click 'Sign up'.
Step 2 Configure Tidal output format for iTunes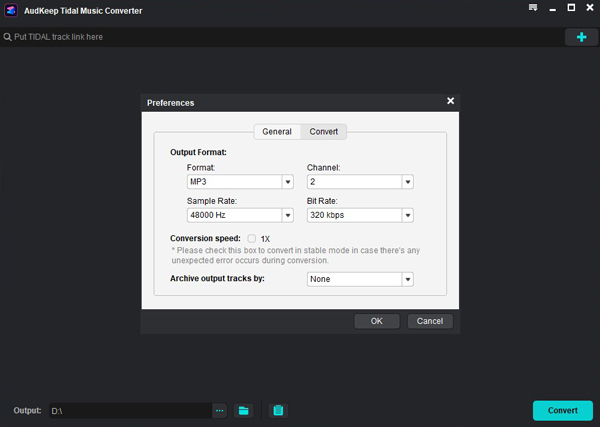 On AudKeep, click the Menu symbol in the top right corner. Then select 'Preferences' from the drop-down menu. It opens a new window. Then select 'Advanced' to begin customizing your Tidal music output format. You may also change the bit rate and other settings while ripping and downloading Tidal music.
Step 3 Add Tidal music to AudKeep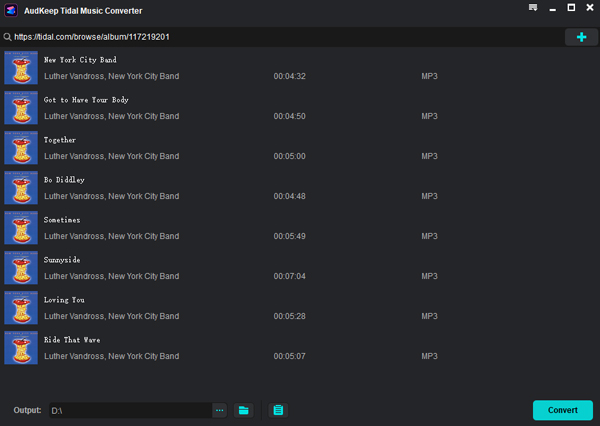 Go to Tidal and search for a playlist you enjoy. After then, a blue button will appear on your right hand. Click on it, then, in a new window on AudKeep, your Tidal playlist will be loaded. You may choose the tracks you wish to convert. After that, click the 'Convert' button.
Step 4 Convert Tidal music for iTunes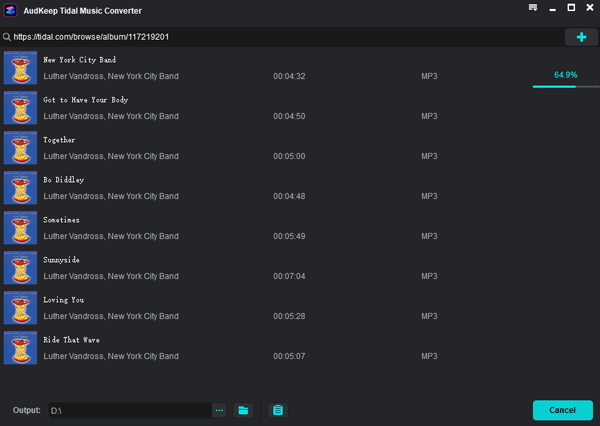 The new Tidal music will now be downloaded and converted to standard audio files. When done, click the "Converted" button to access Tidal music files on your PC to view the converted music.
---
Part 3. How to Download Music from Tidal to iTunes/Apple Music
After getting the converted Tidal music ready, the next thing is to convert Tidal playlist to Apple Music or iTunes. Then, in the sections below, you will learn how to transfer Tidal songs to iTunes in two different methods.
Method 1
Step 1: Open the iTunes app on your computer.
Step 2: Navigate to "menu bar" > "Files". Then select "Add File to Library" / "Add Folder to Library".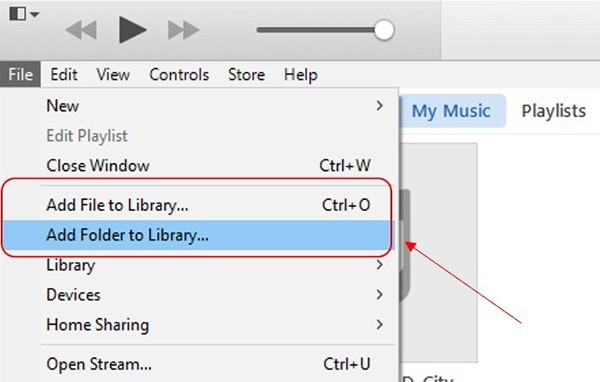 Step 3: Select the Tidal music files you wish to add to iTunes from your local files. Then, to add Tidal songs to iTunes, click the 'Open' button.
Method 2
Step 1: Locate the Tidal tracks that have been converted on your PC.
Step 2: Launch iTunes and drag the Tidal audio files or folder to the main window of iTunes.
---
Learn More: Why Do You Transfer Music from Tidal to iTunes
1. Different Devices
One of the major reasons people export Tidal playlist to iTunes is that they probably use a non-Mac system and an Apple phone or a non-Apple phone and a Mac system. So, after they get songs from Tidal, they tend to transfer them to the Apple product device.
2. Audio Quality
The Apple Music files we stored locally are 256 kbps AAC files, the same format and quality as the tunes we bought from iTunes. At $19.99 a month, Tidal HiFi subscribers get access to lossless music that is not compressed and streams at CD quality (16bit, 44.1kHz FLAC files with a bitrate of 1411kbps). The standard $ 9.99 per month subscription includes 320kbps AAC audio, far better than Apple Music sound.
So, anyone that values great sound will prefer Tidal sounds to iTunes and would always want to convert and move Tidal music to iTunes.
3. Better Recommendations
Although Tidal and iTunes give recommendations to their users based on listening patterns, Tidal goes the extra mile to recommend great sounds that fit your sound device.
At this point, you have access to a greater catalog of songs that you can easily find on Tidal. Thus, making you want to download and transfer to iTunes.
4. Curated Playlists
With Tidal, you can have access to handcrafted playlists from the likes of Beyoncé and Jay Z and some music critics like Future vs. Young Thug.
With these playlists, you get to dive into the world of your favorite artiste, thus making you want to transfer these songs to your iTunes.
5. Exploration
Some people like me that like trying new things may decide to check what it takes and how it feels to enjoy Tidal music on iTunes. People that fall into this category may want to have exploration as the reason to export Tidal playlists to iTunes.
---
Conclusion
You can effortlessly download and convert Tidal music in MP3, AAC, WAV, AIFF, or FLAC format using AudKeep Tidal Music Converter and then transfer it to other music streaming services like iTunes Spotify, Google Play Music, and so on. AudKeep Tidal Music Converter may download HiFi audio from Tidal, allowing you to play lossless music on other devices after converting. Don't be hesitant, try downloading this amazing converter and give it a try!