Despite the predictions of a vinyl revival, streaming is still the most practical and popular method to listen to music. Streaming may sound fantastic, particularly if the provider has lossless and spatial Dolby Atmos audio.
Many music streaming applications spring to mind regarding premium music streaming services. These music services offer a wide range of features and advantages, such as monthly pricing and even compatibility vary greatly.
Today we will compare the two most popular music streaming platforms, Tidal vs YouTube Music.
YouTube Music and Tidal are advancing in multiple directions, making it difficult to compare the two services. Let's look at the important features and see which one you should choose for your future streaming options!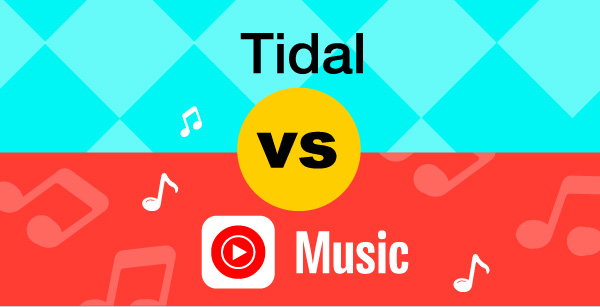 ---
Part 1. What Is Tidal vs What Is YouTube Music
Tidal Music
Tidal is a well-known brand name among those searching for a high-resolution audio experience. Tidal offers an exceptional Hi-Fi streaming service that features studio-quality audio. Tidal's master quality is the finest, and the audio is evident and powerful compared to Qobuz or Deezer.
YouTube Music
YouTube Music effectively replaced Google Play Music when Google announced its decision to discontinue its service. YouTube Music is now the only music streaming software that comes pre-installed on Android. Not only that, but YouTube Music is the only application on Android which can play local music recordings.
---
Part 2. Tidal vs YouTube Music Subscription Plans
Tidal offers a more significant number of subscription alternatives than YouTube Music. The most visible distinction is that Tidal offers cheap plans to military and local heroes. Not just that, it also offers a separate Hi-Fi package, which may be purchased separately. Below are about the YouTube Music Premium, Tidal Premium vs Tidal HiFi plans.
YouTube Music Premium Plans
Individual – the US $9.99
Family – US $14.99
Student – US $4.99
Tidal Plans – Standard Quality
Individual Premium – US $9.99
Family Premium – US $14.99
Student Premium – US $4.99
Military Premium and Community Heroes – First Responder Premium – US $5.99
Tidal Plans – HiFi Quality
Individual Hi-Fi – US $19.99
Family Hi-Fi – the US $29.99
Student Hi-Fi – the US $9.99
Military Hi-Fi and Community Heroes – First Responder Hi-Fi – US $11.99
---
Part 3. Tidal vs YouTube Music Sound Quality
When it comes to YouTube Music vs Tidal sound quality, Tidal comes out on top. Tidal's Hi-Fi strategy isn't the sole reason for the win. Tidal's Premium membership enables you to stream songs at 320kbps (this bit rate corresponds to Spotify's maximum quality).
When it comes to sound quality, Tidal Hi-Fi offers two distinct features. Lossless audio at 1411kbps or 16bit / 44.1kHz is provided by HiFi quality. Master grade audio ranges from High Resolution to Ultra-High Resolution, with bitrates ranging from 9216 Kbps to 24 bit / 192 kHz.
The fact that Tidal has partnered with Master Quality Authenticated (MQA) to produce more authentic sounds from their original studio quality is also a plus. Tidal Hi-Fi supports Dolby Atmos and 360 Reality Audio. Also, remember that the Tidal Hi-Fi package costs an additional USD 10.
On the flip side, the quality of YouTube Music streaming is changing. It streams AAC files at a rate of 256kbps (the file format and bitrate are identical to those used by Apple Music). There's no reason to complain about YouTube Music's sound quality. This way, Tidal is the finest choice for a next-level audio experience.
---
Part 4. Tidal vs YouTube Music Library and Catalog
Although Tidal does not have as much music as YouTube Music, it has a more significant number of tales. When it comes to music videos, both Tidal and YouTube Music offer an extensive archive of them. Both behind-the-scenes feature footage, live performances, conversations, and documentaries.
However, Tidal is more famous for streaming video than YouTube Music. Tidal and YouTube Music both feature exclusive material solely accessible on their platforms. YouTube Music obtains music directly from YouTube, and as a result, YouTube Music provides more videos than Tidal. However, while looking for a song on YouTube Music, we've discovered that it sometimes offers incompatible alternatives.
Tidal offers legitimate interviews, short videos, and docu-series superior to YouTube Music. It also has a unique page for Videos, demonstrating how highly they value their video content.
Moreover, Tidal and YouTube Music both generate customized mixes for you. They've also divided the music into mood, country, and genre categories. Both contain charts as well as fresh release mixes. The distinction between YouTube Music and other streaming services is that YouTube Music and Tidal publish music video charts. Lyrics are also shown on YouTube Music.
---
Part 5. Tidal HiFi vs YouTube Music Discovery Features
Tidal's interface uses older typefaces and icons, although distinct from others. Like many other music streaming applications, it includes a separate page for discovering videos as well as a search bar. The search icon has been relocated to the top of the app in YouTube Music.
My Collection is the Tidal-like Library option in YouTube Songs, where you can discover your stored music. Tidal's media player displays more information than YouTube Music. Further, it differs from many other music streaming applications in that it displays the streaming performance of the currently playing song.
When it comes to the user interfaces of the YouTube Music and Tidal mobile applications, the YouTube Music UI is highly similar to the YouTube app. YouTube Music is divided into three tabs, and subscriptions are available in the library.
The home tab is where you can locate your suggested music, and the Explore tab is where you can check what's popular and what's new. In addition, YouTube Music features lyrics, and the media player allows you to transition between music and video swiftly.
---
Part 6. YouTube Music Lossless vs Tidal Compatible Devices
YouTube Music Compatible Devices
YouTube Music is compatible with various devices, including smart displays, smartwatches, Sonos wireless speakers that connect with Chromecast and Airplay, and more. It is also compatible with Alexa, Google Assistant, and Siri.
Tidal Compatible Devices
Tidal is accessible on Android and iOS, Windows and macOS, Android Wear and Apple Watch, Android TV and Apple TV, as well as Android Auto and Apple CarPlay.
Good thing, you can now download Tidal music to enjoy your favorite music on more devices than the above ones.
Here's how you can use AudKeep Tidal Music Converter to download and play music on your favorite devices.
This smart Tidal music converter is able to convert Tidal to FLAC, WAV, MP3, M4A, and many other common audio formats with 100% HiFi quality and ID3 tags. Then you can transfer and play songs from Tidal on multiple devices for offline listening without authorization from Tidal.
More importantly, AudKeep downloads and saves Tidal tracks onto the local computer. In this way, you can still listen to Tidal on different devices even after your Tidal subscription expires.
Step 1 Customize Tidal output formats to Lossless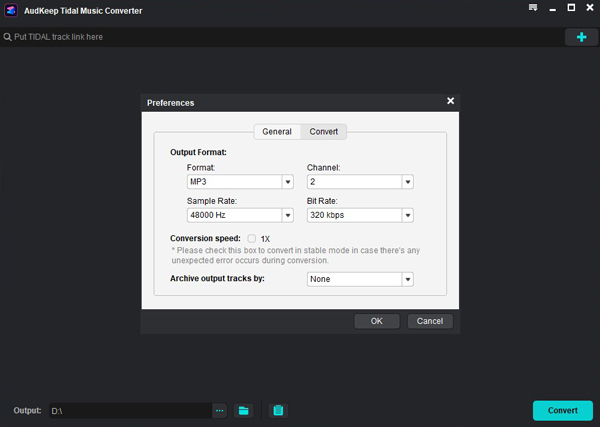 Download and install the software. Open the AudKeep Tidal Music Downloader on your desktop. Select Preferences > Convert tab from the top-right corner of the screen. You may choose your preferred export format, such as Lossless for Tidal audio download here.
Step 2 Import Tidal tracks or playlists to AudKeep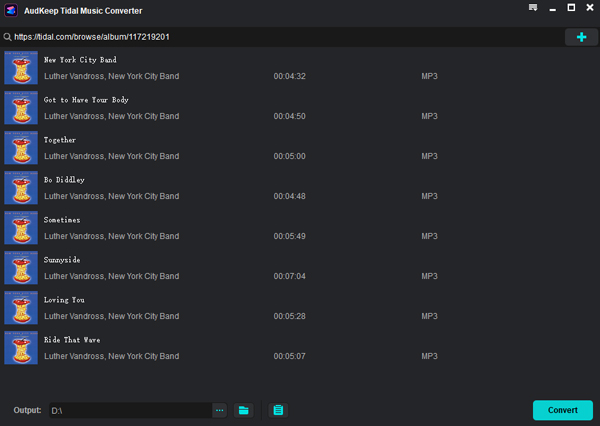 Now, use the Tidal player to locate the Tidal songs, albums, and playlists that you want to download from Tidal to your computer. The gray "+" button will become blue when you tap this item. It implies that Tidal tracks are now available for download. You may download specific Tidal tracks by clicking the "+" button.
Step 3 Convert Tidal music without quality loss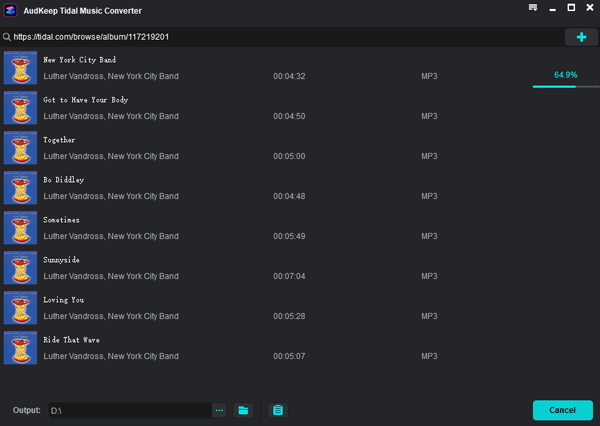 When you've saved all of your preferences, click the Convert button to begin the high-speed downloading procedure. The transformed list may then be opened. You can find your downloaded Tidal audio files in your computer's output folder.
---
Part 7. Conclusion
We evaluated two of the most popular and most incredible music streaming services. Tidal is the best choice if you want to hear high-quality songs. YouTube Music is an application from a renowned software firm that is loaded with the strength of YouTube.
Tidal and YouTube Music both include video material. That said, YouTube Music has a more excellent cover song than Tidal. On the other hand, Tidal offers a more significant number of exclusive videos than YouTube Music. If you place a high value on music discovery tools, consider again before selecting one.