Listening to high-resolution audio in India is a dream. Audiophiles often find it difficult to search for a platform that offers Hi-Res quality. If you wish to exchange these audio files, you will want to meet up at events carrying terabytes of hard disks to copy the files. Those motivated will search the Internet for FLAC files and download them by purchasing the tracks.
However, Tidal has changed the way audiophiles enjoy their music. It streams content in high fidelity, allowing the users to choose from millions of songs from different artists worldwide. Tidal even partnered with MQA to launch its Master's edition, where it streams the content in Master Quality Audio. Sadly, Tidal in India is unavailable, and you do not get to enjoy the premium collection of songs and quality. Today, we will see how to get Tidal in India using various methods.
---
Part 1. How to Get Tidal in India with VPN Service
How to Use Tidal in India with VPN
Is Tidal available in India? Unfortunately, no. If you want to listen to Hi-Fi content offered by Tidal, the only way is by opting for a VPN service. VPN is short for Virtual Private Network. Hola VPN is what we will be using to gain access to Tidal. The steps are as follows:
Step 1. Download and install the Hola VPN which is a browser extension you can get for free for Google Chrome or Mozilla Firefox.
Step 2. After completing the installation, you must pick up the country when prompted. Choose USA or UK from the available options.
Step 3. Now, visit the Tidal website and click "Sign up" to create a Tidal account.
Step 4. As Hi-Res audio is available for Tidal subscribers, choose the plan you want and complete the payment. Tidal has two plans: The HiFi plan and the HiFi Plus plan. Get the Hi-Fi Plus plan, which offers Hi-Res audio and MQA content. You can get more details knowing the two plans: Tidal HiFi vs HiFi Plus.
Note: The added security layer through which it transfers the data makes the process a secure method to access Tidal. The service is transparent and does not log any user activity. Therefore, each time you use the service, the entire transaction happens through secured layers with no data logging.
Step 6. After successful payment, you can download and set up the Tidal desktop app for Mac and Windows. Log into your new Tidal account and you are ready to listen to Tidal HiFi in India.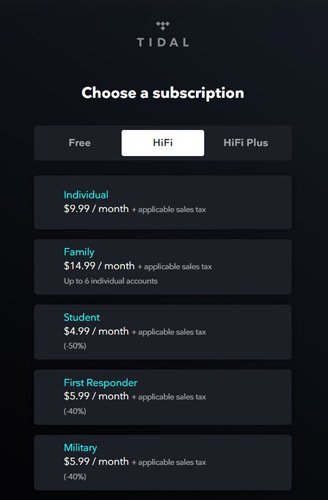 Tips: How to Get Tidal in India Forever without VPN
What if you don't want to play Tidal songs using a VPN every time, can you still stream Tidal HiFi in India? And how to use Tidal in India without VPN? Is there a possibility? Of course, you have the option to enjoy Tidal in India without a VPN by using AudKeep Tidal Music Converter. The AudKeep app is a reliable tool designed to provide easy control to the user for downloading Tidal music.
Whether you have the free or premium plan from Tidal, AudKeep Tidal Music Converter is a single stop to continue listening to Tidal Hi-Fi content forever. It supports audio formats such as FLAC, MP3, AAC, WAV, and other formats, which enables you to play the Tidal files with no time limit. You can get Tidal music downloaded and stored offline on your computer.
Learning how to play Tidal in India using AudKeep Tidal Music Converter will prove beneficial. It saves your Tidal songs with the audio quality and ID3 tags safe and sound, so you can just locate the downloaded folder to listen to Tidal in India without VPN.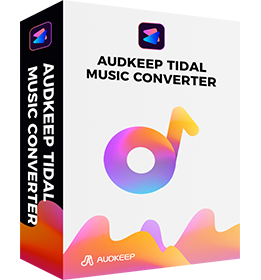 Key Features of AudKeep Tidal Music Converter
Download Tidal music without losing quality and metadata
Convert songs from Tidal to multiple formats like MP3, WAV
Use 5X conversion speed to download Tidal HiFi music
Stream Tidal music offline without premium and VPN
Guide to Use AudKeep Tidal Music Converter to Download Tidal
Note: Before proceeding, ensure to complete the installation of AudKeep Tidal Music Converter.
Step 1. Launch the software and choose the "Preferences" button from the menu. Once the settings window appears, click the "Convert" tab. Now, you can change the format, bit rate, audio codec, sample rate, channel, and archive the Tidal output by artist or album.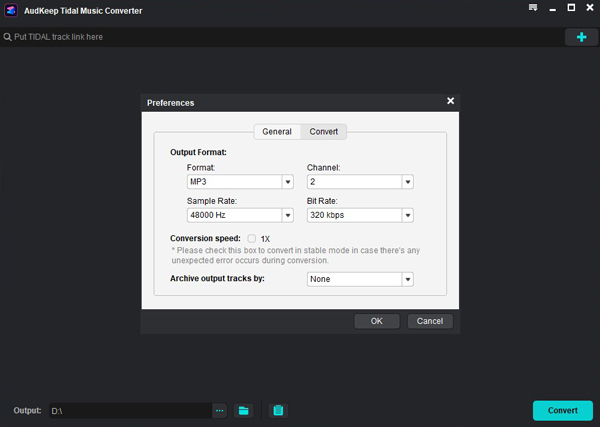 Step 2. Open the Tidal app on your desktop and identify the songs you want to download. Copy the link of a song and paste it into the search bar of AudKeep Tidal Music Converter. Click the "+" icon beside the bar to add it to the list. Continue the process until you have all the songs. You can also choose to copy the Tidal HiFi or Master songs.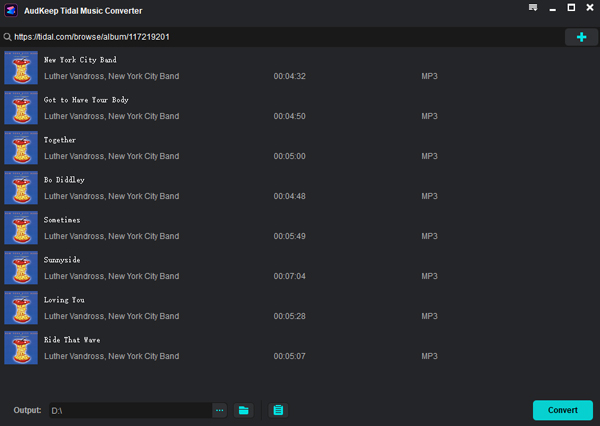 Step 3. After completing the list, press the "Convert" button. AudKeep will start downloading and converting the list of Tidal songs as per the settings faster without losing quality. It will save in the respective folder keeping the ID3 tags intact.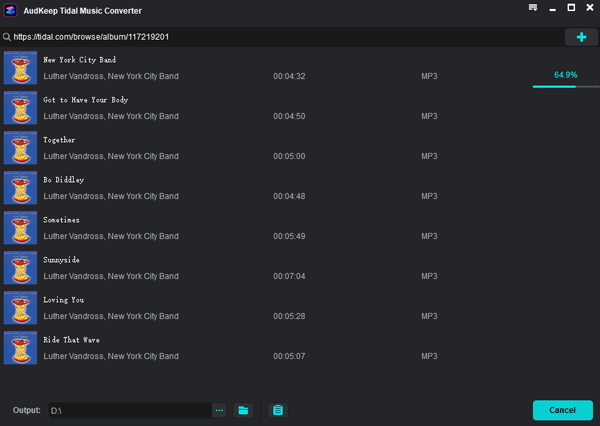 Step 4: To find where Tidal music is stored, click the file shape icon to open the target folder on your computer. The folder consists of all the songs downloaded from Tidal. You are now ready to transfer them to any device for offline listening or create a backup and listen to them forever without using VPN.
---
Part 2. How to Play Tidal in India via DNS
You have learned how to use Tidal in India using a VPN. Now, let us see how to play Tidal in India using a DNS. Domain Name System or DNS is a protocol that registers your geographical location and translates domain names into Internet Protocol Addresses. It is why servers across the globe find your location quickly.
If you want to listen to Tidal in India, you must mask your geographical address. You can do this by choosing a smart DNS server. A VPN masks only the IP address allocated to your computer. But, with a smart DNS, you can conceal the original source of the DNS address. Thus, you can listen to Hi-Fi and MQA content on Tidal through which route. But do remember to purchase a Tidal plan, as the "Start Free Trial" feature only offers access to regular content for only 30 days.
---
Part 3. How to Use Tidal in India using Proxy Server
As you have learned how to install Tidal in India using VPN and DNS, the other alternative method is to use a proxy server. A proxy server is a mediator between your device and the Tidal website. So, whenever you access Tidal through a proxy server, the server at Tidal's end record the IP address generated by the proxy server rather than your computer's original IP address.
Using a proxy server is beneficial when working on the application level. It means it is suitable for traffic coming from a single application. Furthermore, they do not encrypt the traffic, which could be a problem when you are planning to access Tidal.
As all the proxy servers available are free, you will notice a lag in surfing the content because of overcrowding. Also, there will be no support and configuration, making the entire experience tiresome.
Although you can use it for Tidal to bypass specific characteristics, compare them with DNS and VPN services.
---
Part 4. Conclusion
As Tidal in India is currently unavailable, you can choose to use a VPN, DNS, or proxy server to enjoy Tidal HiFi and MQA content. However, they are not a permanent solution to continue listening to Tidal music forever. They have limitations and may not be suitable as a permanent solution to listening to Tidal.
The AudKeep Tidal Music Converter comes for help. It downloads and saves all your music from Tidal in FLAC, MP3, and other formats that you can transfer to any device when needed. You don't need a VPN to play the downloaded Tidal songs, because they're available offline. Try AudKeep Tidal Music Converter today and experience high-resolution audio from Tidal!