Nintendo Switch is one of the most popular and successful game consoles. The video game players must be very familiar with it. But for those who aren't, here is a brief introduction. You can play any video game through Nintendo, it can be used as a home console and also a portable device with all your files.
Well, as it is one strong and excellent feature providing tool, people wonder if, with the addition of songs, it could have been perfected? People are aware that the songs can be played on it but they still need to know about how to play music on Nintendo Switch? Nintendo doesn't allow any third-party app to be linked with it for songs such as Spotify and Tidal, etc. The question remains the same – how to access Tidal on Nintendo Switch? Let's read to know how it is possible.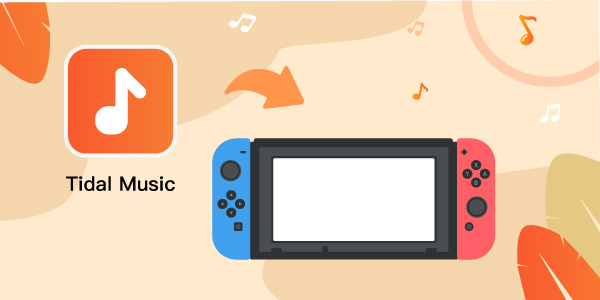 ---
Part 1. How to Get Tidal on Nintendo Switch
You cannot use Tidal on Nintendo Switch but it isn't impossible to get access to Tidal songs on the Nintendo Switch. Tidal doesn't allow access to some devices due to copyright issues which is fairly a security concern. Well, to convert the Tidal music on Nintendo Switch, you will have to use another software to first rip the protection of Tidal and then further get easy access to all songs you love.
AudKeep Tidal Music Converter is the best app that lets you download music on Nintendo Switch from Tidal. What is AudKeep? This smart tool is preferred to transcript all the songs from Tidal to be later used in other devices and apps. AudKeep is a software that helps you to convert Tidal music to MP3, FLAC, AAC, WAV, and several forms that are compatible with Nintendo Switch. This helps you to keep your Mbs used in control and also the ability to play music on every device.
Furthermore, AudKeep helps you to get access to the original Tidal song versions. This helps you to be safe from copied versions of songs or even voice-overs as many apps have been corrupted with several versions of one song. It helps to download bulk music with 5 times more speed than it would have been downloaded solely.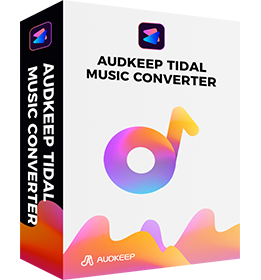 Key Features of AudKeep Tidal Music Converter
Convert Tidal music to MP3 and other Nintendo Switch-supported forms
Download Tidal songs at 5X faster speed than any other app would provide
Help users to get access to the Tidal songs without the Internet
The converted Tidal songs all have original ID3 tags which confirms the authorization
---
Part 2. How to Play Tidal on Nintendo Switch
Now that you know that you can play Tidal on Nintendo Switch, you would need a guide on how to proceed with it. Therefore, here is a short guide on how to download music on Nintendo Switch.
Step 1 Reset Tidal songs' output settings for Nintendo Switch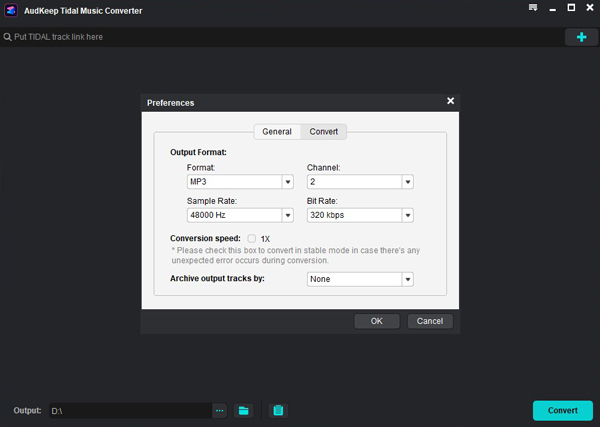 You should start with opening the AudKeep program on your laptop and keep your Tidal account to launch meanwhile. Next, click the main interface of Audkeep on the top right to get to the menu option. Make sure to choose the Preferences option to prolong the output of the audio. After clicking the Convert option, you shall choose the output format, bitrate, sample rate, and so forth. This way you can get access to the output in any software you wish including the AudKeep program.
Step 2 Import Tidal tracks to AudKeep Tidal Converter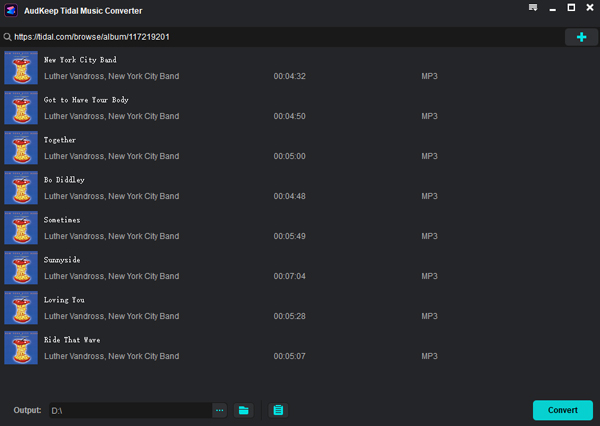 You may then choose the Tidal songs you would like to have access to. Open a playlist or album from the Tidal library, then click on the '+' button to load the Tidal tracks to the AudKeep program.
Step 3 Convert Tidal songs for Nintendo Switch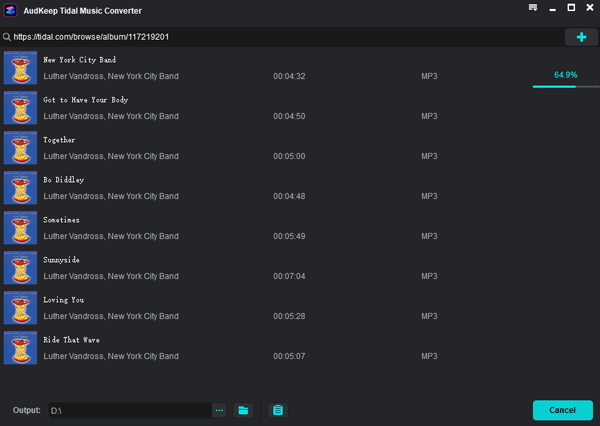 You can finally hit the large convert button to bulk download all your selected music to the laptop through Audkeep. All the Tidal song files will be transferred to your computer and you can further listen to them through any device or app you want including the Nintendo Switch. This brings the transfer of songs from Tidal to the computer through Audkeep an end.
After you have had the downloaded files on your computer, you can then transfer them to Nintendo Switch to listen through them along with all the other features that it offers. You shall follow the guide below to have access to the downloaded songs on Nintendo Switch.
How to Add Tidal Music to Nintendo Switch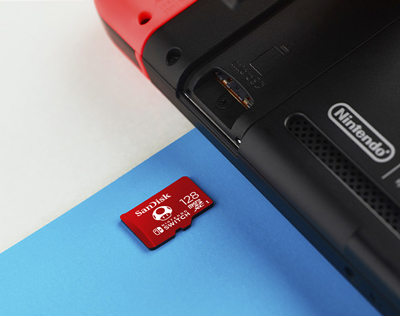 Step 1. Firstly, add an SD card to your computer to save Tidal music to SD card that will be further inserted into the Nintendo Switch.
Step 2. Please open the drives list to copy-paste all your songs in the micro SD card file. Wait for the songs to move into the file and take out the card once the transfer of converted music is completed.
Step 3. Insert the card into the Nintendo Switch in the place the SD card is normally inserted. After that press on the Nintendo 3DS music icon to open the list of songs. Please press play to play the music that you have encrypted from Tidal music.
---
Part 3. 3 Best-selling Games on Nintendo Switch
1. Mario Kart 8 Deluxe: It is one of the top-selling games till today and no other game has been able to reach the figure it did. Users have shown immense love for this game.
2. Animal Crossing: New Horizon is another very successful and wanted game by the users hence, it has been sold in a comparatively larger amount than other available games and stands at second best.
3. Pokemon Brilliant Diamond and Shining Pearl: This is also a game that the users have loved to play.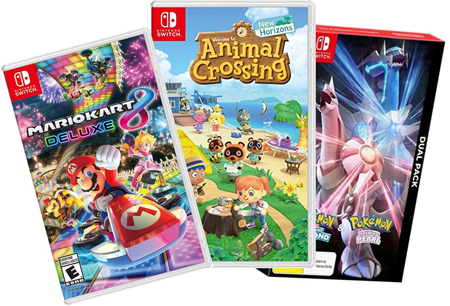 ---
Part 4. Final Thoughts
The addition of Tidal music just adds the missing spark to the Nintendo Switch. And AudKeep Tidal Music Converter keeps makes it easy for you to access Tidal music on any software you wish which is one of the best features of it.