"Hello! I hope you are all fine. I am a Tidal lover and used to listen to Tidal music frequently with its premium subscription. I have recently bought an iBasso DX200 for playing music offline without the Internet anytime, anywhere. I want to play Tidal music on my iBasso DX200 but don't know how. I am finding a way to use iBasso DX200 Tidal offline, but there is nothing useful on the Internet. Please help me suggest a helpful solution for listening to Tidal on iBasso DX200 offline. Thank You!"
Are you wondering how to play Tidal on iBasso DX200 offline? If yes, this article is the right one for you. We introduce iBasso DX200 to you with its features in detail. To use Tidal on iBasso DX200 offline without premium, the best Tidal playlist downloader, AudKeep Tidal Music Converter is recommended, and the usage guide on how to download Tidal offline by the AudKeep will be illustrated down below. Go through it and play Tidal on your iBasso audio player.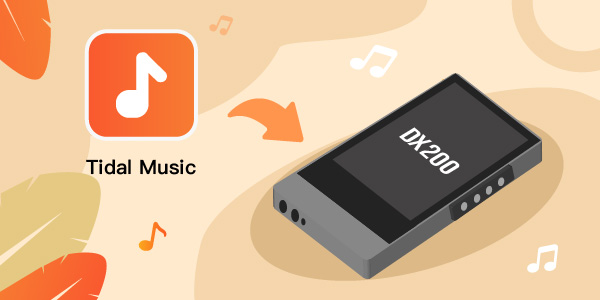 ---
Part 1. iBasso DX200 Tidal – What You Need to Know
iBasso is a ten-year-old digital media player that has launched its new feature named DX200 recently. This new feature has made iBasso one of the most prominent digital audio players. This audio player has a small weight of 240g and a size of 128.5mm x 69mm x 19.5mm. If you add a leather case to it, you can feel a weight in your hand.
The iBasso DX200 is a 4.2 IPS screen built with OCA. It gives high optical performance and lasts long. Its screen has a super sharp resolution and wide and flat angle. It reacts much faster with touch gestures. iBasso DX200 has only one memory card of 256 GB and a battery of 4400mAh. It can last up to 8 hours with WiFi and BT on.
iBasso DX200 is compatible with multiple music streaming platforms. You can play your favorite music on iBasso DX200, whether Spotify, Deezer, Qobuz, and Tidal. It is good news for Tidal lovers that you can connect Tidal to iBasso DX200 and stream music. Only need to install the Tidal app on the iBasso player from the Play Store and you can enjoy Tidal playlists online.
However, can iBasso DX200 play Tidal offline? Tidal on the iBasso DX200 player can be used online and offline. You can download songs from Tidal using a Tidal account with subscriptions. You then can play the downloaded Tidal songs in the offline mode on iBasso DX200 player.
---
Part 2. Play Tidal on iBasso DX200 Offline – Best Tool
Some users have found that some issues like no sound will happen when streaming Tidal offline on the iBasso DX200 player. And the free Tidal users also want to enjoy Tidal music offline on the player. In the following section, we will provide information about how to get iBasso DX200 Tidal to download free offline for playing with no issue.
For playing Tidal on iBasso DX200 with no streaming incidents, you need to use a tool that can download Tidal music on your computer. It is highly recommended to use the best AudKeep Tidal Music Converter compatible with both Mac and Windows computers. AudKeep Tidal Music Converter is an excellent choice for Tidal Free and HiFi users to enjoy Tidal tracks offline.
The AudKeep app will convert your favorite Tidal songs, albums, and playlists into multiple audio formats, including MP3, AAC, FLAC, etc. Those audio formats are supported by iBasso DX200. You can then export the download Tidal files to the iBasso player for use. It also has a faster conversion speed of 5X. When downloading songs from Tidal, the AudKeep converter always retains the original ID3 tags and audio quality of Tidal songs.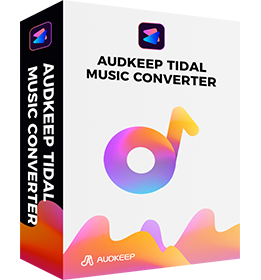 Key Features of AudKeep Tidal Music Converter
Play Tidal on iBasso DX200 or other devices offline without the premium
Convert Tidal songs to multiple output formats compatible with iBasso DX200
Download Tidal music at 5X speed with original quality and ID3 tags
Available on both Mac and Windows computers
---
Part 3. How to Listen to Tidal on iBasso DX200 Offline
Now, you are fully aware of what is AudKeep Tidal Music Converter is and its features. It's time to understand the process of using the converter for downloading Tidal music for an offline listening experience. Once you can download Tidal playlists, you can easily enjoy them on your iBasso DX200 device without any data.
We will provide a simple step-by-step guide on how to convert songs from Tidal to your computer and transfer them to your iBasso DX200. Follow the given steps for using AudKeep Tidal Music Converter.
Step 1 Set up AudKeep Tidal Music Converter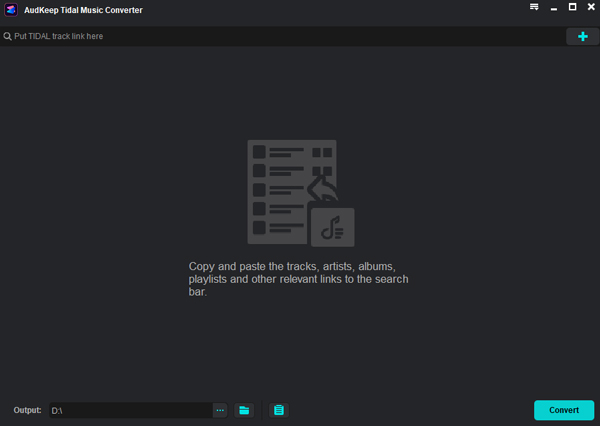 Download and get AudKeep Tidal Music Converter installed on your Mac or Windows computer. Click on the app icon on your desktop to launch the AudKeep app. The software will open with the Tidal app appearing as well. Log into your Tidal account on the Tidal app and register for AudKeep software. Get ready for the conversion of Tidal songs.
Step 2 Customize Tidal output formats for iBasso DX200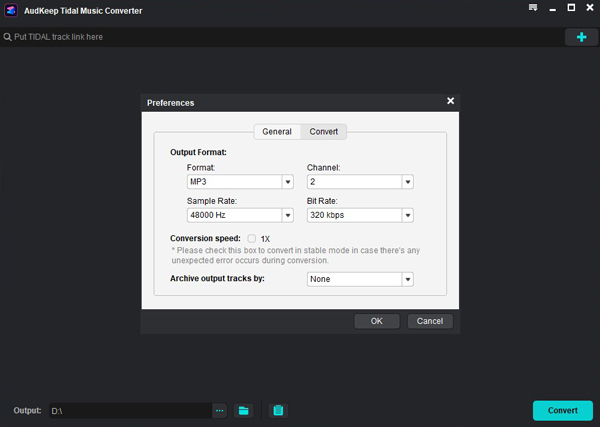 In the upper right corner, click on the Menu icon and choose the "Preferences" option. Here you can set output audio formats for Tidal choosing from MP3, M4A, FLAC, WAV, and more. You should select one format that can be streamed on iBasso DX200. You can also select parameters like channel, sample rate, and bit rate. After setting all changes, click on the "OK" button.
Step 3 Put the selected Tidal songs into AudKeep software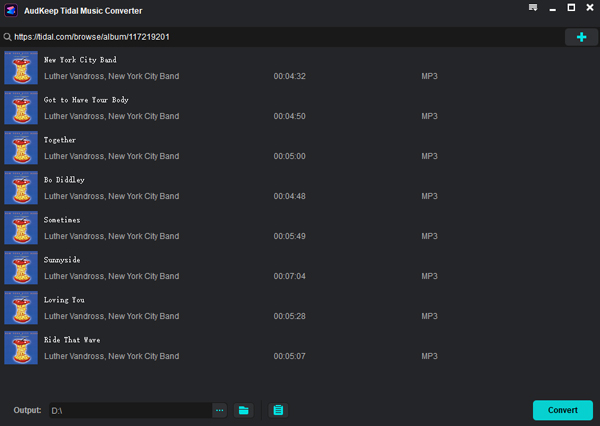 Add your favorite Tidal content to the AudKeep app. From the opening Tidal app, tap on the "More" option of the Tidal song/playlist, choose the last "Share" option and copy the track/playlist link. Head to AudKeep Tidal Music Converter, you need to paste the link to its search bar and press the "+" icon to import the picked content from Tidal.
Step 4 Download Tidal playlist offline for iBasso DX200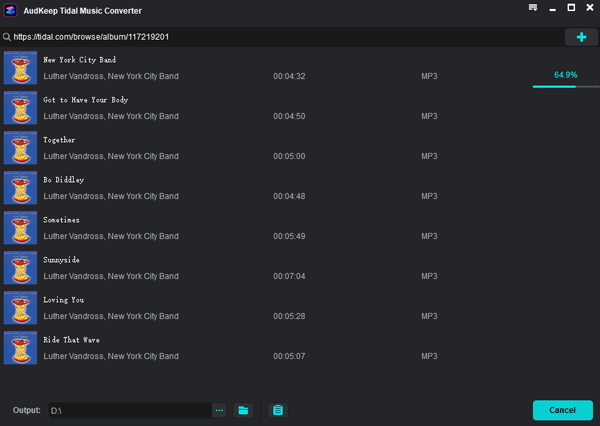 At the bottom right corner, click on the blue "Convert" button to start the process. The AudKeep app will convert all the selected songs from Tidal into the required audio format. You should await the conversion with patience to complete. All Tidal songs will save as local files on your computer after downloading. To play Tidal music offline, you can locate those Tidal tracks click the converted icon with the red number.
Step 5 Listen to Tidal on iBasso DX200 offline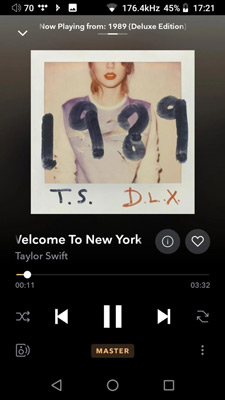 The Tidal songs you need are successfully saved on your PC. Connect your iBasso DX200 to your computer using its USB cable. Open the folder with the download Tidal music files. You can copy the folder or one single Tidal track to the iBasso DX200. Safely remove the iBasso player from your computer and now search and play the transferred Tidal files on iBasso DX200 with headphones connected to the device.
---
Part 4. Final Thoughts
Now you've known that it's possible to use iBasso DX200 Tidal offline and online if you paid for Tidal. People are mostly looking for ways to hear the Tidal songs with no network and for free. Therefore, apart from the introduction about iBasso DX200, we also provide you with AudKeep Tidal Music Converter you can trust. You can use the AudKeep app to get Tidal content downloaded offline without premium and transfer the iBasso-supported files to the player to stream as you like.