HiBy Music played it cool by launching the HiFi music player, HiBy R3 Pro. It enhances the fidelity of the audio, giving you excellent output as there is no power noise or crosstalk between components. HiBy player is Hi-Res and supports native hardware DSD256 decoding as well as PCM playback of up to 32 bit/384 kHz. The uses of HiBy R3 Pro are numerous, Bluetooth transmitter, receiver, Internet radio, digital source, USB DAC, and Tidal online streaming, among others.
You can play Tidal music on HiBy R3 Pro online with high quality. However, you'll beat a dead end when it comes to HiBy R3 Pro Tidal offline. Unlike the Tidal app on your phone, the Tidal app on HiBy player cannot download the Tidal songs for offline playback. And meanwhile, Tidal only allows listening of its music on limited devices via the official Tidal app. How can you use Tidal on HiBy R3 Pro offline? Scroll down and learn more details.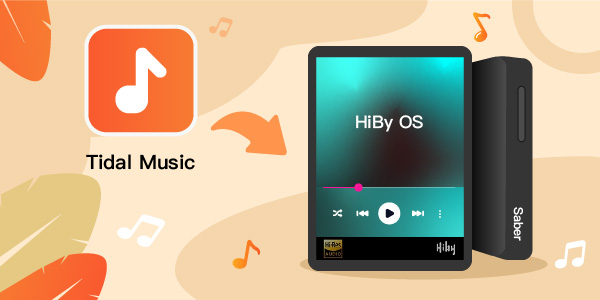 ---
Part 1. Play Tidal on HiBy R3 Pro Offline – Tool Needed
Since HiBy R3 Pro can only play music from Tidal with an internet connection, the optimal way to get Tidal music offline on the HiBy player is to use a Tidal music downloader to convert Tidal songs to audio formats supported by HiBy R3 Pro and then move them to the player for offline playback. The AudKeep Tidal Music Converter is exactly an ideal one for your choice.
AudKeep Tidal Music Converter helps you to quickly remove the Tidal restriction on its music. This app will convert and download your Tidal playlists without damaging the sound quality. Likewise, it offers you the audio format like AAC, FLAC, MP3, etc. to convert Tidal offline. You can download Tidal HiFi music to your local computer and then easily transfer them to your phone or media player like HiBy R3 Pro, among other devices.
When it comes to speed, the AudKeep application works efficiently at a 5X speed rate, converting Tidal tracks to high-quality music. Additionally, the converter enables users to adjust important Tidal output parameters to their preferences, such as channel, bit rate, and sample rate, among others. You can also sort out the output Tidal music by artist or album for easy management on HiBy R3 Pro.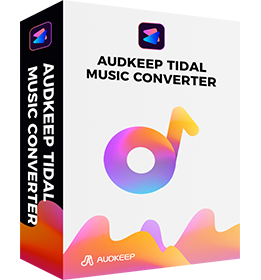 Key Features of AudKeep Tidal Music Converter
Listens to Tidal music on HiBy R3 Pro offline easily
Converts Tidal playlists to multiple formats compatible with HiBy R3 Pro
Downloads songs from Tidal with original audio quality and ID3 tags
Batch converts Tidal music at a 5X speed rate
---
Part 2. How to Connect Tidal to HiBy R3 Pro Offline
Here's how to get HiBy R3 Pro Tidal for offline playback using AudKeep Tidal Music Converter. The AudKeep software supports both Mac and Windows operating systems.
Step 1 Download and install the AudKeep app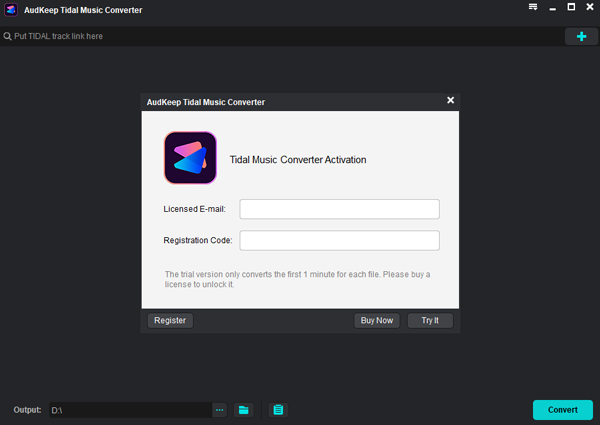 Download AudKeep Tidal Music Converter on your computer and launch it, and the Tidal app will open on your PC at once. Then click on the "Log In" button and sign into your Tidal account details. You should also move on to register the AudKeep app. Click on the "Menu" bar to select the "Register" option. Once the registration window opens, log in with your registration info for activation to remove the Tidal conversion time limit.
Step 2 Choose one Tidal format that supported by HiBy R3 Pro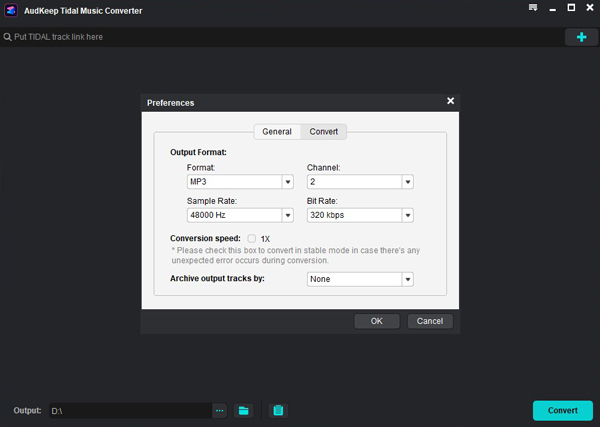 Click on the "Menu" bar then go to the "Preferences" option. Once the settings window pops up, hit the "Convert" tab and begin to adjust the formats for Tidal songs. You're advised to choose FLAC, WAV, and MP3 formats since they are supported by HiBy R3 Pro. Moreover, you can customize the audio parameters like bit rate, sample rate, and also archive output tracks by artist or album. Confirm the output configuration file is set correctly and click on the "OK" button.
Step 3 Add Tidal playlists to AudKeep software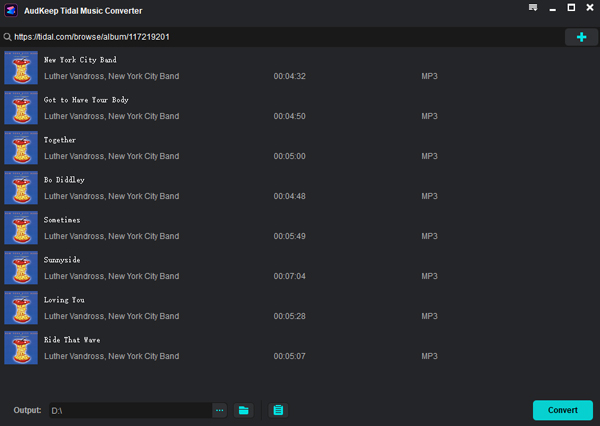 Then search for the HiFi/MQA Tidal tracks you want to convert from the opening Tidal app. Once found, hit on the "More" icon to copy the share link then paste it to AudKeep's search bar. Next, click on the "+" button to add the Tidal playlists to the converter. There is another simple way: drag and drop the Tidal song to AudKeep Tidal Music Converter.
Step 4 Download Tidal playlists for HiBy R3 Pro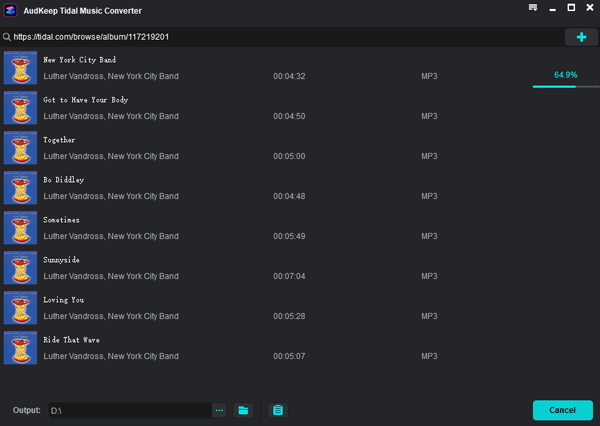 Tap on the "Convert" tab, and AudKeep Tidal Music Converter will begin to download and convert your playlist from Tidal. Your music will then be saved as common audio files and enable the use of HiBy R3 Pro Tidal offline. You can locate the "Converted" Tidal playlist on your computer's local disk for HiBy R3 Pro.
How to Play Tidal on HiBy R3 Pro Offline
Now you can play Tidal music offline. To use Tidal on HiBy R3 Pro in a disconnected status, follow the below steps to achieve it.
Step 1. Connect the HiBy R3 Pro media player to your computer via a USB cable.
Step 2. Then go to your computer's local disk and identify the converted Tidal playlist folder.
Step 3. Right-click on the folder then click on the "Send to" option. Choose the HiBy R3 Pro player as the destination. You just moved your converted Tidal tracks to the media player.
Step 4. Finally, choose any Tidal track and hit on the "Play" button to stream it on HiBy R3 Pro without an internet connection.

---
Part 3. FAQs about HiBy R3 Pro Tidal
Here are answers to common questions for clarity on HiBy R3 Pro and Tidal.
Q1: What's HiBy R3 Pro?
It is an online streaming music player that can be connected to Tidal online music library via a Wi-Fi connection. It supports most Hi-Res lossless formats and is capable of MQA sound quality.
Q2: Does HiBy R3 Pro Support Tidal?
Yes, HiBy R3 Pro is a multi-purpose player that supports Tidal online streaming and other things like Bluetooth receiver and transmitter, and Wi-Fi receiver used to connect Tidal to HiBy R3 Pro.
Q3: Can I Listen to Tidal Offline?
Yes, you can get Tidal offline with its HiFi subscriptions. Just open the "Tidal" app then tap on the "My Collection" option. Next, tap the "Settings gear" icon and toggle the offline mode to the "ON" position. You then can stream the downloaded Tidal tracks without a network.
Q4: Can HiBy R3 Pro Play Tidal Offline?
The HiBy R3 Pro Tidal download now is unavailable on the HiBy player. And Tidal restricts access to its music files due to digital protection. You can only listen to Tidal tracks on selected devices via the official Tidal app. Because of this, you cannot play Tidal offline on HiBy R3 Pro before converting your audio files from Tidal to common output formats. You can use the AudKeep Tidal Music Converter to download Tidal to MP3, FLAC, or WAV and then transfer it to the HiBy player for use.
---
Part 4. Final Thoughts
"Can you get HiBy R3 Pro Tidal offline?" Many users often prompt this question when dealing with the Tidal playlist. Well, you may connect Tidal to HiBy R3 Pro for playing online, but HiBy R3 Pro can stream your Tidal songs offline only after you convert them to common-used audio formats.
This article has tackled that and many other concerns. The best part is that you got the perfect tool to download and convert your Tidal playlist to the formats that can be added to HiBy R3 Pro. AudKeep Tidal Music Converter works efficiently to give you quality music from Tidal in just a few steps. You can then access those favorite Tidal tracks on HiBy R3 Pro or other players without using the Internet.