Astell and Kern is the world-leading portable high-resolution music players and accessories manufacturer. All Astell and Kern players have internal memory, DAC chipsets, and a miscoSD card support of up to 2TB, and those with WiFi features have a built-in Tidal music service. Their aims and objective in the music industry are to deliver music the way it should be heard, in full resolution and without restrictions. Astell and Kern are one of the best digital music sources that provide a Mastering Quality Sound (MQS).
There are no exceptions, Tidal's lossless audio experience allows you to listen to your favorite music the way the author intended and in high fidelity sound quality even on any Astell and Kern accessories that have WiFi feature enabled. If you want to play Tidal on Astell and Kern, you can access about 80 million songs online with the HiFi plan.
However, online music playing needs a stable internet connection. What if in case you need to listen to Tidal offline? This limitation does not stop you from playing it on Astell and Kern. You will find in this article the methods to install the Tidal app on the player for streaming or learn how to download Tidal music to Astell & Kern offline. Keep reading!
---
Part 1. How to Play Tidal on Astell and Kern via the Tidal App
The easiest way to listen to Tidal on Astell and Kern is via the Tidal app. Firstly, you need to download and install Tidal on your AK digital audio player. With the installed app, you can enjoy a lossless audio experience with excellent sound quality. You can search and even create a playlist of your favorite music, album, and artists.
Install Tidal on Astell and Kern
All AK digital audio players support the Tidal application, making it easy to listen to Tidal music online. Because Tidal has been initially installed with your WiFi-connected AK player, installing Tidal on Astell and Kern is easy. You can follow these steps to enjoy Tidal on your player.
Step 1: Open your Astell and Kern digital audio player.
Step 2: Search for Tidal and input your account details to log in.
Step 3: After logging in, search for any of your favorite music or album and enjoy Tidal music.
How to Download Tidal Music on Astell & Kern
To download Tidal music to your AK digital audio player, you must first import your favorite music from the Tidal app on your iPhone or Android. Follow these short steps to download Tidal playlists and play them offline.
Step 1: Connect your Astell and Kern digital audio player and your phone with a cable wire.
Step 2: Transfer your favorite music from the Tidal app to the Astell and Kern digital audio player directly from your phone.
---
Part 2. How to Play Tidal Offline on Astell and Kern – Better Way
Installing the Tidal app on Astell and Kern is the most used way to play Tidal MQA on Astell and Kern. Even though many Individuals consider AK player a viable option because it has a Tidal inbox, it doesn't function well when talking about playing Tidal offline or Tidal not working on Astell and Kern. You will not be able to download and listen to Tidal songs without the Internet on the player. Therefore, the best option to play Tidal offline on Astell and Kern is to download songs with AudKeep Tidal Music Converter.
AudKeep Tidal Music Converter is an improved and unique tool for converting Tidal music to the most commonly used file formats. It has an easy-to-use interface for experts and newbies. Meanwhile, it supports audio formats like MP3, WAV, FLAC, and others without affecting the Tidal audio quality. The Tidal music downloading on it will be processed at a very fast 5X conversion speed. The AudKeep software is safe to use and available on Mac and Windows. Don't doubt it, it gives the best.
Here are steps for you to follow on using the AudKeep Tidal Music Converter to download and listen to Tidal offline on Astell and Kern.
Step 1 Customize the Tidal audio parameters for Astell and Kern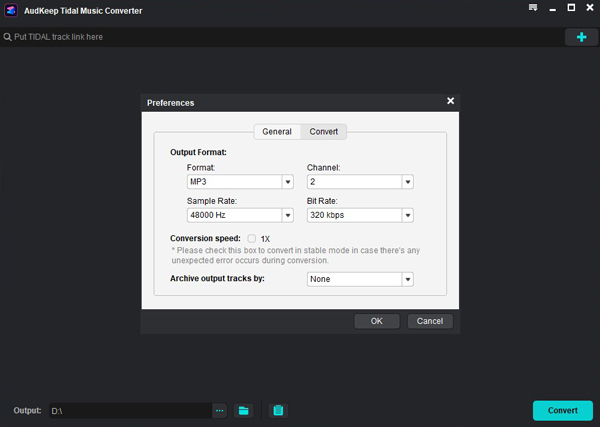 At the top menu bar, click on the Preference button, and a settings window will pop up. Click on the Advanced option to change the output format to MP3, AAC, WAV, FLAC, M4A, or M4B. You can customize other audio parameters like the audio codec, sample rate, and bit rate. If you continue, you will find it can categorize Tidal music by album or artist by clicking on Archive Output Tracks.
Step 2 Add Tidal albums or playlists to the AudKeep software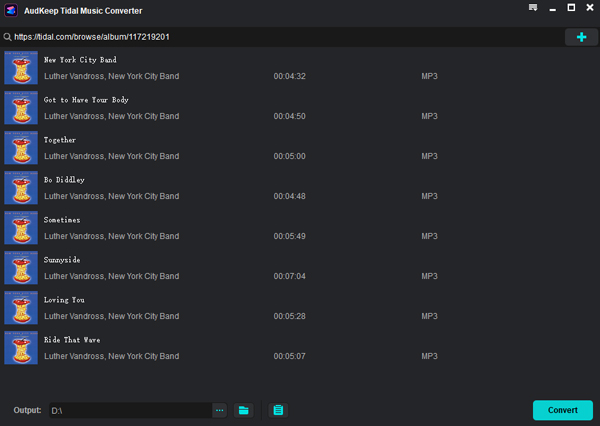 With all the specifications set, click OK to preserve the changes. After that, you can search for your favorite albums or playlists on the Tidal Web Player. Once you find it, click on the blue + icon at the lower right corner of the page to add the album or playlist to AudKeep Tidal Music Converter. You can still download more songs from the conversion list.
Note that: You should add all your preferred songs to a new playlist if you just choose one song from the album because Tidal cannot download one individual song from an album.
Step 3 Download and convert Tidal music for Astell and Kern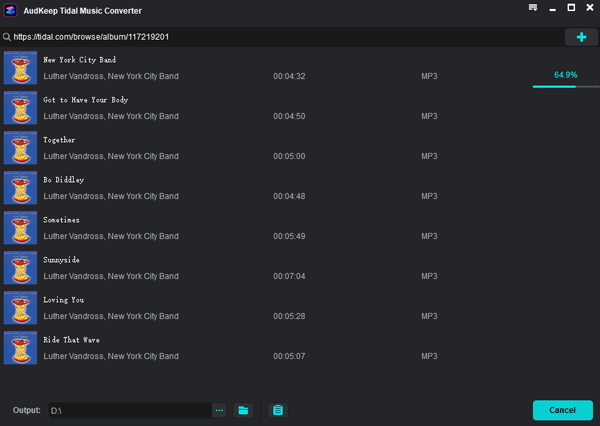 Now press the Convert button to begin the conversion process to download Tidal playlist. The AudKeep software will download songs from Tidal at a fast speed to your computer, and all downloaded files will be saved as a standard music file, like MP3, with the original ID3 tags and quality preserved.
To add more Tidal albums or playlists when the conversion is still ongoing, go back to the AudKeep main screen and add more albums or playlists of your choice so they can be converted simultaneously.
Step 4 Search and play Tidal music offline
After that, click the Converted button indicated with a red number to locate all Tidal music downloads. You can double-click on the Tidal track to preview the tracks. You can quickly access the specified folder by checking the search icon that leads you to the file destination where you can transfer and play the local Tidal albums and playlists on all devices.
How to Add Tidal Music Downloads to Astell & Kern for Offline Playback
Many people prefer to listen to Tidal music on their Astell and Kern players offline. And you're close to success. If you followed the above steps correctly, all converted Tidal songs would be saved in a local folder on your computer. You can then transfer the converted music by connecting your Astell and Kern Player directly to the computer. Following this process leads to Astell and Kern's "File transfer or File drop" feature.
This feature enables users to wirelessly transfer Tidal music files from their PC to the AK player so that they may be accessed offline. This new feature has made it easier to stream Tidal songs and transfer music files to your AK player wirelessly.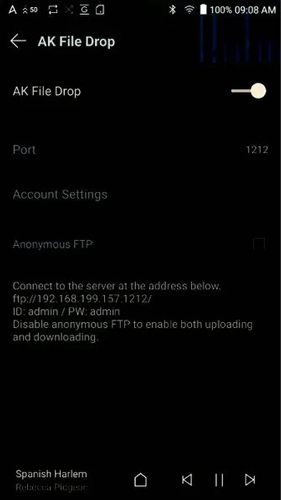 ---
Part 3. Conclusion
Getting Tidal on Astell and Kern music player is easy. You know that you can just use the Tidal app to play music on the player online. And we also show you the effective way to let you stream the playlists from Tidal with no network. Following the suggested steps and methods, you will enjoy listening to your favorite Tidal music. All the recommended steps and methods are easy and effective. Just try the steps and follow the methods to find solutions to your problems with AudKeep Tidal Music Converter.