If you have this Fitbit band on your wrist, it intensifies your workout result by tracking technology. Physiotherapists and psychologists prove that listening to music during a workout improves your mood for exercise and boosts your stamina.
In such cases, listening to music while using a Fitbit and a workout is essential. Then Tidal music is the first name that comes to anybody's mind. Of course, It has over 60 million songs. But here is an important question to answer: does Fitbit support Tidal music? or how to listen to music on Fitbit Ionic from Tidal?
The internet is flooded with such questions as Tidal is not integrated with Fitbit if there is any solution to listen to Tidal music on Fitbit. The answer is simple. Yes, you can do that, but you have to pursue specific instructions to execute the work smoothly. Read below to know the details about how you can play Tidal music on Fitbit Ionic.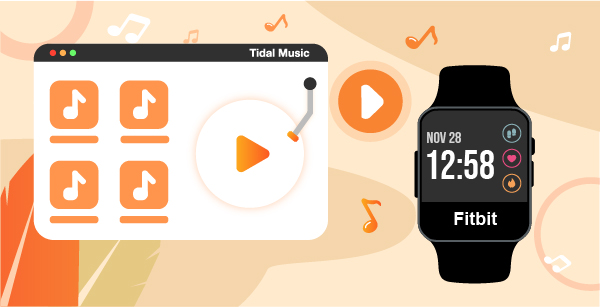 ---
Part 1. Best Tool to Play Tidal Music on Fitbit Ionic
Users might be knowing that Tidal has no integration with Fitbit. The Fitbit Community is also claiming the same situation, and "Tidal on Fitbit" is still a matter of concern in the community to resolve.
Even after so much questioning and claiming the Fitbit icon has no such Tidal app for music purposes. When the questions regarding "Tidal music on Fitbit" remain unanswered for years, AudKeep Tidal Music Converter comes up with a revolutionary solution for their users. This helps the users to understand "how to add music to Fitbit ionic from tidal."
It presents an ultra-professional Tidal music converter, which helps the users download the music and convert Tidal music to Fitbit Ionic-compatible audio files. It has the ability to download and convert Tidal music to FLAC, WAV, MP3, Lossless, and other plain audio files on computers. Do doing Tidal format conversion, you are able to easily get Tidal music on Fitbit Ionic.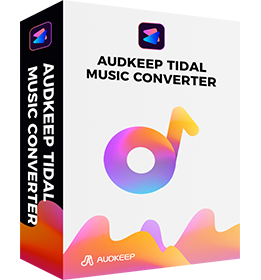 AudKeep Tidal Music Converter
Do Tidal music format conversion for Fitbit Ionic
Download Tidal songs and playlists to computers
Play Tidal songs on Fitbit Ionic, Versa, etc. offline
Listen to Tidal songs without using the Tidal app
Part 2. How to Download Tidal Music to Fitbit Ionic-supported Files
The whole process is relatively more straightforward with AudKeep Tidal Music Converter. Their audio encoding technology is 5X faster and reliable than any other such tool.
Ensure you have the complete version of the tool; avoid using the free option as it only converts the beginning one minute of the song. You can use that for trial purposes, but you must buy the full version for a long time and practical experience.
Step 1 Log in to your Tidal account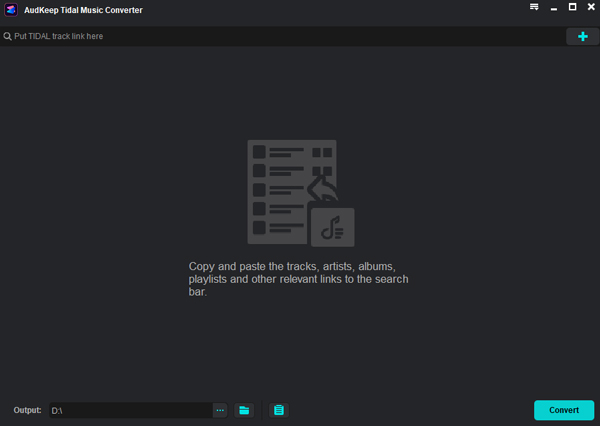 Once the downloading process of AudKeep Tidal Music Converter ends, run the AudKeep Software on your laptop, desktop, or computer. Your Tidal account needs to be opened at the same time. You should keep your essential login details– email, password, and need to log in to your Tidal account from the main screen for the following process.
Step 2 Select Tidal output format and bit rate for Fitbit Ionic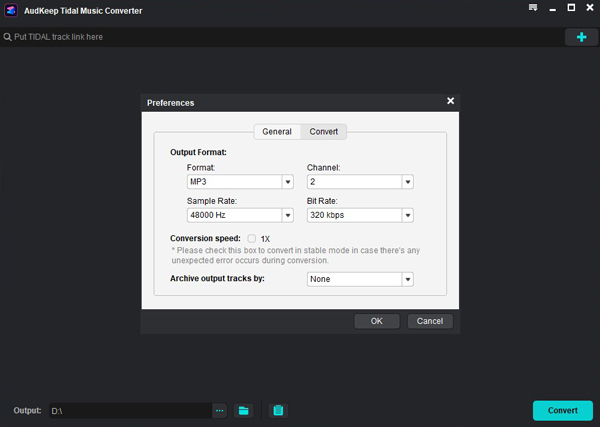 This tool entirely simplifies the whole interface of the process. You need to click on the Menu > Preferences button of the AudKeep Tidal Music Converter. A new setting interface will open. In the Advanced section, you need to set some output parameters of Tidal files like format, channel, sample rate, and audio bit rate. Keep the audio format as MP3 for Fitbit Ionic and put the rest according to your preferences. After setting all the sections, click on the OK button to confirm.
Step 3 Tidal playlist selection from library to convert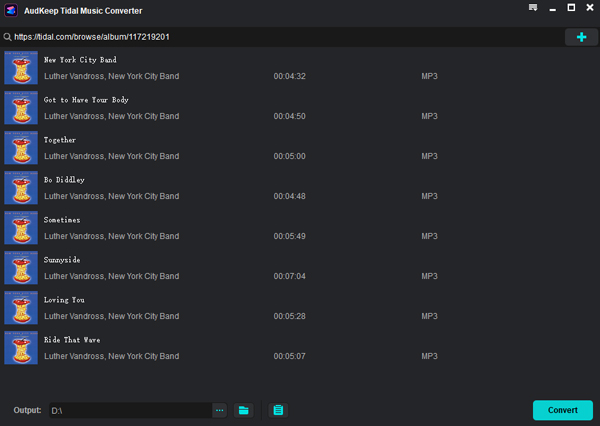 Now the work is simple, choose your favorite playlist from the collection. One thing that needs to keep in mind is that this solution cannot convert a single track, but you can make a playlist of your favorite tracks and select the playlist. Click on the + icon to select songs from the Tidal library and add them to the AudKeep program.
Step 4 Download Tidal songs to Fitbit Ionic-supported files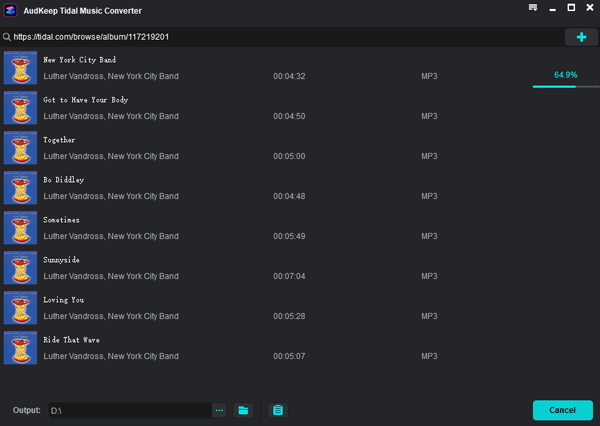 In the last phase, you have to click the Convert button. With zero quality loss, the AudKeep Tidal Music Converter will convert the Tidal audios according to your settings before you adjust. You can spot all your converted Tidal music files in that section in MP3 format.
---
Part 3. How to Put Music on Fitbit Ionic from Tidal
You have all the Tidal music downloads. And you can start to transfer them to the Fitbit Ionic's internal storage. The whole process of steaming needs an app that can help us to do so. Fitbit Connect is a desktop app that will perform the task of transferring Tidal Music.
Step 1 Download Fitbit Connect App. You need to download the Fitbit Connect desktop version application. This application helps to transfer the local files to Fitbit Ionic.
Step 2. Wifi Connection. In the following process, you need to enable the WiFi connection of the desktop and connect your Fitbit Ionic. Finally, open the Fitbit application and hit the "Manage My Music" option.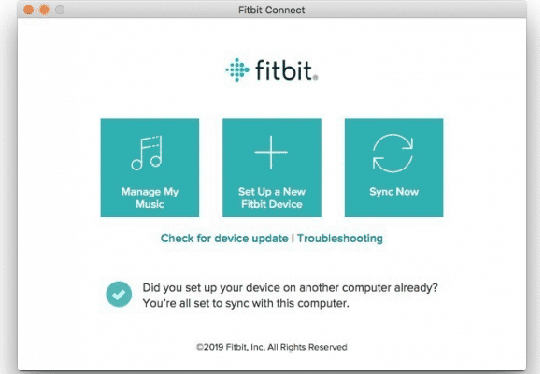 Step 3. File Transfer. This is the crucial step for transformation. After you initiate the music app for adding the Tidal Music to Fitbit Ionic, you could see an option of "Transfer Music" choosing the option to proceed.
Step 4. Music Import. In the final step, you could easily find an interface with the location of Tidal music files. After selecting the specific local Tidal tracks, you can import them to your Fitbit ionic. Now, you can listen to all your special Tidal music on Fitbit Ionic during your activities.
---
Part 4. In Conclusion
This easy and revolutionary step taken by AudKeep Tidal Music Converter has solved a substantial public demand to play Tidal music on Fitbit Ionic. They completely erase the worry of having the internet as you can listen to them offline. You don't need to wait for a Tidal application to be launched on the Fitbit Ionic.
You can use the free version of the AudKeep Tidal Music converter tool for free, but you need to buy the full version of the tool for serious and dedicated use. It supports multiple file formats with zero quality tamper.