Why Dropbox? Which type of cloud storage do you know? Haven't you once in a while lost your important files stored in your devices, or maybe you're running out of space? Dropbox offers a permanent solution.
If you are a music lover of Tidal, you will know that moving music from Tidal to Dropbox is an incredible experience. You can upload your files from Tidal music to Dropbox to secure them from theft or being accessed by an unauthorized person. Specifically, you can enjoy the Tidal music in the format you want.
On top of that, you upload Tidal music to Dropbox, but you can share or receive the uploaded files to others via the link and play your music directly from Dropbox. Amazingly, you can access your Dropbox files and folders from any device and any location. Practically, log into your Dropbox account and be entertained in just a few clicks. To get a better experience with Dropbox, this guide will illustrate more on how to download Tidal music and convert them to Dropbox. Let's check it out.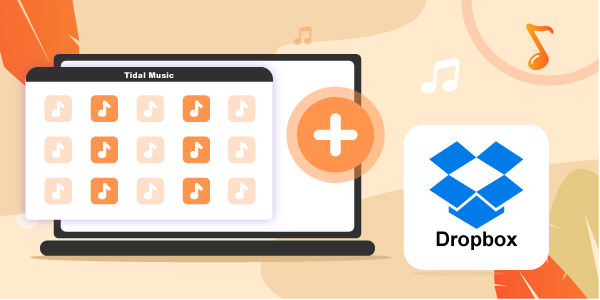 ---
Part 1. How to Download Tidal Music for Dropbox
Why Use Dropbox to Store Your Files
You can extend the storage space through the option provided and pay the cost.
If your device shuts down completely, stolen or broken, you can back up your data like Tidal music files by logging into any device.
Dropbox has various tools which are compatible with several devices such as PC, Mac, and Android operating system.
You can add comments to files.
It also offers free storage of up to 2GB and 100GB on various for-plans.
The most important feature is the security; it uses the 256-bit AES encryption security to share files.
Dropbox allows you to customize your notifications. You can turn it off or on to get an alert when new files arrive.
Download and Import Tidal to Dropbox – Best Tool
Now that we've known the advantages of using Dropbox to store your files, how can you upload add Tidal tracks to Dropbox? First, let's focus on AudKeep Tidal Music Converter software, which simplifies converting your favorite Tidal music to be uploaded for Dropbox.
The features of AudKeep are so distinctive that it outshined it from other converters for a better adventure. It preserves original ID3 tags of Tidal songs and displays important information like when the Tidal music was recorded, the artist, and its title. This is what every listener wants to know.
Secondly, its conversion speed is amazing. AudKeep Tidal Music Converter can process your Tidal music conversion 5x faster, unlike other converters. This saves your time to move music from Tidal to Dropbox, right? On top of that, another significant feature is lossless quality sound. It doesn't alter your Tidal music when converting, but it converts the files in their original format and quality. Apart from these three features, it has some extra shattering key features as follows.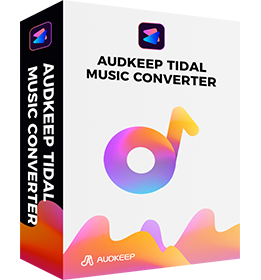 Key Features of AudKeep Tidal Music Converter
It is available on Windows and Mac Operating System
AudKeep sorts your music library in a colorful design
It can modify the output framework and format for Tidal music
It has an offline playback for downloaded Tidal music in the standard format
---
Part 2. How to Convert Tidal Music for Dropbox
Install the AudKeep Tidal Music Converter on your computer and register it. For the interesting process of converting Tidal music to Dropbox, proceed to the following steps.
Step 1 Load Tidal playlist to AudKeep Tidal Music Converter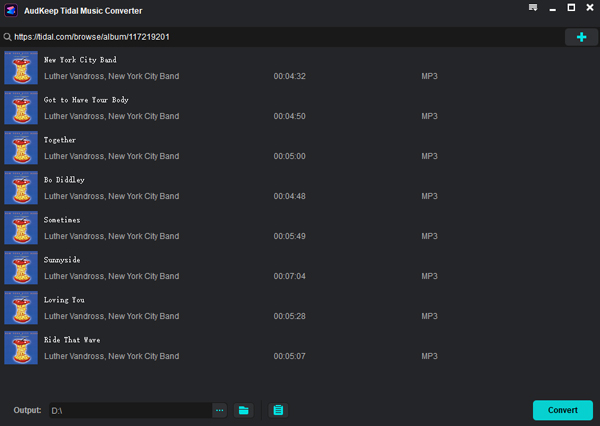 First, open the AudKeep Tidal Music Converter from your device like a computer (the Tidal app will launch simultaneously). Next, log in to your Tidal account and search audio files you want to convert and upload for Dropbox. Finally, please copy the link of the track and paste it on the AudKeep primary interface, then press plus sign (+) to load it to AudKeep.
Step 2 Modify Tidal output parameters for Dropbox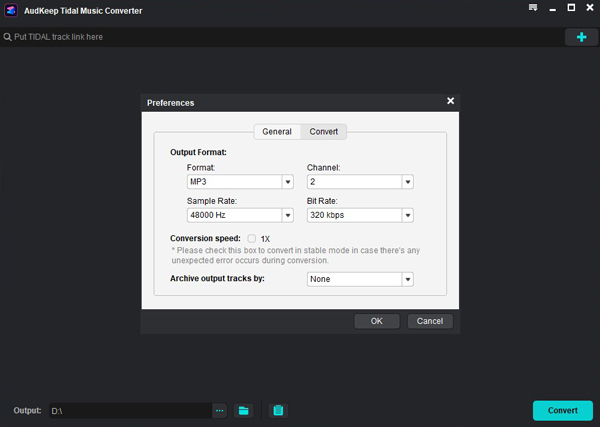 On the main screen of AudKeep Tidal Music Converter, click on the menu button at the top right. Next, choose the Preference > Convert and start adjusting the settings. Select your favorite audio output format to download Tidal to FLAC, MP3, AAC, etc. You can change other parameters for Tidal to Dropbox, for instance, sample rate, bit rate, and channel.
Step 3 Convert Tidal music for Dropbox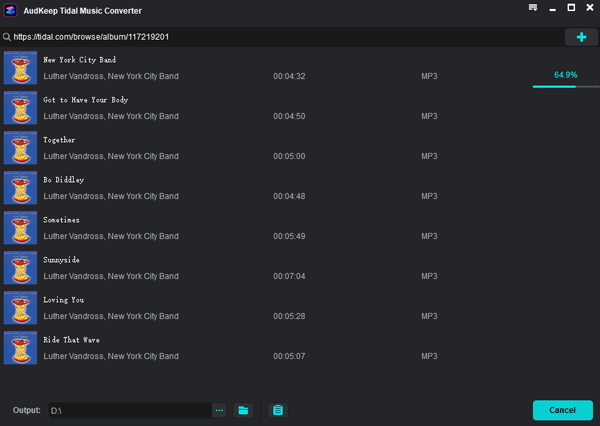 Click on the Convert button to commence the Tidal music conversion process. In completing the process, locate your converted Tidal music by clicking on the Converted icon to the saved folder on the personal computer and enjoy your Tidal content on the incredible Dropbox.
---
Part 3. How to Upload Tidal Music to Dropbox
Well, after downloading your favorite Tidal music, this tutorial has simplified Tidal to Dropbox in every step. Then you can easily upload them to Dropbox. There are two ways you can choose to move music from Tidal to Dropbox.
Upload Tidal Music to Dropbox via Dropbox Website
Step 1. Go to the Dropbox website and sign in to your account.
Step 2. Navigate into the music folder that you wish to upload the Tidal files to Dropbox.
Step 3. Then locate the file that you want to upload on your hard drive and drag it to the browser window on Dropbox.
Step 4. Finally, get your Tidal songs on the Dropbox website for playback.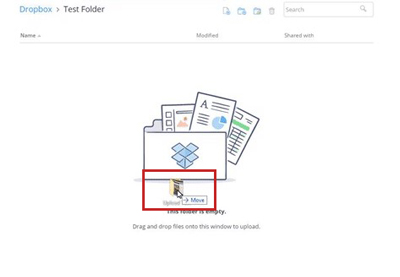 Upload Tidal Music to Dropbox via Dropbox App
Before adding Tidal files to Dropbox, you need to connect both devices – your phone and computer via a USB cable, then transfer the downloaded Tidal music to the phone to keep Tidal music forever.
Step 1. First, download the Dropbox mobile app on your phone and then sign in with your account.
Step 2. Go to the Home screen of Dropbox and tap the "create" option at the bottom.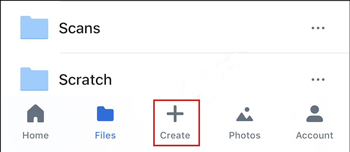 Step 3. Click on the "Create or Upload File" option and then choose the "Upload File" tab.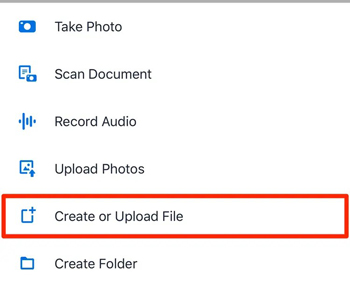 Step 4. Next, browse to find the Tidal files you wish to upload and select them.
Step 5. A screen will be presented that asks which folder the file should be uploaded to. Select the "Choose a Folder" option.
Step 6. Finally, tap on the "Upload" tab to get your Tidal files on Dropbox for playback.
---
Part 4. Wrap Up
So, as a music lover, or you want to share Tidal files, store them for easy backup, or to extend your storage, Dropbox is the appropriate cloud storage that provides all the services you need in one package. With AudKeep Tidal Music Converter, you can download and import Tidal music to Dropbox by following the steps we have mentioned above. Give it a shot.