Tidal is now one of the top big music streaming platforms across the world, which offers the highest quality music streaming compared to other music streaming services. Not many like to have multiple kinds of music streaming apps in their device which can slow down their device's performance.
This is where Kodi, a free and open-source media platform, can come in handy as a multi-music player software. In this media, users can work, play music and browse media files from both online and local media using various operating systems and hardware. Kodi supports a plethora of well-known online music streaming platforms such as Amazon Prime, Spotify, YouTube, Pandora, Rhapsody, etc.
However, Tidal is still not included in Kodi. Kodi Tidal Addons can act as an effective way to listen to Tidal music on the platform, so you would not have to have a Tidal app too. But if you want to listen to Tidal music through Kodi, follow the below steps to integrate the Tidal add-on on Kodi.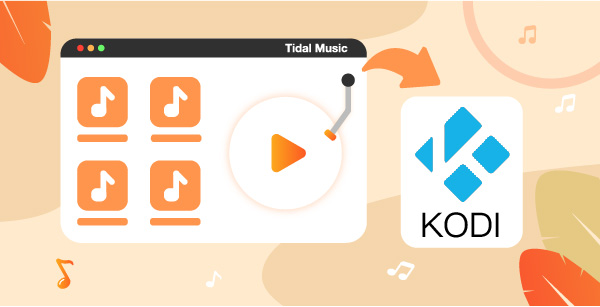 ---
Part 1. How to Get Tidal on Kodi via Kodi Tidal Add-on
In order to play Tidal music on Kodi, you must know that all Tidal music files are encrypted and formed in FLAC and AAC audio format, so those songs can only be played on the Tidal app. Tidal Kodi Addons can be installed in Kodi in two different ways. Let's get to know how you can install the Add-ons and log in to Kodi Tidal.
How to Install Tidal Music Add-on Kodi
1. For Tidal Addon in Kodi by zip file
For installing Tidal Add-on in Kodi, follow the below steps.
Step 1: Go to the main menu in Kodi, then navigate to System > File Manager > Add Source.
Step 2: Then type in http://fusion.tvaddons.co and click on "Done".
Step 3: Now, you can highlight the file box by naming the media source and clicking "OK".
Step 4: Get back to the home screen and select Add-ons > Add-on Browser
Step 5: Then install the Add-on from Zip File by choosing the file box and waiting to get a notification that the Tidal Kodi Add-on is enabled.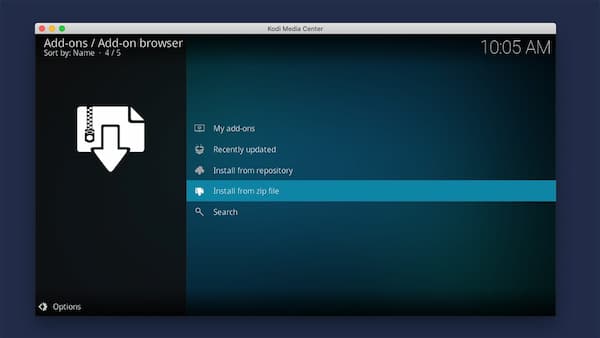 2. For Tidal2 Addon in Kodi by repository
There is also Tidal2 Addon, through which you can Add Tidal to Kodi. Follow the below steps to install the add-on.
You can follow the above process for installing Kodi Tidal Addon for Tidal2. However, this process is only for Tidal subscribers.
Step 1: Click on Addon on the main screen of Kodi.
Step 2: Then Click on Setting and select "Add-ons" > "Unknown Sources".
Step 3: Click on "Yes" when the pop-up window opens. Then click on the settings again and select "File Manager".
Step 4: Now click on "Add Source" to select the Zip file you made before.
Step 5: Then click on Add-ons> Addon Browser Icon > Install from Zip File.
Step 6: Select install from repository > Tidal2 Addons by arneson > Music Add-ons > Tidal2 > Install. Now you can get Tidal on Kodi, through this Addon.
Users can try out both methods to install Tidal on Kodi through Tidal add-ons.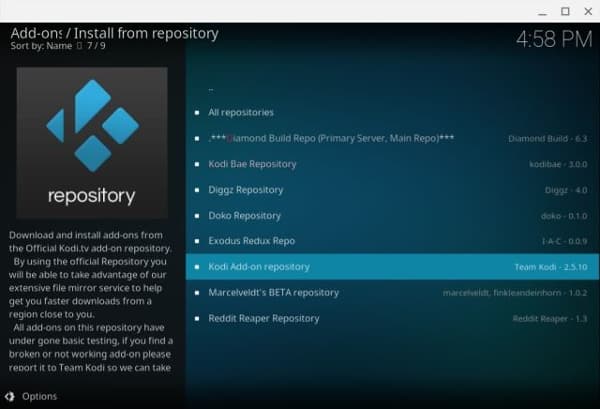 How to Login to Tidal on Kodi
Sometimes it can happen that your Kodi Tidal won't login. It can hinder you from listening to those exclusive songs of Tidal music that you love so much. You can follow the below steps in Kodi addon Tidal to log in to your Tidal account.
Step 1: Once the Tidal add-on is installed on your Kodi app, then you can register for your account in the Tidal add-on by selecting its account login section.
Step 2: Type in your registered log-in ID and password of the Tidal app to open your account in the Kodi app, if it already exists, or you can go for a new account log-in in the add-on to open your account.
---
Part 2. How to Add Tidal to Kodi for Free
Kodi can be compatible with almost all audio file formats such as MP3, MP4, ODD, and many more, but not FLAC and AAC. So, if you want to play Tidal music on Kodi, you have to change the audio formats of Tidal music files and listen to Kodi Tidal music. If your Tidal is not playing on Kodi, the best tool to convert Tidal music files conveniently in Tidal Kodi formats would be AudKeep Tidal Music Converter.
This music converter can download Tidal songs in high quality & Hi-Fi music, convert Tidal to lossless easily. AudKeep's music conversion speed is about 5X for Tidal music. Moreover, this platform can manage the output music in the appropriate library and sort them intelligently. Let's get to know how you can convert the Tidal music formats using AudKeep Tidal Music Converter.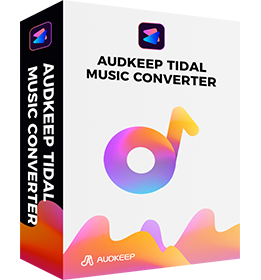 Key Features of AudKeep Tidal Music Converter
Convert Tidal to MP3 to be compatible with Kodi
Batch download Tidal tracks in 5X conversion speed
Keep 100% Tidal Hi-Fi quality along with original ID3 tagss
Make Tidal playable on Kodi and any other multimedia platform
Step 1 Download and launch AudKeep Tidal Music Converter on your device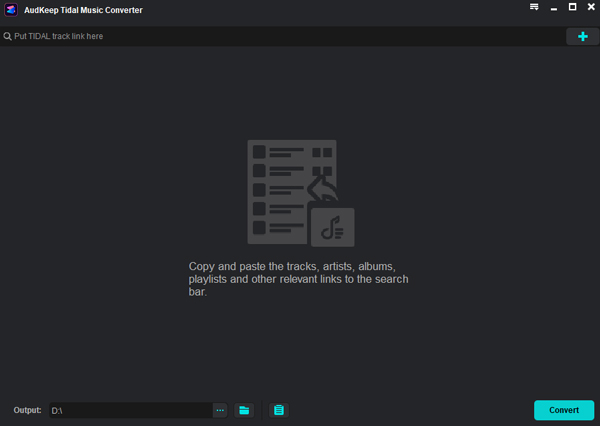 If you want to register with AudKeep Tidal Music Converter, you can download the software to your respective device. Once you have launched the platform on your device, log-in to your account with your registered name and code to activate it.
Step 2 Change Tidal outputs to Kodi-supported format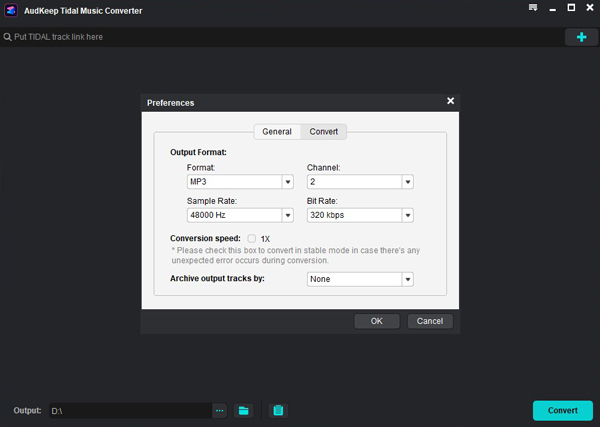 Then go to the uploaded songs playlist to select the Tidal music you want to convert and change their formats to listen on Kodi Tidal add-ons. A setting window would open where you can make adjustments to its format, sample rate, bit rate, etc., and customize as per your preferences. Then click on the "Convert" option to download the song to local music files.
Step 3 Upload Tidal tracks to AudKeep for Kodi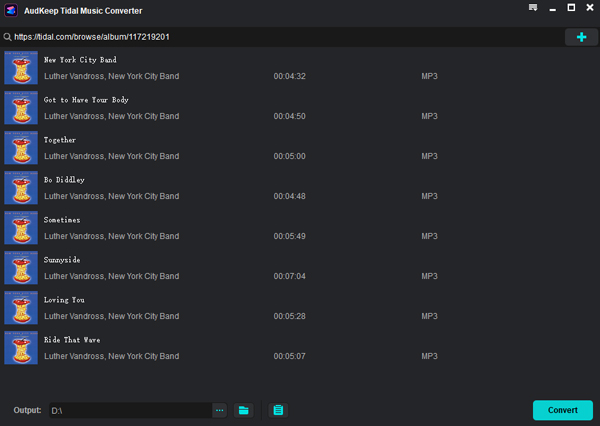 Now you can choose the Tidal tracks you want to convert for Kodi on the Tidal app and copy their link. Now open the AudKeep and paste the link in the search bar to browse the song. Then add the song to Kodi by loading the Tidal track on the platform.
Step 4 Convert Tidal songs to Kodi-supported format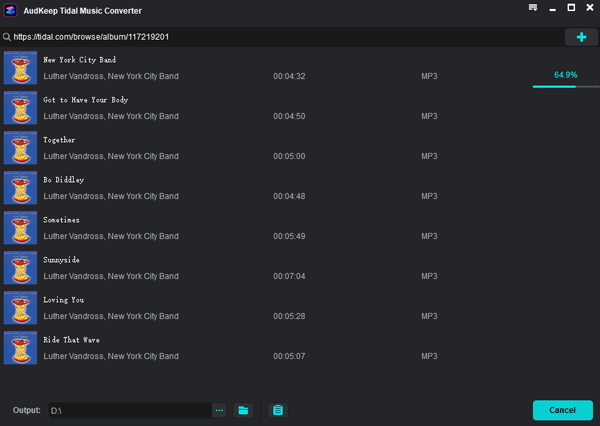 When all things are set up, click on the Convert button to download Tidal music for Kodi. Once you have converted Tidal music to plain audio files, you can easily add them to the 'Music' section of the Kodi app, so the users can play Tidal Kodi music on Kodi for free.
---
Part 3. Conclusion
Having a Tidal add-on in your Kodi software can be very convenient as a music fanatic to enjoy the music of all the best streaming platforms in one place. Hopefully, you can find the above tips helpful to use the Tidal add-on on Kodi and enjoy music seamlessly.