Do you listen to music online using a streaming service such as Tidal or SoundCloud? Tidal and SoundCloud are two of the most well-known music streaming services available to music enthusiasts. There is always a reason why you would wish to go from Tidal to SoundCloud; nevertheless, you don't want to lose access to your favorite tunes or playlists on Tidal.
It is possible to transfer music from Tidal to SoundCloud, isn't it? The correct response is both yes and no. Tidal is in a class of its own, while SoundCloud is in another league. On Tidal, though, you won't discover some of the songs available on SoundCloud and vice versa. So how to transfer playlist from Tidal to SoundCloud? You're lucky because there is a method to move Tidal music to SoundCloud. We will discuss it down below with details. Learn more!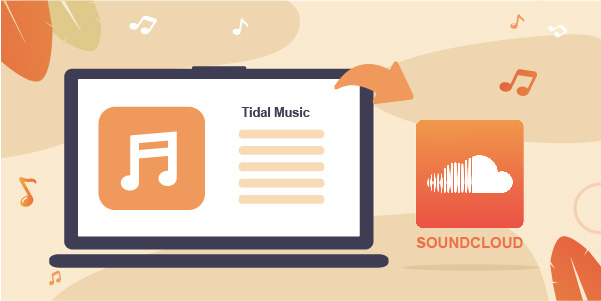 ---
Part 1. Tidal vs SoundCloud: Brief Introduction
Before putting songs from Tidal to another music platform SoundCloud, let's talk a bit about how are they different or similar.
Tidal
Tidal is a music streaming subscription service with a library of around 60 million songs, some of which are unique to the service. In addition to that, it offers a wide selection of podcasts, music videos, recordings of live concerts, and playlists from professionals. As is the case with the majority of streaming services, Tidal may be accessed on a diverse range of electronic gadgets, such as personal computers, mobile phones and tablets, smart speakers, and streaming media players such as Apple TV and Android TV.
Tidal can differentiate itself from other music streaming services due to two primary factors. In addition to its Premium base subscription level, users can stream audio at 320 Kbps (approximately the same quality as that offered by Apple Music and other services).
Tidal also offers a more expensive "Hi-Fi" option, which upgrades the entire catalog to lossless, CD-quality audio and a limited catalog of high-resolution music that is referred to as Tidal Masters.
SoundCloud
SoundCloud is an online platform for streaming audio and the sharing of music that was established in 2007 in Stockholm, Sweden.
SoundCloud is an interactive platform that enables content providers, such as artists and podcasters, to engage with their audiences and admirers by using its many sharing capabilities. This includes SoundCloud's famous commenting tool, perhaps the feature for which SoundCloud is most known.
It gives users the ability to contribute their comments on certain points in an audio stream, and those thoughts may subsequently be seen by everyone who listens to the music in question.
---
Part 2. How to Transfer Tidal to SoundCloud – Best Way
The format of Tidal downloads cannot be added to other devices or platforms, so the best way to get Tidal tracks to SoundCloud is by converting music from Tidal to standard audio formats. And when it comes to music conversion, AudKeep Tidal Music Converter is one of the best. It can download songs and playlists from Tidal as local files within no time. With the aid of this Tidal downloader, you may listen to Tidal tracks offline on PCs and mobile devices and transfer Tidal playlist to SoundCloud!
Given that your playlists include a lot of songs, the AudKeep software gets the capability to do batch song downloading. And with its technology, all the metadata and ID3 tags of Tidal will be kept originally, so that you won't get lost after all songs are converted.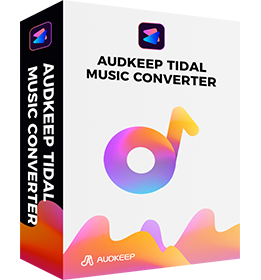 Key Features of AudKeep Tidal Music Converter
Get Tidal soundtracks to multiple output formats, such as MP3, WAV, etc.
Support to play Tidal music offline and on other platforms like SoundCloud
Download songs from Tidal at a fast 5X speed with 100% music quality
Easily to sort out your downloaded files by artists or albums
Step 1: Install AudKeep Tidal Music Converter on your PC and then launch it. Go to Preferences from the menu, and choose the Advanced in the setting box herein you need to change the output format to WAV, FLAC, MP3, AAC, etc. There are more other properties you can set like channel, bit rate, and sample rate.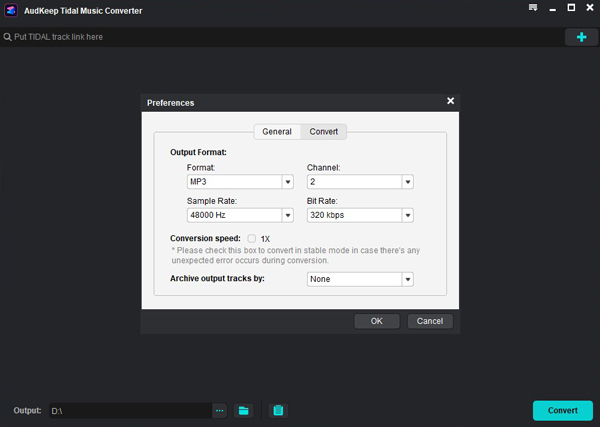 Step 2: Now, click OK to save and approve the output configuration file. Using the built-in Tidal Web Player, you can now search for and locate your favorite Tidal playlists and albums. A blue Plus symbol appears in the bottom right corner of the window once you click on the songs you want to convert. Press on it to upload them to AudKeep.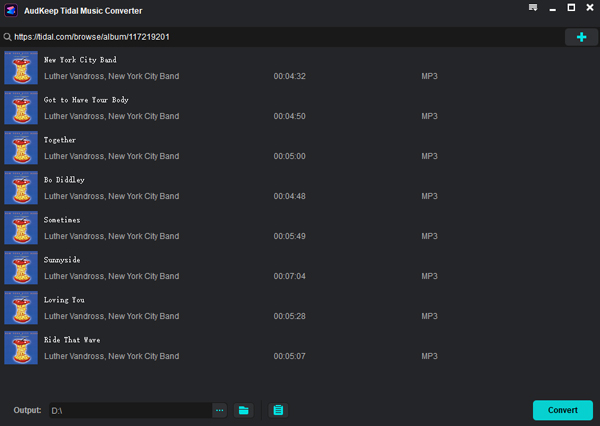 Step 3: Next, touch the Convert tab in the conversion box to begin to download Tidal playlists. If you want to keep your Tidal recordings' original ID3 tags and quality, you may save them as standard audio files like MP3.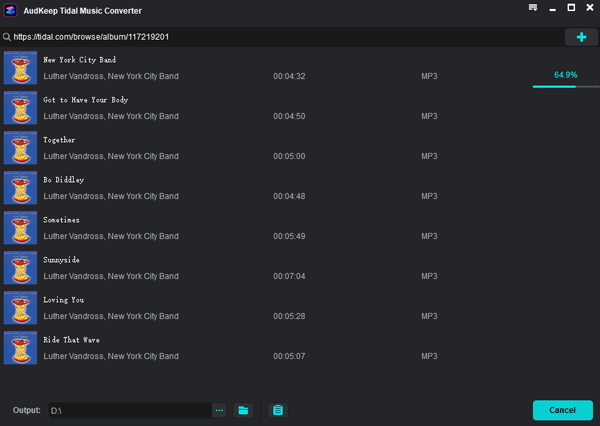 Step 4: Finally, when the Tidal downloading is completed, click on Open file location to quickly reach the destination folder on your computer by highlighting the track and selecting it. All Tidal music and playlists may be transferred and played offline on any device that supports Tidal.
How to Transfer Tidal Playlist to SoundCloud
Step 1. Click on the Upload button from the SoundCloud website.
Step 2. On the Upload page, tap the Choose a file to upload to add the converted Tidal songs or simply drag & drop the music files to the area.
You've successfully got the converted Tidal music files to SoundCloud for use!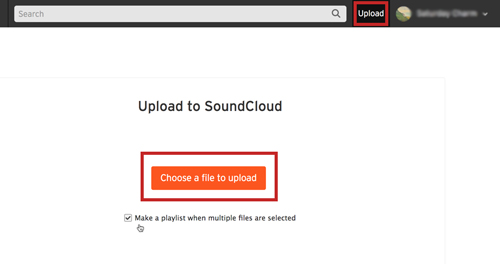 ---
Part 3. How to Transfer Playlist from Tidal to SoundCloud Online
Are you seeking a more effective and convenient method to move Tidal music to SoundCloud? FreeYourMusic transfers your music across Spotify, Tidal, Amazon Music, YouTube, Pandora, Apple Music, and other music providers.
FreeYourMusic is the simplest method to move your music from one streaming provider to another. With this powerful tool, you can convert as many songs, playlists, and albums as you want with no restriction. Moreover, all major operating systems support the app, including iOS, Android, Windows, Mac OS X, and Linux. To top it all off, FreeYourMusic keeps your music collection in the cloud safe and sound.
Here, we will show you how to transfer your music playlist from your Tidal account to SoundCloud using FreeYourMusic.
Step 1: Launch the FreeYourMusic app on your device, and then select the Tidal as a source to transfer music.
Step 2: Next, choose SoundCloud as the location where you'd want to build a new playlist to listen to.
Step 3: Locate the playlists, albums, or songs that you want to migrate from the Tidal service to SoundCloud, and then pick all of the music that you wish to relocate.
Step 4: Hit the Transfer button to start the process. Your playlists from Tidal will be transferred over to SoundCloud.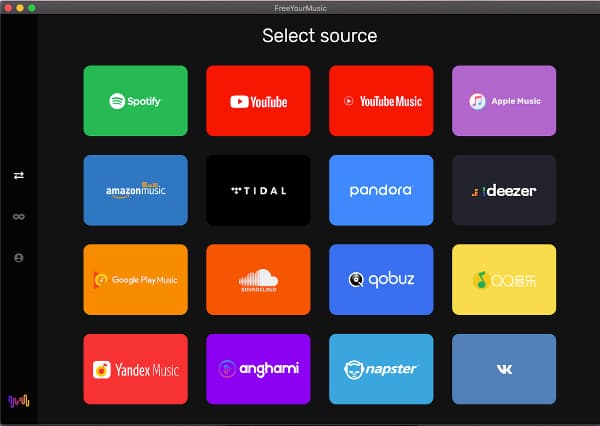 ---
Part 4. Final Thoughts
That's all! In this article, we have shown you how to transfer playlists from Tidal to SoundCloud. You can use the best Tidal downloader, AudKeep Tidal Music Converter to download Tidal music offline as local files and shift the downloaded to SoundCloud. You can do so with lossless quality and without compromising your playlists. Or you can use another tool FreeYourMusic to move your whole playlist from Tidal to SoundCloud or any other music platforms like Spotify and Deezer. Let us know how it worked out for you.