With the myriad of music streaming services currently available, have you ever asked yourself if it's possible to change from one to the other and still be able to keep all your favorite playlists?
If it's possible, how easy or difficult is it to do, how is it done, and what do you need? After all, many people have very extensive playlists, in which they have invested a vast amount of time compiling.
So, it's understandable that not everyone is willing to risk all that effort by switching over to another service. The good news is that you can transfer all your playlists without worrying about losing your music.
With that said, this article will teach you how to transfer music from Tidal to Deezer. Although aimed at Tidal and Deezer specifically, the transfer process is similar for other streaming services such as Spotify or YouTube.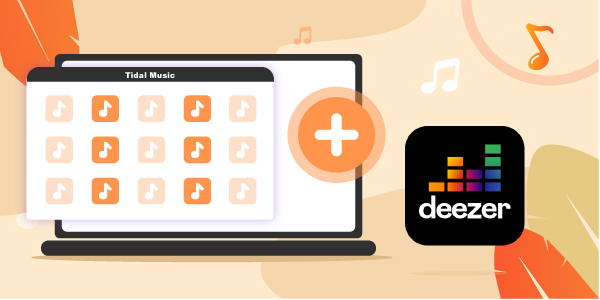 ---
Part 1. How to Transfer Music from Tidal to Deezer: Tool You Need
Deezer does a good job of analyzing the needs of users who want to have all their music in one place. As a result, Deezer provides the option for users to add their own MP3 files to expand the music collection. That's to say, if you want to transfer Tidal playlist to Deezer, the one thing you need to do is to download and convert Tidal music to Deezer-compatible upload format.
AudKeep Tidal Music Converter is one of the excellent music converters and downloaders developed for all Tidal users. It can help you convert Tidal high-quality tracks and playlists to AAC, FLAC, MP3, M4A, M4B, WAV, or a Lossless format. Obviously, converted Tidal music playlists can be added to Deezer without any hassle.
Aside from that, AudKeep Tidal Music Converter maintains the original ID3 tags so you will not lose the album or song titles, artist details, genres, artwork, recording dates, and so on. The entire process is also carried out at an escalated rate (5X), so it should not be a tedious undertaking.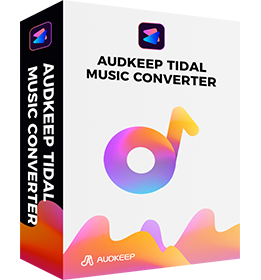 Key Features of AudKeep Tidal Music Converter
Maintains the lossless quality of Tidal songs and keeps the ID3 tags
Convert Tidal songs to all the most common formats, including Lossless
Allows you to download Tidal songs to play offline on any devices
Transfer music from Tidal to Deezer, Spotify, YouTube Music, etc.
---
Part 2. How to Transfer Tidal Playlist to Deezer: Steps to Follow
One of the main features of AudKeep Tidal Music Converter is the ability to download music from Tidal and save them as common audio tracks supported by Deezer on your computer, which you can transfer and listen to while offline. So, how is it done?
How to Download Tidal Music to Deezer-supported Files
Step 1 Set audio parameters for Tidal to Deezer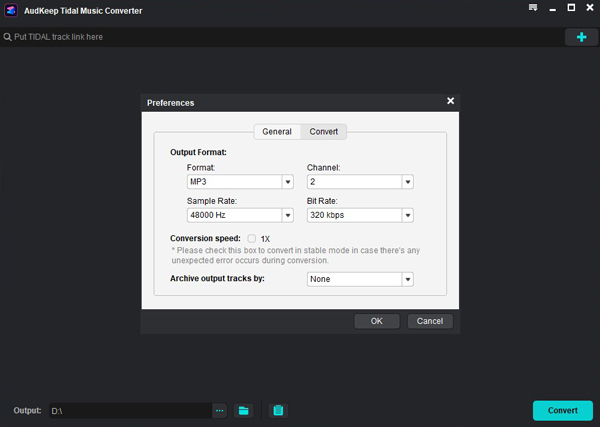 The first thing that has to be done is to set up all the parameters for audio download. To do this, go to Preferences, then choose the Advanced option. You can set up the output audio format like FLAC and other settings like the bit and sample rates and audio codec. To transfer Tidal music to Deezer, please choose MP3 as the output format. You can also group songs or albums by going to Archive output tracks by. Click OK to save your changes. You can now find your playlists on the built-in media player.
Step 2 Import Tidal playlists to AudKeep Tidal Music Converter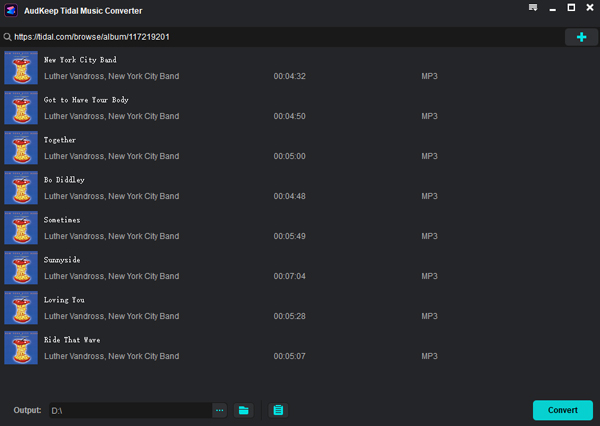 The second step is to add Tidal playlists or albums to the AudKeep Tidal Music Converter. Use the blue + icon located at the bottom right corner to do this. Please note it is not possible to upload a single Tidal song directly from an existing playlist. You'll need to put it in a new playlist and then upload it.
Step 3 Download Tidal playlists on the computer for Deezer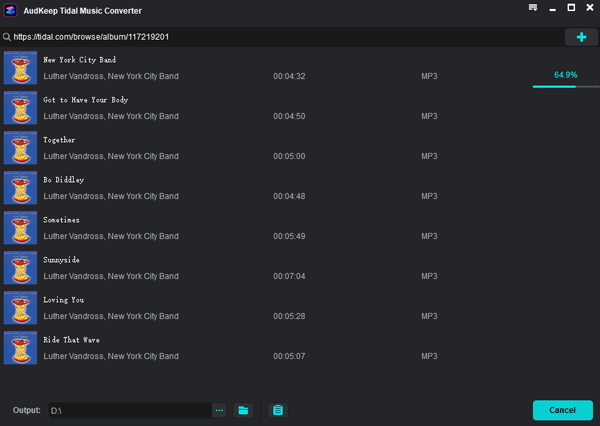 To download and convert your selections, click on the Convert tab. The process will then continue at the 5X rate. The Tidal files will be saved as standard MP3 files with intact original ID3 tags and sound quality.
As the conversion progresses, you can return to the main screen to upload more lists. All converted files will be marked with a red number which you can then move to the desired location on your computer or listen to them. You can do all this even while offline.
Well, you can locate all Tidal music downloads on your computer. And the Tidal tracks can be imported to Deezer using the following three steps.
How to Import Tidal Playlist to Deezer
Step 1. Open the Deezer Web Player and navigate to the Favorite option. After that, please choose the My MP3s section.
Step 2. There is an option of SELECT MP3s TO UPLOAD, please hit on it to select Tidal MP3 tracks from your computer to upload.

---
Part 3. Online Tools to Transfer Playlist from Tidal to Deezer
What are the different online tools available to import Tidal playlist to Deezer? There are quite a few online tools available for transferring music from Tidal to Deezer, but the most popular and effective ones that you can transfer Tidal playlist to new account of Deezer are:
FreeYourMusic
Soudiiz
TuneMyMusic
1. FreeYourMusic
FreeYourMusic will scan your music playlists from Tidal and then import them to Deezer. However, only the first 100 songs are free. Then, you'll need to upgrade the software to the premium level, which will allow you to have unlimited imports.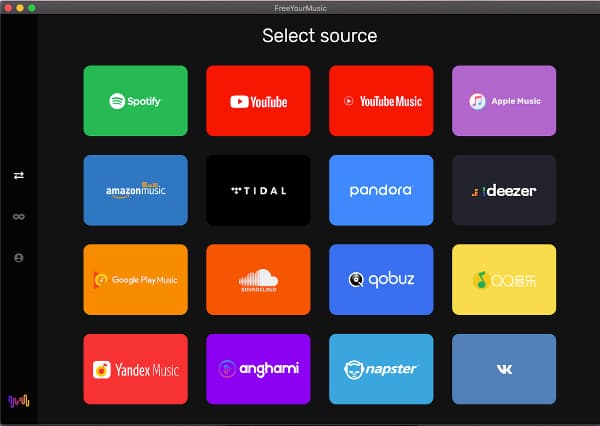 Step 1. Select Tidal as a source to being the playlist music transfer with FreeYourMusic.
Step 2. Choose Deezer as your intended destination.
Step 3. Select the playlist that you want to transfer.
Step 4. Confirm changes and you're done.
2. Soudiiz
Soudiiz is a free app if you do not need to sync more than 20 playlists. A premium version is also available if this isn't enough for your needs. The app is, however, only accessible via a browser.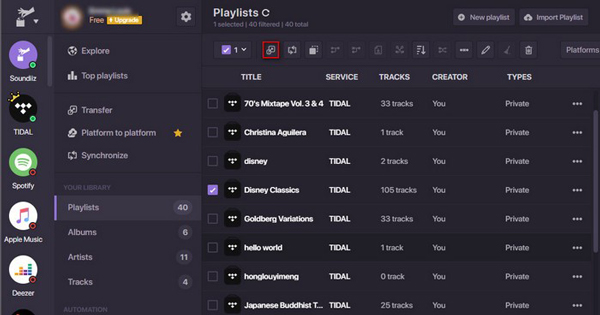 Step 1. Connect to Tidal.
Step 2. Pick the Tidal playlist that you want to transfer.
Step 3. Select Deezer as your intended destination.
Step 4. Begin the process to import Tidal playlist to Deezer.
3. TuneMyMusic
TuneMyMusic is another free app limited by the number of playlists that you can sync. The free version will allow you to transfer 500 songs. There's also a paid version that will enable you to enjoy unlimited transfers and 20 automated syncs.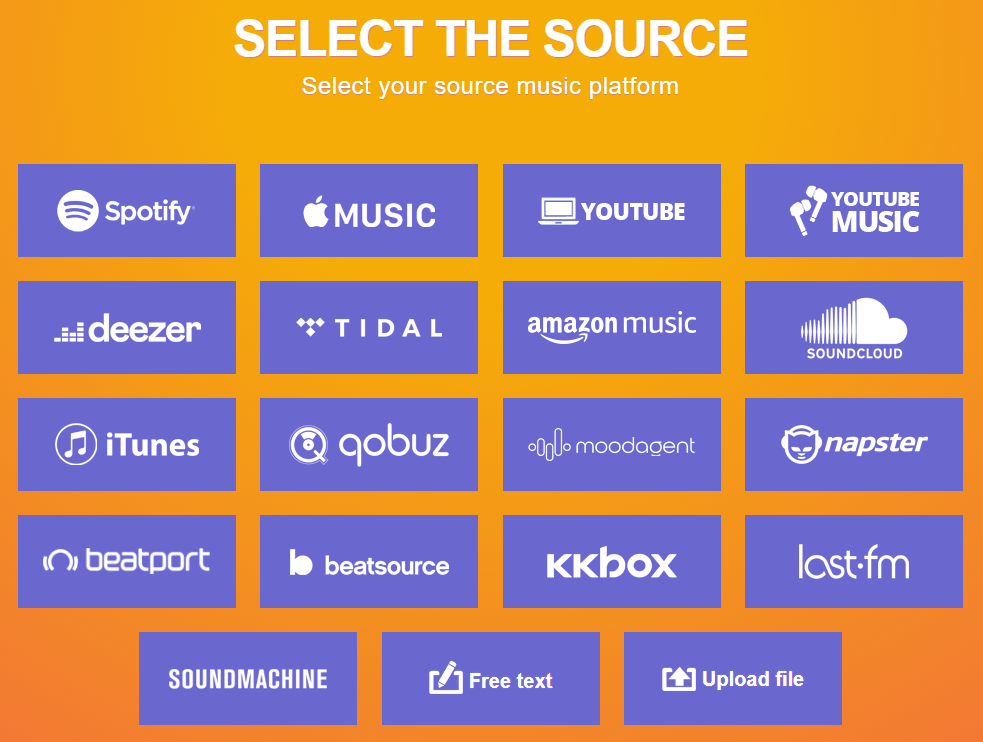 Step 1. Go to settings.
Step 2. Select Tidal as the source of the playlist that you want to transfer.
Step 3. The instructions on what to do next will appear on your screen. Just follow it accordingly.
Using any of these tools is convenient. However, it does come with one downside; none of these will let you transfer exclusive Tidal tracks to Deezer.
---
Part 4. In Conclusion
Today's current music streaming services made the process of changing from one service to another extremely difficult. So much so that it was easier just to change and start from the beginning again. However, this means losing all your carefully curated playlists.
Fortunately, thanks to the many online tools available, this process, which will generally take days to complete, can now be done in just a few minutes.
With that said, Tidal arguably scores a few points by giving their users a choice by helping them transfer music from Tidal to Deezer with the help of AudKeep Tidal Music Converter.