Media platforms such as Facebook, Twitter, and YouTube are increasingly influencing our daily lives. Bloggers, vloggers, and YouTubers are increasingly in demand. In addition to being extremely participatory, these platforms spread swiftly. You can gain many followers on a particular domain. Good video editing software is essential to this group of folks. Some of the most popular options include Camtasia (Adobe), Adobe Premiere, Final Cut (Mac only), and iMovie (Mac).
However, it's also critical to choose a piece of music that goes well with your video. There aren't many places to get the BGM for your video if you want to use your favorite music. Take Tidal as an example, to put it another way, you'll need a third-party tool to embed music from this streaming service into a YouTube video. Fortunately, we will show you how to add Tidal music to YouTube video today.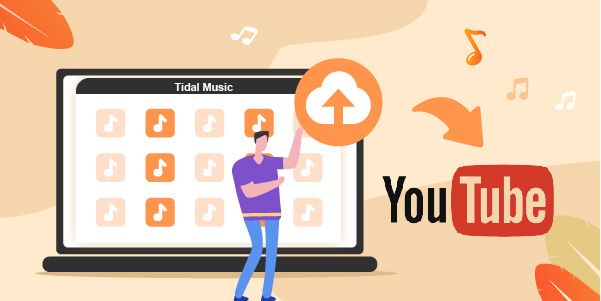 ---
Part 1. Can You Add Music to YouTube Video from Tidal?
In simple words: yes, you can. Almost every content creator wants to do the same. Why? They want to give their videos all those special sound effects that make a good content creator stand out from the rest. With its catalog of over 80 million tracks, the customers of Tidal may obtain the best music experience. However, to make Tidal music downloads available on video editing, you will need reliable third-party software that can make your job easy.
If you are a Tidal customer, you may trust AudKeep Tidal Music Converter to download and convert your favorite songs. It's aimed to provide PC and Mac users more flexibility over the playing of Tidal music. You may use this all-in-one option to acquire Tidal tracks, mixes, or volumes from the Tidal app and add them to your YouTube videos regardless of whether you're on a Tidal Premium or Hi-Fi plan.
---
Part 2. How to Get Tidal Music to YouTube Video
AudKeep Tidal Music Converter is remarkable software that can download music from Tidal and manage the music it contains. It features everything necessary for downloading and transcoding music from Tidal, including playlists and albums, so that they can be played offline anywhere and added to YouTube video. This Tidal downloader is compatible with both Mac and Windows operating systems, and it offers users a choice between six different output formats, including MP3, FLAC, WAV, etc.
It has a conversion mechanism that is quick and simple to use. You can convert your Tidal tracks in less than a minute, and you can also transfer Tidal music downloads onto your phone or preferred devices in about the same amount of time. Your music from Tidal will also keep its clean and organized appearance, thanks to the careful preservation of ID3 tags. And with the high-quality downloaded music, it's a pleasure for the audience to enjoy the good music in the YouTube video.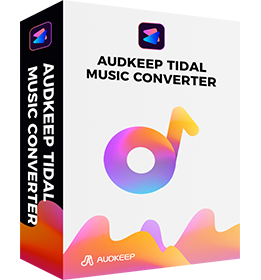 Key Features of AudKeep Tidal Music Converter
Download Tidal music offline and import it to YouTube video as BGM
Convert Tidal files to the audio formats, such as MP3, FLAC, or WAV
Export music from Tidal in lossless quality while keeping the ID3 tags intact
Automatically download Tidal songs at five times the normal pace on Windows
---
Part 3. How to Convert Tidal Music for YouTube Video
Now that we have everything out of the way. Let's have a look at how to utilize AudKeep Tidal Music Converter so that you may download and add music from Tidal to YouTube video on your PC.
Step 1 Adjust the Tidal format for adding it to YouTube video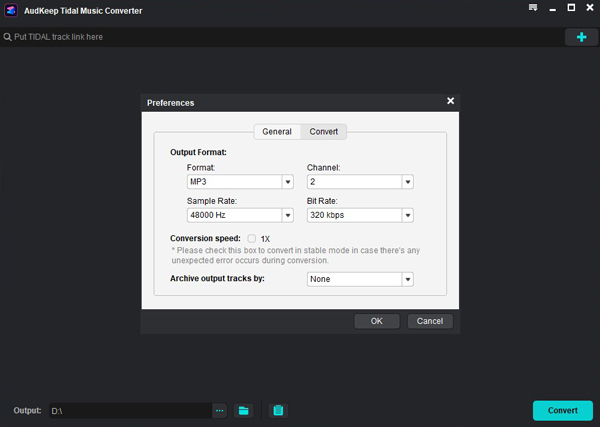 Launch the AudKeep Tidal Music Converter application, depending on whether you're using Windows or a Mac. Head to the Preference tab from the top-right menu, and next, you can customize the output format of Tidal music inside the Convert settings window. You may adjust the other parameters like channel, and sample rate according to your needs.
Step 2 Add Tidal HiFi or Master songs to AudKeep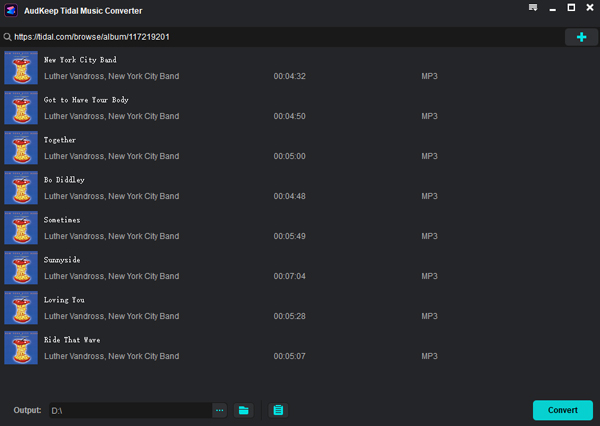 When you are certain that all of the configurations are correct, click the OK button to save. Search for the song or playlist with HiFi or MQA quality that you want to convert and download on the Tidal app. To upload the playlist or song to AudKeep, copy and paste the URLs to its search box. Finally, tap on the + icon to load them into AudKeep.
Step 3 Get Tidal music downloaded for YouTube video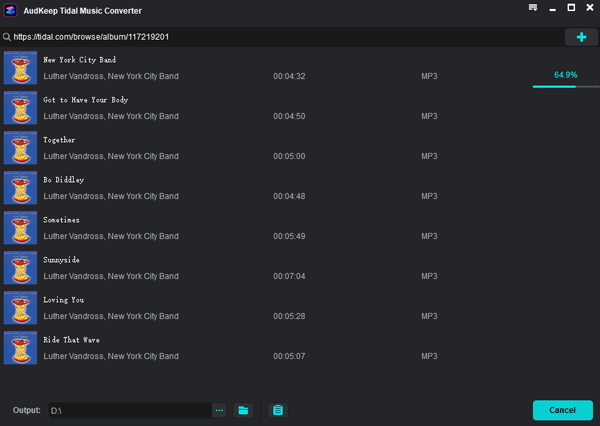 At last, click the Convert button. This Tidal downloader will begin downloading all of the music included in the albums or playlists you have selected as your favorites. The converted Tidal music files can be found by tapping the 'Converted' icon which has a list of them. All the Tidal songs saved on your computer can be embedded into YouTube video for use.
---
Part 4. How to Add Tidal Music to YouTube Video
Now that you have converted your favorite Tidal playlist to the format that can be imported to YouTube video, it's time to add music from Tidal to YouTube video that you recently recorded.
Note: Remember to use your preferred video editor to do this. In our case, we have chosen the iMovie video editor.
Let's look at the straightforward instructions on how to add music to iMovie from Tidal on the Mac computer and iPhone.
On Mac
Step 1: To begin editing your YouTube video, open iMovie on your Mac.
Step 2: Open the video clip to which you want to add the Tidal music. You may browse your Mac's Tidal music folders by clicking the File > Import button.
Step 3: You may add music from Tidal to iMovie by highlighting the file and clicking the Open button.
Step 4: Drag the imported Tidal files to the track and you can edit it for YouTube video.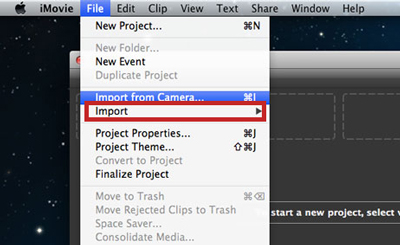 On iPhone
Step 1: Transfer your music from Tidal to iPhone by connecting a USB. Tidal music should be preserved in your computer's library, so double-check.
Step 2: In the iMovie project on your iPhone, click the + option to add Audio. Tap Songs to import the Tidal music you want to utilize in your video into iMovie.
Note: If you upload the downloaded Tidal tracks to iCloud Drive, you may access them by clicking the iCloud Drive tab.
Step 3: Tidal music may now be edited in iMovie for editing or enhancements.
Step 4: After editing your soundtrack on the video, share and upload it to YouTube. That's how you convert and add Tidal to YouTube video!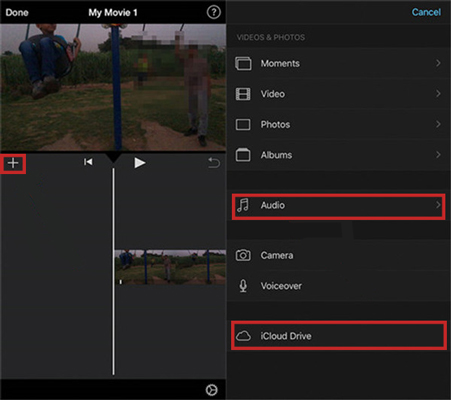 ---
Part 5. Final Thoughts
This article provides a detailed useful way for downloading music from Tidal onto a computer, after which it can be imported into a video editing tool and used in a YouTube movie. The efficient AudKeep Tidal Music Converter is an all-in-one solution to convert Tidal music for offline playback on any device. So, what are you waiting for? Download the tool to try its free version and add Tidal music to YouTube video.